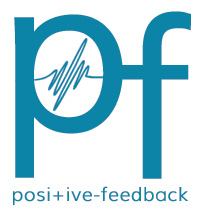 You are reading the older HTML site
Positive Feedback ISSUE 27

september/october
2006
Hayden, Requiem and Mass
by Mark Wagner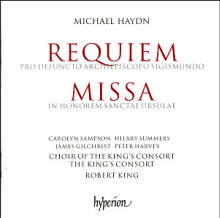 Michael Haydn (1737-1806) is the younger brother of the famous Franz Joseph Haydn (1732-1809). It is probably safe to say that Michael Haydn does not garner the same recognition as his brother. However Michael Haydn certainly had many successes of his own during his forty-three years in Salzburg. During those early years, Haydn shared a friendly relationship with none other than Wolfgang Amadeus Mozart. However in 1781, Mozart was to leave Salzburg for other ventures. Perhaps Haydn's enduring patronage stems from that fact that during his four decades, he served two different archbishops in the dual position of court musician and concertmaster.
The first piece on this pleasantly affordable two disc set from Hyperion was composed in 1771 which was, shall we say, a rather bad year for the composer. Haydn's wife had presented him with a daughter who died just a few days short of her first birthday and on December 16, 1771, Haydn's beloved patron Archbishop Siegmund passed away leaving the young composer devastated.
Requiem for Archbishop Siegmund comprises the first disc. This requiem, like Verdi's, was written upon the death of a specific person whereas the Berlioz Requiem was originally intended for a public celebration. Haydn's deep friendship with his patron, the Archbishop Siegmund was very close. Of course, the proximity of the death of his daughter only added to the sense of loss. And clearly, this Requiem is full of angst, despair and sadness. From the opening Introitus, we immediately feel the grief and this feeling never really lets up throughout the entire piece. Fans of Mozart's Requiem will, ahh, hear some striking similarities to that master's composition. Not really plagiarism; perhaps the old axiom "imitation is the highest form of flattery" is appropriate?
The second composition, Missa in Honorem Sanctae Ursulae, is an entirely different creation from the Requiem. Written in August of 1793 for the convent of Frauenwörth, which was a Benedictine Abbey set on an island in the Chiemsee (a lake in Bavaria). The composition was likely made for the August 19 service for Haydn's dear friend, Ursula Oswald (who was taking her final vows at the abbey). The music is buoyant, cheerful and full of life; we get a more joyous feeling here in the Missa. With the Missa, we are treated to music celebrating a happy event as opposed to one that mourns the death of a friend. Whereas the orchestration in the Requiem is uncharacteristically thick and heavy, using four trumpets and three trombones (the number of brasses here will not be heard for many more years). The Missa, by contrast, is much more light and airy.
The performers on this CD are the incredibly talented Choir of the King's Consort, The King's Consort (the orchestra); all lead by Robert King, a person who has made over 90 recordings for Hyperion. I own numerous Hyperion recordings with these musicians, and as usual, you will be treated to a stunning performance.
I have to confess that I am a huge fan of Hyperion, a label that consistently produces many outstanding recordings. This is one recording that shows that redbook, when done properly, is on par with the best SACDs available. Simply put, I have never heard such an outstanding CD as this. Air, space, depth, warmth, transparency, detail and the superb balance between the orchestra and chorus….you name it. It is there.
Highly recommended!