I've been listening to quite a few phono stages lately. Nothing ultra-exotic, mainly in the $1K and less category. Some might call this the budget grouping. I can't, with all good conscience, call these budget components. Recent advances in the state of the art have propelled phono stages, especially tubed phono stages, to new heights. Read on to learn about one of them.
Jolida has been building high-end tube products since 1995. They own a factory in China, complete final assembly in the US, and have always been known as a big bang for the buck product. The moniker, BTW, is pronounced Jo-Lee-Da.
My out of the box impression was that this did not look like a so-called budget component. Slim and sexy, the JD 9A will not detract from the total look of your rack. Fit and finish are outstanding, especially at this price. Its looks complimented some much pricier gear, the single blue LED perfectly matching some of my Cary components. Large chromed footers held the box in place. Inside, a clean layout, all circuitry mounted on one PCB. Jolida claims the low profile full body allows the unit to act as a base for your amplifier or turntable. No need to lose another shelf for a component. This might be fine for a Rega, or some of the other lighter tables. I did not try plopping my 50lb Scoutmaster with metal feet on top of this unit.
This is a full-range box and will handle MM, MC and Dynamic head cartridges. Rated sensitivity is .25 mV -95dB, and contains two outputs: Low and High. On the rear are eight dip switches that allow you to set impedance and capacitance to match your cartridge—very nice at this price. Its uses the ubiquitous 12 AX7 tube so you can roll to your ear's content.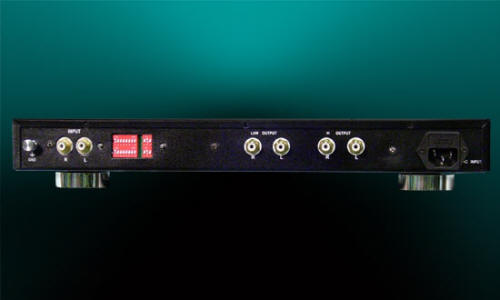 Michael Allen from Jolida told me the unit needed about a weeks worth of break-in. Luckily that meant just keeping the power on for seven days.
After a week I tweaked away (see sidebar) and started listening. Journey was coming through my system. My Benz cartridge had turned into an FM antenna. It was so loud I could hear it on low passages while spinning records. I tried different cables, different positions on the rack. Hell, I even took it off the rack and put it on my VPI 16.5. Any way you want it ...that's the waay you need It—Steve Perry was still wailing away. Don't fret. Turns out I had the impedance set for 47K ohms and my Benz wanted 100 ohms. Once the little dip switches were properly in place things got much better.
The overall character was just what you'd expect. Compared to my Black Cube the textures were richer, fuller, and smoother. Extreme highs and lows not as prominent. An eensy bit slower in the PRAT department. The more I listened, the better the JD 9A resolved. In fact the more I listened the more I liked everything about the Jolida. When the unit arrived I was still bathed in the glow of the twice-as-expensive Quicksilver phono stage. Would there be a huge let down? I though so at first, but after cueing up more and more cuts, I really began to enjoy the JD 9A for what it was. An excellent component, one that responds very favorably to a little tweaking.
I got out an old favorite "Compared to What" from Less Mcann and Eddie Harris' Swiss Movement. Recorded live at the Montreux jazz festival, this is not an audiophile recording. It does, however possess a lot of musical energy. If you're not moving or grooving in some way when you hear this tune you're dead. The Jolida did not disappoint. In fact, I played it twice.
Next came Mahavishnu Orchestra's title cut Birds of Fire. These guys can play. I'd forgotten how well. Intricate textures, timing, complexity. On some past listening it was hard to distinguish the Jerry Goodman's violin from John McLaughlin's guitar. No problem this time, the Jolida's resolution let me hear both distinctly.
I searched for something I hadn't heard in a long time and came up with Sly and the Family Stone's "Hot Fun in the Summertime". At first glance whimsical, most agree it was a sly (no pun intended) commentary that summer's racial unrest. Where are the protest singers now that we really need them? What the Jolida did was let me hear the groove that Gregg Errico was playing in a new light. Much different than I'd originally thought.
All things said, I enjoyed my time with the JD 9A. High build quality, great sound, versatile, and easy to use, it should be able to accept any cartridge out there. Faults? Just what you'd expect. The extreme frequency ranges were not rendered perfectly, and during loud, complex passages things got a little congested. I could say the exact same thing about components I've heard that cost much more than the JD 9A. On the very positive side the resolution was much better than I've ever heard for $450.
Can I recommend the Jolida JD 9A? Yes. Out of the box its value is undeniable. It could be your intermediate step to vinyl nirvana, or it might be all you'll ever need. Depends on your taste and discretionary funds. A few inexpensive tweaks and this unit becomes a real performer. It looks cool too. Well done. John Zurek
JD-9A Phonostage
Retail: $450
Joldia
web address: www.jolida.com
An Apology and a Sidebar
About a year ago I was working on a review for a tubed phono stage that was a cult fave. After some freshman tube rolling success with my new Cary preamp I was ready for more tweakage. I'd heard good things about the products from Herbie's Audio Labs, and contacted Steve Herbelin, AKA Herbie himself. Steve was gracious enough to send me some of his Hal-O tune dampers, and a set of Iso-cup isolators.

The review never happened because of system matching problems that were never resolved. Over the next year components came and went, and I forgot about the products from Herbie's Audio Labs sitting on my shelf. Until the Jolida JD 9A arrived.
Easy things first. The system was warmed up. I put on Crosby Still and Nash, and cued up "Guinevere". After listening once I stopped and set the Iso-cups under the Jolida. I lowered the JMW-9 tonearm on the same cut. Instantly, the noise floor lowered. The voices became sweeter, easier to distinguish. Less grunge factor. An overall silkier presentation.
Next I pulled off the Jolida's cover to expose its innards. Surprisingly, the 12AX7s had metal covers. After working those off, I removed the stock (I assume) Chinese tubes labeled "Jolida" and replaced them with some RCAs in my stash. After letting the old Americans warm up I cued up "Guinevere" again. Ohhhh…, micro dynamics much improved, immediacy, communication, fuller textures, ahhhh…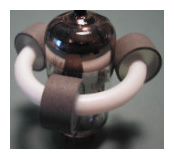 And last, I fitted the Hal-Os onto the RCAs. One more time for Gwennie. I wasn't expecting this. Shit! These little rings tied it all together. COHERENT. Delicacy. Wooliness now absent. Soundstage noticeably more solid all the way across, a depth that wasn't there before, bass more controlled. The attack (what non-musicians call transients) on the Martin guitars was all of a sudden happening, really happening, full of the little cues that make music seem much more alive.
My conclusion? I'm not going to go into why tubes need damping. Go read about microphonics. What I am going to tell you is this: If you have a tubed component you can't really afford not to try Herbie's tweaks. For a few measly piasters you can seriously upgrade anything using glass. With a 90-day money-back trial period, and a lifetime warranty, you just can't loose. My decree: All tubes in my system will be sporting Hal-Os from this day forward. All phono stages will sit on Iso-cups. Right on Herbie!
SuperSonic Hal-O 9 Vacuum Tube Dampers
Retail: $11.49/nickel
Iso-Cup Clear or Black
Retail: $14.95 ea.
Herbie's Audio Lab
web address: http://herbiesaudiolab.net