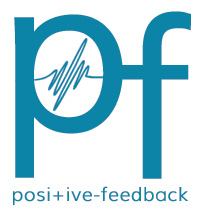 You are reading the older HTML site
Positive Feedback ISSUE 27

september/october
2006
Rimsky-Korsakov: Orchestral Works
by Stephen Francis Vasta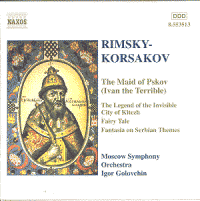 Rimsky-Korsakov: Orchestral Works Moscow Symphony Orchestra/Igor Golovchin, Naxos 8.553513 and 8.553858 (TT: 69:19, 72:40) 8.553513: Pan Voyevoda: Suite. Sadko, Op. 5. Overture on Russian Themes, Op. 28. May Night: Overture. Boyarïnya Vera Sheloga, Op. 54: Overture and Lullaby (with Elena Okolysheva, mezzo-soprano). 8.553858: The Maid of Pskov (Ivan the Terrible): Overture and Entr'actes. Legend of the Invisible City of Kitezh: Symphonic Suite. Fairy Tale (Skazka), Op. 29. Fantasia on Serbian Themes, Op. 6.
Collectors of Russian music will welcome this brace of Naxos discs, which handily assembles quite a lot of infrequently recorded material. But the programs inadvertently suggest why we don't hear much Rimsky-Korsakov besides his "big three" (Scheherazade, Capriccio espagnol, and the Russian Easter Overture).
There are some lovely things here, to be sure. The Overture on Russian Themes and Fantasia on Serbian Themes offer all the infectious brio and poignant melancholy you'd expect from folk-based music. (You probably know the principal themes of Opus 28 as the "Slava!" motif from Boris Godunov and the little folksong with tambourine from the 1812 overture.) The sinuous woodwind soli and quasi-improvisatory flourishes of the Kitezh suite evoke an appealing sense of fantasy; and the well-crafted "fairy tale" Skazka holds attention, even if some passages sound like elaborate accompaniments waiting on a theme.
But the rest of the music doesn't cut nearly as strong a profile. The thematic gestures and rhythmic patterns are suitably "Russian," decked out, predictably, in splendid orchestral garb. But a lack of really memorable melody—and a concomitant lack of contrast—proves fatal: too frequently, nothing lingers in the memory at the end of a piece. Nor does the explicitly theatrical music necessarily carry a greater dramatic punch: the Kitezh suite is drawn from an opera, but so are the indifferent excerpts from The Maid of Pskov and Pan Voyevoda. The Vera Sheloga overture starts out strongly, but quickly runs out of steam. (For what it's worth, Elena Okolysheva sings the Sheloga Lullaby with a rich, vibrant tone, blessedly free of Slavonic wobble.)
Perhaps Igor Golovchin is to blame for this mediocre impression: his dutiful, orderly performances don't begin to exploit the expressive potential of Rimsky's variegated orchestral palette. Ansermet's expertly tinted, shimmering Sadko (in a budget "Double Decca" CD set) and even Svetlanov's coarse bash through the May Night overture (variously available on Angel and Westminster Gold LPs and on a Vox cassette) draw more out of those scores than is hinted at in Golovchin's unexceptionable, unimaginative readings.
Is the Moscow Symphony a "new" (post-Communist) orchestra, or a descendant of one of the Soviet-era ensembles? Their playing is sensitive and disciplined, though Skazka betrays a few tentative moments.
The engineering is superficially fine, but close listening reveals that only the heavy brass make any real impact; other instrumental groups lack vividness, as does the soft playing in general. If you try a volume boost to gain presence - as I did in the Vera Sheloga overture - the peaks verge on overload.