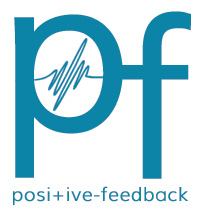 You are reading the older HTML site
Positive Feedback ISSUE 27

september/october
2006
RMAF - 2006 Page 2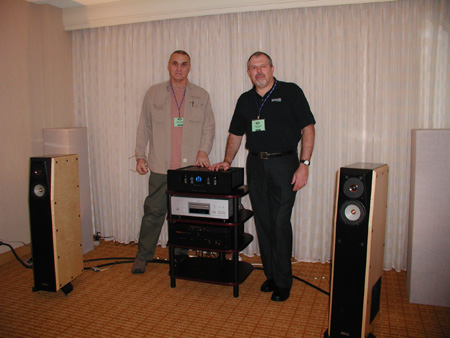 George Kaye of Moscode and Guy Hammel of Placette Audio in the room featuring Moscode, EchoBusters, Joseph Audio, Placette Audio, Cardas Audio... err Music Direct!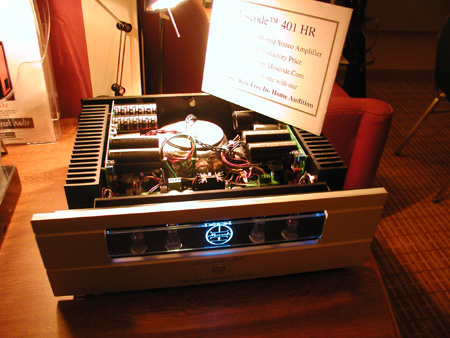 Moscode 401 HR amplifier... hey how about an integrated or monoblocks!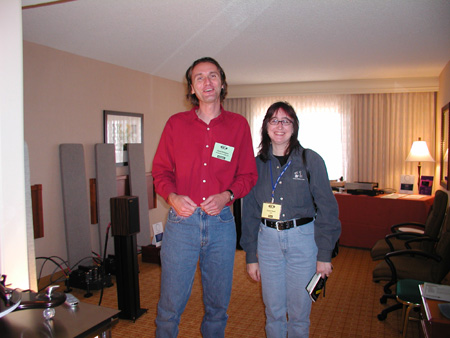 In the Acoustic Sounds' room we found Clark Williams of Acoustic Sounds posing with the oh so lovely Carol Clark... no relationship... not even kissin' cousins they are! Both nice people too!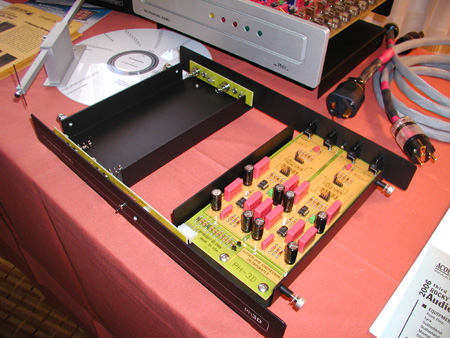 Sutherland Ph3D. A new phonostage $1000 that is very, very cool and on the way to some lucky PFO staffer! Sort of like half a PhD at a third the price...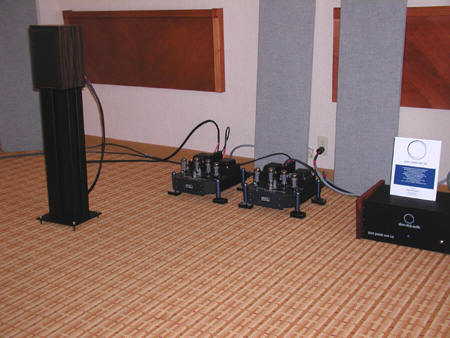 Stirling Broadcast LS/5a V2 loudspeakers $1695 pair with Manley Snapper monoblock amps $4250 pair and Silver Circle Audio Pure Power One 5.0 $2600.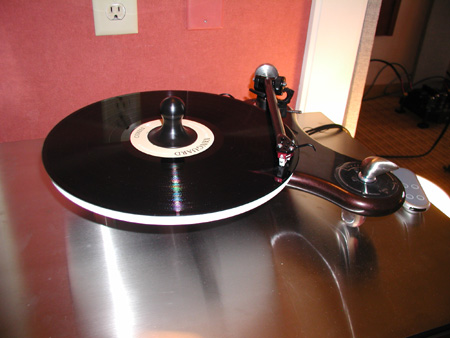 Funk Firm Vector Turntable with MK3 tonearm $2099 and Dorian cartridge $749... killer combo for scratch coin...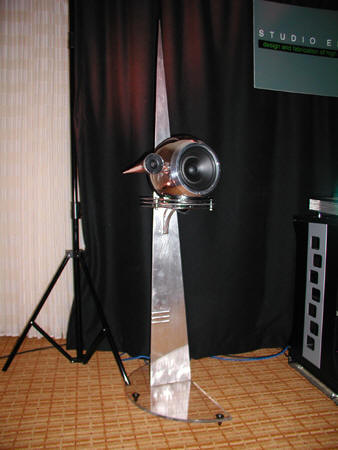 Studio Electric loudspeakers...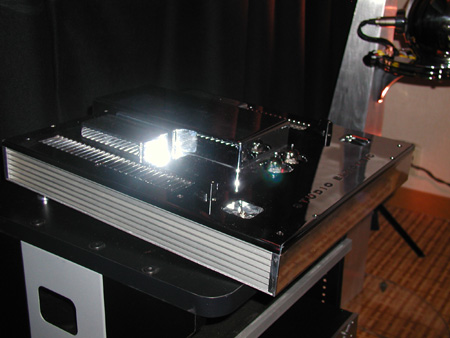 The new Studio Electric amplifier/integrated... based on the older version....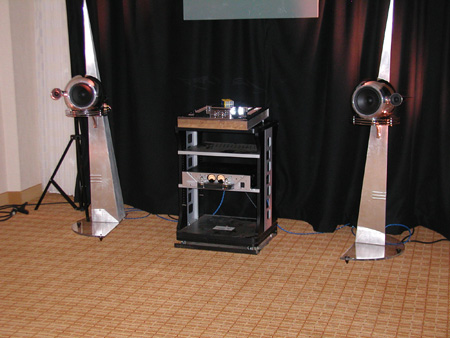 Studio Electric system with the new stands and integral subwoofers (in the stands man!)... no we are talkin!!!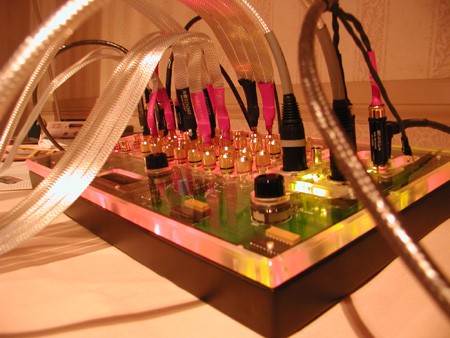 Nordost cable burner-inner-faster-thinger... it can burn in anything with a connector.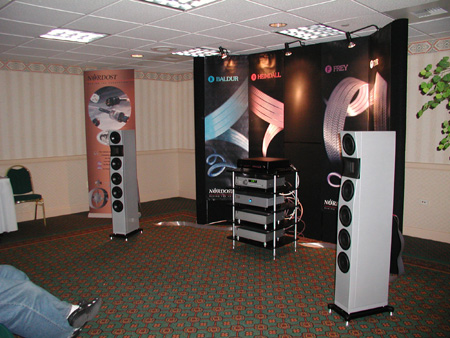 Nordost system with Arcam, dCs CD player, and Eben loudspeakers.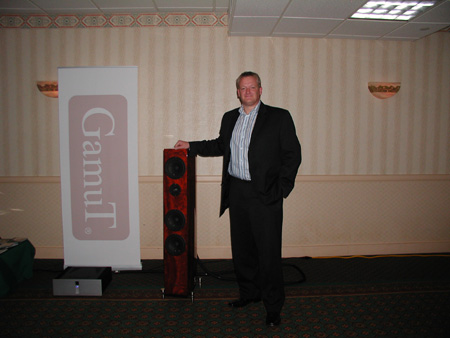 David Stephens distributor and marketing for GamuT in the USA!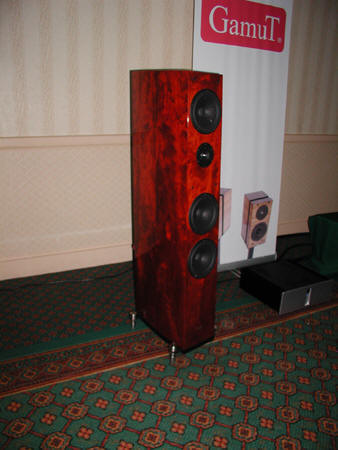 GamuT L7 3-way loudspeakers sounded really nice. We have the smaller line here for review. Good things they are!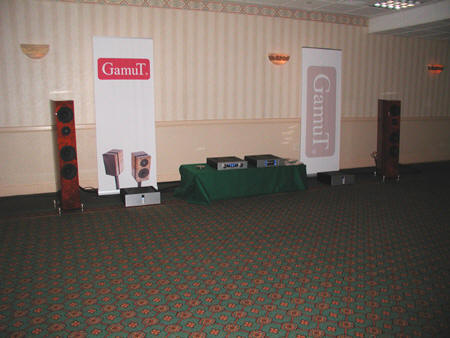 GamuT - the entire range of musical notes. A very big room that the speakers had no problem with.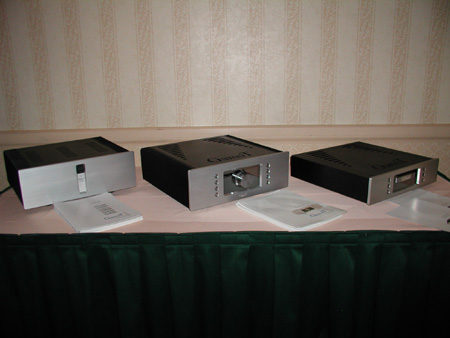 GamuT D200 power amp, DI 150 integrated amp, and CD3 CD player. Very nice stuff with that Gamut ease to them.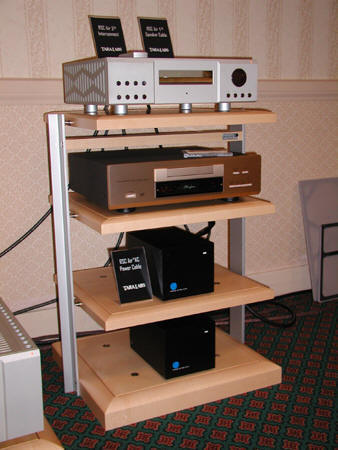 Audio Unlimited room featured Boulder electronics, Accuphase DP-78 CD/SACD player, Finite-Elemente Racks, and Tara Labs cables.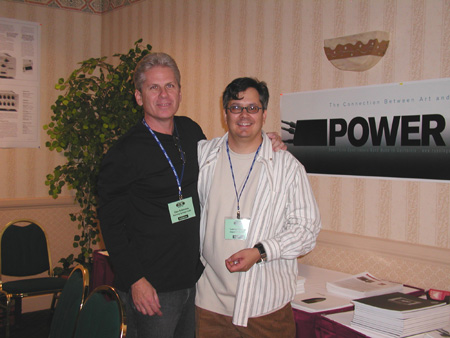 Dan Babineau and Lenny Mayeaux in the Audio Unlimited room. Dan is with Tone Audio who sat with us on the Meet the Editors panel. A good man he is... and so is Lenny too!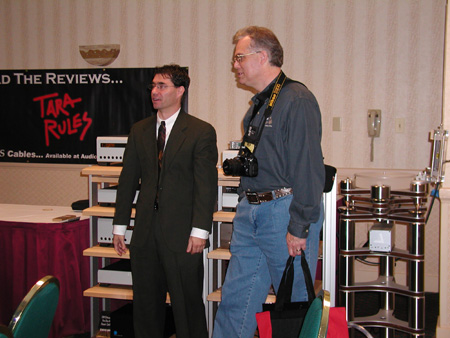 David Robinson with Rich Maez and a Clearaudio Master Solution Turntable.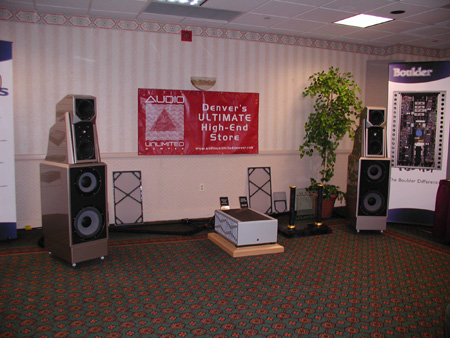 Audio Unlimited showed Wilson Audio Maxx 2 loudspeakers with Boulder electronics.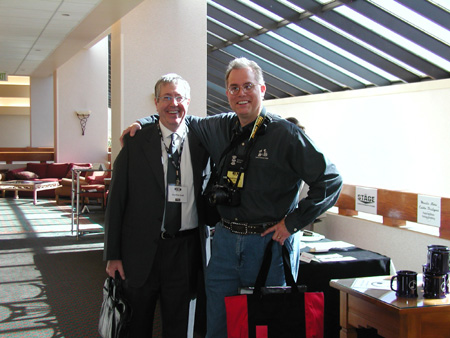 Jonathan Scull with David Robinson on the mezzanine level, it was HOT up there, and not just because of J10 being in da house!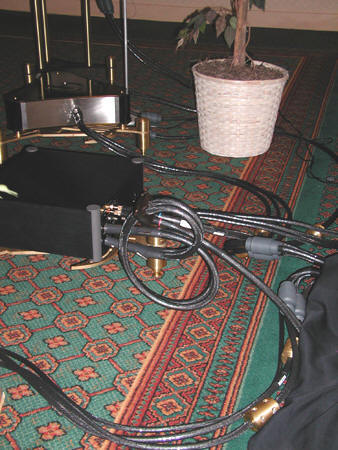 In the Star Sound room with a lot of Virtual Dynamics cables.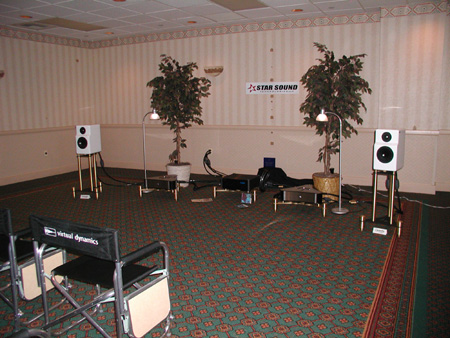 Star Sound featured STAGE Platforms, Pointless Points, Sistrum Platforms, Star Sound Caravelle, and Audio Points.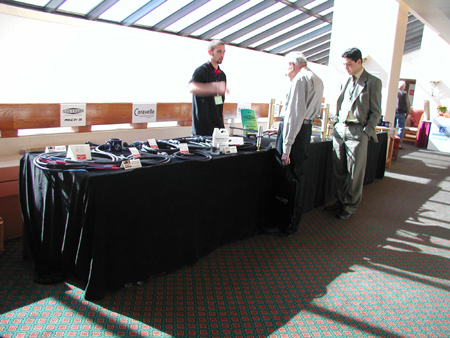 Did I mention it was hot under those skylights? Sonoran cables from Star Sound. Hot, Sonoran cables... get it? You know ...desert?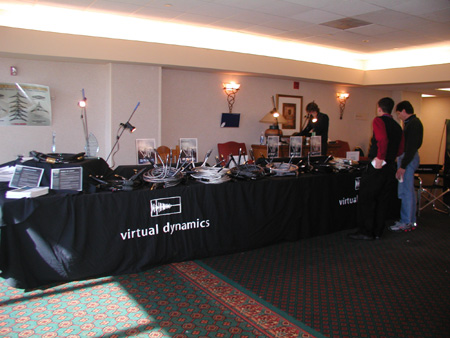 Virtual Dynamics had a full range of products on display.