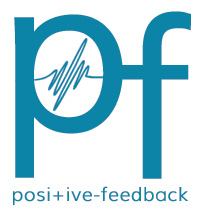 You are reading the older HTML site
Positive Feedback ISSUE 27

september/october
2006
Music of Richard Strauss
by Mark Wagner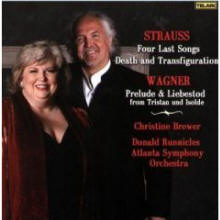 Music of Richard Strauss Death and Transfiguration and Four Last Songs and Prelude and Liebestod from Tristan und Isolde
Donald Runnicles and the Atlanta Symphony Orchestra with Christine Brewer, Soprano, Telarc SACD-60661, recorded in Woodruff Arts Center, Atlanta, April 1-2, 2006
Everyone who really knows me is aware that I love all classical music from the middle ages to the middle part of the 20th century. However, it is the rich thunderous sounds of Romantic music that truly gets my blood flowing. The music of Wagner and Richard Strauss are two composers who represent the absolute best of the late Romantic period. This new SACD from Telarc is a prime example of some the best music from this time.
Donald Runnicles is joined by American soprano Christine Brewer performing Richard Strauss' magnificent Four Last Songs as well as Wagner's Liebestod from his opera Tristan und Isolde, while the Atlanta Symphony performs Strauss' Death and Transfiguration as well as the Prelude to Act One of Tristan und Isolde (where Ms. Brewer once again joins in).
I will start with Christine Brewer's singing, which is utterly fantastic. For many years, my favorite recording of Strauss' Four Last Songs was with Jessye Norman and Kurt Masur with the Leipzig Gewandhaus Orchestra (on an old Phillips CD). There has never been any doubt in my mind that Jessye Norman was for many years one of the top American sopranos, but this new Telarc proves that Christine Brewer is right up there with Jessye Norman in artistry, musicality, and sheer vocal power. The music was written in Strauss' later years and the final movement, Im Abendrot (In Evening), signifies one's final days on earth. This final movement has a special meaning to me, as it was sung during a memorial service for my trumpet teacher at the University of Louisville, who had died the previous week. It was unfortunate that for many years that I was unable to enjoy this remarkable music without the sad memories. Well, time has healed all and I can truly say I enjoy Christine Brewer's performance on this recording.
The other vocal selection is the Liebestod of Richard Wagner. This piece is usually paired with the Prelude of Act One of Wagner's titanic opera Tristan und Isolde and is usually performed together as a concert piece. The music of Richard Wagner represents some of the finest examples of operatic material from the Romantic period, with the Prelude and Liebestod being among Wagner's best writing. Donald Runnicles leads the very competent Atlanta Symphony in a fine performance, though I would have preferred a little bit more intensity from the podium and the orchestra during the Prelude. My old standard recording of this music is with Sir Georg Solti and the Chicago Symphony. The Atlanta performance is fine, but lacks a just little bit of the sheer emotional drama that Solti achieved with his Chicago forces.
I have to save the final performance on this recording for last as it is this selection that makes this SACD a total winner! Richard Strauss' tone poem, Death and Transfiguration (or for you diehards, Tod und Verklärung) is just one of the numerous tone poems (single movement themed concert pieces) that Strauss wrote. While Eine Alpensinfonie, Also Sprach Zarathustra (used in Kubrick's movie 2001 for those of you new to classical music), Don Juan, and Till Eulenspiegel Merry Pranks are superb compositions, Death and Transfiguration is king in my book for sheer emotion and beauty. Moreover, for goodness sake, Donald Runnicles and the Atlanta Symphony are simply in top form! I have heard recordings of this with Solti, Ashkenazy, von Karajan ...none of those recordings come close to what we have here.
Regarding the sound: I have heard enough of the new Telarc SACDs with both Robert Spano and Donald Runnicles to know that Telarc has mastered Woodruff Hall, the home of the Atlanta Symphony. What we have here is stunning sound with excellent transparency and detail. Air, space, warmth, and tremendous sense of hall (especially on the Four Last Songs) as well as thunderous orchestral climaxes that never gets muddy! Well done Telarc!
VERY highly recommended as a prime example of Romantic music played superbly!