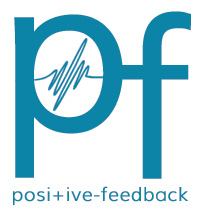 You are reading the older HTML site
Positive Feedback ISSUE 28

november/december
2006
Notes of an Amateur, December, 2006 - Part I
by Bob Neill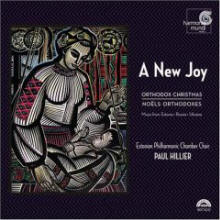 A New Joy - Orthodox Christmas. Paul Hillier, Estonian Philharmonic Chamber Choir. Harmonia Mundi, HMU 907410.
I was drawn to this album because I find (Eastern, also frequently called Russian) Orthdoxy the most compelling version of Christianity and because I couldn't believe that the religiosic voodoo music of John Tavener is representative of the Orthodox muse. This is music composed during the nineteenth and early twentieth centuries in Estonia, Russia, and the Ukraine. It has an appropriately Slavic savor along with a restraint and sense of formality that connotes the mystical and self-abnegating quality of the Orthodox faith, as I understand it.
From the first tones of the ringing bells that precede the program and on into the carols, hymns, and songs, a spell is initiated and maintained. This despite the considerable variety of the pieces sung. The spell appears to be the product of old folk elements blended with age-old Russian chants. All of the music, even the most joyful, has a somewhat darker cast to it than we are accustomed to during the Christmas season in the West. Even the familiar "Song of Good Cheer" from the Ukraine feels like an evening rather than morning song. The history of how this 'style' came to be is spelled out in the excellent program notes.
The highlight of the album for me is the seventeen-minute plus "Festive Canon for the Nativity of Christ: Christ is Born," by twentieth century priest/musicologist Georgiy Izekov, who was executed by the Soviets in 1937. Like much of the music in the program of his predecessor, Alexander Kastalsky, whose work was also suppressed (though he was not killed), his piece is here recorded for the first time.
This album is a welcome window into another way of conceiving of and celebrating a moment in history and myth which affects many of us, believers and not.
J.S. Bach, Cantatas, Volume 15: For the Third Day of Christmas. John Eliot Gardiner, English Baroque Soloists and Choir. Soli Gratia Deo, SDG 127.
This is the second single CD volume the Gardiner Bach Cantata team have offered, the first being the Cantatas of the First and Second Days of Christmas, issued last year about this time. What we have here is the sense of transport and relief that comes from being delivered by the birth of Christ from the darker and heavier side of humanity that holds us down. We are past pure joy here and on into the peace and pleasure that come after. Coming to this music from the album of Orthodox songs and hymns as I did, we are especially aware of its brightness. It is gold to the Eastern bronze. As always with this cycle of Bach's great music, it comes with my highest recommendation.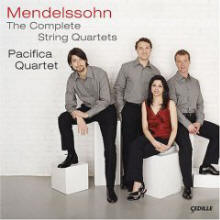 Mendelssohn, The Complete Quartets. Pacifica Quartet. Cedille Records. CDR 082.
Based on what I heard of this fine young ensemble on the Janacek/Seeger/Hindemith CD last time out, I wasn't sure what to expect from their Mendelssohn. To tell the truth, I feared they might punch him up a bit. Not a chance. From the first notes of the initial quartet on the program (the E Flat Major published posthumously), I relaxed and sat back to an elegant, restrained, sonorous, graceful and captivating performance. For reference, I returned to the Emerson's 2005 recording of the same work (DG) and heard a more fleet but predictably less elegant performance. The Emersons dig into the music a bit more, but their overall spirit is closer to that of the Pacifica group than I'd remembered, though to be fair, I also sensed a bit more detachment in their performance. This comparison took me back a further step to my reference, the Artis Quartet (Accord) recorded in 1989. The Artis musicians agree with the Emersons about tempo; but with their richer and more billowy sound, they seem to give the music a bit more life. If you are a Mendelssohn fan and don't have the Artis set, make an effort to track it down.
Returning to the Pacificas a few days later (comparisons by highlighting differences don't always tell us what we want to know), I found their Mendelssohn luminous (Won't they be pleased to hear that!). There is a seemingly effortless flow to their playing—we are more aware of tonal color and grace than contrast and drama. At moments, it is as if we are looking ahead to impressionism. (I am listening to the two Adagio movements that open the Opus 13 A Major Quartet, an early work.) As they move into the third movement Intermezzo and then on to the final movement, a ten minute Presto, we are into what sounds like a precursor of Tchaikovsky's view of the eighteenth century in his Mozartiana). It is as if eighteenth century musical ideas are being romanticized a bit. That is clearly the spirit of the music and the Pacificas deliver it persuasively.
They play the later quartets of Opus 44 more briskly and with an added ounce or two of passion, but they still "hear" the composer as a creature of Aerial rather than Caliban. This is refined, eloquent music-making, which, despite its hints of impressionism and Tchaikovsky, brings out the son of the eighteenth century rather than the budding romantic. It is after all just the 1830's and Brahms and Tchaikovsky are still a generation away. The Pacificas deserve all of the widespread praise they have won for this album.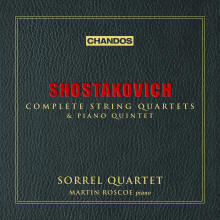 Shostakovich, Complete String Quartets. Sorrel Quartet. Chandos 10398.
With the Borodins, Emersons, and Fitzwilliams, who really needs to hear another cycle of Shostakovich's quartets? I paid no attention to these records as they came out over the past eight years; but finding the group's interpretation of Britten's quartets appealing (more beauty, less angst) and coming upon this just issued box set of their complete Shostakovich, I finally became curious. And no surprise, this all British women's ensemble searches out the haunting beauty in Shostakovich inside the drama and passion. Shostakovich, Britten's Russian musical cousin.
The Sorrels' approach to the composer reminds me of Van Keulen's in the Violin Sonata and Viola Sonata I wrote about last time. And it reminds me of pianist Susan Tomes' essay on "Grace" in her current book, A Musician's Alphabet (Faber and Faber, highly recommended), in which, among a great many other things, she remarks on the ascendance of boldness and decline of grace in modern performance style. I cannot resist the observation that in all three of these cases we may be hearing a woman's view of what needs to be regained in our musicianship. There is plenty of fury in the Sorrels' playing when the music calls for it; but it has a wild and airy Valkyrien quality rather than the thunder and lighting we are used to. I like it a lot. It is marvelous complement (antidote?) to the severity of the Fitzwilliams in particular. Major works of music make their own lives when they are out in the world, free of their composers. And this is an excellent example of this truism. Who knew the Shostokovich Quartets have this much beauty secreted away in their magnificent bluster? The Sorrels knew.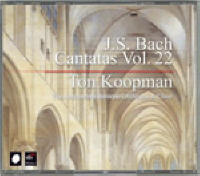 J.S. Bach, Cantatas, Volume 22. Ton Koopman, Amsterdam Baroque Orchestra and Choir. Challenge Classics. CC72222
Coming to Koopman's Bach again from Gardiner's, I am always surprised and then pleased to hear that my initial fondness for the Dutch musician's approach to Bach is intact. The surprise is at the difference: everything is more serene and the tempo is a step slower, more deliberate. There is calm majesty to the performance that lets this fine music breathe and makes its own authoritative case. I have written before that Koopman's Bach exudes faith and reverence—in the best way. It gives us the sound of these qualities, it does not preach them. Koopman's cycle is one of the three best I know of—and I feel no need to choose among them. Gardiner has energy and freshness; Harnoncourt, with his boy sopranos, has a natural, rustic credibility that reminds us of the circumstances in which this story began; and Koopman has great authority and serenity. I live happily with all three and consider myself a lucky man.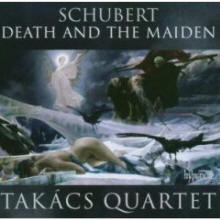 Schubert, Quartets Nos. 13 ("Death and the Maiden") and 14. Takacs Quartet. Hyperion.
I have been wrestling with the much admired Takacs Quartet for nearly a decade now and not fared as well as others who write about them. First, it was their Bartok Quartet cycle, which initially took me with its incisiveness but then lost ground to the Emerson versions, which revealed, at least to me, a lack of humanity in the Hungarian group's approach. Then it was the Beethoven cycle, recently completed, which again had the group's characteristic clarity and incisiveness. I tried desperately to hear around what I took to be my weak backbone as the critics raved and the awards came, but failed and gave them away to an enthusiastic Takacs fan.
And now, with a new first violinist and new violist, neither Hungarian, and settled in the US and with a new record company that is almost always dependable, I determined to try them again.
In an informative review article in the current issue of Fanfare, we learn that the group still feels its Hungarian roots, and I concede their sound remains essentially what it has been. Their attacks are bold and crisp, the drama in this music is developed with especial enthusiasm. The presentation is lean, taut, furious, and tending to stark. This is Schubert played by musicians with Bartok in their ears. And why not? It is clear we are in the presence of musicians who know this music well and are truly energized by it. And they are energized by something that is clearly in the music. Whether they do not hear all of its beauty or whether they feel the need to choose between beauty and something they find more central to the heart of Schubert is the question they force me to ask. And that is, in essence, the crux of my Takacs Problem. This is forceful, passionate musicianship and I do understand why so many admire it. So don't let me put you off it unless you're the fool for beauty that I am.
System used for these auditions: Audio Note CDT 2 II transport and Dac 4.1 Balanced Signature, Audio Note M6 preamplifier and Neiro amplifier, Audio Note AN-E/SPx SE speakers. Cabling is Audio Note Sogon, AN-Vx, and SPx.
Bob Neill, in addition to being an occasional equipment and regular music reviewer for Positive- Feedback Online, is also proprietor of Amherst Audio in Amherst, Massachusetts, which sells equipment from Audio Note, Blue Circle, Manley Labs, and JM Reynaud, among others.