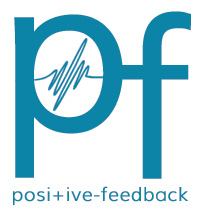 You are reading the older HTML site
Positive Feedback ISSUE 28

november/december
2006
The Higher End: Robinson's Brutus Awards, and the Gizmo Award for 2006
by David W. Robinson
Amazing as it seems, it's time to announce my 2006 Brutus Awards. This past year has been the most hectic in my life, and it's hard for me to believe that the end of the year is at hand. It's always a tough task to consider the products that I've had in for review over the past year, and decide which among them represent superior accomplishments in fine audio. This year's group of products submitted to me for review was a rich and varied one, however, and many of the choices were easy for me to make.
Before listing my choices for 2006, I'd like to go back and review the criteria for the Positive Feedback Online Brutus Award. Quoting from PFO Issue 10 (see Brutus Awards), when Dave Clark and I announced the launch of the Brutus Award, and our Lifetime Achievement Award, I said:
We at Positive Feedback Online are going to have two main categories of annual awards. The first will be our Brutus Award. This will be recognition given to "the best and the brightest" products that we have experienced in various categories in a given year. In hardware, these will range from "best bang for the buck" to "the best period, and hang the expense!" designs. In recordings, we'll be paying tribute to the best that we've found in various formats. In addition, we'll have a "Lifetime Achievement Award" that will recognize individuals whose contributions to fine audio in various respects has been both superior and sustained.
All products that are so recognized by PFO will be work that has been reviewed by us personally; no design will be recognized that we do not have experience with in our listening rooms. This means that you, our readers, may disagree with our selections, wondering why this or that component, recording or individual was not mentioned. Quite apart from differences in taste/opinion, the answer is simple: we won't be mentioning any design that we haven't spent time with in our own listening rooms. If a product does not win a Brutus Award in a given category, this does not signify lack of merit—we just may not have gotten to work with it. You're certainly welcome to write to us and bring worthy components to our attention.
In other words, Brutus Awards are given only by Dave Clark and myself, and only to components/systems that we have personally reviewed in our listening rooms. (PFO writers and other editors have their own awards: The PFO Writers' Choice Awards.) And we always encourage our readers and designers/manufacturers to bring worthy new designs to our attention, so that we can arrange a review by either Dave or I. This is the only way that a Brutus Award can be given.
The Lifetime Achievement Award is one that Dave and I give to superior audio designers who have demonstrated extended and superior work to the audio arts over substantial amounts of time. These awards are given once only, as the spirit moves us, and only after Dave and I are convinced of the merits of the recipient. Some years there are several; some years, none.
Here's our annual cautionary note to our readers: all PFO awards are intended solely as recognition of superior quality by the editors and writers of Positive Feedback Online, to encourage the furtherance of the audio arts. They should be considered by our readers as guidelines, and NOT as golden calves to be worshipped by audio idolaters, or truckled to by the audio dilettanti. Do NOT use them as a convenient substitute for LISTENING FOR YOURSELF AND FORMING YOUR OWN IMPRESSIONS!
If you find yourself tempted to do this—don't.
And that's quite enough said.
My Brutus Award Winners for 2006
Product Categories:
SACD/CD playback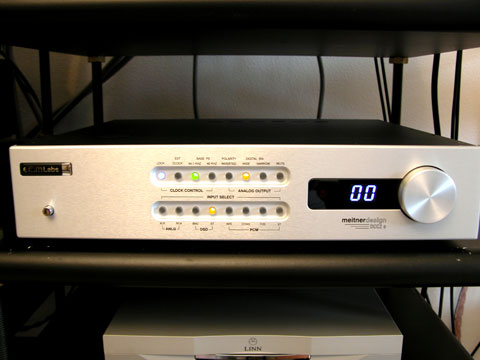 The superb EMM Labs DCC2 Signature Edition preamp/processor
No surprise here at all: once more EMM Labs carries away the prize …three of them, in fact. I am awarding one Brutus each for the EMM Labs DAC6e Signature Edition 2/6 channel SACD/CD DAC, the EMM Labs DCC2 Signature Edition 2 channel SACD/CD DAC/Preamplifier, and the EMM Labs CDSD Signature Edition SACD/CD Transport. This latest generation of equipment from Ed Meitner and company is simply the best ever, for both SACD and CD playback. I have to say that the Signature Edition is the best I've ever heard in digital playback, period. Naturally I would expect EMM Labs to produce the best DSD/SACD playback, but I was very surprised to hear how much improvement the Signature Edition brought to standard Red Book playback. CD playback in my system is now at a level of excellence that I've never experienced before. With the Signature Edition from EMM Labs, you can have it all: state of the art playback with your SACDs—and with the little Red Book devils too!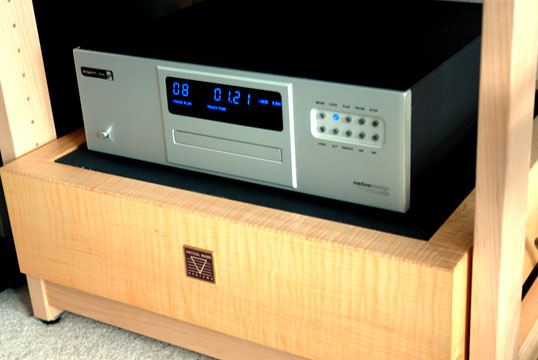 My current benchmark in a digital transport: the EMM Labs CDSD Signature Edition, resting on another Brutus Award winner for 2006, the Critical Mass Systems Grandmaster Black Isolation Platform and Stand. This is a highly synergistic tandem.
Just in case there's any doubt of what I've experienced, and what I mean: Best of the best. Sine qua non. Ne plus ultra. The acme. The pinnacle. The zenith. Splendid in every way. That should be clear enough, I hope.
Put another way: I would not dream of parting with my EMM Labs Signature Edition front end for both SACD and CD playback …until and unless Ed Meitner and company came up with something even better. (That's no joke; Ed is always coming up with something new.) In my opinion, if you haven't heard the EMM Labs Signature Edition, you haven't heard what digital can do.
I've said it before; I'll say it again: If you want the best I've ever heard, get thee to a Meitner!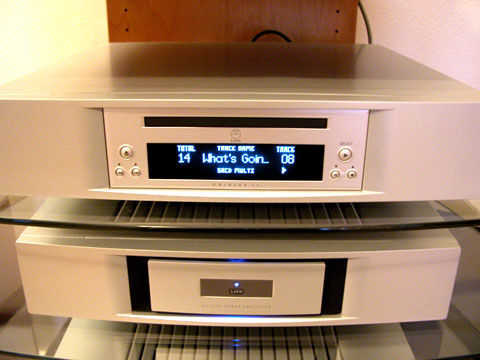 The fusion of engineering and beauty: The Linn Unidisk 1.1 (revised edition) above, floating over a Linn 5125 5 channel switching amplifier.
In the category of digital surround sound and universal players, the choice was not hard at all: the revised Linn Unidisk 1.1 takes the prize for 2006. The Unidisk 1.1 has been receiving highly favorable attention (including a richly deserved Brutus Award in 2004) ever since it was released to the public late in 2003. The revised Unidisk 1.1 features the same I/O set, but upgraded firmware and the addition of a quiet fan to assist with thermal dispersion, reducing the likelihood of thermal lockup to near zero.
I found the new player to be rock solid, easily shifting from SACD surround to DVD video with Dolby Digital or DTS to DVD-A without problems, even after being left online continuously for many months. (See my extended review elsewhere in this issue at www.positive-feedback.com/Issue28/linn.htm.) I like the sound better than the earlier revision, as well.
As usual with Linn, we have highly attractive gear that sounds exceptional and works like a champ—world class engineering married to knock-out looks …you can't beat that! This improved Unidisk 1.1 therefore richly merits a Brutus Award for 2006.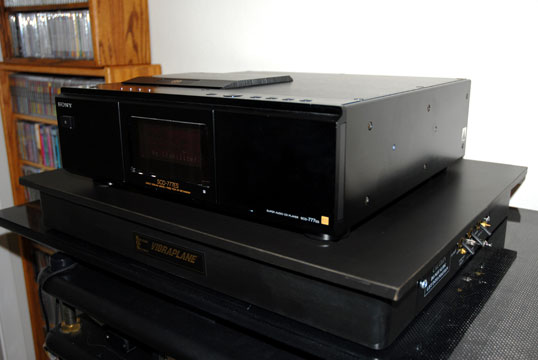 A Vacuum State Electronics Level 5+ equipped Sony SCD-777ES on a Vibraplane and Black Diamond Racing "The Shelf." If you "don't drive stock!" and are looking at a huge amount of bang for the buck, then this is one you should be looking at.
Also worthy of a Brutus Award is the Vacuum State Electronics Level 5+ Modification for various Sony and other SACD players. Allen Wright and company have put together an exceptional (and exceptionally affordable) upgrade to certain SACD players (see the VSE web site at www.vacuumstate.com/son-kits.htm for a list of candidate players). Last year, I got to hear the Level 4 mods on a Sony DVP-9000ES, and was so struck by the improvement in audio presentation that I gave it a Brutus for 2005. This year it was the Level 5+ mod, which Allen Wright said that I really had to hear. I have to say that I'm very grateful to Allen for bringing the 5+ to my attention. In my time with a Level 5+ equipped Sony SCD-777ES, courtesy of Warren Gregoire, VSE's west coast representative (www.warrengregoire.com), played back via the EMM Labs DCC2 Signature Edition, I was quite impressed by the transparency and ease that the 777 evidenced. I know the stock 777 very well, and have always found it to be somewhat "dark" in presentation—recessed in the upper frequencies, and erring in the direction of richness without sufficient atmosphere and spaciousness.
With the Level 5+ mod, Vacuum State Electronics has banished the bogey of darkness from the SCD-777ES completely, replacing it with a much greater clarity, transparency, and naturalness of presentation. The 777 no longer sounds like "hi-fi"; now it sounds much more like music. Anyone with a SACD player on the Vacuum State Electronics list cited above and not possessed of the shekels necessary for the EMM Labs system should definitely give thought to a Level 5+ mod. It provides a substantial portion of the virtues of the EMM Labs Signature Edition system, at a much more affordable price level.
Turntable playback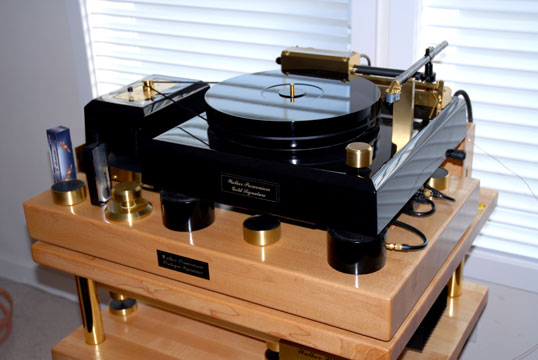 A Brutus Award winner for the third year in a row: The Walker Audio Proscenium turntable system—now upgraded to Black Diamond status.
Two radically different turntables grace my Brutus Awards for 2006. One is belt-driven, air bearing and air suspension with a linear tracking tonearm and a lead/crushed marble/resin plinth and lead platter (Walker Audio), while the other is a direct drive with DSP sampling for maximum linearity, an oil suspended bearing on an unsuspended carbon fiber plinth, with standard mounting for one pivoted tonearm (Grand Prix Audio). Both are worthy designs featuring excellence of execution of their different creative visions.
First of all, I have to say that Walker Audio has done it again. (Why am I not surprised?!) The latest major update to the Walker Audio Proscenium Gold Signature is a new tonearm and spindle system called the Black Diamond. When this is installed on your Proscenium, Walker Audio calls the turntable the Walker Audio Proscenium Black Diamond turntable. I had the Black Diamond tonearm upgrade installed by Lloyd Walker in October 2006 immediately after RMAF 2006, replacing my earlier carbon fiber version of the tonearm.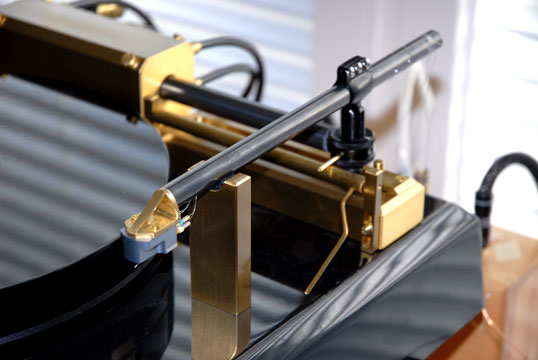 The new Walker Audio Black Diamond tonearm; the MC in place is the Micromagic Magic Diamond.
This new air-bearing tonearm and spindle are unlike anything I've seen. Composed of a special material with a Moh factor of 9 (10 = diamond), fabricated with 30,000 PSI of pressure, and specially chambered and dampened internally, Walker Audio's tonearm is as close to unyielding as anything you're ever likely to see in audio. For LP playback, this means that the tonearm is not flexing; it maintains a rigid and precise relationship between the underlying turntable and the LP.
The results are, in a word, astonishing. Transparency! Lightning-like responsiveness to dynamics! A noise floor that vanishes to nothingness! Richness! The Proscenium Black Diamond is noticeably ahead of its predecessor, the Proscenium Gold Signature. And frankly, until I heard it, I would never have considered such an advance to be possible …the Proscenium Gold Signature was just too good.
Until now. Now the Proscenium has taken its performance to another level, one that I didn't suspect existed until I heard the new configuration. It retains all the virtues of the Gold Signature system—complete control over all aspects of LP playback, including VTA adjustment, tracking force, damping; adjustable leveling, speed control, belt tension, and so on—but then adds enhanced resolution, better detail…without losing its remarkably superior audio-musical coinherence. (Some speak of "gestalt," and that is well, so far as it goes. At the highest level I prefer to think in terms of coinherence, the mutual interpenetration of audio and music.) Only the rarest of the rare audio designs/systems embody this trait—the Proscenium Black Diamond is one of these. And this last quality elevates it to the realm of the truly supreme in my book.
This is why I made the sacrifices necessary to purchase the Proscenium system as my personal reference for LP playback..
In sum: the Walker Audio Proscenium Black Diamond turntable is the best that I've ever heard, without exception. One is left beggared to find superlatives to describe the seamless excellence that I am hearing now. What EMM Labs is to digital playback, Walker Audio is to LP playback …it's a simple as that. If you can afford it, and aren't afraid of rock-solid adjustability and the complexities thereof, in order to get everything possiblee from your grooves, then the Walker Audio Proscenium Black Diamond should be at the very top of your list.
This is the best of the best. Period.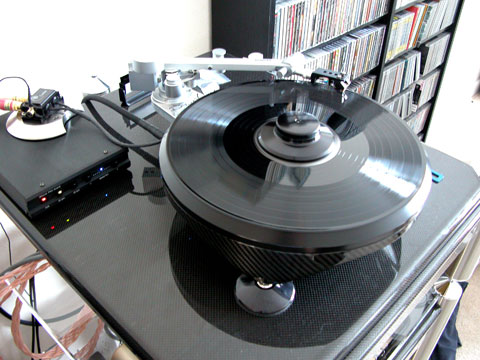 The Grand Prix Monaco turntable in operation on the Grand Prix Monaco Modular Isolation System. The Monaco is resting on the Formula carbon fiber shelf, an upgrade to the stand. Note the Grand Prix Audio DSP controller for the direct drive system to the right, at the back end of the shelf.
The second turntable on my Brutus Awards list for this year is the Grand Prix Audio Monaco turntable. The Monaco turntable represents a radically different approach to the problems of LP playback. Rather than using the mass and wondrously adjustable complexity of the Proscenium system, Grand Prix's Alvin Lloyd has chosen to go back to the drawing board and overcome the difficulties of LP playback with modern materials science, state-of-the-art fabrication, and computer controls to tame the challenges of direct-drive systems.
The result is the Monaco, a turntable that I had the pleasure of listening to for a number of weeks in my listening room. (For more details, see my review in PFO Issue 25 at www.positive-feedback.com/Issue25/monaco.htm.) Alvin Lloyd's design built upon his many years of experience in auto racing, where finding the greatest amount of strength/horsepower with the least amount of weight is the name of the game. His experience with carbon fiber has allowed him to craft a turntable that you can hold in your hands quite easily (don't try that with the Walker!), and place in minutes, once you've got the appropriate arm board installed. Note that I would strongly recommend that if you intend to purchase the Monaco turntable, that you also plan to purchase the Grand Prix Audio Monaco Modular Isolation system with the Formula carbon fiber top shelf; the synergy between these two components is terrific!
Featuring a computer-controller to monitor and adjust the brushless direct-drive system nearly 5000 times per second (!), Alvin Lloyd and company have come up with a compact, reliable, and extraordinarily linear turntable, without sacrificing portability, ease of setup/operation. The playback performance with the Dynavector DV-507 Mk II tonearm and XV-1s MC cartridge was high synergistic, always musical, always rhythmically right, and always appealing.
On the cost-performance side of the ledger: while a Monaco turntable and Monaco Modular Isolation system, plus tonearm and cartridge are not cheap, they will be more affordable than the Walker Audio alternative, extraordinary as that alternative is. If your preference is for state-of-the-art pivoted playback with minimum weight/space requirements, then the Monaco turntable system absolutely must be on your short list of candidate turntables.
Kudos and a Brutus Award to Alvin Lloyd and Grand Prix Audio for an excellent example of creativity in the audio arts, developing a dynamic new approach to the old problems in analog.
Tubed preamps
None this year.
Solid state line preamplifiers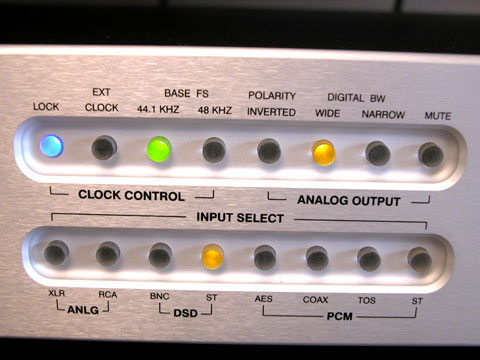 A close-up view of the EMM Labs DCC2 Signature Edition control options—superb!
As mentioned at the opening of this article, I have awarded the EMM Labs DCC2 Signature Preamplifier a Brutus Award as the best solid-state line preamplifier of the year. Transparency in spades, with both balanced and unbalanced input/output, BNC, TOSLINK, AES/EBU, complete top o' heap synergy with the EMM Labs CDSD Signature Edition transport, professional grade internals in a beautifully crafted chassis …all of this and built-in SACD/CD 2-channel processing. What's not to like?
Indeed!
The proverbial "bottom line": best I've heard in my listening room so far. I don't expect that to change in the foreseeable future.
Tube phono amps
None this year.
Solid state phono amps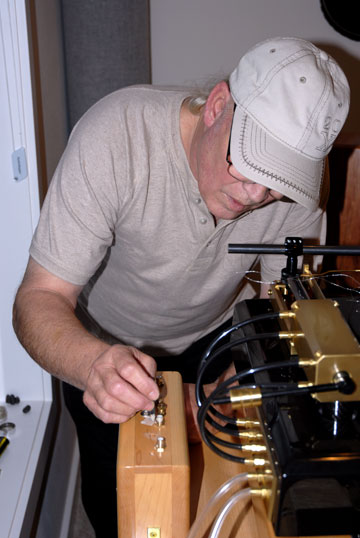 Lloyd Walker installing the latest (October, 2006) updates to his Reference Phono Amplifier, Second Edition.
Also updated in 2006 by Lloyd Walker and Fred Law, and receiving its own Brutus Award, was the Walker Audio Reference Phono Amplifier, Second Edition. Walker Audio's Reference Phono Amplifier is a true marvel of take-it-to-the-edge audio craftsmanship. It features point-to-point silver wiring with nude components, and specially fabricated RCA connectors done to Walker Audio's demanding specifications. The interior of this phono amp is a revelation; it's a real work of art. Lloyd and Fred use special micro-coated silver wire (twisted pairs in my case to reduce RFI) to go directly from the Magic Diamond to the Reference Phono Amplifier, keeping the delicate signal path to a handful of inches.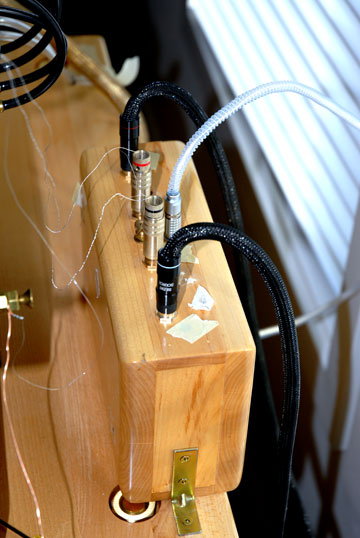 The Walker Audio Phono Amplifier, Second Edition, with all the latest modifications (as of October, 2006), now mounted onto my Proscenium Prologue Signature Shelf. Silent Source RCA cables with their black sheathing (another Brutus Award winner for 2006; see below) are handling the output; the ribbed translucent cable is the power feed from the Walker Audio Power Supply. Note the delicate custom silver phono wires from the Magic Diamond MC, configuration and installation courtesy of Lloyd Walker and Fred Law.
In conjunction with the new Proscenium Black Diamond turntable, the result is a true sonic tsunami—nothing less than a mighty step forward in resolution, transparency, dynamics, soundstaging (particularly depth), and the ability to render true silence and real presence. Want to be swept away by your LPs? Then look no further, amigos! I haven't heard every turntable system on the planet, but the Walker Audio Proscenium Black Diamond and Reference Phono Amplifier, Second Edition (latest upgrades) raises the ante to stratospheric levels and makes it harder and harder (and harder and harder) to imagine any better turntable playback, at any price, anywhere.
Tube amplifiers
Several last year; none that floated my boat this year. That's the way it goes, sometimes.
Hybrid amplifiers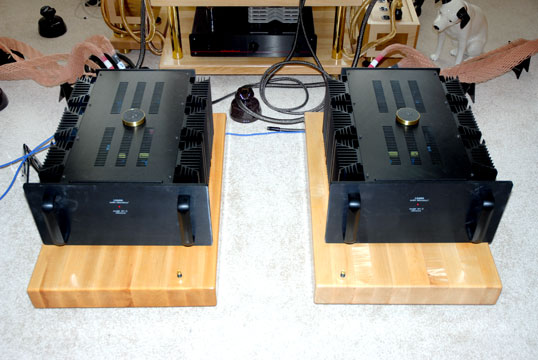 A surprising treat for Ye Olde Editor this year: the Lamm M1.2 Reference Hybrid Power Amplifiers on their nicely synergistic Walker Audio Prologue Amplifier Stands, and sporting Walker Audio tuning discs. Choice stuff!
This was a surprise for me this year; I wasn't expecting to listen to any hybrid amplifiers, and frankly haven't done so since my days with the 75 watt Blue Circle monoblocks back in the later '90s. But my unindicted audio co-conspirator Dr. Sardonicus brought this one to my attention: "You ought to try these out, David; I really think you'll like them."
Sure enough, he was right …so much so that a Brutus Award that I wasn't expecting to give is definitely in order. The Lamm M1.2 Reference Hybrid Power Amplifier is a Pure Class A design rated at 110 watts per monoblock @ 8 ohm (high impedance setting) or 4 ohm (low impedance setting), 220 watts @ 2 ohm, and 400 watts into 1 ohm. While the M1.2 isn't the most powerful design on the planet, it combines musical richness and excellent detail with timbral rightness and surprising dynamics in a most compelling way.
How do I know these qualities? How can I be sure they're worthy of the mighty Brutus Award? Easy. Because I keep listening to the bloody things! In fact, I'm listening to the M1.2s (via the phenomenal Walker Audio Velocitors) being fed by the EMM Labs Signature Edition front end as I complete these awards. (The brand new Jacobs/Freiburger Barockorchester Handel's Messiah on Harmonia Mundi SACD, if you must know …a very fine performance and recording.) They may not do everything in the very best way, and they may not drive the most difficult loads with aplomb, but the M1.2s have a holistic rightness that satisfies at the level of the soul, and make me want to listen to music continually. And that's certainly not true of every amplifier that I've ever had in my listening room. On the contrary…
So congratulations to the folks at Lamm for a splendid achievement in the M1.2s. These are monoblocks that I could live with for quite a long time, believe me.
Solid state amplifiers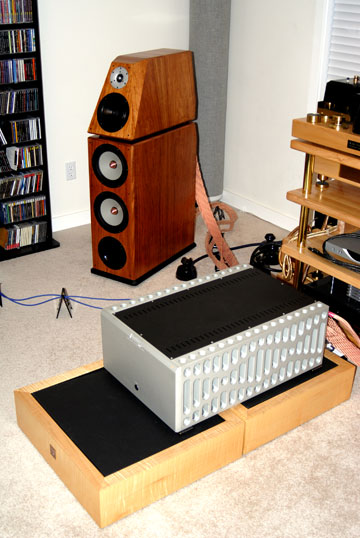 The Boulder Audio 2060 Stereo Amplifier in its initial placement on Critical Mass Systems Grandmaster Black amplifier isolation stands. JENA Labs Pathfinder Speaker cables (another Brutus Award winner) lights the way….
Here was another surprise, again courtesy of my amigo bueno Dr. Sardonicus. He had been able to arrange a review of the Boulder Audio 2060 Stereo Amplifier via Rich Maez of Boulder. I assisted in the setup, and had an initial take on the stone cold amplifier that was quite favorable. After Dr. S. had finished his time with the 2060, he suggested that it come to me …no small feat given its 245 pounds and substantial mass. I published the review in PFO Issue 27 (see www.positive-feedback.com/Issue27/2060_boulder.htm).
It certainly didn't take me long to formulate a response in my own listening room: Powerful! Massive! Beautiful! Neutral! Effortless! Authoritative! And, to the best of my aural memory, probably the finest stereo amplification that I have ever heard in my well-known digs …and I don't often engage in such superlatives. There is no doubt in my mind that if I had the necessary shekels, I would almost certainly purchase the Boulder Audio 2060.
And friends, that's a lot of shekels!
Is this a Brutus Award winner?
Slam dunk!
Loudspeakers
Strangely enough, none this year …but check with me again next year…I have a feeling that this will change.
Line Conditioners
None this year, though I have to say that Walker Audio's Velocitors, winners of Brutus Awards in 2004 and again in 2005, continue to rule the roost in my book. If you're looking for the best that I've heard …get thee to a Velocitor!
Isolation platforms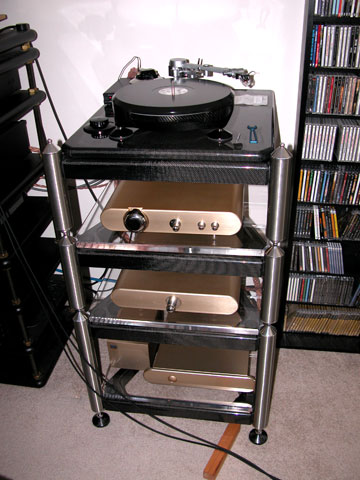 The Grand Prix Audio Monaco Modular Isolation System, fully loaded with the Grand Prix Monaco turntable on the Formula top shelf, and a reference series of preamp/phono amp equipment from Wavac on the lower shelves.
The 2006 Brutus Awards in this category goes to three deserving recipients. The first is Grand Prix Audio for their Grand Prix Monaco Modular Stand (with Apex floor interface upgrade and Formula Carbon Fiber Top Shelf upgrade). This design by Alvin Lloyd and gang utilizes specially fabricated carbon fiber epoxy chassis platforms, stainless steel columns (these can be filled with lead for greater mass) and floor spikes, acrylic/carbon fiber shelves, special Sorbothane spacers, and stainless steel and aluminum connectors.
The resulting design is striking to see, and does a fine job of isolating the components that are placed on them. I used this rack for extended listening to the Grand Prix Audio Monaco turntable system and associated Wavac reference gear shown in the image above.
I liked it so much that my trusty rusty Target turntable stand has been demoted to equipment storage work…no more trouble controlling the ringing, no more vibration blues. The Grand Prix Audio Modular Isolation System will stay!
A Brutus Award winner without doubt; all future pivoted turntables will be reviewed on the Grand Prix rack.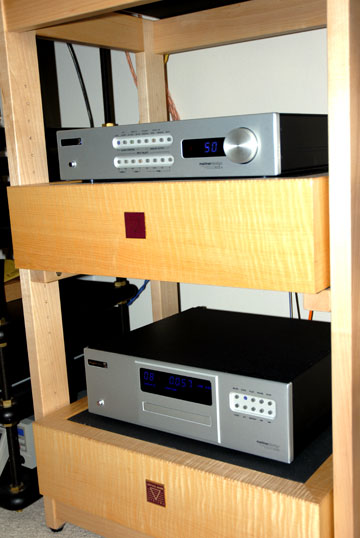 Critical Mass Systems Grandmaster Black Isolation Platforms on a CMS Custom Maple Rack—a very synergistic home for the EMM Labs Signature Edition front end!
The second Brutus Award winner in this category takes a very different approach to vibration isolation. Joe Laverncik's Critical Mass Systems Grandmaster Black Isolation Platforms and Custom Maple Rack feature multiple layers of absorbing materials sandwiched in a special layered structure, with the intent of "draining" vibration from the component downwards, or from the floor upwards. Laverncik has worked very hard to provide as inert a platform as possible for all kinds of audiophile components; the Grandmaster Black represents his current "reference grade" product.
I tried Joe's design under the highly resolving front end of the EMM Labs CDSD and DCC2 Signature Edition components, switching them from my earlier Michael Green Justarack. The results were extremely pleasing: the music now seems to be more coherent, with a better sense of ease and integration.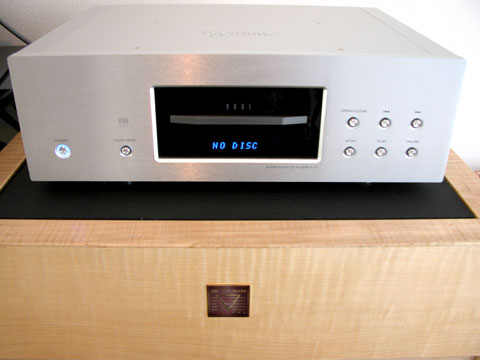 The Teac Esoteric X-01 SACD player on the Critical Mass Systems Grandmaster Black platform: a truly excellent combination.
I'll put it this way: I've noticed that solid state gear likes the CMS Grandmaster Black stands very well, though I should also note that my experience with the CMS stands and the Joule Electra Rites of Passage OTL monoblocks was also terrific. (Must have been; both received Brutus Awards in 2005!)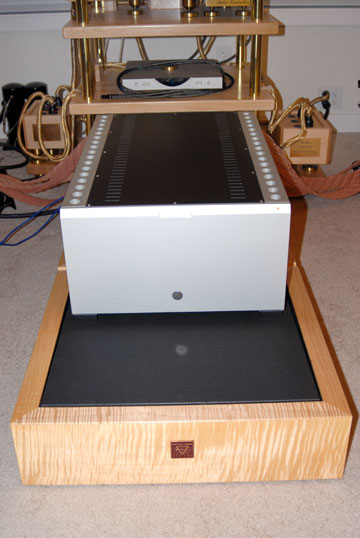 A pair of Critical Mass Systems Grandmaster Black Isolation Platforms for Amplifiers being adjusted to handle the gargantuan weight of a Boulder Audio 2060 Stereo Amplifier (245 pounds).
A separate Brutus Award goes to Critical Mass Systems for the Grandmaster Black Amplifier Isolation Stands. After using a pair of these under the Boulder 2060, I came to value the synergy that the CMS stands can provide with certain types of gear. The CMS stands seem to impart a certain richness of feel and an integration of sonic frequency that adds coherence and a greater sense of musicality to components that are very highly resolving and quite detailed. For example, both the EMM Labs Signature Edition front end and the Boulder 2060 Stereo Amplifier—supreme examples of ultra high resolution and detail—benefit from being placed on the CMS Grandmaster Black stands. If, on the other hand, I feel that a component could benefit from greater speed and more resolution/detail, then I would undoubtedly essay either the Grand Prix Audio Monaco Modular (somewhat greater liveliness, though tunable with lead/its Sorbothane puck system) or, for maximum resolution, quickness and detail, Walker Audio's Prologue Amp Stands/Rack with Valid Points and Tuning Discs (Brutus Award winners in 2005).
The only caveat that I will issue to readers is that the Grandmaster Black stand has some very definite guidelines for weight capacity that you should pay careful attention to. The isolation layering can become deformed when exposed to unbalanced loads or loads that are at the far limit of its range. My listening sessions with the Boulder 2060 were at the far limit of what the Grandmaster Black was designed for, and the layering became somewhat uneven. I would strongly recommend that you contact Joe Laverncik at Critical Mass Systems before pressing the weight limit of any of his systems; custom platforms are available for those who need truly heavy duty isolation.
Having said that, the CMS Grandmaster Black racks and stands combine natural beauty with extraordinary isolation that synergizes very well with components as I've described above. Definite Brutus Award material here!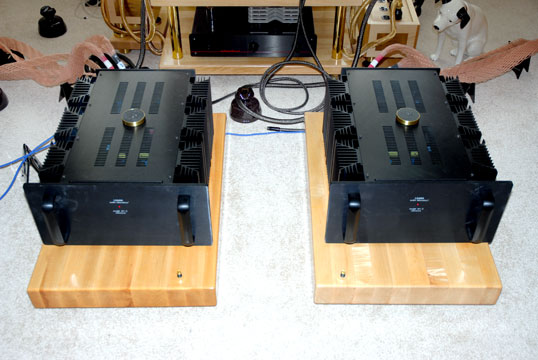 I'm going to borrow this image of the Lamm M1.2s again, because another Brutus Award winner for 2006 is supplying a terrifically synergistic foundation: Walker Audio's Prologue Reference Amp Stands with Valid Point Tuning Discs (you can see the discs on top of the M1.2s here).
Another winner from Walker Audio: the Prologue Reference Amp Stands and their associated Valid Point Tuning Discs have become absolutely indispensable to me. The sonic qualities that set the Prologue Amp Stands apart are the detail, quickness, and sense of spaciousness that they impart to components placed on them. Tubed and hybrid amplifiers definitely benefit from being mated with the Walker Audio Prologue stands. This doesn't surprise me; both Lloyd Walker and Fred Law are big fans of tubes in just about everything except phono amps. I would expect this to be reflected in their approach to amplifier stands—and it is.
(If, on the other hand, you are using solid state amplification, I would probably think about starting with the Critical Mass Systems Grandmaster Black stands, which impart a certain richness to the increased clarity. So far in our experience, both Dr. S. and I have found that solid state likes CMS very well.)
Regardless, I know that all future review projects featuring tubed and hybrid will be using the Walker Audio Prologue Reference System, without exception.
By the way: if you decide to go with this system, by all means spend the extra dollars to get the Reference version of the Prologue amp stands. Having a complete set of Valid Points Tuning Discs is a significant step forward in being able to get the best out of your components. If you look over my review for the past three years now, you'll see a number of components sporting Valid Points Tuning Discs in my images.
There's a reason for that, you see….
Anyway, another Brutus Award for Walker Audio in 2006! And bloody well deserved.
Cables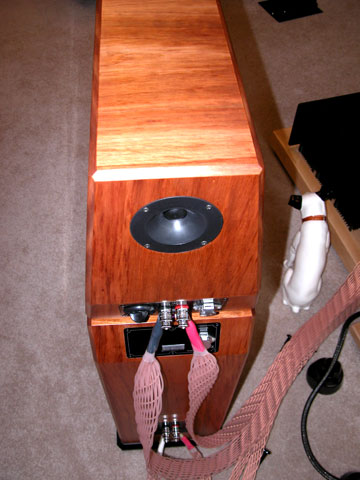 The JENA Labs Pathfinder with the Von Schweikert VR-5 SE …an excellent combination.
JENA Labs once again receives a Brutus Award for 2006 for their exceptional Pathfinder Speaker Cables. I've been using these cryogenically treated cables for the past 1.5 years, and have to say that the Pathfinders provide that all-too-rare fusion of incredible details, harmonic richness, and musical roundness that brings out the very best in the VR-5 SE's. Both Rick Gardner and I are fans of JENA Labs products, and for very good reason. This stuff is seriously good, year in and year out. Big-time kudos to Jennifer Crock and company for creating a meticulous crafted audio artifact, painstakingly constructed of cables specially fabricated to Jennifer's precise specifications, and terminated by hand.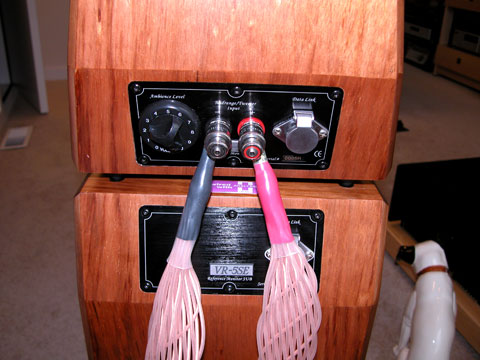 I should warn you: JENA Labs cables aren't cheap—in fact, there are several price levels above that of the Pathfinders—but they deliver remarkable results, sounding exceptional with all kinds of components: tube, solid state, and hybrid. Not all cables do this; JENA Labs do.
Frankly, I'm hoping that I can get Jennifer to let me try the bi-wired Dream Dancers in 2007, to take things to the next level….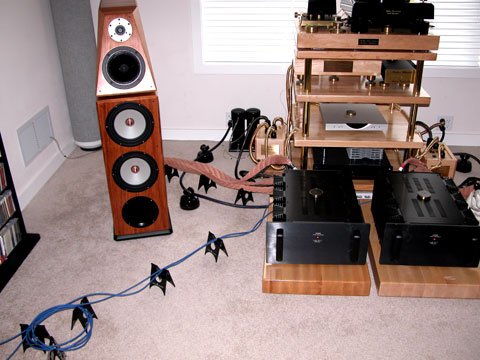 In the background of this view of my listening room, the Silent Source Power Cables are the black cables from the Lamm M1.2's into the Velocitor and into the dedicated 20 amp circuits in the wall.
I'm also going to give a 2006 Brutus Award to Silent Source Cables for their surprisingly fine Silent Source Power Cable and Silent Source Interconnects. I've had a chance to use these increasingly in 2006, and have come away very impressed with their combination of exceptional performance, flexibility (some audio cables are either massive pythons, or are the equivalent of "audio Bowflex" devices, or on the other extreme are so fragile and hard to deal with that one agonizes…), and sonic performance.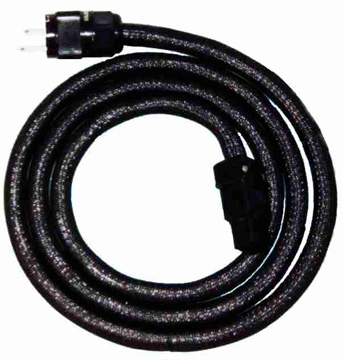 The Silent Source Power Cable (image courtesy of Walker Audio).
I thought that they would have a difficult act to follow, coming in as they did on the heels of the remarkable (but difficult to handle) Omega Mikro power cords and cables (Brutus Award winners in 2004), but they have proven to be quite fine, with nothing to fear by comparison with the Omega Mikros. Usually one can tell when a lesser component comes into a system after a greater one; the "subtractive effect" is usually quite noticeable, and can help you to identify the strengths of the better and the weaknesses of the lesser. The Omega Mikros were extraordinarily revealing, very transparent, and detailed; how would the Silent Source stack up?
To tell you the truth, I haven't noticed any major changes, which given my regard for the Omega Mikros, is a very high compliment indeed. In fact, I have come to prefer the Silent Source cables, simply because their bass response is somewhat better than the Omega Mikros, without losing the sense of spaciousness and detail.
The time has come to recognize the good folks at Silent Source: here's a 2006 Brutus Award for you!
System tweaks and enhancements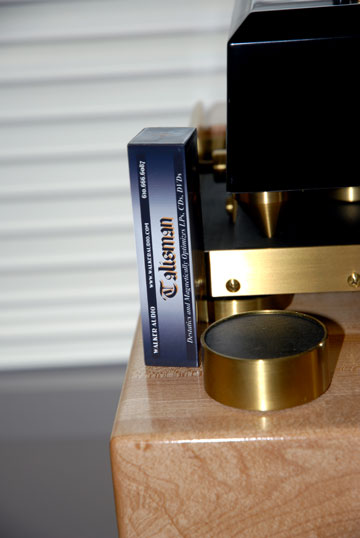 Walker Audio Talisman LP and SACD/DVD/CD Destatic/Degausser device, sitting near a Valid Points tuning disc and the motor drive for my Proscenium Black Diamond turntable.
Lloyd Walker and Fred Law of Walker Audio receive a Brutus in 2006 for their Talisman LP/SACD/DVD/CD destatic/degausser. Once again Lloyd Walker and company have been at work to get those last few percentage points of performance from fine audio systems. This is an extremely powerful, extremely portable, reasonably affordable way to apply a powerful magnetic field to LPs and optical discs (keep it away from your tapes and floppy discs, though!), with a resultant noticeable improvement in sound.
There's nothing new in this debate in the pages of Positive Feedback and Positive Feedback Online over the years; Clark Johnsen was the first in fine audio journalism to note the benefits of degaussing optical media in the pages of Positive Feedback way back in the middle '90s. Some dismiss the idea that powerful magnetic fields can cause any improvement in the playback of LPs or optical media. In my humble opinion, such folks are either not very discerning in their sensibilities, or are simply not even trying this enhancement. In my experience, it works very well.
Walker Audio's Talisman makes it very easy to try this out for yourself—this critter really works! First clean your LP (see below for my Brutus Award given to Walker Audio's Record Cleaning System); then following Walker Audio's directions for using the Talisman to destaticize/demagnetize the LP when it's in place on the platter. (Follow these instructions carefully, please; careless use of the Talisman can lead to damage of your MC, for example. If you have a tendency to be klutzy, go back and re-read my last sentence.) Personally, I found the Talisman to be absurdly easy to use, and find that it gives delightful results. I hear a definite improvement in transparency, soundstaging and imaging, and harmonic rightness with the Talisman, and so have my colleagues at PFO. Me, I think you'd have to be quasi deaf or adamantly unempirical to miss the benefits …but then, the world does seem to have more than a few of those unfortunate souls.
In fact, I've reached the point where I don't listen to LPs on my Proscenium Black Diamond without using the Talisman, which I hereby dub "Walker's Wonderful Wand"!
I wouldn't be caught dead without mine …smart folks will listen up.
This one takes a Brutus Award for sure!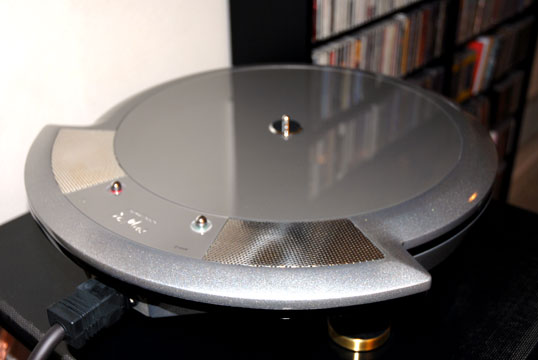 The futuristic Furutech DeMag, another Brutus Award winner for 2006: alien chic!
Also in the PFO Brutus Award queue in 2006 is Furutech, with two exceptional products in the degaussing game. One is the Furutech DeMag, an imposing device that allows users to pass an LP, up to five SACDs/DVDs/CDs, or assorted cabling through a powerful magnetic field for degaussing. In my experience, the DeMag really does the trick, making the task of demagging discs quick and error-free. I simply placed the disc(s) in place on the platter, pressed the power button (red LED), then pressed the erase button (green LED). The DeMag automatically applies and varies the magnetic field without the obnoxious sound and high-speed moving parts of products like my old friend, the Bedini Ultra Clarifier. Once the green LED goes out, simply flip over the disc and press the erase button once more. When the light goes out once more, you're done.
The sonic benefits of the DeMag were immediately discernable to my ear: a greater smoothness, better clarity, and improved harmonic structure. These benefits were noticeable even to non-audiophile friends who dropped by, who were always surprised by the improvement that the DeMag and the RD-2 made in the quality of playback sound. These gains can be furthered by using an optical treatment on your SACDs, DVDs and CDs immediately before degaussing. Likewise, cleaning your LPs before putting them through the DeMag is the way to go.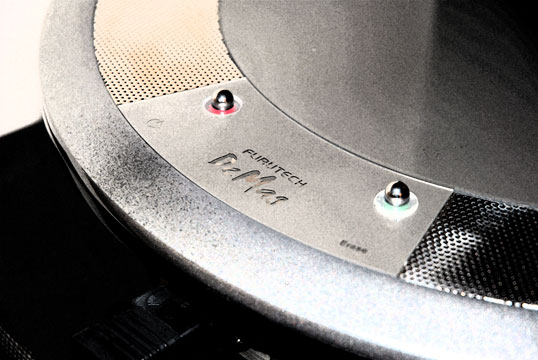 A close-up in fresco of the Furutech DeMag control panel during a demagging pass …very nice!
If you have the bucks for a DeMag, and are looking for a user-friendly way to practice the fine art of degaussery, then you can hardly go wrong with the DeMag. Congratulations to the fine folks at Furutech, who seem to have made a career of advancing the engineering of fine audio.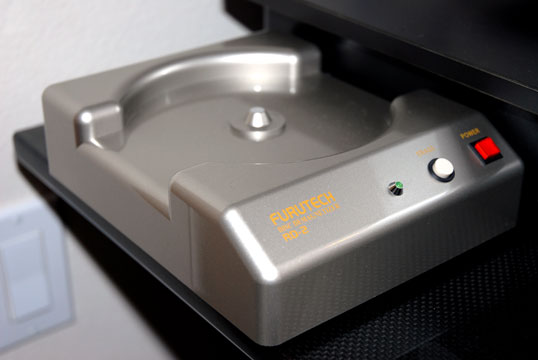 The Furutech RD-2 Disc Demagnetizer—another Brutus Award winner!
Furutech has another alternative for those who don't want to demagnetize/degauss LPs (a lot of folks don't have any, eh?), but do want the benefits of demagging for their SACDs/DVDs/CDs. Like its larger sibling, the RD-2 is a very stylish component. It makes the application of degaussing a simple task, even for the "manipulatively-challenged" audiophile. One simply powers up the unit (red button), places the disc in place on the centering spindle, and then presses the white erase button. The RD-2 applies a varying magnetic field for the proper amount of time. When the green LED fades out, flip the disc over and press erase to do the other side. When the green LED fades out the second time, you're finished.
As with the DeMag, it's best to apply your favorite optical treatment to the disc before you degauss it. The improvements are collective, so this has become my standard procedure for all SACDs, DVDs and CDs in my household. The sonic improvements for the RD-2 are much like those that I described above for the DeMag, except that at times the DeMag seems to be somewhat more definite in its effect. Perhaps it's the larger field that's in play; my impressions are not conclusive yet, so take this as an intriguing indicator, and nothing more.
Anyway, the RD-2 is much less expensive than the DeMag, so if you don't need the larger capacity of the DeMag, the RD-2 will get the job done nicely for you.
Very highly recommended! A Brutus Award for 2006 is therefore cheerfully given to the Furutech RD-2.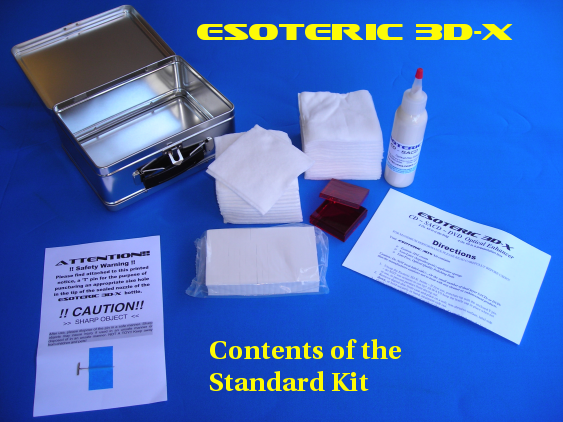 JENA Labs Esoteric 3D-X SACD/DVD/CD Optical Enhancement Treatment Kit (image courtesy of JENA Labs).
Of all the optical surface enhancers that I've tried this year, I haven't found one that topped the JENA Labs Esoteric 3D-X Optical Enhancer. I've used a lot of treatments over the years, and have a pretty fair experience with what's good and what isn't, though I have to say that the burgeoning field of optical enhancers has left me with a lot of candidate products that I've never heard.
Over the past two years, Walker Audio's Vivid (2004) and Ultra Vivid (2005) took the prize for the best I'd heard. This year's Brutus Award for optical treatments goes to another fine product, JENA Labs Esoteric 3D-X. This is the latest iteration of the JENA Labs Esoteric line, the original of which was a favorite of mine back in the later '90s, before it went completely out of production. I found the Esoteric 3D-X to be somewhat better than Ultra Vivid in providing detail combined with silky smoothness, and a richer harmonic structure on SACDs. DVDs seemed to slightly better with the 3D-X treatment, as well, with slightly better saturation and slightly less veiling on my reference Linn Unidisk 1.1/Kisto system. I've gotten to the point where I can hardly listen to an SACD or CD, or watch a DVD without using an optical enhancer. If you haven't gotten to that point yet, you're missing out.
The Esoteric 3D-X comes in a trial set, a standard kit, and a deluxe kit…your choice as to what you order. If you can afford it, go for the deluxe kit—get all the goodies! But no matter which you go with, this is definitely the best I've heard, and is my current reference for how good these treatments can be.
JENA Labs Esoteric 3D-X optical enhancer therefore gets a Brutus Award for 2006.
Walker Audio's Prelude Record Cleaning System
In the world of enhancing things vinyl, I ran into a real knock-out surprise at the Rocky Mountain Audio Fest this year: Walker Audio's Prelude Record Cleaning System. Readers of my Brutus Award from last year know that I was amazed when Lloyd Walker introduced me to Duane Goldman's Disc Doctor Miracle Record Cleaner. Used in conjunction with my VPI 17F record cleaning machine, I didn't think that record cleaning could get much better.
Then Lloyd Walker and Fred Law showed me their new Prelude enzyme-based record cleaning system, with three (or four!) separate steps for cleaning LPs. I heard it at RMAF 2006, then got to hear it again here in Portland, in my own listening room.
Ungawa! Folks, Walker Audio's Prelude Record Cleaning System is absolutely the best thing I've ever heard for cleaning LPs, bar none! Before and after listening comparisons in Colorado and Portland convinced me (and my PFO colleagues Rick Gardner and Roger S. Gordon) that Lloyd's new system runs rings around all previous cleaning products I've heard. How good is it? Heck, everything sounds better. You name the analog sonic virtue; Walker Audio's Prelude makes it better.
If this sounds like an unqualified rave, that's only because it is. If you own and love LPs, you may not be able to purchase a Proscenium Black Diamond turntable system (though you ought to!), but you can afford the Prelude Record Cleaning System. No matter what turntable you own, this miraculous product can transform your vinyl listening experience.
Run, do not walk, to www.walkeraudio.com and jump on this!
Brutus Award for 2006? You have to ask…?
Recording Companies that merit Brutus Awards
Winston Ma of First Impression Music wins another Brutus Award this for his exceptional series of Decca reissues on XRCD24. These discs—I am listening to Grieg's Piano Concerto in A Minor, Op. 16 from FIM's reissue of Schumann & Grieg Piano Concertos, Radu Lupu/André Previn and the LSO as I write these words—are stellar remasterings, showing the full, rich tonal palette that Decca was so famous for in its classical catalog. Winston Ma and Paul Stubblebine have done their usual superb job of capturing the glorious feeling of these recordings …kudos to both! My only regret, as FIM knows very well, is that more of these titles are not yet appearing on SACD hybrids. When that happens, there will be another Brutus Award awaiting Messrs. Ma and Stubblebine. In the interim, we have these fine examples of what impeccable taste and sensibility can produce in the handling of our audio treasures.
Ray Kimber and Kimber Kable receive a Brutus Award for Ray's brilliant Isomike™ surround recordings in DSD. Ray's passion for getting a natural soundfield in DSD recordings (via the EMM Labs chipset, naturally) have led to a string of very promising SACDs that show what happens when you let a good recording venue speak for itself, instead of playing "ping pong" with the sound. Congratulations, Ray; keep them coming!
Once again, it's time to award our friends over at Telarc a Brutus for the excellent classical and jazz SACDs that they have been releasing on a regular basis throughout 2006. Telarc has understood the possibilities of DSD from the beginning, and have kept us well supplied with new titles and Soundstream reissues. It just wouldn't be the same without Telarc's constant contribution to the excellent recordings we all enjoy …Brutus rendered!
Another recipient of a 2006 Brutus for its music is Chesky Records, who, like Telarc, have been putting out high-quality SACDs and CDs for years now. I've appreciated the remarkable passion and commitment that the brothers David and Norman Chesky have brought to the world of audiophile grade recordings. David's compositions have been growing in maturity over the years, and the collection of artists that they've made available to the world in their discography is another audio treasure that 'philes everywhere should appreciate. I certainly do; consider this Brutus Award for 2006 to be a richly-deserved recognition of your work, my friends.
It's also about time that I recognized the work of Todd Garfinkle of M٠A Records. While still mainly CD based (96/24 masters), the M٠A catalog contains wondrous music from all over the world, recorded with simplicity and purity in exceptional settings. I have some four dozen of their recordings, and never a clinker among the bunch. Todd Garfinkle seems to have an ear for the exotic and the unknown (in the mainstream West), and his recordings show a pure and refined sensibility for the much that can be done with the simple, faithfully applied. High praise to Todd and company for their years-long passionate commitment to great musical beauty; this Brutus Award for 2006 is a personal thanks from me.
Pentatone receives a Brutus in 2006 (again!) for its continuing and growing catalog of classical SACDs which, for extent, beauty of performance, and craftsmanship of engineering, set a standard. Hardly a month goes by without me purchasing more of their work, but my loss is also my gain. A Brutus to you all, and may you produce many more such wonderful recordings!
Newcomer Caro Mitis, well equipped with EMM Labs gear, has been quietly turning out terrific recordings in 2006. One fellow PFO SACD lover Mark Wagner made me aware of this new label, I purchased several promising titles, and was extremely pleased at the result. So I have purchased many more, much to my Business Manager's displeasure. (C'est la vie…) Listen up, classical music lovers: Mark Wagner is right …Caro Mitis is terrific! They are also the recipient of a Brutus Award for 2006…keep those DSD recordings coming, my friends!
I likewise salute the ongoing SACDs coming from Linn Records, BIS, Harmonia Mundi, Hyperion, and Top Music for their exceptional production values, and in recognition of this general excellence of their titles once again award each a Brutus for 2006.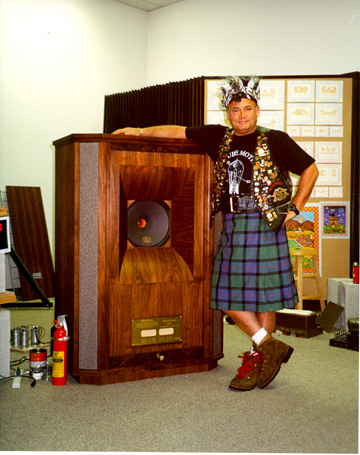 Harvey "Gizmo" Rosenberg …audio Wildman and Court Jester (every court and every monarch needs one!)
The Gizmo Award is given in memory to my good audio friend, Harvey "Gizmo" Rosenberg. To remind all, the Gizmo goes to the audiomaniac(s) who, in my opinion, presses the possibilities of the audio arts. Again, quoting from Issue 10, I said that the Gizmo would be:
"…a one-only-per-year recognition of a person/design that is surfing the edge of audiomania, going all-out to push the frontiers of fine audio. There will be no multiples of this prize… no hard-and-fast categories… and if nobody floats our boat in a given year, it won't be awarded."
(Note that the "no multiples" rule was the fact that only one Gizmo would be given per year, not that a person or persons could not win it in successive years. Which is precisely what Lloyd Walker and Fred Law of Walker Audio proceeded to do in 2004 and 2005.)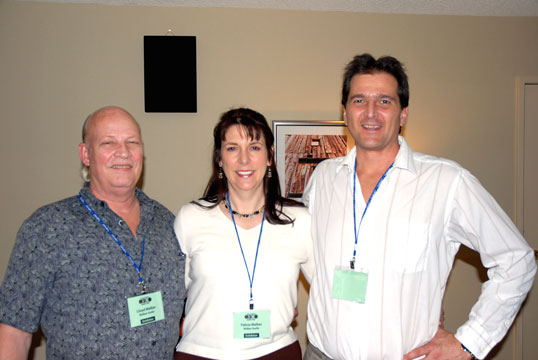 Lifetime Gizmologists extraordinaire Lloyd Walker (left) and Fred Law (right) flanking Felicia Walker, the great group of folks that make up Walker Audio.
This year is going to be different. (Uh huh!) I'm going to award the Gizmo, but due to unusual merit this time around, I'm going to make it a "Gizmo for Life." It goes to Lloyd Walker and Fred Law of Walker Audio, who have made a career of impressing the heck out of me for the past three years running. Lloyd and Fred have a fierce (but friendly!) commitment to finding every last percentage point of audio performance in their design work. In so doing, they have elevated audio modifications and tweakery to the highest level, with each year bringing a handful of products, upgrades, and modifications that have left me more and more amazed. Harvey Rosenberg would have been proud; I can almost hear him hooting and hollering if he had heard the Walker Audio system.
Anyway, rather than give them the Gizmo for a third separate year, I've decided to make this a Gizmonic "lifetime achievement" award, retire their audio jerseys, and nail it on the barn door so that Gizmologists everywhere can use Lloyd and Fred as examples of what ought to be happening in the audio arts.
Lloyd and Fred (and Felicia!), I salute you!
And please, keep doing what you do….