ROBERT H. LEVI'S SYSTEM
LOUDSPEAKERS
Avalon Eidolon and REL Stadium III subwoofer.
ELECTRONICS
E.A.R. 324 phono preamplifier, E.A.R. 890 amplifiers (ran as monos), NuForce Reference 9 SE amplifiers, Pass X1 preamplifier, and an E.A.R. 834L Tube Line Stage.
SOURCES
VPI Scout/JMW 9 tonearm, VPI SDS Controller, ZYX R100H phono cartridge. E.A.R. Acute CD player, ModWright Sony 999 SACD/CD Player with Signature Truth, Mod/Bybee Filters and Revelation Cryo Silver Umbilical. Alesis Masterlink 24/96 Recorder/Playback Deck, Theta Pro Gen.5a DAC Modified for 24/96 Playback, and the Benchmark DAC 1 revised. Grado Statement Phono Cartridge. Pioneer DVL 919 LD/DVD Player. Magnum Dynalab MD-108 Reference Tuner, Marantz 10B FM Tuner, Day Sequerra Reference FM1 Tuner, AQ 7500 FM Antenna, Stax 7t Electrostatic headphones, Grado Reference 1 headphones, and a Grado headphone amplifier.
CABLES
Kubala-Sosna Emotion, Harmonic Technology CyberLight, Dual-Connect, interconnects, Dynamic Design THB Nebula, Soundstring, Kimber Select balanced, Kimber TAK phono AG, Kimber Hero balanced and single ended interconnects, and Acoustic Zen Silver Reference II balanced interconnects. Kimber D-60 Digital Interconnects. Kimber Select 3038 Silver, Kubala-Sosna Emotion, and Harmonic Technology Magic Reference Silver speaker cables. Kimber Palladian, Tara RSC and Decade, Tice, Soundstring, and Kubala-Sosna Emotion AC power cords.
ACCESSORIES
Monster Reference 350 Mark II v2 Power Conditioner, World Power Power Wing, Tice Clock, and Audio Prism Quiet Line IIs. Cable Cooker 2.5, Winds Stylus Pressure Gage, Bedini Ultra Clarifier, VPI Record Cleaning Machine 16.5. Audio Magic's Quantum Physics Noise Disrupters.
It's time for the third generation of ModWright products to be auditioned and I am once again astounded by what I hear. I knew that the ModWright Sony 999 might be eclipsed, but surely not for the same price. Yet, here it is …the ModWright Sony 9100, which at $3500 includes a brand new Sony player and a boatload of extraordinary vacuum tube mods. I have recently reviewed players that cost upwards of $21,000 and yet here's a player for one ninth the cost that sounds 90% as superb. Dan Wright is a genuine wunderkind as he has created an ultra high value blockbuster music machine just in time for Christmas!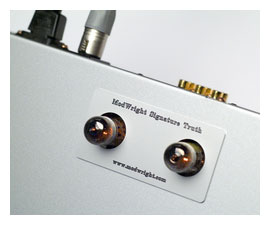 Based on the highly regarded, fully featured, Sony 9100ES player, Dan has added a plethora of his "Signature Truth" modifications. The improved PS 9.0 outboard power supply is also included—this is the same power supply that comes with his excellent preamp, except here he adds a marvelous sounding, brand new Acoustic Zen umbilical cord made of exclusive low molecular copper. The new Sony unit already has the very latest DACs …Burr-Brown's best …and three added power supplies. Dan adds another supply, a unique and improved low noise tube circuitry featuring a pair of NOS Tung-Sol 5687s, and more …much more. I'm not a technical guru, but the new innards look extraordinary. There are so many parts that you get your money's worth on girth alone.
The secret of the new player lies with the clock. ModWright replaces the Sony clock with a custom one of much higher quality and lower jitter. This is a brand new modification and one Dan is most proud of—the clock is now a big part of the ModWright arsenal.
I used all Kubala-Sosna Emotion interconnects and two Kubala-Sosna power cords; one for the ModWright power supply and one for the Sony unit. The video output and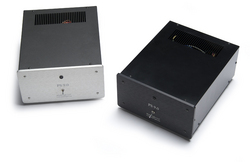 the display were left off for the review. Even though the unit was already partially broken in when received, I also ran the unit on a SACD in repeat for 48 hours before any critical listening.
The Sony player is not an upsampler, but is an over sampler like most mass market machines. Though it may be the best and most sophisticated over sampler around, it cannot quite equal the latest crop of upsampling gear. My ears tell me that the ModWright circuitry combined with this excellent Burr-Brown chip set for CD playback equals superb CD sound. Not state of the art CD sound, but CD sound you would have to spend at least $5600 to improve upon, such as one can experience with the E.A.R. Acute Tube CD [upsampler] Player. While it lacks the last bit of the air, textural cues, and overall definition of the best upsamplers with "tubes" on board, at $3500 the ModWright's a superb value if all it did was CD playback …but it does so much more. [By the way, I've heard upsamplers that sounded downright blurry and wrong. Upsampling isn't by itself the magic bullet for great CD sound.]
The marvelous tube output stage of the ModWright makes CDs sound so very, very right. The ModWright Sony 9100 is more realistic than any "solid state" competitors unless you top $10,000. The upsampling is only a small part of the story it appears. Those tubes sound glorious and mellifluous, as they tame the digital demons. Again, at $3500 compared to the better all "solid state" CD boxes in the $10-12000 range, the ModWright is their equal or even their superior. Frankly, I like the ModWright better.
In the land of SACD, Sony knows its chips. The 9100 has the top SACD chips available and ModWright has capitalized on them to the max. The ModWright Sony 9100 just propels the music as few other players can in SACD mode. The master tape sound of your best SACDs is jaw dropping on the ModWright and in a whole new league compared to the older 999. The delicious warmth and credibility of the tube stage makes for a life-like listening experience. I got into trouble saying this about the 999, but the 9100, with ModWrights newest magic on board, eclipses the latest dCS and Meitner gear in realistic musicality and is mighty close in textural definition. You won't hear any dryness or thinness here, only full bodied organic sound. The ModWright is incredible and, at the price, a miracle with SACD playback.
Where the dCS and Meitner gear is a bit better, is in that they are slightly superior in retrieving micro definition and some of the tiniest nuances of the performance. I'm sure this is all wonderful, but not nearly as important in getting the overall musical gestalt correct with 99% of the rest …and the ModWright absolutely achieves this. The ModWright is limited only by your preamp and that's that.
I wish I could say SACD was here to stay. I own two hundred of them and will probably continue to acquire titles while they last. The ModWright 9100 is overall a solid performer and about as good as SACD players are today. If your interest lies with this format, look no further! You can't lose.
I tried DVDs from Classic done in 24/96 and had terrific results. Great picture too on movie DVDs. The ModWright mods are only on the two stereo channels; the others are connected, but are stock Sony. Again, you can't beat tubes for digital playback and the stereo channels sound particularly right and supremely detailed with any format.
After spending considerable time with CDs on the 9100, this is as close to being a desert island machine as anything I have heard to date. I loved the delicacy of the high band, the gutsy sound of the mids, and the clean, clear lows. I detected vanishingly low grain and always very smooth, neutral textures. The 5687s used in the front end swing big dynamics. It probably puts out 3-4 volts and sounds powerful and bold. If CDs don't have swagger, what good are they? I do love the way the unit does warmth and sweetness when the CD is warm and sweet. This is the mark of a great player. There are other tube players on the market under $5000 and they lack the overall definition of the ModWright. They sound thick and rich on most every CD. This is too much coloration for me. The ModWright sounds involvingly right, never tubey. Now that's what I'm talking about.
The SACD performance is still the best sound offered by the 9100. Much improved in overall definition and organic nuance over the earlier 999, it is startling to hear at times. Make sure you have plenty of watts available because fortes are really forte. With the wondrous Kubala-Sosna Emotion interconnects and AC cables—which cost more than the ModWright unit—Katy bar the door. You hear it all …the delicate distant ambience, the groan of bass fiddles, and roar of cannons. If your amplifiers are up to it and your preamp doesn't roll things off, you will hear and feel the music like never before.
Quibbles? Only one. The audio outputs are the ordinary mass market gold plated variety …two pair rather closely spaced for dual left/right channel stereo. I had no trouble hooking up my reference cables, but connectors used by Stereovox, Dynamic Design, or Acrolink would be quite tight. If it was up to me, I'd replace the four outputs with two WBT or Cardas connectors.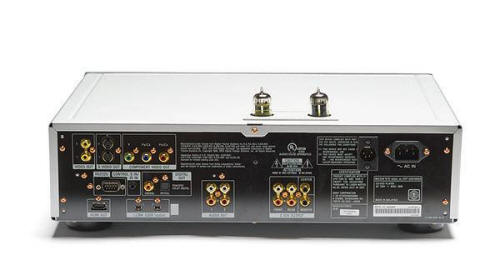 With a ton of new modifications on board and the newest Sony chips, the ModWright Sony 9100 is within striking distance of the best in CD sound and just may be the very best SACD playback around. With a custom clock and new high tech umbilical hookup to the power supply, it clearly eclipses the excellent ModWright Sony 999 I've used and enjoyed for the past two years. While a superb performer and a fantastic value as a CD player, you get trendsetting SACD and DVD playback, too. What a deal! I just had no idea $3500 could buy this much performance today. You'd have to spend about double the ModWright's cost to equal it as a CD player alone! A great digital player all around …Dan Wright should be very proud of his latest creation. You supply the Sony 9100 for modification or ModWright provides you with the entire unit complete. I recommend the ModWright Sony 9100 without hesitation for unfailingly musical digital reproduction of the highest order. Robert H. Levi
CDs and Hybrid Disks used in this review
Gene DiNovi, Flower of the Night, Marshmallow Records, CD MMEX-110

Jan Lundgren in NY, Peter and Kenny Washington, Marshmallow Records, CD MMEX-106

Hiroko Kokubu, NY Uncovered, JVC XRCD24, 61241

Joe McQueen and Friends, Kimber Isomike SACD 55802

Testament, The Turtle Creek Chorale, Reference Recordings, RR49CD

Symphonic Dances, Reference Recordings, RR105

Tchaikovsky, Trio for Piano, Violin, and Violoncello in A minor, Mirrored Nature Records, SACD, MNR 5001

The Carl Saunders Sextet, BluePort CD BP-J011

Gene Harris, The Best of the Concord Years, Concord Records CD 4930-2

Hovhaness Symphony 22, Cello Concerto, Naxos CD 8.559158

Jacintha, Here's to Ben, Groove Note SACD 1001-3

Rubinstein, Chopin Concertos 1&2, RCA/BMG SACD 82876-67902-2

Piatigorsky, Dvorak Cello Concerto, RCA/BMG SACD 82876-66375-2

Suppe Overtures, Mercury Living Presence, SACD 470-638-2

Hovhaness Mysterious Mountain, Telarc SACD 60604

Eric Darius, Just Getting Started, EMI/Narada, CD 724386055620

Miles Davis, Kind of Blue, Dual Disk, Columbia 90887

Turtle Island String Quartet, Telarc SACD 60630

The Absolute Sound SACD Sampler, Telarc SACD 60011

Howard Hanson, Symphony No.2 etc., Telarc SACD 60649

Stravinsky, Firebird Suite, Paavo Jarvi, Telarc SACD 60587

SuperBass2, Telarc SACD 63483

Orff, Carmina Burana, Telarc SACD 60575

Diana Krall, Love Scenes, Impulse SACD 2841-35

A Song for You, FIM SACD 036

Duke Ellington, Blues in Orbit, Mobile Fidelity SACD 757

Isomike Sampler, Kimber SACD 2005A

Chick Corea, Rendezvous in NY, Stretch Records SACD 9041-2

Saint-Saens, Piano Concertos Vol.1, Audite SACD 92.509

Janos Starker, Schumann, Lalo, Saint-Saens Cello Concertos, Mercury SACD, 4756621

Berlioz Symphony Fantastique, Paul Paray, Detroit Symph., Mercury SACD, 4756622

Tchaikovsky, The Nutcracker, Dorati, London Symph., Mercury SACD, 4756623

Gershwin, An American in Paris, Antal Dorati, Mercury Living Presence, CD434329
ModWright
web address: www.modwright.com