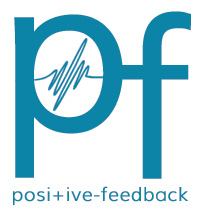 You are reading the older HTML site
Positive Feedback ISSUE 28

november/december
2006
A plethora of recordings that Karl tries or ties together by starting with a single instrument, then next a trio, after which he does a small orchestra, then follows this with a female vocal, to one with male voices and chorus, and ultimately winds up with ...well, you guess that one! This is not just for those getting started with classical music!
by Karl Lozier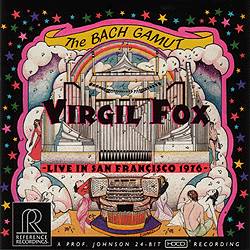 The Bach Gamut, Virgil Fox, Live at St. Mary's Cathedral Reference Recordings HDCD RR-107
This is an unusual release in many respects. This live-recorded concert was performed in 1976 at the justly famous St. Mary's Cathedral in San Francisco. The sellout crowd of 2500 had swelled to more than 5000 jammed into the cathedral for this opening night concert. The original producer for the recording of the live concert was Charles Swisher and was first released by SeeMusicDVD in a two-disc CD/DVD album.
Virgil Fox was a true virtuoso, an unchallenged master and the most famous organist for many decades. In his younger years he was the focus for admiration from his peers. That changed in his later years with his excesses at his recitals and attempts to bring music of the masters to the masses in many nontraditional performances and interpretations. He ultimately became exceedingly famous and controversial, culminating in his highly promoted "Heavy Organ"/psychedelic light shows. Those recitals actually popularized classical music and pipe organ concerts to segments of the general public and particularly to the younger generation! Here is a chance for those of you formerly in the younger generation to again hear him at his prime. Evidently that is simply the reason for this new release to help you recapture the magic that was a recital by that master, Virgil Fox.
"Because of the live concert circumstances and the age of the archival analog tapes, the quality of these recordings is not representative of Reference Recordings current work." That is a quote from the liner notes accompanying this release. Taken on its own terms, this recording does not offend but reveals much of Fox's unique abilities and appeal. I listened to the entire disk a number of times and simply grew used to it while burning-in some new Audio Purist 20th Anniversary power cords. Even at simply fairly loud levels, pedal notes were very powerful and palpable in the octave below 50 Hz, easily rattling various loose items and one door frame attached to a real plastered wall in my home. Direct comparison to a typical 2002 release, RR- 98 CD recorded at the same cathedral, performance by John Balka of an interesting variety of compositions, revealed significant differences in the recorded sound and audio quality. The more recent recording, and still available, reveals far greater detail and more of a feeling or sensation of being in the cathedral and being aware of the reflected reverberations captured in different spatial and timing relationships. This may partly be due to the presumably empty cathedral on the more recent disc versus a jammed 5,000 listeners on the reviewed disc.
The sound differences between an empty and a filled listening venue is tremendous-each of those 5,000 listeners in the audience is at least a partial sound absorber! The recording team and microphone placement can make huge for huge differences in the ultimate sound quality of a recording. For a number of years now, the RR team has been at least the equal of any in the world. All of which does not distract from what is offered here, as a historical audio memory of a master organist of his time.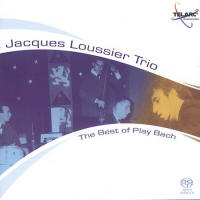 The Best of Play Bach, Jacques Loussier Trio Telarc Hybrid CD/SACD multi-channel #63590
This, the second recording in the mentioned plethora of recordings, has a surprising number of similarities to the first reviewed recording, that of the solo, king of instruments, the mighty pipe organ. The similarities go far beyond the fact that in both cases the musical selections are by Bach. Just as with Virgil Fox, Bach's original compositions are simply the starting point with pianist Jacques Loussier, changing both the chords and rhythms a bit. Then he decides which parts will be played as classical music, which as jazz and which are suitable for improvisation by the trio. After more than 30 years, it all works out smoothly and consistently. As with the aforementioned Virgil Fox Bach release, these selections were actually recorded a number of years ago (1993 and 1994) in France. Mastering and new surround and stereo mixes were fairly recently done by the well-known Michael Bishop.
As typical for the past many years, the results are almost impeccable and provide audio playback with seemingly no obvious faults. That consistent group of serious Loussier fans will particularly welcome this; they can now hear him in fine SACD sound - absolutely top-quality audio even surpassing that of his fine CD releases. Here I shall make a seemingly strange comment. While doing extended listening sessions with this release, there were a number of interruptions that at times forced me to turn the volume control down quite low. After a couple of those lowered volume/gain times, it hit me that I was losing nothing and had little need to turn the control higher other than for comparative consistency's sake. Was it the clarity and unforced detail of this fine remastered SACD disc or was it my system with its newly found "listening through" ability with Audio Purist's new Anniversary power cables, perhaps revealing new life to listening even at very low levels? I do not know for certain but my guess is that the answer is those new power cables may be of particular value to listeners that like to, or have to listen at sane or lower levels.
As a fine musician who has created a real and popular niche in the world of music, Jacques Loussier's appeal is not controversial to any extent anymore. This situation is simply unlike the schism caused by the world's virtuoso organist years ago trying to popularize Bach and classical music in general. Long sessions with this recording had me readily accepting its sublime beauties. Personally, I must add it to my previous favorites, Telarc CD - 83580 (theme and variations on Beethoven's allegretto from Symphony No.7) and Telarc CD – 83516 (Baroque Favorites). Here on this new release are a few more passages than usual highlighting bass and drums. This is clearly a top recommendation to Loussier's fans.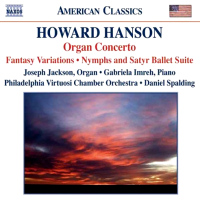 Howard Hanson, Concerto for Organ, Harp and Strings. Nymphs and Satyr Ballet Suite+ Fantasy Variations, Joseph Jackson, Organ, Daniel Spalding conductor Philadelphia Virtuosi Chamber Orchestra Naxos CD 8.559251
This, the third recording on my plethora list of recently received recordings, was chosen to add orchestral support to the pipe organ as was featured solo on the list's first selection. This recording is another gem in the now well-known American Classics series by Naxos. It is also much more than listed in the above titled heading, all composed by one of America's finest composers. Howard Hansen is well-known for his romantic and melodic compositions even in times when they were "not in vogue." The selections on this release, other than the organ featured on the appealing Organ Concerto, feature compositions highlighting clarinet, bassoon, piano, flute, harp, oboe and viola. These short selections featuring that wide and interesting variety of instruments are each separate, complete and enjoyable selections.
Chosen for the organ plus orchestra combination (organ concerto) there is so much more here with beautiful playing by all the soloists. Hanson's compositions allow much of the most appealing characteristics of each featured instrument to be clearly and appealingly heard. Perhaps the most noticeable example to me was with the oboe on this recording. The sound quality leaves nothing to be desired. Listening perspective is a bit closer than middle of the hall allowing a great deal of natural detail to be clearly heard. The musical variety is outstandingly good in my opinion. That is an excellent and enjoyable introduction to the real unamplified sound of many instruments found in modern orchestras. "Frosting the cake" is Naxos' usual low price. Adding all those things together results in the highest recommendation I have accorded to any single recording in many months!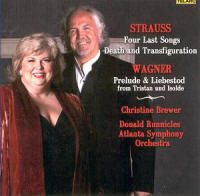 Strauss, Four Last Songs, Death and Transfiguration; Wagner, Prelude and Liebestod from Tristan und Isolde, Soprano: Christine Brewer, Conductor: Donald Runnicles, Orchestra: Atlanta Symphony Telarc CD-80661 and Telarc Hybrid SACD-60661
This is the fourth selection in my recent plethora of recordings I received for review. I chose to review this one because in addition to the sound of a large orchestra, the most beautiful musical instrument in the world, the human voice is added. Approximately half the disc provides a beautiful recording of the hundred-plus musicians of the Atlanta Symphony Orchestra. These orchestra-only selections are relatively subtle and are exceedingly melodic for the most part. However the rather sublime Death and Transfiguration is much more than that. Following opening soft passages the story of the final hours of a dying man with recurring pain and moments of final dreams is musically told. All in all an amazingly mature (and popular) composition written when Strauss was in his mid-twenties. The recording quality is as good as it gets and is absolutely full range with no obvious hint of compression or distortion. Listen to the fine brass and tympani passages. If all is not clean and clear, check out your system starting with the disc player. As excellent as the CD is, it only took seconds to reveal the superiority of Telarc's superb SACD version played in my reference two channel stereo system. The same excellent and highly modified level 5+ VSEI player (Sony SCD-777ES) was used for both discs. Therefore the difference must simply be due to the discs themselves, not the player or any of the other associated equipment. Though excellently performed and recorded, the justly famous Four Last Songs by Strauss are probably not the best examples for newcomers to classical vocal music. With songs or opera selections, serious vocal music lovers have their personal favorites and voraciously defend their choices. For more informed music lovers, I should note that Brewer faces stiff competition, not only from outstanding (older) performances by Lisa della Cassa and Renee Fleming but one of the most praised classical music (of any kind) performances in history. That is the perhaps almost flawlessly performed Four Last Songs, sung by Elizabeth Schwarzkopf and generally conceded to be so. Nonetheless, Brewer's performance is just fine and in character for these sublimely beautiful songs and she enjoys almost flawless recorded sound quality. For the fifth in this recent plethora series, I'll add a choice including great variety in every respect and have duets and choruses instead of just a solo voice. The sixth and last in this planned plethora series should be a surprise and you are invited to guess what it might logically be.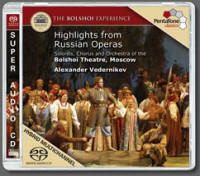 Highlights from Russian Operas, Soloists, Chorus and Orchestra of the Bolshoi Theatre, Moscow, Conductor: Alexander Vedernikov PentaTone Hybrid CD/SACD PTC5186 089
For the fifth selection in my plethora of releases, I had a rather tough choice to make. It had to be a combination of mainly male voices this time plus chorus and orchestra. I chose this release over the fine Naxos release of Berlioz's La Damnation de Faust because this release has a number of appealing samples or excerpts and the Berlioz would probably have less appeal to fledgling classical music listeners on their way, hopefully, to becoming classical music lovers.
This choice of music from Russian operas may seem a bit weird to many music lovers who hardly realize that there is much in the way of Russian operas. That is understandable; many opera companies go for years before performing one! When they do, the prize choice is often thought to be Mussorgsky's Boris Godunov, if an outstanding bass or bass/baritone can be found. This release of Russian opera music does not even mention Mussorgsky or his operas, admittedly that is a quite a surprise. That omission will in no way diminish listeners, new or old, from being entertained by melodic and rhythmic music from five different Russian composers. Excerpts or highlights from Russian operas are simply not as common as from other well-known opera countries such as Italy, Germany/Austria or France. Perhaps, Russia is pretty much on equal footing with the United States in this instance. It may surprise many which compositions are often regarded as American operas.
In any event, the male singers and even male chorus are highlighted on this fine release. Basses and baritones outnumber tenors and sopranos and will make many listeners particularly happy. Have no fear, here the soprano voices are not accompanied by edgy high frequency distortions. This is a fine and enjoyable recording and hopefully a top choice for those wanting to be exposed to more choices of classical music. Though few of the selections will be familiar to most listeners, the last selections from Alexander Borodin's opera, Prince Igor will be very familiar to many if not most listeners. Almost note for note, much of these selections are to be heard in the Broadway show and motion picture, Kismet. The English titles to some of the songs include Baubles, Bangles and Beads and Stranger in Paradise. The original Russian version is presented here with great power and impact generally, though at times the audio soundscaping's depth perspective seems to noticeably and distractingly vary. Ideally at times both or either the fine chorus or orchestra would have more presence than here presented. The extremely popular Polovtsian Dances' melodies are to be heard elsewhere as would be common for any composer (or anyone in the field of the arts-since success breeds more of the same eventually). Listen to Borodin's Symphony No.2 and his popular string quartet No.2 and there the same beautiful melodies are found again. That can be very surprising to many people. Do remember, if something works really well the first time, repeat it or some of it, at least some time or at times. Do not mentally argue with success whether you are an architect, writer, painter, composer or whatever. Success easily breeds more of the same.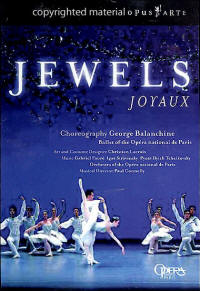 Jewels, Choreography: George Balanchine, Composers: Faure, Stravinsky, and Tchaikovsky, Orchestra: National Opera of Paris, Director: Paul Connelly Opus Arte DVD OA0951 Recorded & Mastered for DVD stereo+surround sound Double layer, 152 minutes
This sixth and last choice from the plethora of literally dozens of releases received the past few months, just might be where music (for many people) is heading. My delay in getting music reviews started and completed was simply the huge amount of time I had to dedicate to my recent review of the simply superb AC power cables from Purist Audio Designs. Properly done cable reviews are particularly tough and time consuming to do. This release is probably more important for its historical importance to the world of ballet than representing the best that the marriage of audio and video has to offer. In this example the audio is the better half and enjoyable on its own. The title Jewels simply refers to combining the three previous shorter ballets Emeralds, Rubies and Diamonds. All are regarded as gems by Balanchine. In my modest attempts to have a "home theater" system, my "high def" LCOS variation, a 52" JVC, revealed the video on this release to definitely be less than "high definition". Nonetheless I was pleased and contented to sit through the entire program. As a fickle part time ballet lover I must now admit that in the future I would prefer to stay home with the best seat and view that I have ever enjoyed during a ballet performance. That is with the full knowledge that what I was viewing is not to the better current standards. Of course, having the surround sound audio literally surrounding me, it is easy to not be overly critical of the video—and vice versa!
The very large ballet corps of the Opera national de Paris is extremely impressive. Please remember that I am a very casual and sporadic ballet attendee. The musical compositions are by three outstanding classical composers. Everything melded together so well that I often did not realize which of the three I was listening to or watching at any given time. My extremely versatile (plays anything) Esoteric DV-50s player typically is used only in my modest home theater system (Denon AV receiver and Nola loudspeakers). There the overall sound quality was not as smooth and sweet as in my reference two channel stereo system. There the other (not the heavyweight SCD–777ES) player that I use and the only early model with SACD that Allen Wright modifies, is the Sony DVP-9000ES, the only one that Sony had added DVD playback. In any case, it played back the audio in a smooth and relaxed manner. I did not try the video on it, as my stereo only system is not hooked up for that. It played the Jewels just fine with a little trial and error, but seemingly not every section. I could possibly or probably say that it played only one of the two layers and very smoothly and sweetly compared to the Esoteric DV-50s in the home theater system. The Esoteric took some fiddling around to capture everything on the disc. So, I know not how well this release will do on your player in your home system. I enjoyed my listening and viewing experience greatly. I can hardly wait to watch the Nutcracker, Swan Lake and Coppelia ballets.