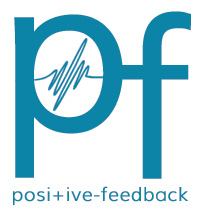 You are reading the older HTML site
Positive Feedback ISSUE 28

november/december
2006
A trio of new Pentatone SACDs
by Mark Wagner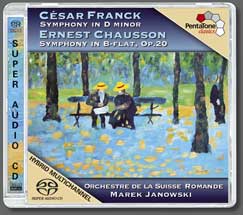 Cesar Franck, Symphony in d minor and Ernest Chausson's Symphony in B-flat, Op. 20 , Marek Janowski and the Orchestre De La Suisse Romande, Pentatone PTC 5186 078
Although Franck was a successful pianist and organist, he did not start composing music seriously until the last 12 years of his life and only at the badgering of his harmony and organ students (students of the likes of Vincent d'Indy and Edouard Lalo). Written between September 1887 and August 1888, the Symphony in d minor received a rather chilly and disdainful reception and did not become the modern orchestral mainstay until some time after Franck's death. Franck considered the work a "classical" symphony, though the composer wanted some innovations in the standard form. This was accomplished by having only three movements as opposed to the standard four movement symphonies.
The Symphony in d minor is a wonderful composition, with well developed themes that are used throughout the symphony, intense lyricism, wonderful harmonics and just plain fun and enjoyable music. I played this particular symphony way back in my undergrad days, and though this symphony does not feature the brass playing to make a trumpet jock get excited, the music is still delightful to listen to whether sitting in the back of the orchestra playing or out front listening.
The sound is the typical excellent Pentatone sound that I have come to love. Rich, warm, dynamic and detailed, the recording captures the sound of the magnificent Orchestre de la Suisse Romande. I have one other SACD of this symphony, with Pierre Monteux and the Boston Symphony (Living Stereo) and while the performances are similar in quality, the sound of the modern Pentatone edges the Living Stereo by a wee bit.
The Chausson Symphony in B-Flat shares this SACD. Chausson was a different bird from Franck, and was for many years strongly influenced by the music of Richard Wagner. Chausson was frequently chastised by French critics for his Wagnerian influences, but his exposure to the music of Claude Debussy (a true example of French style) finally allowed Chausson to blaze his own trail. This symphony, like the Franck, is three movements.
While the Symphony in B-Flat never attained the lofty heights of the Franck symphony, the Symphony in B-Flat itself is still a superb piece of music. From periods of dark brooding to sweeping melodies, the listener is transported through a most pleasing realm.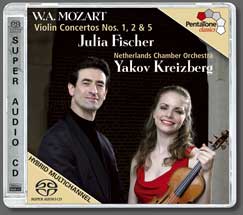 W.A. Mozart, Violin Concertos Nos. 1, 2 & 5 Julia Fischer Violin with Yakov Kreizberg, Netherlands Chamber Orchestra, Pentatone PTC 5186 094
Confession time: I have become a huge fan of Julia Fischer. I became tired of all of the supposedly uber prodigies that we were assaulted with during the 80s and 90s. So many players who oozed virtuosity yet were seriously lacking in musical abilities. When people have to constantly invoke someone like Heifetz (and not in a positive way!), then it is likely that that the new player's recordings will hold very little interest for me. Now, my first SACD with Julia Fischer was likely the Bach Solo & Partitas. It was then that I realized that this young lady has both the technical AND musical chops to be considered a true musician.
This is actually my second SACD of Mozart Violin Concertos with Miss Fischer and Yakov Kreizberg. Like a doddering fool, I had completely forgotten that I owned the previous release! DOH! (force me to listen to 1980s DGG recordings on Wilson speakers with Krell electronics!) Needless to say, this new Pentatone is a truly wonderful addition to the growing Julia Fischer discography.
I simply cannot say enough about Julia Fischer's playing, and once again, Pentatone captures Mss Fischer in all her glory. Excellent sound, superb playing and perfect balance between the soloist and the orchestra. There is not a lot I can say about Mozart and his concertos for violin that has not been said before. If you like Mozart and enjoy Miss Fischer's playing then I highly recommend this SACD.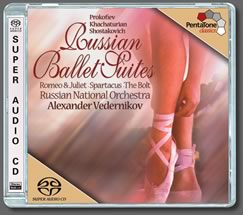 Russian Ballet Suites, Russian National Orchestra, Alexander Vedernikov. Music of Prokofiev, Khachaturian and Shostakovich, Pentatone PTC 5186 032
I have read some comments about this recording where people are whining about the small offerings from the Prokofiev and Khachaturian ballets. Yes, there is indeed a LOT more music available from both ballets. However, I cannot recall EVER seeing a complete recording of Khachaturian's Spartacus, so I personally feel that the people who are moaning over the Spartacus are a little off base ...why? Because I have two other RBCDs of Khachaturian ballet suites and those recording offer little extra. Yes, the offerings from the Prokofiev Romeo & Juliet are indeed small, but the old trumpet player in me is delighted in the offerings here, as these movements have the juiciest parts of the entire ballet!! Shostakovich's Suite from "The Bolt" is a nice collection of music that is just plain wicked fun.
The music on this SACD ranges from the fun to truly magnificent. The music from Spartacus is some of the most beautiful music ever written (this writer's humble opinion) and while the Prokofiev is short, you still get a good feel for the ballet. The Russian National Orchestra under the leadership of Alexander Vedernikov is excellent and the orchestra plays with a good deal of enthusiasm
The sound of this Pentatone is quite good. This was the first recording made in the DZZ Studio 5 in Moscow and while the sound is not utterly fantastic, I still feel that this is a great recording. I bet that future recordings in this studio will get better and better.
Recommended as a great introduction to Russian baler music!