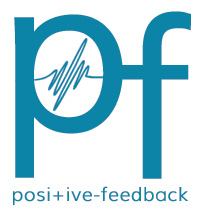 You are reading the older HTML site
Positive Feedback ISSUE 28

november/december
2006
RMAF - 2006, The show that I almost missed!
by Mark Wagner

The weekend before the 2006 RMAF, I learned that I had a nice little issue called Supraventricular Tachycardia (or SVT) which is a suddenly rapid heartbeat. After a grueling day at a cardiologist's office (undergoing truly horrible tests) I learned on the morning of departure (Thursday at 7:00AM at our airport) that I was okay to go. Needless to say, I got on the plane relieved that I was going to make it do Denver after all.
Now, I suspect that there are folks who would approach something like the RMAF with some starry eyed ideals that every room would be sublime. Well, I had read enough show reports in the numerous print and online publications that I was not going to be that starry eyed virgin. Good thing I was somewhat prepared, because many of the rooms started out sounding umm, cough cough, ahem…...well, less than desirable.
I will state that I did not even attempt to visit every room. Why? Some rooms were always too crowded; some rooms were filled with loudly talking people, or just plain loud and obnoxious music. So, I only list the rooms that truly moved me. Some of the rooms I will talk about have images attached…others will not due to the fact that the pop up flash on my Nikon D70 was dead. Add to the mix some truly dark rooms and all I can do is give comments. Oh, some rooms do not have quite as much information as others…I can thank a very enthusiastic (?) house keeper at the Marriot for her apparent zeal in cleaning the room…and some of my show notes.
Onwards….
Evolution Audio
Jonathan Tinn of Blue Light Audio (Portland OR) along with the extremely nice and obviously talented Kevin Malmgren (formerly of von Schweikert) brought their new Evolution Audio MM-3 speakers ($38,000) powered with a DarTZeel MHB-108 Stereo Amplifier ($18,200), the DarTZeel NHB-18S Preamplifier ($23,250) along with the new EMM Labs single box player ($9900). Sharing the room was the super friendly Alvin Lloyd (of Grand Prix Audio fame) where he was showing his new ultra sexy looking and fine sounding GPA turntable. The speaker and I/C cabling were all Evolution Audio wire, with the exception of some Jena labs AC cords (the new Evolution AC cords were not quite ready for the show). All of the electronics were stacked on one of Alvin's magnificent GPA racks.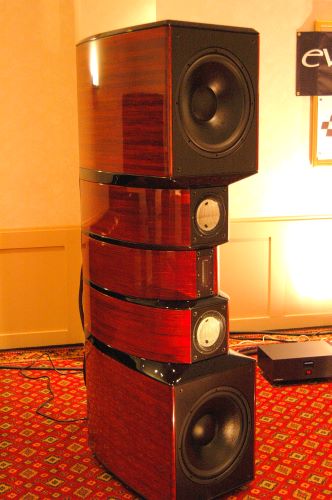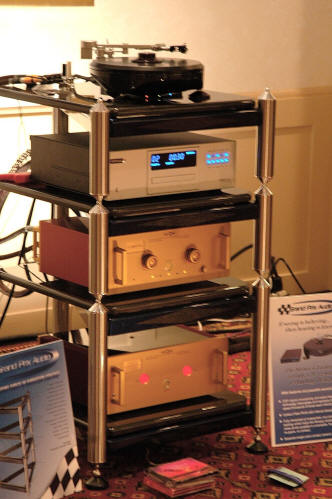 I arrived early on Thursday and found the Evolution room very busy dialing in the system. Even though the system was still a long ways from being "ready", I was immediately astounded by this speaker, which is HUGE, well over 6' tall!
What I heard was detail, transparency, space, a colossal soundstage, and imaging galore. Throughout the show, I heard a wide variety of music on CD, SACD and LP. No matter what the style, the music was always engaging. There were times when the room was not so busy, so I got a chance to listen to all of the recordings I brought; from the new SACD of Mahler's 5th with MTT/SFO, Michael Haydn's Requiem (a killer Hyperion RBCD) to a CD of Bach's solo works for violin. No matter what I played (either delicate solo violin or thunderous Mahler) the system was superb. At $38,000 a pair, these speakers have to be the deal of the century! One could easily expect a price of at least double for a pair of speakers this size and of this quality! If I could have done so, I would have awarded this room best overall.
Walker Audio
This was my first ever chance to hear the Walker Proscenium Black Diamond turntable ($40,000 including set up by Lloyd and Fred Law). Along with the Proscenium was Lloyd's Reference Phono Amplifier, 2nd Edition ($12,500), Precision Motor Drive MK II ($1795), Velicitor Power Line Enhancers ($2995) Walker Prologue Equipment Rack ($7500 in Jatoba wood) a pair of Walker Amp Stand ($1450 each, in Jatoba) with Silent Source cabling. Al Stiefel's very nice Red Rock Renaissance Amplifiers ($39,750 pair) was providing the juice. Speakers were the dreadfully heavy and VERY expensive LSA 10 3-Way Loudspeakers ($80,000!).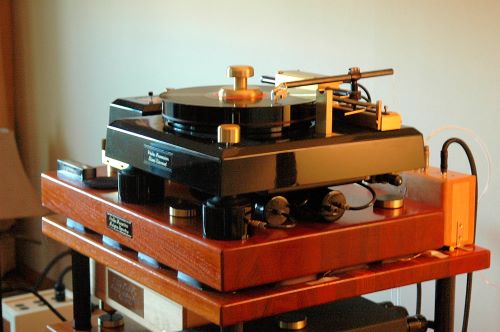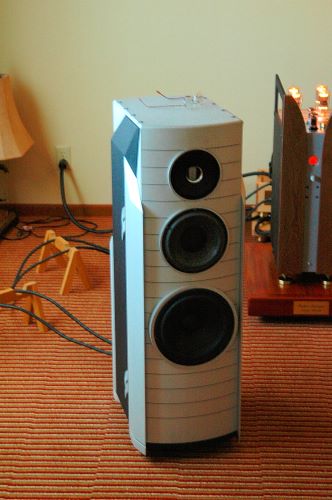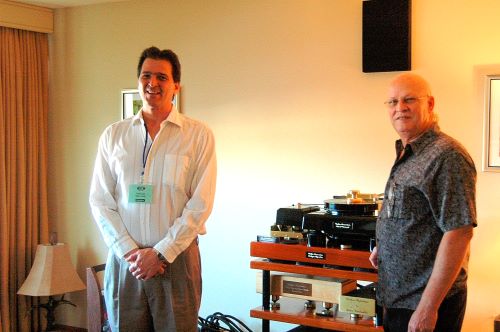 Lloyd and Fred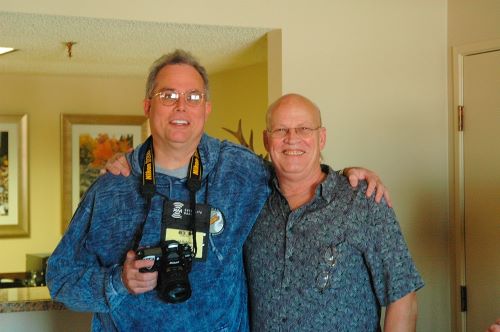 David R. and Lloyd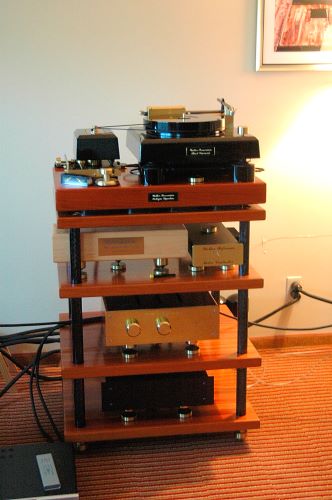 Everything I have ever heard about the Proscenium turntable was true. Absolutely killer sounds, making the numerous LP's played sound natural and easy to listen to …as long as the volume was not too loud. It was great to finally meet Fred Law, and I have to say that both Lloyd and Fred are two absolute gentlemen in the world of high end audio!
Moscode Room
Esoteric DV-50S Universal Player (older model, available around $3500), Placette Audio Active Line Stage ($4995), Moscode 401 HR 200wpc Amplifier ($4995), Joseph Audio RM33 Speakers ($10,500 depending on the finish).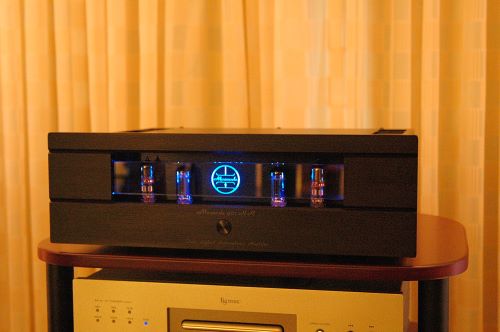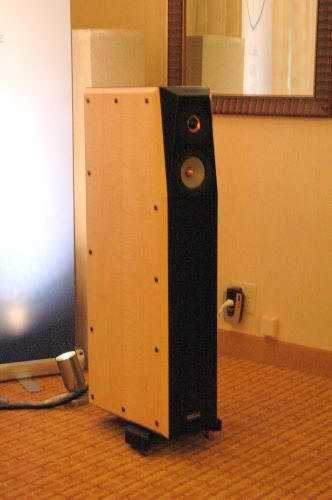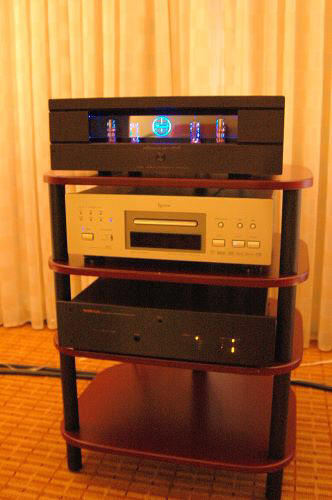 Another fine sounding room that I found on the 5th floor Atrium wing of the Marriott. Moscode was a primary "hear" for me: this is gear that I have read plenty of good press about ...and goodness ...I was not disappointed! As per the other rooms I am writing about, all of the gear was unfamiliar to me. It is nice to walk into a strange room and immediately like what I hear. The Joseph speakers sounded quite nice but I have to wonder if the addition of a killer source like a McCormack UDP-1 Deluxe might have raised the bar even higher? I look forward to hearing Moscode again in the future!
ESP Concert Grands Room
Digital Front End: Esoterix UX-1, modified by Alex Peychev of APL Hi-Fi (model NWO-2.5 ($21,000), Concert Fidelity Vacuum Tube Line Stage ($14,000), Shoreline 300 Monoblock Amplifiers ($42,000 pair) and the ESP Concert Grand SI ($40,000).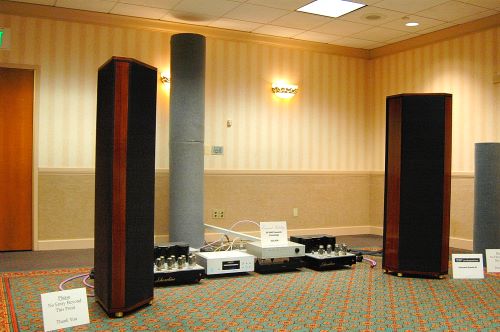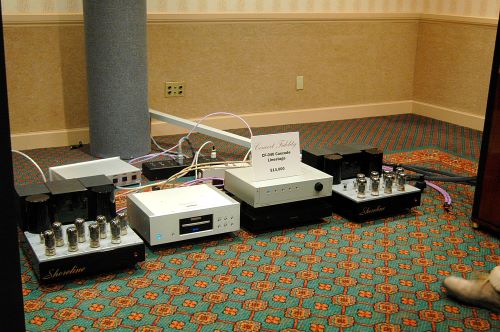 My first encounter with this room was less than impressive due to an apparent deterioration in the power grid in the hotel (according to the reps in attendance). Cabling was Nordost Valhalla AC cables and a Thor power conditioner on the amps and a Sound Application power conditioner on the APL NOW-2.5 player. However, the substitution of Jeff Smith's Silversmith Palladium interconnects and speaker cables brought a tremendous improvement in the overall sound and presentation ...very much in keeping with the many wonderful things I have heard before about these excellent speakers. This was a most enjoyable room by the end of the show!
Jolida/Mbl
Mbl 116 ($18,600) Radialstahler 360o Jolida JD 100A All Tube CD player ($995) JD 1000RC Integrated Amp 100wpc ($2400) Cables were from a company called Celtic and featured a $200 pair of interconnects from the amp to the CD player and an $800 pair of cables, simply called Speaker Wire!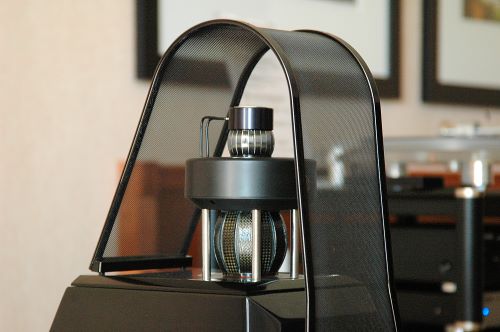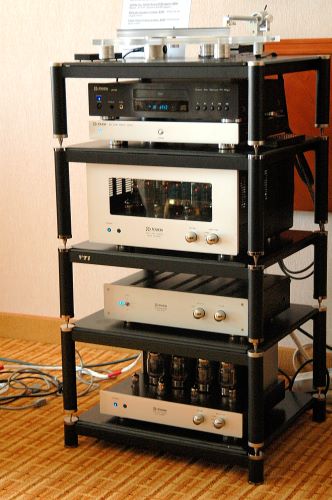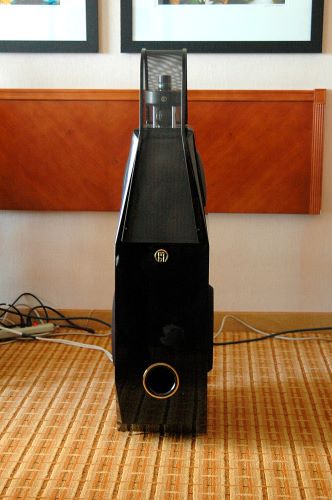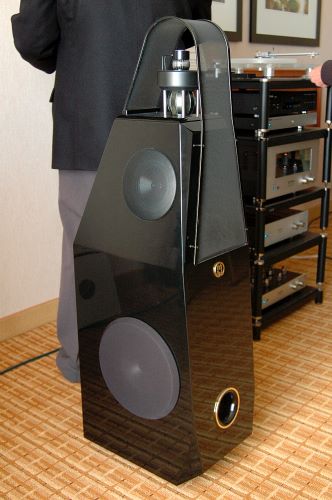 By the time I found this room, I started to wonder if the exhibitors on the upper floors of the tall tower were just after plain 'ol hi-hi while the people on this 5th floor were doing music. Let's get right to the point: the Mbl speakers, with their wild looking Radialstrahler speakers, are some of the strangest speakers I have seen! The tweeter looks like something out of a Sci-fi movie, but the music they make is just plain sweet. Now, the speakers are terribly inefficient at 82dB, and require substantial current to make them run, but the Jolida gear running the speakers seemed to be pretty much at ease with the music that was playing when I came in. I felt that the music was relaxed and very enjoyable, though the room was perhaps too small to see what the speakers might do in a bigger space. As with other rooms, my exposure to some more unfamiliar gear was very pleasant and rewarding.
Linn
Majik System: Majik CD ($3,500), Majik Kontrol ($3100) Majik 2100 Stereo Amps ($2350 x 2) and Ninka Speakers (active, powered by a pair of 2100 amps) LP-12 Turntable, at current specifications ($14,000 - $14,500)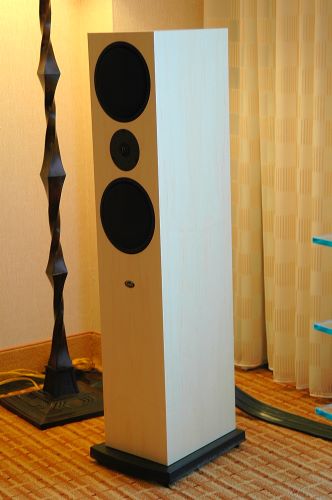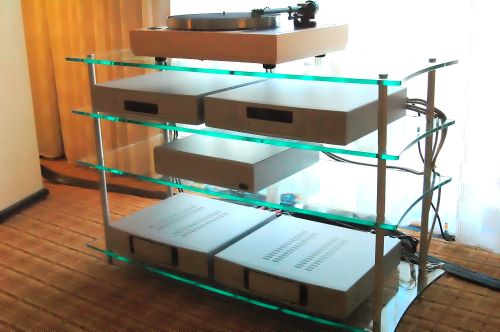 Linn is very familiar to me, as I once owned a LP-12 turntable. In fact, my first exposure to truly great audio gear was way back in August of 1984. I had just gone through my college graduation ceremony and rather than drinking myself into oblivion, I and three friends went to San Antonio to just goof around. There we found a high end shop where they were playing a LP-12 through a pair of the monster Isobarik speakers powered by a six pack of Naim amps. I will never forget the music; Puccini's opera Turandot with Zubin Mehta and the LPO (London/Decca).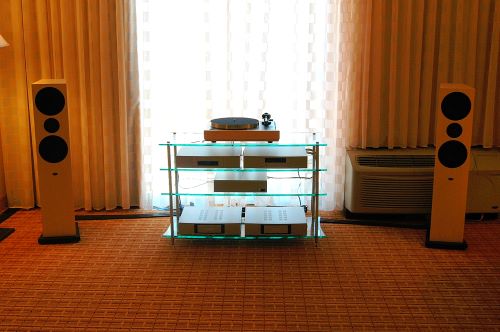 While the room at this year's RMAF was, ahh, more modest than in year's past, the sound was every bit as impressive. Despite the comments by the Linn rep about room acoustic issues, the sound was relaxed, musical and extremely enjoyable. While I was there, I heard music on both CD and LP. Once again, a great sounding room!
Hagermann
This was an interesting looking and nice sounding room. I saw a number of horn speakers and I have to say that most did nothing for me. The Azzolina Gran Sfera loudspeakers (a horn loaded Lowther) sounded nice (no pricing discovered) while being powered by a tall skinny rack of components (cool looking indeed!) and featured a Cornet2 (phono amp $1000?), CHIME USB DAC ($1750), CLARINET linestage ($1000) and a pair of CYMBAL 8W monoblocks ($2500/pair) and the CONDITIONER, an AC conditioner not sold at retail. The turntable was Galibier with a Schroeder Reference Arm and an EMT cart. Topping off the turntable was Joe Hagerman's cool looking UFO ($400) a turntable strobeclamp. WAY cool looking, though I am sorry that my image of the UFO is blurry due to camera shake and low lighting in the room.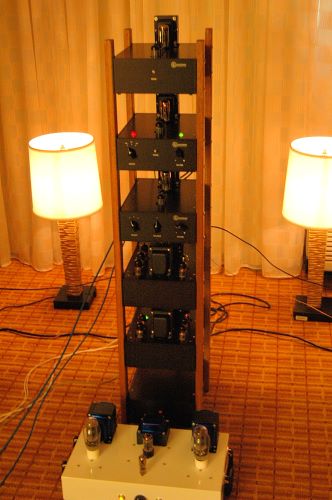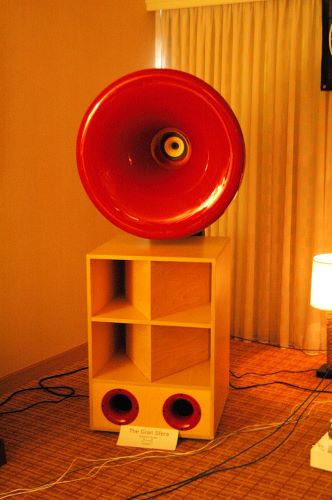 IsoMike/Kimber/SoundLabs
Can we say LARGE ROOM? This room was huge, swallowing even the massive Sound Lab speakers (6 pairs of these beasts!) set for surround displays. At 14' tall, these speakers dwarfed any one who approached. The set up changed from the first time I saw them, with the inclusion of massive black sheets around. Sound was huge, commanding and sometimes awe inspiring. Amplification was provided by numerous Pass Labs amplifiers.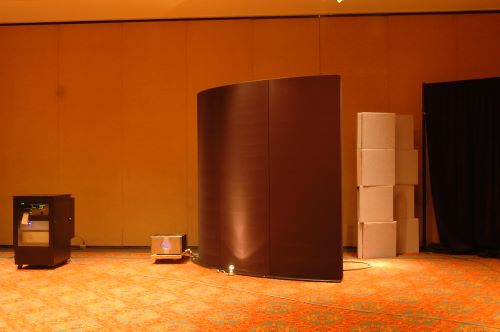 Ray Kimber was selling some of his IsoMike SACDs (two with the Fry Street Quartet with a review coming soon). The string quartet SACD sounded massive (way larger than life) though this was okay.
In retrospect, this was a fun room indeed!
Some of the other rooms that were pretty nice will follow below. Due to the fact that the pop up flash on my Nikon D70 was dead, I could not get any pictures due to the fact that many of the rooms were simply too dark.
Artemis and Verity Speakers
This room was another room that I liked quite a bit. Nice sound and cool looking gear. Due to an over zealous house keeper, my notes on pricing disappeared.
Kubala-Sosna and Kharma Speakers
This was another fun room, with Joe Kubala playing music master in a dark corner. The Kharma CRM 3.2fe speakers ($21,000 and my first time hearing Kharma speakers) were powered by a pair of Class D amps (MP 150 at $6800/pair). Kubala-Sosna cables were used, though my being unfamiliar with the whole system did not give me an idea as to how the cables sounded. Still, Joe Kubala is a nice person and the room had some great sounds.
Verity & Nagra CD 12-15k
The entire hall where this room was located had some nice rooms. Besides the fabulous Evolution/Blue Light room, this room with Nagra PSA amplifier (think Egyptian pyramids) and a Nagra CD player ($12,000 - 15,000 depending on configuration) with the new Verity Rienzi ($8000) speakers using Silversmith cables (Silver Line $2500 for a 6' and $1400 for a 3' I/C) were creating some very fine sounds! I think that Jeff Smith is on to something with his cables. This was just one of a few rooms using Silversmith cables that really impressed me.
Usher & Nu Force
Another room filled with unfamiliar gear. I heard two different Usher speakers that were quite nice: a $700 pair of bookshelf speakers as well as a $1400 pair of floor standers. Nice enough sounds that I look forward to hearing more Usher speakers in the future.
Art Audio (Landis Imports)
WOW! Joe Fratus is one nice guy, both in person and on the phone ! His tube gear is also top notch. I heard both amps in his room: the first, a new Adagio (a stereo amp that is transformer coupled, single ended at 26wpc pure Class A design and uses the new EM2 520 output tubes - $13,000). The second amp was the new Quartet monoblocks, a push-pull 50wpc Pure Class A design that offers a switch to choose whether or not one wants to use feedback or no feedback ...pretty cool, eh?) Painted in a shiny Ferrari Black, price is $13,000. Joe did not use any preamp, as his amps are high current ...I was told that this proves that one does not need any higher gain to drive the system. Seemed to work as planned. The Ars Aures Sensorial Midi speakers ($19,500) worked really nice together with both amps. I came back to this room several times (inevitably on my way back to Jonathan Tinn's room!) and always liked what I heard. Other electronics used was a Gill Audio 24/96 DVD compatible DAC ($7500 due to the addition of being direct coupled, with up sampling and a digital volume control) and Jeff Smith's Silversmith Palladium cables were used throughout.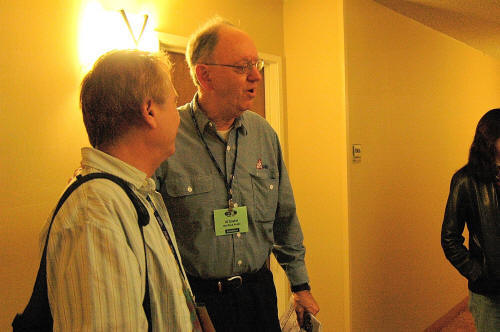 That is it for my rooms. Only 13 rooms out of over 100. I have to say a hearty thank you to Al Stiefel, Marjorie and Art for a tremendous show! I cannot wait until next year, when this trooper will be sure that his camera's flash is working ...DOH!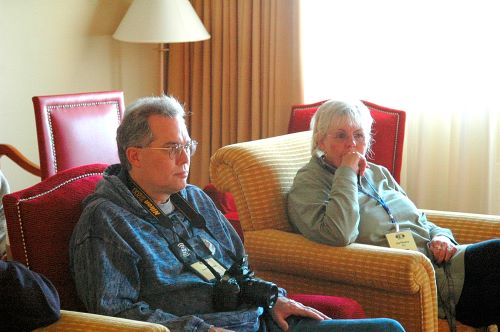 David and Lila...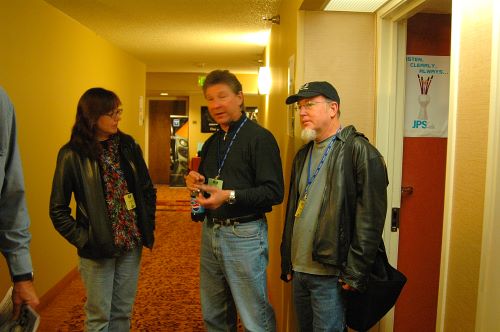 Carol Clark, Bobby Palkovic of Merlin, and Dave Clark.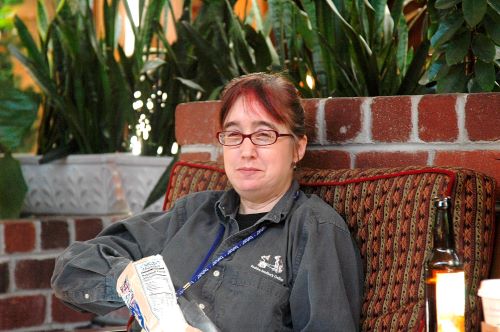 Carol and some munchies...
To Roger S. Gordon, Dave and Carol Clark, John Zurek, Albert Porter, Mike Lavigne, David Robinson and Lila Ritsema, Samuel Roberts, and Rick "Dr. Sardonicus" Gardner ...what wonderful people to finally meet! I hope that I did not leave any other PFO'ers off! To the many manufacturers who were so pleasant to a first time show attendee and a new writer, THANKS for being such great people! TO Winston Ma, best wishes on the "project"!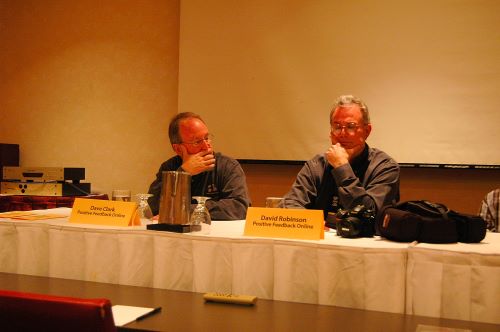 Meet the Editors ...Dave and David of PFO...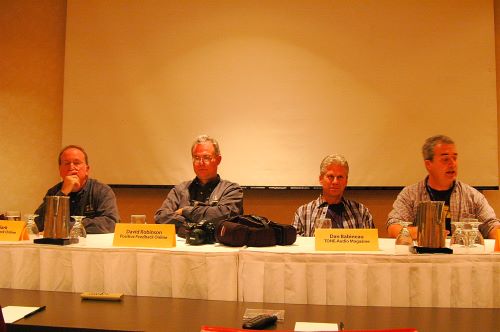 and th their right, Dan and Jeff of Tone Audio.
If I do not make it to CES in January then I will see you all next year!