ROBERT H. LEVI'S SYSTEM
LOUDSPEAKERS
Avalon Eidolon and REL Stadium III subwoofer.
ELECTRONICS
E.A.R. 324 phono preamplifier, E.A.R. 890 amplifiers (ran as monos), NuForce Reference 9 SE amplifiers, Pass X1 preamplifier, and an E.A.R. 834L Tube Line Stage.
SOURCES
VPI Scout/JMW 9 tonearm, VPI SDS Controller, ZYX R100H phono cartridge. E.A.R. Acute CD player, ModWright Sony 999 SACD/CD Player with Signature Truth, Mod/Bybee Filters and Revelation Cryo Silver Umbilical. Alesis Masterlink 24/96 Recorder/Playback Deck, Theta Pro Gen.5a DAC Modified for 24/96 Playback, and the Benchmark DAC 1 revised. Grado Statement Phono Cartridge. Pioneer DVL 919 LD/DVD Player. Magnum Dynalab MD-108 Reference Tuner, Marantz 10B FM Tuner, Day Sequerra Reference FM1 Tuner, AQ 7500 FM Antenna, Stax 7t Electrostatic headphones, Grado Reference 1 headphones, and a Grado headphone amplifier.
CABLES
Kubala-Sosna Emotion, Harmonic Technology CyberLight, Dual-Connect, interconnects, Dynamic Design THB Nebula, Soundstring, Kimber Select balanced, Kimber TAK phono AG, Kimber Hero balanced and single ended interconnects, and Acoustic Zen Silver Reference II balanced interconnects. Kimber D-60 Digital Interconnects. Kimber Select 3038 Silver, Kubala-Sosna Emotion, and Harmonic Technology Magic Reference Silver speaker cables. Kimber Palladian, Tara RSC and Decade, Tice, Soundstring, and Kubala-Sosna Emotion AC power cords.
ACCESSORIES
Monster Reference 350 Mark II v2 Power Conditioner, World Power Power Wing, Tice Clock, and Audio Prism Quiet Line IIs. Cable Cooker 2.5, Winds Stylus Pressure Gage, Bedini Ultra Clarifier, VPI Record Cleaning Machine 16.5. Audio Magic's Quantum Physics Noise Disrupters.
Let me cut to the chase. The newest Stereovox 600-SEIii and its balanced twin are some of the sweetest; most intensely musical interconnects on the planet! Assuming you have a top notch system and a strong appreciation for great music, the Stereovox interconnects let you listen, and listen, and listen for hours without so much as a touch of fatigue. With a lit from within definition and a most beguiling overall presentation, they are clearly the best under $2000 per meter interconnects around and compete quite well with the most expensive and most exotic interconnects I am aware of. They are the tip top of their class and at $1500 per pair, a no nonsense bargain.
Descriptions of cable construction from Stereovox's website:
Stereovox 600-SEIii
A twin run of pure silver conductors carry the signal through Gossamer dielectric tapes, within discrete, helically-wrapped, multi-filar silver-plated copper shields. Double the silver, half the resistance of the SEI-600s. SEI-600ii delivers both power and grace with equal elegance. Xhadow Reference RCAs terminated by ISC method.
Stereovox Balanced 600
Symmetrical-coaxial pair with pure silver signals-conductors, each with its own helically-wrapped silver-plated copper, multi-filar shield and Gossamer dielectric. Perfect geometry in a gracefully executed precision line, terminated with Xhadow Reference XLRs by ISC method.
The man behind Stereovox is none other than Chris Sommovigo, the brilliant designer of the Illuminati Digital interconnects. Still a favorite of mine today, he sold the rights of this ground-breaking design to Kimber, which still makes the D-60. Now based in Atlanta, I believe he has perfected his considerable skills and developed an under $2000 per meter interconnect that is constructed and performs in many ways like twice its cost. By the way, the single ended and balanced silver connectors used by Stereovox are quite fine indeed and as good as you'll see on any cables at about any price.
Superb definition and imaging are its strong suits. However, as a bonus, there is a sweetness and charm in and around the notes, which compels music to be even more realistic and suave. I hear this on some [but not all] of the over $2000 interconnects; this rightness on the overtones of musical notes is compelling. Add the textural integrity of the 600-SEIii to its superb imaging and excellent definition, and you have a solid winner at this price point and more.
The high band definition is about as good as it gets. The highs are extended, delicate, and smooth. Just a touch on the sweet side of neutral, they are just right. I wouldn't tweak this elegant presentation one bit. They are not sibilant at all. They have just the right amount of attack and snap. Tonality is near perfection. Musical colors are right and charming. If priced at $2500 per meter, I would say right on. At $1500 per meter, I'm in love again.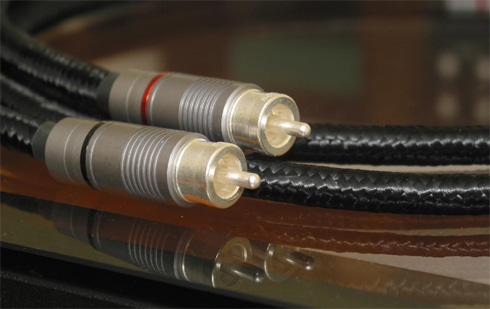 The mid band is excellent and trend setting in its price range. It is just a bit thinner, slightly less detailed, and a touch less organic sounding than interconnects at $2500+ per meter. The 600s reveals huge, dynamic soundstaging, oodles of definition, tons of musicality, and smooth sophisticated nuances. More definition is present by a significant amount when compared to its similarly priced competitors. Plus, you'll hear wondrous rock solid imaging. The 600-SEIiis convey stunning musicality within those images which lets you just enjoy the performances that much more. Assuming you have top ancillary gear, these Stereovox interconnects deliver the goods. Just wait until you hear great solo piano reproduced with the 600s. Vocals, too, are gorgeous and ultra right sounding. Live recordings bring a you-are-there experience with the Stereovox. Choral recordings are "3D" lovely as well.
I detect a slight frequency tilt in favor of the upper mids. You need to know this if you already have an upper midrange emphasis in your system. Otherwise, the 600s were just right with the very neutral Avalons, JM Labs, and Marten Design loudspeakers. This small subjective frequency response tilt appears to enhance imaging and overall focus. The Stereovox interconnects remind me of the superb, precise sounding Silversmith Palladiums in this regard. The 600s depth perspective and ambience retrieval are excellent as well ...again, best of class.
Subtle background definition is precise and highly defined. The 600s let you hear way into the soundstage. These are ultra low noise interconnects. Audiences rustling noises, breathing, creaking stage floors, etc. are down right amazing. Microdynamics are handled with aplomb. They demonstrate a lack of phase distortion and a gain in purity unheard of in this price range. The single ended and balanced versions sound identical on direct comparison.
I am particularly impressed by the lack of ringing and overshoot on horns, bells, and such. The Stereovox present a breakthrough at this price point in overall dynamic clarity that I hear consistently with the more expensive Kubala-Sosna Emotion and the Jorma Prime. Neither of these designs will overload either. The 600s refuse to lose their composure with Respighi or Barber or any music that pushes the mid band or high band envelope. Excellent opera recordings are particularly open and unveiled ...the sweetly rendered and precise nature of powerful voices is compelling and intense. You don't lose track of even the smallest instrumental line. Well done Stereovox!
The bass band is tight, taught, and deep …really deep. The 600s provide some of the deepest bass I've heard from my two systems. This is hear it and feel it bass. This is not plumy or rich bass. It has a somewhat neutral, analytical sound. Now don't overreact to this. There's lots of bass over-emphasis present with many cable brands that's just not really there. The 600s remind me of the excellent bass presentation from the expensive Nordost Vahalla interconnects and the Acrolink 6500s. The Stereovox 600-SEIiis are in very fine company indeed. With the 600s, the reference E.A.R. 890 monoblocks demonstrate iron fisted bass control.
Quibbles? The 600-SEIii need lots of break-in time…up to 300 hours to come alive. There is no left/right marking on the cables which get confusing in tight, dark corners. I would also like a touch more richness in the overall sound; which is my personal preference. It may not be yours, however. At this price point, you just can't have it all ...but the 600s come mighty close!
Jorma Prime (balanced and single-ended)*

Acrolink 7N-DA6100 (single-ended)
Harmonic Technology Cyberlight with Battery Pack III (balanced and single-ended)

Kubala-Sosna Emotion (balanced and single-ended)

Nordost Valhalla (balanced and single-ended)

Dynamic Design THB Nebula (balanced and single-ended)

Acrolink 7N-A2500 Mexcel (single-ended)

Silversmith Palladium (balanced and single-ended)

Kimber Select WITH Bybee Golden Goddess "Super Effect" RCA IC Tails (single-ended)
Stereovox 600-SEIii [balanced and single-ended]

Dual-Connect Gold

Kimber Select Silver

Acoustic Zen Silver Reference II
Harmonic Technology Pro Sil-way III

Xindak Gold

Kimber Select Copper
Soundstring Pro

Eichmann Express 6 Series 2
Kimber Hero
*state-of-the-art
**new improved deluxe version with exclusive Furutech connectors coming soon
As an audiophile shopping in this high, but not stellar price range, you must consider the Stereovox 600-SEIii. There is nothing I know of under $2000 per meter which will give you the trendsetting definition, imaging, and exquisite charm of the 600s. Always beautifully detailed, I detected a sweetness and sophistication just not available at this price until now. Plus, the imaging is to die for. I love their unveiled, superbly rendered inner definition. The 600s capacity for image focus on all types of instruments and vocals was equal to cables in the $4000 per meter range. The 600s are unfailingly musical and non-fatiguing just inviting the audiophile and music lover to listen hour after hour. The Stereovox 600SEIiis in single ended and balanced versions are best of class and deserve their strong buy recommendation. Robert H. Levi
Discs used in this review included:
Joe McQueen and Friends (Kimber Isomike SACD 55802)

The Turtle Creek Chorale, Testament (Reference Recordings RR49CD)

Symphonic Dances (Reference Recordings RR105)

Tchaikovsky, Trio for Piano, Violin, and Violoncello in A minor (Mirrored Nature MNR 5001)

The Carl Saunders Sextet (BluePort BP-J011)

Gene Harris, The Best of the Concord Years (Concord Records 4930-2)

Hovhaness, Symphony 22/Cello Concerto (Naxos 8.559158)

Jacintha, Here's to Ben (Groove Note 1001-3)

Chopin, Piano Concertos 1&2, Rubinstein (RCA/BMG 82876-67902-2)

Piatigorsky/Dvorak, Cello Concertos (RCA/BMG 82876-66375-2)

Suppe, Overtures (Mercury Living Presence 470-638-2)

Hovhaness, Mysterious Mountain (Telarc 60604)

Miles Davis, Kind of Blue (Columbia 90887)

Turtle Island String Quartet (Telarc 60630)

The Absolute Sound SACD Sampler (Telarc 60011)

Howard Hanson, Symphony No.2 (Telarc 60649)

Stravinsky, Firebird Suite, Jarvi (Telarc 60587)

SuperBass2 (Telarc 63483)

Orff, Carmina Buran (Telarc 60575)

Diana Krall, Love Scenes (Impulse 2841-35)

Duke Ellington, Blues in Orbit (Mobile Fidelity 757)

Isomike Sampler (Kimber 2005A)

Chick Corea, Rendezvous in NY (Stretch 9041-2)

Saint-Saens, Piano Concertos Vol. 1 (Audite 92.509)

Schumann/Lalo/Saint-Saens, Cello Concertos, Starker (Mercury 4756621)

Berlioz, Symphony Fantastique, Paray, Detroit Symphony (Mercury 4756622)

Tchaikovsky, The Nutcracker, Dorati, London Symphony (Mercury 4756623)

Gershwin, An American in Paris, Dorati (Mercury 4343292)

Janaki String Trio, debut, Yarlung Records, CD 62376

David Fung, The Piano, Evening Conversations,Yarlung Records, CD 62375

Beethovan, Franck, Violin and Piano Sonatas, Mirrored Nature Records, MNR 5002

Turandot, Leinsdorf Conducting, RCA Hybrid SACD/CD 82876-82624-2

Tosca, Pappano Conducting, EMI CD 7243-5-57173-20

Felix Hell Organ Sensation, Liszt etc.,Reference Recordings RR-101 CD
Stereovox
web address: www.stereovox.com