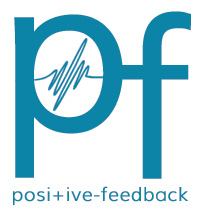 You are reading the older HTML site
Positive Feedback ISSUE 29

january/february 2007
Notes of an Amateur - January, 2007 Part 2
by Bob Neill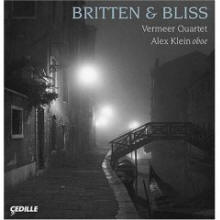 Britten & Bliss: Phantasy Quartet, Quartet No. 3, Britten; Oboe Quintet, Bliss. Vermeer Quartet, with Alex Klein, oboe. Cedille 90000-093.
Much impressed by the Pacifica Quartet's work for Cedille Records and a big fan of small labels run by musically intelligent people, I pursued two other recent Cedille releases. This first one is performed by another of the Not Terribly Well Known Ensembles, the Vermeers, who, it turns out, have been together since 1969 (!). Where have I been? Their discography is huge, including complete sets of Beethoven, Bartok, and Tchaikovsky, the last on Cedille. They formed themselves at the Marlboro Festival (always a fine recommendation) and come from Israel, Germany, New York, and Nebraska.
Their program here contains some very fine music, wonderfully played; but as a whole it may not work quite as intended.
A digression
In the Second Generation of British twentieth century classical music, I hear three principal traditions. There is the nearly dominant pastoral/sentimental school, exemplified by, among a great many others, Finzi, Delius, and even Frank Bridge (Britten's favorite teacher), who turned into something more complex as he developed. Most of the composers in this school could not, perhaps chose not, to escape the influence of Elgar and Vaughn Williams (comparable to Copland's influence in the US), though in most cases they diffused their forbears' romanticism, turning it into wistful elegy. Then there is the gnarled, ultra-modernist school, exemplified by Harrison Birtwhistle andBrian Fernyhough, who seemed to draw inspiration from the serialists across the English Channel. And finally there are the true modernists, heirs of Mahler, Stravinsky, and Shostakovich, in particular, exemplified by Benjamin Britten, Elizabeth Maconchy, and the somewhat confused Michael Tippett; later by Michael Berkeley and Colin Matthews, and now by Thomas Adès.
End of digression
This recording sandwiches an equivocal piece (Am I pastoral/elegiac? Am I a little bit modernist? Oh dear) piece by Arthur Bliss between an early germinal work and a very late masterpiece by Britten. The ostensible link here is the oboe, but the ultimate effect of the program is to dramatize how single-mindedly powerful and unequivocal is Britten's contribution to British music history. In the early Phantasy Quartet for oboe and strings, we hear the sentimental tradition questioned and transcended; and then in what turned out to be his final piece, String Quartet No. 3, we hear twentieth century British music brought to its mature culmination. I do not generally enjoy patronizing music—and the sentimental school of British music contains some fine pieces that can hold their own in any company. But hearing Bliss in the company of Britten is …well difficult.
Bliss aims to be sophisticated about his sentimentality, which is an interesting and even promising tack to take. Keeping the traditional English line but not being taken for a provincial fool for doing so. But alas, he's not quite up to the challenge. He comes off, especially in Britten's company, as an also-ran, a bit like Prufrock, who's not sure which way to turn. I gave this piece several takes in an effort to hear it "out of range" of the Britten pieces, and it did improve. But there is an almost relentless wistfulness to it that even its periodic mood changes and infusions of energy, notably a whole final 'vivace' movement, can't overcome. Bliss can even make Connelly's Jig, quoted in the final movement, sound wistful. Klein's oboe playing is very pleasing, especially in the "vivace" movement; but it is even more so in the early Britten piece.
So on to the Britten, which makes this disc a triumph, Bliss notwithstanding. The Phantasy Quartet, written as one continuous movement, has a questioning quality to it, undercutting and sometimes openly challenging a lyrical strain that runs in and out of it. There is also a 'walking cello' which opens and closes the work, providing a steady pulse in the bass, a device that recurs in later Britten music, which further serves to undercut any sustained lyrical impulse. Also like much later Britten, the Phantasy Quartet is restless, resisting the refuge that so much nostalgic music around it in the culture offers. It is a short work, over almost as it begins. But its power to haunt the listener afterwards is remarkable.
And on to Britten's Quartet No. 3, which haunts more powerfully. In the first movement, the four stringed instruments speak to one another in pairs—the movement is called "Duets"—almost as in a dream. The second, "Ostinato—Very Fast," has a dancing Stravinsky-like quality and is followed by its opposite, a movement called "Solo—Very Calm," where three of the instruments step back and let the first violin sing a plaintive, meditative song. It is poignantly beautiful. Then it too meets its contrast in a vigorous fugal movement, beginning in the two lower strings but passing to the violin and then to the whole group. All of which brings us to a final, considerably longer " Recitative and Passacaglia" closely tied to the composer's last opera, Death in Venice, quoting some of its musical themes. It is among the most emotionally powerful stretches of music the composer wrote, and was his last. The Vermeers play it as well as I have heard it done—and I have heard it a great many times by a great many quartets. They capture the luminous quality of the last movement eloquently. This record is worth buying for the Vemeers' performance of the Quartet No. 3 alone—though being able to hear it near the Phantasy Quartet also recommends it.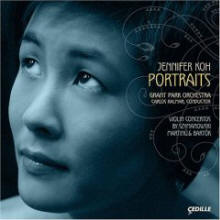 ennifer Koh; Portraits. Violin Concerto No. 1, Karol Szymanowski; Violin Concerto No. 2, Bohruslav Martinů; Two Portraits, Bèla Bartok. Grant Park Orchestra, Carlos Kalmar, conductor. Cedille CDR 90000 089
A Russian, a Czech, and a Hungarian, all born within a decade of one another in the late nineteenth century; all played by a brilliant Korean-American violinist. This CD appears on the 2006 Want Lists of four of Fanfare's regular reviewers, which is no small accomplishment, especially for a 'collection' from a small recording label. Interesting programming and accomplished musicianship still mean something!
Szymanowski's work is written in an unbashedly late romantic style, which brings Glazunov's concerto to mind, though it is less flamboyant and more interesting than the better known Russian romantic's work. It calls for much subtle solo playing, especially in the violin's upper range, and Koh delivers it with exquisite polish. It is one of the quietest pieces of romantic orchestral music I know of.
Martinů's ear is turned more toward the West (Paris), and we can hear modernism rising in a sound that audibly descends from his fellow countryman, Dvořák. I have always found this transitional quality appealing in Martinů's work; it gives me a sense that I'm hearing where modernism's crisper, more sharply angled style comes from.
I wasn't paying attention as the Szymanowski concerto ended and the Martinů began, and was at first puzzled to hear the latter's trademark thematic phrase suddenly appear. No other modern composer I know does this—seed several works with the same phrase, and it does create a recurring sense of familiarity as we move through his oeuvre. It is never exactly the same but always instantly recognizable. I find it mainly curious. The Martinů concerto calls for a good deal more virtuosity than the Szymanowski, and Koh delivers it with elan.
We also hear modernism rising in the chromatic lyricism of the first of Bartok's two early Portraits – and fully risen in the frenetic fury of the brief second. I doubt the emergence of modernism was much in the mind of those who planned this CD's program, but we bring to music what interests us. And so if, like me, you find this development intriguing, you will have additional reasons for finding the excellent recording attractive.
None of this music is recorded very often, and I am grateful to Cedille for it.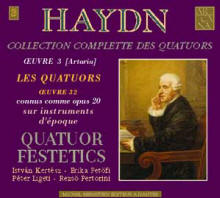 Haydn, Complete Collection of the String Quartets, Volume 3. Opus 20. The Festetics Quartet. Arcana A413.
One of the least accessible treasures in the world of classical music recordings these days is one of the very best cycles of Haydn's string quartets, by the Hungarian Festetics Quartet on the French Arcana label. There was a time when you could get them in the U.S. Then you had to go to MDT in the UK, but they can't get them these days either. I've seen a couple on Amazon.fr, but not the full series. I get mine from a friend in Paris! I have no idea why this wonderful series isn't more widely available, but there you are. And it's not going to get easier, since I've just heard that Mr. Arcana, Michael Bernstein, died this past fall. At this point, the Arcana website is down. Here is my latest lead: www.abeillemusique.com. Good luck.
So what makes this series so special? To begin with, the musicians play on 'period instruments,' as do those of the equally fine but somewhat more refined and modest Mosaiques Quartet on Astree. Both quartets play these instruments with great flare and wonderful energy and I love them both. But there is no denying that the Festetics, notably on this recently released set of the Opus 20 quartets, have more spirit and joie de vive. And the sound on this set is state of the art: naturally warm, present, and transparent. Yes, the instruments are a bit lighter and tangier than their modern counterparts, but played by the Festetics and recorded by Bernstein's recording engineer, who I believe is Anne Decoville, they have a tactile immediacy that is spellbinding.
So yes, make the effort. Look up that French relative you haven't written to in years!
System used for these auditions: Audio Note CDT 2 II transport and Dac 2.1 Signature, Audio Note OTO integrated amplifier, Audio Note AN-K/SPe speakers. Cabling is Audio Note Sogon, AN-Vx, and SPe.
Bob Neill, in addition to being an occasional equipment and regular music reviewer for Positive- Feedback Online, is also proprietor of Amherst Audio in Amherst, Massachusetts, which sells equipment from Audio Note, Blue Circle, Manley Labs, and JM Reynaud, among others.