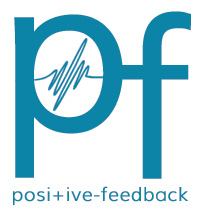 You are reading the older HTML site
Positive Feedback ISSUE 29

january/february 2007
Notes of an Amateur - February, 2007 Part 1
by Bob Neill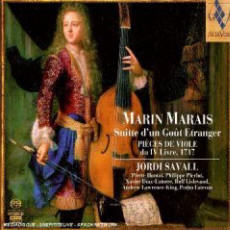 Marin Marais, Suitte d'un Goût Etranger, Pieces de Viole, du IV Livre, 1717. Jordi Savall; Philippe Pierlot, Xavier Diaz-Latorre, Rolf Lislevand, Andrew Lawrence-King, Pedro Estevan. Alia Vox AVSA 9851.
Thirty years ago, Jordi Savall, viole virtuoso and early music aficionado, recorded a selection from Book IV of viole suites by Marin Marais, French baroque viole virtuoso and the greatest (and most prolific) composer of music for the instrument we've had. The recording (an LP) was recorded for the late Michael Bernstein's Astree label, AS 13; and as both an LP and later a CD, it has been a favorite recording of admirers of Marais and of Savall ever since.
Savall, accompanied by a veritable all-star ensemble of early music players, has now issued Book IV in its entirety on two CDs for his own label, Alia Vox. It is a truly wonderful recording, which even purists who love the leanness and intimacy (only three musicians) of the earlier recording should find irresistible. This music thrives on the full bevy of brilliant musicians, who clearly love the enterprise Savall has set for them. For those of you unfamiliar with Marais, I urge you to track down the DVD of the film made of his life, Tous les Matins du Monde, starring Gérard Depardieu, which has tons of viol music played by Savall. The soundtrack of the film is also available on CD from Alia Vox (Alia Vox AV 9821), but the film is really worth seeing.
So what is the music like? It can be intoxicatingly romantic or boldly eloquent and full of panache. It can dance wildly or sing lyrically. The viole itself, of course, controls the principal sound of the
ensemble. The bass viole, which is what we hear in these suites, is just a bit lighter and tangier sounding and capable of more subtlety than a cello, its immediate descendant. (For a while the cello and bass viole existed alongside each other—Bach was writing his suites for cello about the time Marais was writing his suites for viole, and Bach's suites are sometimes played on the viole.) In its smaller version, as a viola de gamba (precursor of the considerably smaller modern viola,) the viole's voice is lighter yet, but the voice has the same overall ale-like quality. Even accompanied here by six musicians, the viole's characteristic bitter-sweet, coppery timbre stands clear, winding in and out of a colorful chorus made up of a second bass viole, baroque guitar, theorbe (lute-like instrument), harp, harpsichord, and percussion. It is a sound once heard, never forgotten. I love the cello, but there is a primitive melancholy magic to the viole family that draws me to it.
Get this album to hear Maris in public, extroverted, fête-like form; get the DVD of Tous les Matins du Monde and its soundtrack CD to explore his more purely lyrical and elegiac side; and then track down Marais' other recordings on Astree and Alia Vox. Join one of the richest corners of the Early Music cult!
This album is only available as an SACD hybrid so far, but I am relieved to report this does not audibly diminish its Redbook quality, sometimes the case with hybrids. The sound, as always with Alia Vox, is very fine. Perhaps Savall hasn't got an SACD player and so has insisted on the excellence of the Redbook layer! It is about time the industry got over its misguided flirtation with SACD and listened to the purity of their standard CD's on a decent, unfiltered and non-upsampled dac. Grump, grump.
The sumptuous presentation of this release—including a booklet chock full of information on the music and the life of the composer (in five languages!), along with photographs and other artwork—is a model of what is possible in the 'music business,' but alas, too seldom realized.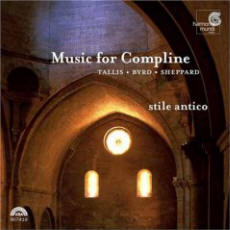 Music for Compline: Tallis, Byrd, Sheppard. Stile Antico. Harmonia Mundi HMU 907419.
English Renaissance (late 16th and early 17th century) a capella choral music is close to meditation as music. (You can get there in the twentieth century by other routes, of course, through the delicate 'minimalism' of a Morton Feldman or the bold expressionism of a Sofia Gubaidulina.) If the Anglican version of Christianity is not true, the music of William Byrd, John Sheppard, Thomas Tallis, and Robert White—to name the composers represented on this debut disc by the young English consort, Stile Antico—could almost make it so. The Roman and Anglo-Catholic churches are often accused with some justification of having created a different, more sophisticated Christianity from the far simpler, less refined, more democratic, more gnostic, and less institutional (even anti-institutional) thing it was in its beginnings. But hearing this eloquent but also strikingly straightforward music written for The Church, it is possible to feel the continuity—as it sometimes is in the King James translation of The Bible made during this period. It as if the original message with all of its power is suspended in the elaborate superstructure. As an adult, I have always had trouble with the whole idea of 'spirituality' and the slippery slope of its metaphysical implications. But never when listening to this music. Whatever 'spirituality' corresponds to in the inner lives of those of us who have left the fold, this is it.
So who are Stile Antico that we should let them into the space many of us have reserved for the Tallis Scholars? They are their worthy successors, considerably younger and to my ears, on this first hearing, fully deserving of this role. (And besides, the Tallis Scholars, for all intents and purposes, have stopped making records.) They are thirteen young singers from Oxford and Cambridge Universities who work together without a leader, much as a string quartet or other small chamber group does. They sound slightly richer and warmer (they carry three basses to the Tallis' two) than the Scholars. They are equally moving in their way, which is perhaps a more worldly way that some listeners will prefer. Distinctions among first-rate renaissance choral groups can be drawn too finely. I have been a fan of the Tallis Scholars since they came on the scene in the early-mid 1980s and remain one. I expect to be a fan of Stile Antico for as long as they choose to sing. I hope that as the Tallis Scholars do each year, they begin touring the US soon.
Stile Antico's first record is a program of works, by the principal English renaissance choral composers, for Compline, the last service sung in the monastic day, a "form of nightly prayer," in the language of commentator (and bass singer in the group) Matthew O'Donovan. It is music to put the day to rest. Welcome Stile Antico and rejoice that even as the classical music recording industry contracts we are in a golden age of classical music performance.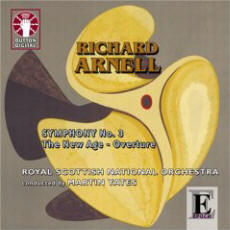 Richard Arnell, Symphony No. 3; The New Age – Overture. Royal Scotish National Orchestra, Martin Yates, conductor. Dutton CDLX 7161.
Who the hell
Is Dick Arnell?
Anonymous.
So here is Neill on another fishing expedition in early 20th century British classical music, a large body of music for which, despite its many shallows, he has a professed weakness. Having enjoyed an earlier issue by Dutton of Arnell's chamber music (CDX 7122), I decided to give his hour-long (!) Symphony No. 3 a try.
Arnell, who was born in London in 1917, spent the World War II years, some of his richest as a composer, in New York, where we are told by the commentator he was quite successful and well-known, hanging out with the likes of artist Mark Rothko. He wrote this symphony in New York in 1944/45, dedicating it "to the political courage of the British people," and then returned home to England in 1947. There for a decade or so he was also well received, until the late 1950s when his traditional style slipped out of favor. Now that melodic music is regaining some of its lost ground, Dutton is contributing to Arnell's posthumous bid for rediscovery.
What drew me to his chamber music and what appeals to me in the symphony is that its traditional qualities do not keep it from being interesting. Despite much that seems familiar, the piece as a whole feels attractively original. It has a good deal of narrative flow (Arnell also wrote some film scores.), but also the ability to take dramatic turns and moves through contrasting states of mind. This symphony 'belongs' in the world created by Elgar and sustained by Holst, Bax, Rubbra, and Alwyn; but it has its own distinctive appeal, which is all that we ask of minor composers' work. It does not feel dated, as a lot of music written around it does.
If you are the sort of person who only listens to hits and masterpieces, you needn't stop here. But if you're someone who is a curious music lover who enjoys finding interesting surprises in out of the way crannies, you should enjoy your time with Arnell. State of the art sound from Dutton. Who the hell indeed!
System used for these auditions: Audio Note CDT 2 II transport and Dac 2.1 Signature, Audio Note OTO integrated amplifier, Audio Note AN-K/SPe speakers. Cabling is Audio Note Sogon, AN-Vx, and SPe.
Bob Neill, in addition to being an occasional equipment and regular music reviewer for Positive- Feedback Online, is also proprietor of Amherst Audio in Amherst, Massachusetts, which sells equipment from Audio Note, Blue Circle, Manley Labs, and JM Reynaud, among others.