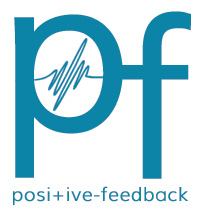 You are reading the older HTML site
Positive Feedback ISSUE 29

january/february 2007
2007 CES
by Danny Kaey
Another year, another show?! Indeed, my 5th consecutive attendance of CES brings forth the first major change in the venue since I began attending. That change being the removal of Alexis Park as the official "High Performance Audio" pavilion and exhibit space, in favor of the more majestic (and crowded!) Venetian hotel located on the strip. Opinions were torn from day one of this announcement, as most exhibitors were discovering what this change would mean for them. In addition to the change of the venue itself, draconian rules and regulations where placed upon the handling of the Venetian's furniture if the exhibitor opted for the rooms in the main tower. In addition to those rooms, CES also offered converted "ballrooms" to exhibitors, which all things being equal, should have resulted in better space management and sound reproduction.
Alas, it simply wasn't to be, as those rooms were plagued by two rather important issues: first, abysmal foot traffic due to improper posting of venue signs; second, rather bad sound due to the fact that these large rooms where really only separated by razor thin wall boards. Excessive use of the volume knob resulted in your next door neighbor either becoming your own spokesperson, or, as was more often the case, one neighbor attempting to out "loud" the guy next door. Exacerbating the issue further, was which locations to pick (ie. Ballrooms or the main tower), and that the otherwise rather popular T.H.E. Show still remained where it had been for the past years—next door to Alexis Park at the St. Tropez. Whereas in years prior, I would frequently "hop" between each location virtually on the fly, this year proved a much more daunting task as you would have to depend on shuttle services each way. With Las Vegas traffic only increasing exponentially each year, what would be a typical 10-15 minute car drive, turned out to take more like 45 mins. to an hour. In other words: useless. The net result of course was that according to my highly trusted sources, foot traffic at T.H.E. Show was even more of an issue then at the aforementioned Venetian Ballrooms.
Another rather annoying change for CES this year was the widespread absence of any software resellers—Acoustic Sounds, Classic Records, Elusive Disc, etc. all had lots of fun software for sale while at Alexis Park. The reason for this rather glaring omission was the fact that Nevada's very own Dr. Tax felt cheated out of revenue in the past, as most resellers never charged Nevada sales tax on purchases made in the past. A well reported, compromising offer was made to alleviate this burden, alas, it was not to be. CES software sales represented a good chunk of change for many of these resellers, therefore having to wait up to 90 days to be reimbursed for their sales was simply asking for too much trouble—who can blame them? In my opinion this tactic was nothing short of absolutely silly on behalf of CES.
So what was CES like this year? For starters, I was only able to manage 2 days worth of time, rather unfortunate as it turned out. Lots of running around was in order and by the end I never managed to get to everything I wanted so see. As they say, too little time, too much to do! Lots of exciting new stuff was show cased—from new music servers to cool new loudspeakers, you almost didn't know where to begin. Couple that with my year round coverage of all things audio, it's never easy to figure out what exhibitor you wish to visit first.
Compiling
Armed with my brutal demo disc, consisting of 10 super tracks, I first landed at Hansen Audio. Much has been said about Hansen Audio's The King loudspeaker, so I wanted to find out for myself what the fuss was all about. Old time budd, Wes Bender was at the helm, cordially playing my favorite tunes, such as Sly & Robbie's master track "Computer Malfunction". Wow! Wow! Wow! Holy Toledo—this system rocked! Even though the speaker playing wasn't the King, the Emperor at $49k displayed much of the same sonic characteristics I am told. Bass was tight, midrange was eau naturel' and that top end was so ultra smooth it could double for the best Italian Gelato! Might as well let the cat out of the bag, the Hansen room gets my vote for best sound at the show. Well done!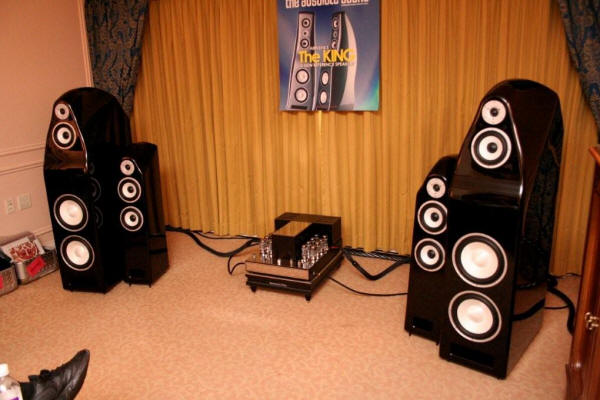 Next up, I waltzed (traversed is more like it) over to visit Tim de Paravicini's and Dan Meinwald's (US distributor of E.A.R., Jorma cables and Marten loudspeakers), room where I was eagerly awaiting the launch of the all new Marten Bird $30k diamond tweeter flagship of their Heritage line. As mentioned in my preview, the sound in those converted ballrooms was nothing to write home about, most notably perhaps because of the sound leakage you got from the guy next door—at times it was literally silly! Nevertheless, Dan Meinwald, an expert at setup, managed to get the most out of the room: those new Marten's are very, very nice! E.A.R. also launched their new preamp, the E.A.R. 868, now featuring similar topology to the awe inspiring top of the line 912. There are 2 balanced inputs, a remote, subtle nice chassis additions (a cool yellow-ish illuminated ring around the on/off switch which reminds me of the headlights BMW introduced some years ago) in addition to the optional MC/MM phono input (with nice, though internal, load and capacitance adjusters). The sound was superb. Tim's crowning achievement, the Disc Master record player, was also being shown. This table is a true attention getter—though as good as LPs sound (and in the case of the Disc Master outstanding!), the real highlight of the room appeared to be the Technics 1500 Tim had modified with full custom electronics. Let me tell you, even the oldest of pre-recorded reels sound simply stunning—forget DVD-A or SACD! What Tim has been able to extract from this Technics (no changes have been made to the transport or headstack), is simply otherworldly.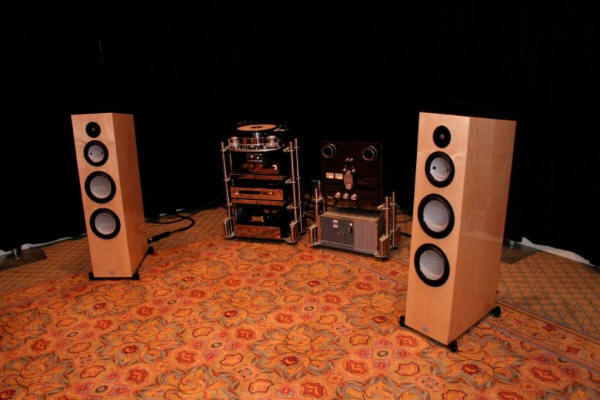 Case in point, Dan was playing a Barclay-Crocker released Gould performance that was so utterly amazing people kept asking for more! Also noteworthy was the fact that Dan Schmalle (Doc B.!) together with Paul Stubblebine (a long time Tim admirer and user of Tim's custom built 1" ATR, incidentally, it was none other than Tim who pioneered and "invented" the 1" 2-track analog tape format—contrary to many opinions, those are the simple facts folks), used CES to launch what they refer to as the "Tape Project", ie. re-releasing reissues of folk, pop and classical music on ¼" 15ips 2 track tapes (!). A respective sampler tape was being demoed, and while the music wasn't exactly my cup of tea (Tim, care for some tea or coffee?!), the sound was no less then drop dead stunning. Dynamic, ultra-resolved, it makes all other digital high-res formats look pale, flat and sad in comparison. All in all, I tried to visit the E.A.R. room frequently, hoping to catch more fine tape performances. Based on hours of lectures and discussions with Tim d.P., I have no doubt that he is a true "master" when it comes to the particularities of analog tape—his knowledge is so vast that it makes you sort of wonder "what if" someone where to begin re-releasing the old RCA, Mercury, and Decca catalog on tape, much like Barclay-Crocker, but with 2007 technology behind it…
Speaking of exceptional performances and recordings, I ran like a mad dog to attend what is quickly becoming one of my favorite "sessions" at RMAF, Stereophile show, or CES, which is Kubala-Sosna's sponsored event where guest speakers, read: mastering gurus like Steve Hoffman, or recording whizzes like Jim Merod of Bluport Jazz, who utilize K-S cables throughout the recording and mastering chain, offer an insider perspective to their art and craft. Ironic as it is, I was 1 degree away from Jim Merod during my years of growing up in Vienna, Austria. I tell ya' life is funny sometimes. As it turns out, my best friend, Georg Farmer was none other than jazz maestros and Flüglehorn admirer Art Farmer's son. Art Farmer was in turn a great friend of Jim Merod, who recorded him on perhaps hundreds of occasions throughout his career (how's that for a plot twist?!). This year, the fine folks at Kubala-Sosna decided to team up with none other than super nice Alvin Lloyd of Grand Prix Audio. Alvin who is famous for having worked on several CART and F1 carbon fiber chassis and is known throughout the audio circles as a true expert on vibration absorption. He recently realized his dream of launching a revolutionary (no pun intended!) record player based on his very own direct drive principal—reported elsewhere in these fine pages by your very own Editor in Chief, David Robinson.
Jim Merod's permanent sidekick, Steve McCormack was also on hand to launch his all new line level preamp, which appears to be quite the killer if rumors are any indication. Eggleston loudspeakers provided the ultimate transformation from electrical signal to acoustical energy, and cables were of course none other than Kubala-Sosna's very own (and dare I say, very best!) Emotion series. What can I say: Jim Merod is one hell-uv-a passionate recording engineer who takes the utmost in pride and care during each and every session he records, no matter the difficulties and challenges! Where others would simply throw in the towel, yell "to hell with this!" Jim sticks it out, squeezing, turning, bolting, and finessing every little aspect he can get his hands on just to capture the artist and his performance. Kudos for years of dedication Jim! Boy, what I would give to get my hands on some of these raw performances… Alas, a big hand to Joe Kubala and Howard Sosna for again making special arrangements to bring us closer to "music". I look forward to reporting on similar Kubala-Sosna sponsored "music" venues throughout the year!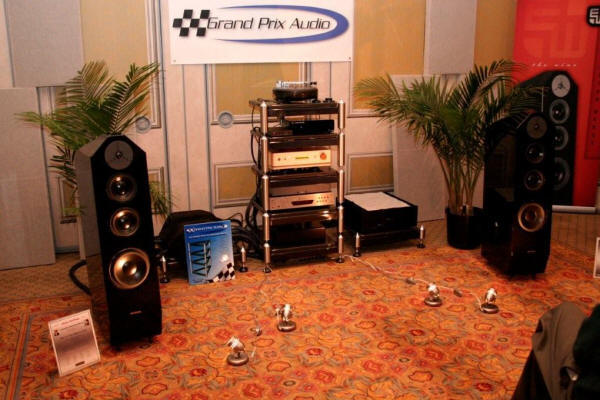 Another great demo was Ray Kimber's/EMMlabs DSD demo. This year's surprise was what I can only describe as guttso! Typically, Ray shows off his famous multi-channel recordings to great awe and cheers from the crowds. Trying something a bit different, Ray decided to add a 128kps LAME encoded mp3 file of the same track on his demo disc, ie. the audience was able to switch tracks on the fly between the high res DSD native file to the 128k LAME file. To add further icing on the cake, the mp3 file wasn't even natively encoded. The DSD source files (including the obviously not Native-DSD Diana Krall track) were converted to 44.1 16 bit using Philips' Audio Format Converter software. The resultant WAV files were then converted to 128K MP3 via the LAME encoder in Steinberg's WaveLab mastering software. These files were loaded onto the iPod Video and played at almost max. amplitude into the ADC8 MK4 via a simple line amp to match the levels with the source DSD files. This was done to avoid doing any level changes in the DSD or PCM 8fs domain. Wow!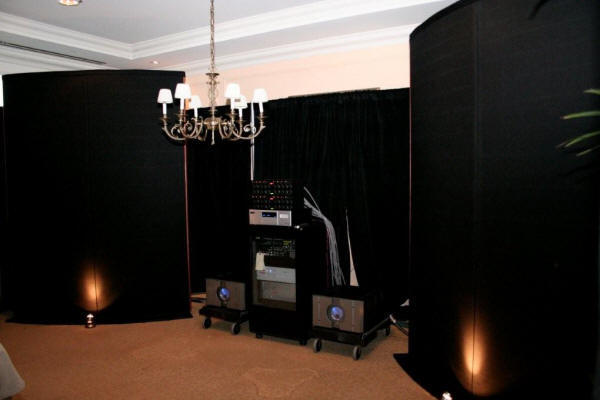 Over the past months I have become a total LAME supporter (much of my reasoning and findings will be revealed in an upcoming all encompassing article on mp3), so I know how good (or bad) mp3s can sound. Alas, nothing prepared me or the audience or that matter for the result: to be perfectly honest, the difference between the native DSD file to this extremely heavily processed 128k LAME encoded mp3 was not nearly as big as you'd have thought or expected—now that's saying something folks. Watching the audiences reaction each time the track was changed from DSD to mp3 was quite an interesting experience and based on the looks of some people, I am willing to bet that perhaps as much as half the people in the room probably didn't even hear a difference! Kudos to Ed Meitner for designing such amazing digital gear and another big hand to Ray Kimber for having the guts to show this demo off! Let's see if Ray can show us what LAME is truly capable of at maximum resolution—at RMAF perhaps (hint)?!
All in all a rather hectic show for me this year—in particular, I hope to be able to attend for the full week next year; it really isn't fun running around like a chicken with its head cut off! To all those whom I didn't mention—please don't take it personal, believe me, it's not easy reporting on everything! Cheers, until next year.