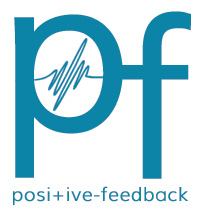 You are reading the older HTML site
Positive Feedback ISSUE 29

january/february 2007
CES turns FORTY - A Drama in Three Acts
by Greg Weaver

Prologue
Air travel in the early years of this new century is not what it once was; the times, they are a changin'. I left my home to catch my plane from South Bend, Indiana, on a Sunday afternoon, and twenty-nine hours later, early Monday evening, I finally touched down at McCarran Airport. As well as missing the entire first day of the show, the degree of frustration, anxiety, and time wasted was maddening. However, I did get to spend some 5 hours in the Cincinnati/Northern Kentucky airport! Wooo Hooo!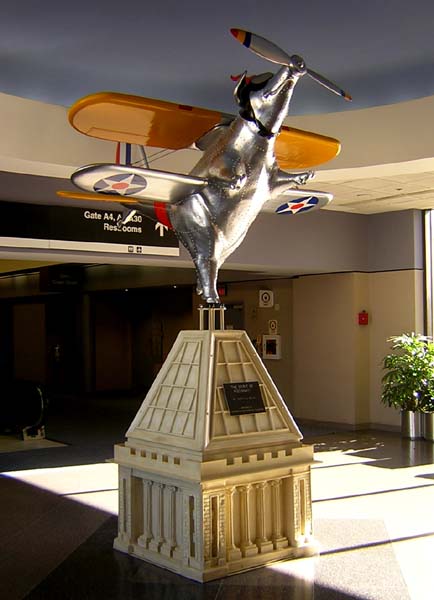 "The Spirit of Pigcinnati," by Patricia Renick
On the positive side, due to all the flight reshuffling, serendipity found me seated beside an avid enthusiast and South Carolina retailer, Mike Twomey, of Big Kids Toys. Save the in-flight film, we chatted incessantly about our industry, much to the dismay of one Latina in the row in front of us. By the time I claimed my checked bag, got out of the airport, and picked up my rental car, it was after 7 PM - almost too late to take advantage of the open bar for the press at T.H.E. Show at the St. Tropez. Well, almost! Let's get back to the show coverage, shall we?
Venue - The Changing Face of the Home of High-Performance Audio
With the Consumer Electronics Show's celebration of its fortieth birthday, High-Performance audio moved from the Alexis Park to its new home at the Venetian Hotel/Resort/Casino, a venue that more aptly reflects both the attributes and worth of fine audio. With over 20 restaurants and 75 specialty shops, most all situated along the hotel's remarkably picturesque "Grand Canal," there is no doubt that you are in opulent surroundings.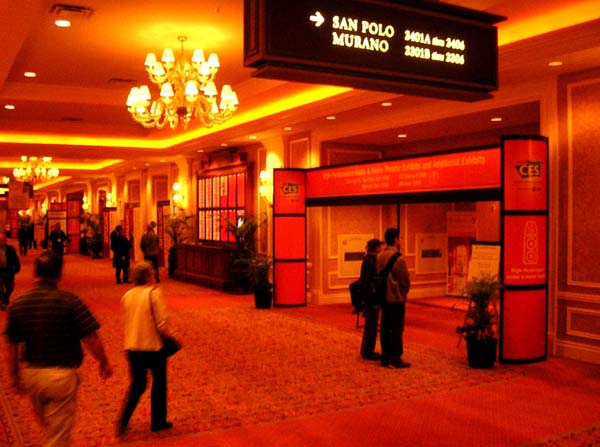 A view of the entrance to just some of the meeting rooms on the third floor
Virtually every attendee I spoke with agreed that a personal GPS device and a golf cart would have made traversing the Meeting Rooms and getting back across the Casino floor to the elevators to the Tower floor displays much more convenient. That notwithstanding, the premier hosting at this new setting was, in my opinion, a wash. Some indisputable good offset with some undeniable bad.
Squarely in the plus column, the surroundings more adequately represent the purpose and value of the products exhibited. Let's face it; though the Alexis Park is easy to navigate, and we all know how to get in and out effectively, it was beginning to show its age. Further, the rooms are far from sonic nirvana.
While on the subject of the room performance, once again, the new venue split right down the middle on the potential for reproduced sound. The upstairs rooms, primarily on floors 29 and 30 (with a handful of rooms on 34 and 35 each), were 650 or 700 square feet, depending, and their layout was near perfect. Entering these rooms, you pass the bathroom (which many had set up as a conference room, they were so spacious) through a decent hall area and enter the bedroom area. It was in this middle section where most chose to set up static displays or secondary systems. Moving farther into the rooms, you step past a railing and descended two steps into the living area. This deeper living area is where most everyone set up their live displays, and a quick clap of the hands here showed just how acoustically exceptional these rooms were. Chalk one in the plus column.
On the other hand, the combined area of the meeting rooms and the Sands exhibit hall were just under two million square feet. That's what I said, MILLION. The three floors of meeting rooms put into play for CES displays were "assembled" by sliding adjustable wall partitions, not unlike those you see in school auditoriums or gyms. These sectioned rooms had enormous leakage, both of sound wafting from room to room and the inability to contain and develop any real bass. These rooms, which were more costly than those on the 29th and 30th floors, could not sustain and develop much below 50Hz. These rooms were sonically so challenged that many of the exhibitors, including Jeff Rowland who was celebrating his 23rd CES, simply chose to turn off the system and, for the most part, exhibit with static displays. That is a strong minus.
To top this all off, there was very little signage (save on the exterior of the building) directing you toward those meeting room exhibits. Here, the CEA failed miserably. Moreover, the layout was so vast (remember, we are talking about roughly two million square feet), that finding things was more than just challenging. There were many rooms that I never got to or found… Damn shame, if you ask me.
Whether you want to attribute it to the inevitable pains of premiering such a substantial event in new grounds or not, it was what it was. I am sure that it will be better next year. C'est la vie.
Systems - The Best of the Best
Conrad-Johnson/Venetian Tower Suite 29-310
My first visit Tuesday morning found me in the tower suite of tube renaissance pioneer Dr. Lewis Johnson viewing the new line up from Conrad-Johnson. To commemorate C-Js thirtieth anniversary and the introduction of the preamplifier that eventually was called the PV-1, they introduced a new flagship ART Series 3 two-box preamplifier, the ARTS3.
The ART Series (Anniversary Reference Triode - introduced in 1997 to commemorate C-J's twentieth anniversary) has represented C-Js commitment to reference standards for a decade now, and the ARTS3 linestage ($25,000) is the latest thoroughbred in that line. Advances in power supply architecture and improvements in materials technology combined to offer the opportunity to improve upon C-Js previous ART Series linestage.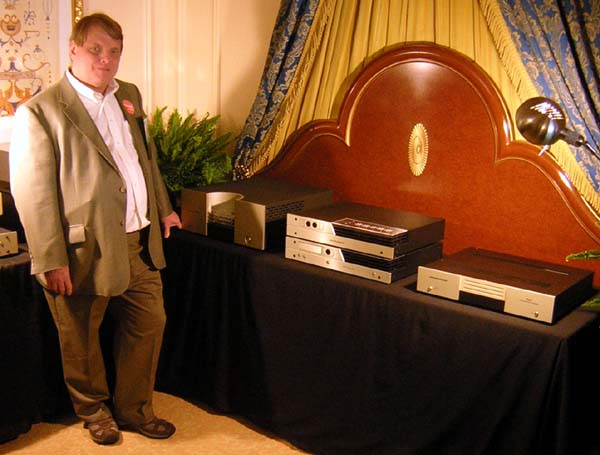 Lew Johnson standing beside the 30th anniversary ART Series of products
Also introduced this year was the LP275M ($12,500/ea), a linearized-pentode mono-block amplifier. The new amp utilizes Teflon™ CJD capacitors, high-precision metal foil resistors, and C-Js proprietary translinear output transformers. With a solid 275 watt output, and configurable for 2, 4, 8, and 16-Ohm loads, it continues the use of C-Js linearized-pentode (ultralinear) circuit and production should to begin by late February.
Next up, the TEA1 (triode equalization amplifier) phono stage ($10,000) uses an active circuitry zero loop feedback design with two vacuum-tube gain stages and a passive equalization network. Featuring two inputs, one each high- and low-gain, with adjustable resistive and capacitive loading, a high current buffer stage isolates the unit from interconnect cables and other loading. The circuitry includes Vishay metal foil resistors exclusively and CJD Teflon™ capacitors.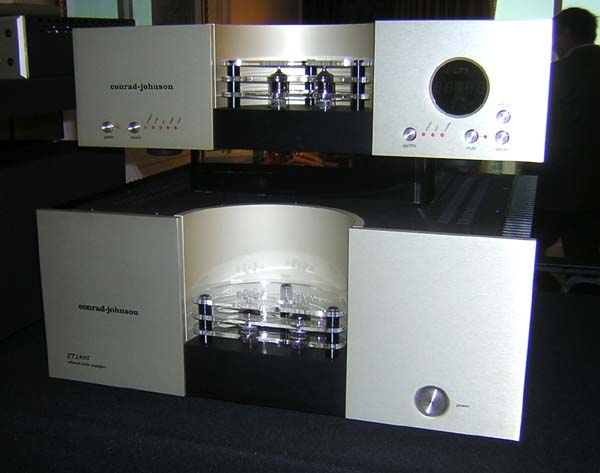 The CT5 (top) and ET250S (bottom) amplifiers
Rounding out the new products is a new enhanced-triode amplifier, the ET250S ($7000). The heart of the ET250S is a single-ended triode amplifier stage used for voltage gain. A high-current buffer stage couples this tube gain stage to the speaker load, resulting in a brawny 250 watts per channel output. The result is an amplifier that can exhibit all the grace and finesse expected of a fine tube amplifier, yet boasting plenty of power for virtually any loudspeaker system.
Music Hall/Venetian Towers Suites 29-315/317
Say what you will about the state of budget audio, but the level of offerings have never been better for the blossoming music lover/audiophile. As always, Roy Hall of Music Hall consistently offers affordable yet irrefutably musical products from vendors Epos, Creek and his own house brand.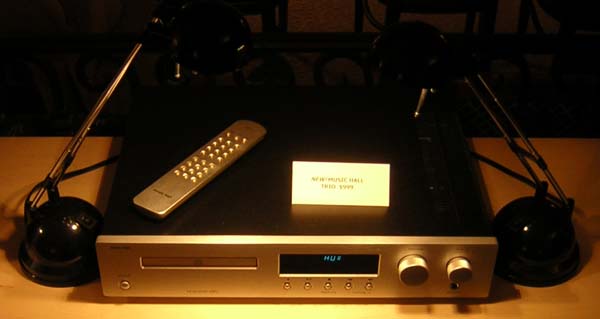 New at $999, the Music Hall Trio—a one box CD player/ receiver
Starting with the new Music Hall Trio, a full functioned Receiver/CD player single box unit at $999, the tone for remarkably affordable sound was set. And, the sound from the new Epos M16 ($1595/pr) two-way floor standing speakers, paired with the Epos M ($1195), a 300-watt, class-D powered sub, made some very engaging music with a Music Hall mmf turntable.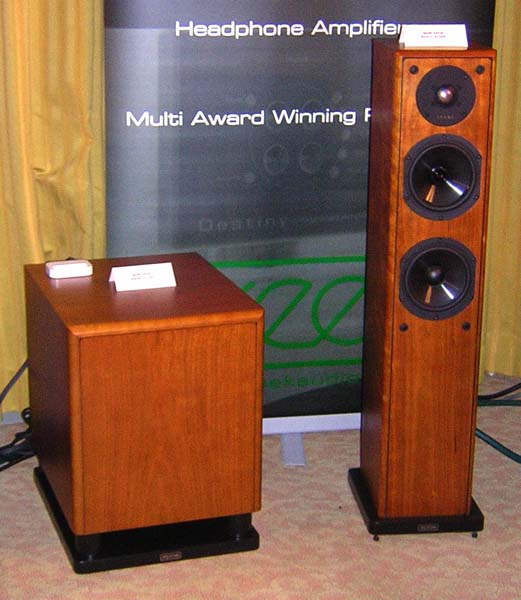 Smooth, authoritative, and affordable—the Epos M16 and M subwoofer
The Shanling gear that he represents also got my attention. The new MC-30, "The Music Center," combines a CD player, AM/FM tuner, tube powered integrated amp AND includes a dedicated iPod input! I heard it powering a pair of Epos ELS-3 speakers ($330/pr) and this low powered all-in one box was playing engaging music at realistic levels. This could be the perfect "system" for the office or small bedroom. Very impressive—and on a budget to boot.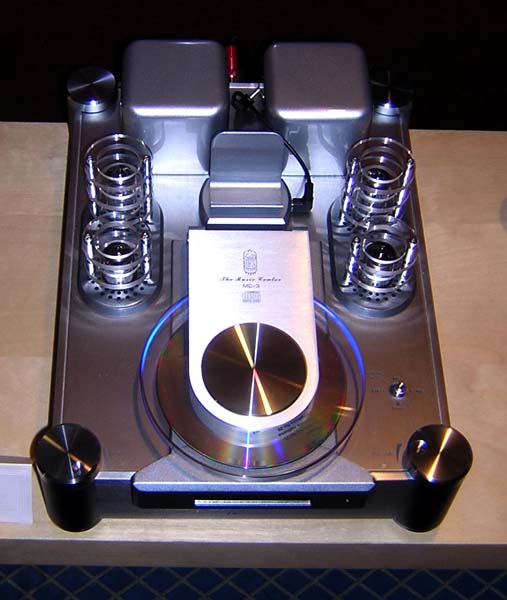 The striking looking MC-30 Music Center from Shanling - CD, AM/FM, integrated tube amp, with an iPod input to boot
AV123/Venetian Tower Room 30-229
I've been waiting to hear the Rocket Strata Mini ever since my southern Maryland audio pal and AV123 β tester Rich Hollis sent me artist's renderings nearly a year ago,. So when I ran into Mark Schifter and the crowd from AV123, I took advantage of the opportunity to fulfill this long-time desire.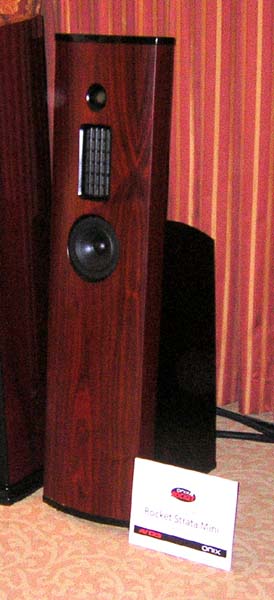 Sounding every bit as impressive as it looks, the Rocket Strata Mini retails for just $1995
I have to tell you I NEVER would have believed that a speaker, ANY speaker, selling for under $2000 could sound this superb, let alone, look so sexy doing so. Though far from perfect, this speaker driven with all Onyx gear, was detailed, smooth, and conveyed the proper sense of scale, dynamic and spatial, unlike anything I can think of at anywhere near this price. To me, the Rocket Strata Mini is a Grand Slam home run. Well done, AV123!
Jeff Rowland Design Group/Escalante Design/Venetian Meeting Room Veronese 2401B
Jeff Rowland was celebrating his twenty-third CES and was doing so in appropriate Venetian style. With a grand sized room on the second level of the meeting rooms, he was introducing the 312 ($14,000), the latest of the 300 series of amplifiers. Using his Capri preamp ($2700), sourced by the Ayre C5xe universal player ($6000), sporting all Nordost Valhalla cabling, I was hoping to hear an exceptional presentation, especially as he was collaborating with Matthew Waldron and Tierry Budge of Escalante Design and using their pinnacle loudspeaker, and my current reference, the Fremont.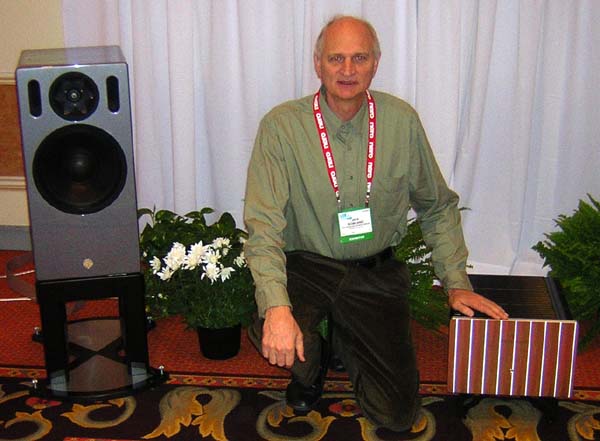 Jeff Rowland kneeling between the Escalante Design Fremont and his new 312 Stereo Amplifier
The room was expansive and looked as if it would be a sonic dream. Yet when I walked in, the system was off and the surrounding room's music enveloped this grand sized show room. Jeff looked a bit annoyed, but was, as ever, the consummate host. When we broached the subject of the "meeting rooms," his silent apprehension and discontent took substance. We discussed the inability of these rooms to support any real bass and the overwhelming and pervasive bleed through of all the other exhibitors demo material. In frustration, Jeff had given up and was simply showing a static display. I was not fortunate enough to run into Tierry or Matthew during either of my visits to this room, but I'm sure that they shared Jeff's disdain for the sonic conditions on this floor; every exhibitor I spoke with did. Sigh!
Channel Islands Audio/Harmonic Technology/Venetian Tower Room 29-228
It is no secret that when it comes to placing a premium on the price to performance ratio, I think CIA's Dusty Vawter wins the top honors hands-down. This year, showing his electronics with the Von Schweikert Audio VR-4 jr Mk. II (the Virtue) and all Harmonic technology cabling, he continues to prove his point.

The latest lineup from Channel Islands Audio
The new product line up this year is quite exciting. First, there is the fully remote controlled passive preamp, the PLC-1 ($899). It offers four standard audio inputs and a tape loop, with input number four being internally configurable for a Home Theater Bypass Input. Switches are the highest quality relays with gold-plated contacts and the volume control is a custom ALPS® Blue Velvet motorized potentiometer. Circuit boards are gold-plated and assembled with lead-free silver solder for best conductivity. Input display uses sequentially illuminated blue LED's for easy source identification from across the room. Two pair of output jacks provides for bi-amping or sub-woofers and all the remote functions are duplicated on the front panel. Yeah, it sounds like a winner to me too. Watch for a review as soon as possible.
Also in the line-up of new or upgraded devices were the VPC-3 passive volume control ($299), the VHP-2 headphone amplifier ($349), the VDA-2 DAC ($599), and the XDC-2 ($299) AC Enhancing Filter, a DC blocking device (to quiet anything generating DC hum from Toroids, etc.) and HF filter.
Dusty also indicated that the next amp in the successful D series of amps will be the D-400, and added that there will be a Signature D-200 shortly thereafter. I can't wait, as the D-200 LGX is one of my reference amplifiers.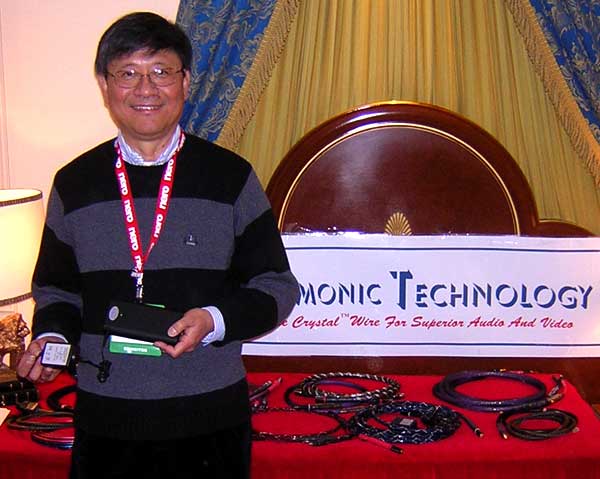 Jim Wang of Harmonic Technology shows the new power supplies for the CyberLight cables
Jim Wang of HT was showing some updated and improved cables, including the new Magic Link™ II, the Pro-Silway Mk III +, and new power supplies for the CyberLight's. I have to say that I have yet to experience the CyberLight's in my own system. Still, all hooked up and driving the VSA VR-4jr Mk II ($5695), the system was musical, detailed, and buoyant.
DeVore Fidelity/Tone Imports/Venetian Tower Suite 29-327
Jonathan Halpern's Tone Import products were serving up vinyl from a table modded by Lingolab and Shindo, using an EMT arm, carts, and phono stage (way retro looking!), an Auditorium 23 transformer, with cabling by Shindo and Auditorium 23, to John DeVore's "The Nines" loudspeakers ($6500/pr). With the title cut from "88 Basie Street," though slightly constricted dynamically and absent the lowest octave, the result was nonetheless tonally rich, expansive, and alive. Somehow, the synergy in this room has qualified it for my best of show list for the past three years. Bravo gentlemen.
Grand Prix Audio/Kubala-Sosna/EgglestonWorks/Venetian Meeting Room Bassono 2705
Featuring the Monaco Turntable ($19,500) as source, featuring the Dynavector DV507 arm ($4250) and XV-1S cart ($4250), or the Graham Phantom B-44 ($4299), the system was breathtaking. The other source was Steve McCormack's superb UDP-1 Universal Disc Player ($3,495). Also introduce were Steve McCormack's new SMc Audio DAC (a prototype with an unannounced price) and his new Preamplifier.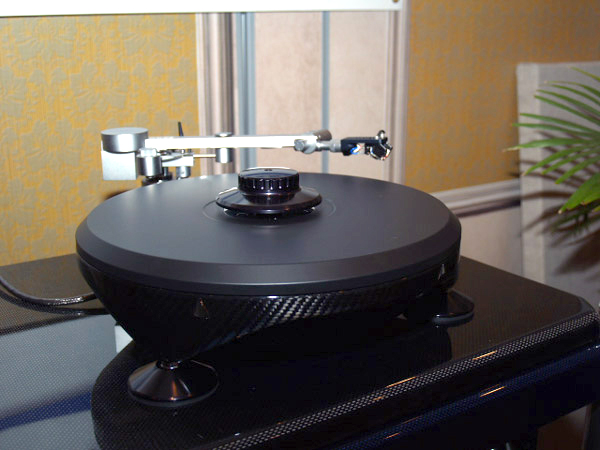 Exemplifying a new state-of-the-art in design and engineering, the Monaco Turntable
Both sources fed a prototype Grand Prix Preamp (projected at $12,000—the Grand Prix Audio Prix amplifier). A McCormack DNA-500 ($7000) amplifier drove a new speaker form EgglestonWorks, coincidentally, named "The Nine," singular (as opposed to the DeVore "The Nines," plural - $12,900). Everything rested on either Grand Prix Audio Monaco Modular or Amplifier isolation systems with all cabling provided from Kubala-Sosna. This killer system racked up a total price of only a few hundred bucks shy of a cool 100 grand!
Once again, I had the opportunity to hear the title cut from "88 Basie Street" on vinyl. As frequently as I've heard this cut and as remarkable as it sounds, I've never heard it like this—not ever! The silence between tracks and during quiet passages, the authority of the portrayal of piano attack, the unbridled power of dynamic contrasts, the subtlety of tonal color, and the sheer verve of the system was undeniable. In my estimation, the Monaco Table raises the bar when it comes to speed accuracy and lack of rumble. It is the first analog device of its kind and one of the best I have ever heard, period.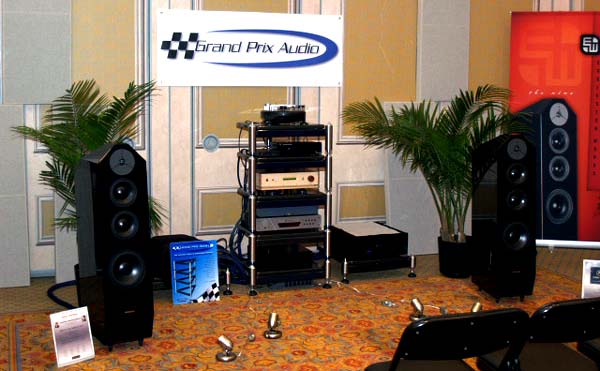 GPA, Kubala-Sosna, and EgglestonWorks combined to create LP and Hi-Rez Optical Disc Magic
Though the GPA Monaco turntable is certainly not "cheap," not to anyone's budget, it must nonetheless be viewed as a stunning success. It is one of, if not the, most authoritative, tonally and pitch accurate tables I've ever heard. And to my way of thinking, "The Nine" sounds much more coherent, natural, and renders more faithful bass than EgglestonWorks last approximately $13,000 entrant, the Rossa. This room is deservingly in my top ten. And there is more… but you will have to see the Events section of my report to see what I mean.
Globe Audio Marketing/Venetian Tower Suite29-320
AudioAero, Brinkmann, and WLM (Weiner Loudspeaker Manufacturer) teamed up to impress me this year. The AudioAero Capitole ($9580) or the Brinkmann Balance Turntable ($15,550) fitted with the Breuer Dynamic Type 8 arm ($5995) and Brinkmann-EMT Titanium MC cart ($2975), provided source material. The phono preamp was the Brinkmann Fein ($2550). Speakers were the stately looking WLM Diva ($5000/pr) and Duo 15 ($6655) subwoofer, employing the WLM Bass Control crossover. Sweet and effortless yet refined and powerful, this room was a treat.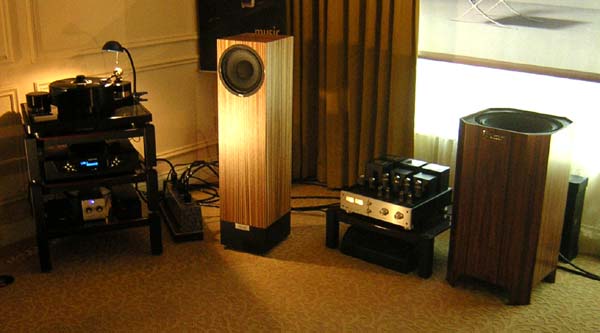 Globe Audio always manages to put together a seductively musical room—this year was no different
E.A.R./Marten Design/Venetian Meeting Room Toscana 3806
Combine the engineering prowess of Tim de Paravicini with the articulation and authority of the new Swedish Marten Design Bird loudspeaker, and throw in a dash of hospitality served up by Dan Meinwald (US Importer for both products), and you have a room that is guaranteed to please.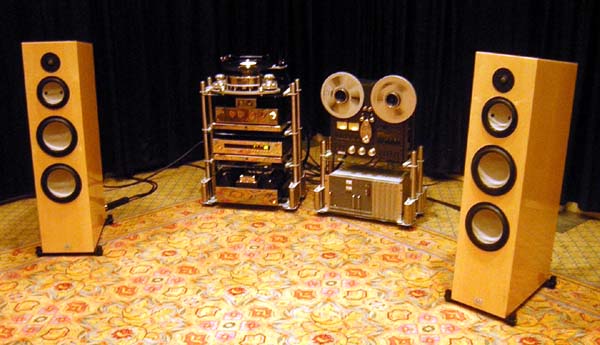 Beside optical and vinyl disc playback, 15 IPS Open Reel tape was a treat in the E.A.R./Marten Design room
This year, along with the remarkable Disc Master Turntable ($17,000 or $20,000 with E.A.R. version of the Helius Omega tonearm) and Acute CD Player ($5895/$5495, depending on finish), we were also treated to something special; Open reel tape play back at 15 IPS on a Technics 1500 reel to reel modified by Tim.
The new E.A.R. 868 Preamp ($6895) made its debut here and handed off sources to the E.A.R. 890 Power amp ($7295), which fed the brand new Marten Design Bird loudspeakers ($30,000). All cabling was from Jorma Design and stands were all Townshend Seismic Sinks. This system sparkled with life, was full of detail, and remarkably well balanced.
Emerald Physics/Shakti Innovations/St. Tropez 1310
One of the most surprising demonstrations at this year's event, for me at least, was the affirmation of the power of the Shakti Hallograph, as well as the overall presentation of the Emerald Physics loudspeakers.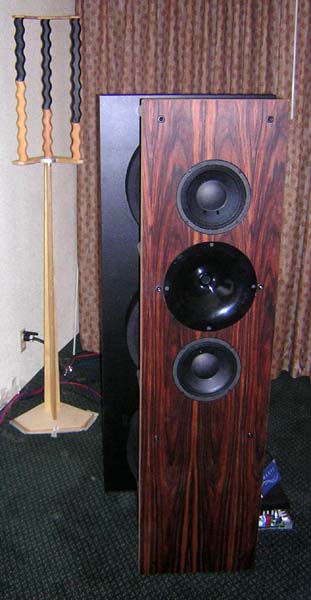 The unorthodox, and stirring, Emerald Physics Nemesis CS1 and Shakti Hallograph
The system consisted of Clayton Shaw's unique Nemesis CS1 loudspeaker ($7000 factory direct/pr). Using a 1" neodymium compression tweeter and two 8" mid-range drivers mounted on a front baffle, the bass system utilizes three 15-inch woofers in an open dipole array on a second baffle some 20 inches to the rear of front baffle, connected ONLY by eight cylindrical spacers that look like stand-offs! The speakers are built to be tri-amped, and a 6-channel DSP system is used to control frequency response, time alignment, and equalization and crossover functions, all powered by ICE Power 1000 modules (open chassis on the floor!). The source was a Macintosh Mini feeding an Apogee Mini DAC ($1200). The room also had full Shakti treatment—stones, onlines and Hallographs. Sound was big, bold, and dynamic. This is a very promising design, and one I intend to follow closely.
But the Hallograph demo knocked my socks off. Though I am a TOTAL believer in the effects of tweaking and of room tuning, the affect the Hallographs had on the rooms overall sound, first noted when the music was paused and they were removed from their location, was more than I would have believed possible. In fact, my mouth must have dropped open when I first heard it, as Shakti Innovations President Ben Piazza looked at me and said, "That is the fastest reaction we've had yet."
To my ears, the impact these silly little "sticks" on stands had on the sonic presentation in that room was very similar to that of employing DSP room correction. Many may debate the degree of their contribution, but few would be able to deny its veracity. That said, a set is on its way to my listening room.
VMPS/Audience/Atma-sphere/St. Tropez 1805
An Audience-modified Denon 3910 CD/SACD player ($3900 mods) sent ones and zeros to the new Ambrosia preamp ($5900), part of the Ampzilla 2000 line from James Bongiorno. A pair of Ralph Karsten's Atma-Sphere MA2 Mk II 200 watt OTL Monos ($34,000/pr) provided power, while conditioning and all cabling was provided by Audience. This system also included the Spread Spectrum Technologies Ambrosia preamplifier, a Krell transport, and a Wadia DAC.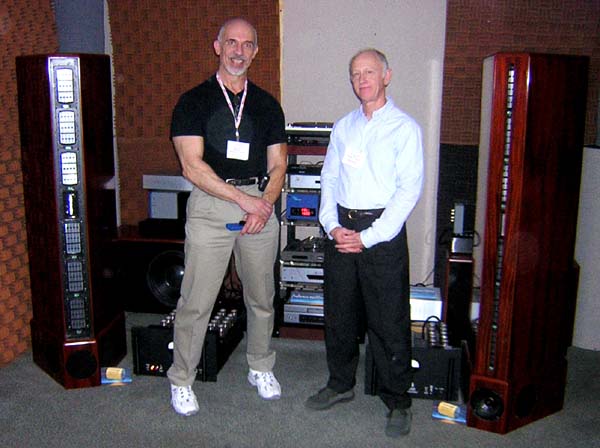 John Casler of VMPS and John McDonald of Audience
Brian Chaney continues to impress with the new VMPS RM V60 ($8900/pr), shown in piano rosewood with Audience Auricap upgrades. A pair of the new VSS powered subs ($1650/ea) with built-in parametric equalizers handled bass augmentation. According to Brian, they came in handy to notch out the 71Hz floor-to-ceiling room mode in the 14' x 19' space.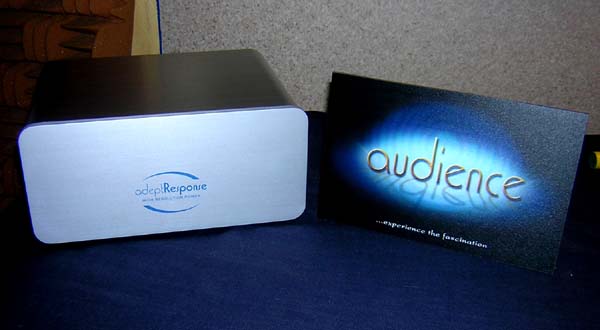 The new adeptResponse aR6 power conditioner
John McDonald of Audience was excitedly showing new products which expand the adeptResponse power conditioning line, including the six receptacle aR6 ($2600) and the aR1p ($495), a single receptacle unit for mono blocks or ceiling mount projectors. Cool stuff.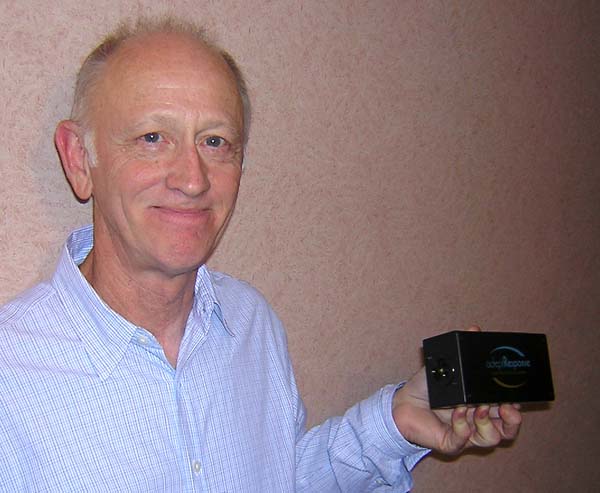 Audience's John McDonald showing off the exciting new aR1p power conditioner
Sound in this room was dynamic, tonally balanced, and had a sense of speed and immediacy that few others captured.
Herron Audio/St. Tropez 1804
Another room that always seems to make my short list is Herron Audio. Virtually everything in the system is built by Keith Herron, and synergy was the name of the game. Non-Herron products included the VPI TNT HR-X turntable ($10,000), the new JMW 12.7 arm ($3000), an Audio-Technica OC9/II cartridge ($299), DiMarzio loudspeaker cables ($500), and a highly modified Phillips CD player. This year Keith was introducing his new VTPH-2 vacuum tube phono stage ($3,650). It was a stirringly successful introduction.
Keith played CDs on his modded Phillips player by way of a small inverse RIAA box (of his own design), which in turn fed his phono stage. The music was notably better through this circuitous route than by sending the signal directly from the CD player into the preamp. When I asked Keith if it would be a production item he laughed, saying that he had been asked to make one for so many who had heard it that he should give it some consideration.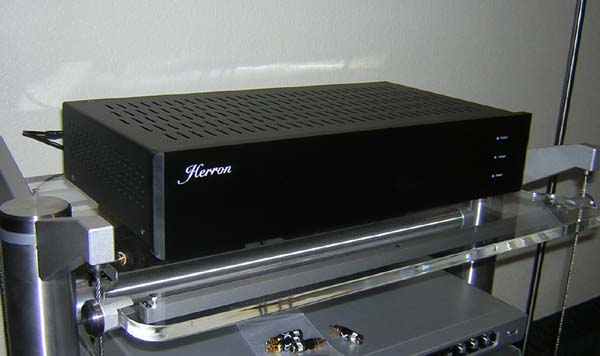 The new VTPH-2 vacuum tube phono stage from Herron Audio
Analog signals traveled through Herron Audio interconnects ($225/meter) to either the VTSP-2 tube linestage ($4995) or HL-1 solid-state linestage ($3495). The mono Herron M1's ($6850/pr) drove the Herron 103A speakers (price still to be determined).
Listening to "Guantanamera" from the The Weavers - Reunion at Carnegie Hall-1963 showed off this system's strengths. This system was rich in tonal color, offered up delicate detail, and created a realistic reach-out-and-touch-the-performers-in-their-space stage. Well done.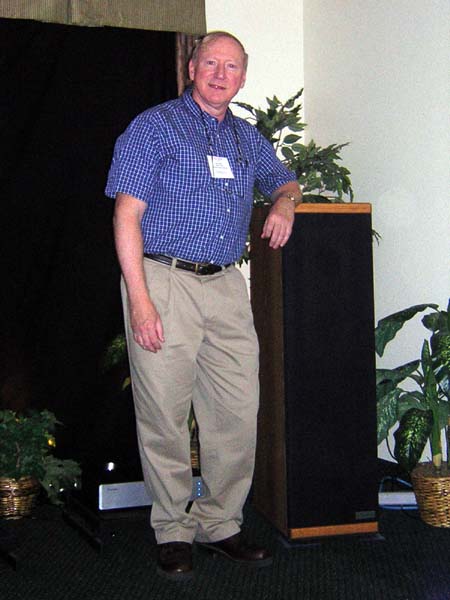 Keith Herron in front of the Herron 103A loudspeakers
One of the added benefits of visiting this room was the opportunity to speak to Duane Goldman, of Lagniappe Chemicals, Ltd., better known as the Disc Doctor, and famous for his Miracle Record Cleaner. We talked about many things vinyl, and to my great pleasure, he gave me a sample-sized bottle of his new QuickWash cleaner. More as that unfolds.
Rethm/Stealth Audio/St. Tropez 1306
I never thought you would catch me admitting to falling for a Lowther based speaker, but the Rethm "Saadhana," ($6500), with its inclusive downward firing, high-efficiency 6-inch bass augmenting driver has earned my respect.
Jacob George has built the "Saadhana" from a combination of solid plywood and PVC for the compression chamber section, and uses the same proprietary internal wiring and terminals used on the bigger Rethms. With a front firing Lowther DX 55, the "Saadhana" adds a highly modified Lowther DX 45 for downward firing bass reinforcement. This "stereo" woofer addition brings a new level of both weight and spatial recreation to the Rethm line, all while keeping the price and size manageable.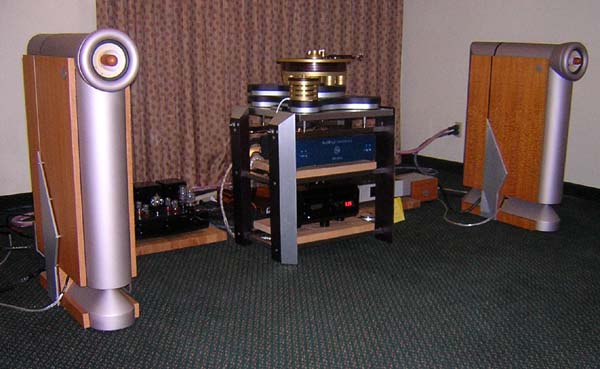 Jacob George has an up and coming winner with the Rethm Saadhana, all wired with Serguei Timachev's remarkable Stealth cables
Sources in this room were a Sound Engineering SE-1 Turntable ($9500), Da Vinci Arm ($6250), Dynavector XV-1S cart ($4250), or a Metronome CD3 Signature ($10,000) CD player. Preamplification was handled by the new ModWright SWP 9.0SE ($2995) with on-board phono stage, feeding a Melody 18 watt integrated amp ($3000), and the whole system was harness together with the superb Stealth cables from Serguei Timachev.
Sparkle, space, tonal accuracy, and detail were the strengths here. Keep your eyes on Jacob's new Rethm speakers. They will deserve your attention.
Acoustic Zen Technologies/Red Dragon Audio/ModWright/St. Tropez 1403
Robert Lee is one of the most gifted and kind-hearted people you'll ever run across in this industry. This year his well-reviewed loudspeaker, the stirringly musical Adagio ($4300), is now available in a jr version ($3500/pr)! This speaker is so good that I awarded it my Writers Choice Award for 2006.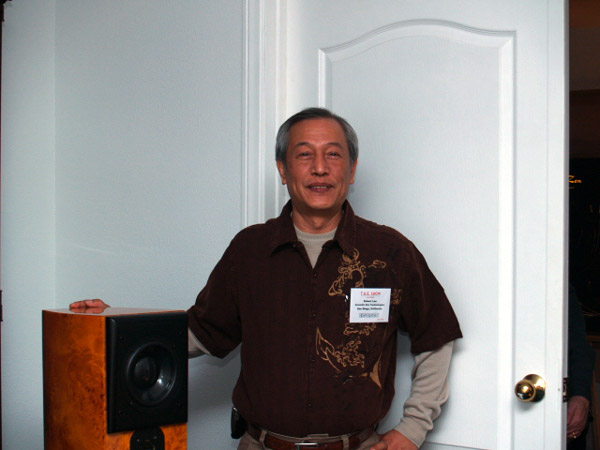 Maestro Robert Lee with his award-winning Adagio loudspeaker
The anteroom featured the Acoustic Zen Technologies Adagio ($4300) driven by Ryan Tew's ICE Power based Red Dragon Leviathan mono block amplifiers ($5995/pr) or the Response Audio Bella Extreme 100 watt per channel tube amplifiers ($7995/pr). Sources were the ModWright modified Sony 9100 DVD player with Tube rectified external power supply ($4000), and a VPI Scout ($1650) sporting a Dynavector 10x5 ($380). Signal passed to the new ModWright SWLP 9.0 SE line/phono stage with Tube Rectified external power supply ($4495). The whole system featured Acoustic Zen Technologies Cables.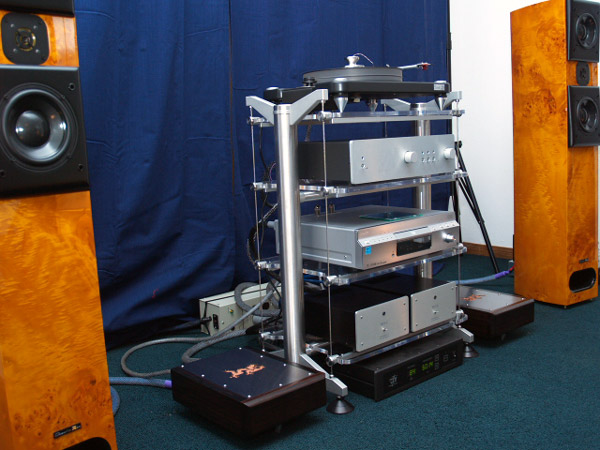 Acoustic Zen, ModWright, and Red Dragon—a sure recipe for an amazing sonic tonic
The inner room featured the new Acoustic Zen Technologies Adagio Jr. ($3500/pr), driven by a troika of Red Dragon Leviathan mono block amplifiers ($8995/trio), resting on Grand Prix Audio Monaco Amplifier stands with carbon fiber Formula Shelves. The digital source was yet another ModWright modified Sony 9100 DVD player with external power supply ($3500), and the linestage was the ModWright SWP 9.0 SE, ($2495), my current reference.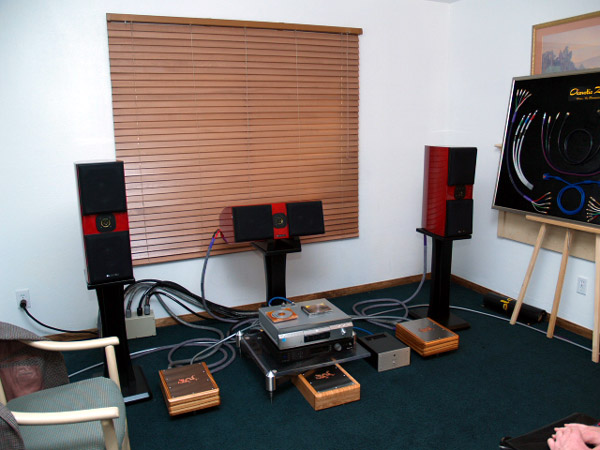 The new Adagio Jr., sounding very close to their full sized sibling
The resultant sound in both rooms was remarkably similar and was simply superb. The room simply breathed speed, transparency, detail, balance, and rich tonal color. These were very hard rooms to leave. I only wish I had found myself with more time on my hands to visit with Robert and soak in the sound.
Wavac Audio Labs/St. Tropez 1604
When you think of stratospherically high priced amplifiers, if you are like me, you will likely think of the eight-box, $350,000/pr Wavac SH-833. So, when I realized that I would have an opportunity to hear the four box HE-833 MK II, built around the same 833 triode, I was both curios and skeptical. The skepticism lasted for about 3 seconds after the music commenced.
The HE-833 borrows on the technology developed for the SE-833, and employs a compacted version of the SE-833 isolated power supply. Wavac uses silver wiring throughout the signal path and custom gold plated phosphor bronze terminals. The tube sockets are machined from Teflon™ and have gold plated round pins made of phosphor bronze to reduce contact resistance. A CNC processed 60mm aluminum board is machined for the main amplifier chassis, and a special β GEL is used to reduce the affects of vibration. As you may have gathered, they are still quite expensive, with a retail of $140,000/pr.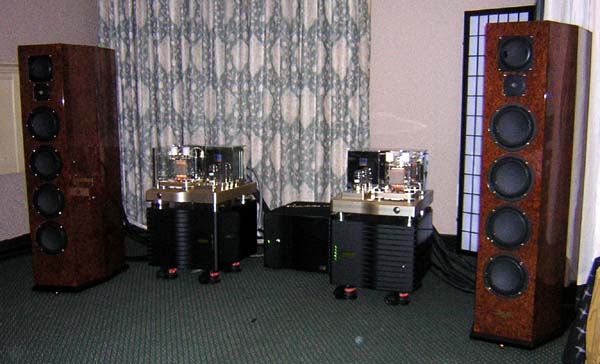 Continuum/Wavac/Venture/PranaWire—half a million dollars never sounded sooooo good
The rest of the system included the Continuum Caliburn/Cobra/Castellon System ($99,500) fitted with the Lyra Olympos cartridge ($9800). The digital transport was the Accustic Arts the Drive 1 mk2 ($6500) feeding the Goldmund DAC 21+ ($14,900). Speakers were the Venture Audio Grand Excellence ($74,500) with diamond tweeter. All cabling was from Joe Cohen, and when added up, all the PranaWire used came to about $30,000. Throw in the equipment stands at another $4000, and you come in at nearly a HALF MILLION BUCKS!
What can I say? This system was so very close to pure music it was frightening. I have heard the Halcro/Wilson combo many times since Halcro stormed onto the scene. While that combination can be ruthlessly revealing and utterly detailed, it is a musically soulless alliance by comparison. Listening to "La Campanella," cut two from the Reference Recording Nojima Plays Liszt (RR-25), I was struck with the utter immediacy and control of this system. Never before have I heard piano reproduced with such percussive accuracy. It was as close to the sound of real piano being played in the room with me as I have EVER heard from any electro-mechanical system, period. But for half a million bucks, you'd expect something this memorable, wouldn't you?
ModWright/Redpoint/Power Modules/Escalante Design/St. Tropez 1404
By the time I arrived in this room mid afternoon Thursday, attrition across T.H.E. Show had limited what was available for the system in the anteroom. Dan Wright had dismantled the "smaller" system in order to supply gear to other exhibitors so they could stay up and running. Though I hoped to hear the Escalante Design Pinyon's in this system, I had really been looking forward to the "big rig" in the second room.
This room sourced analog only, and Peter Clark, hip-cat-in-residence at redpoint, was in charge of a singular analog experience. Using his redpoint Model A ($15,000), fitted with a Triplanar MK-VII tonearm ($4000) and sporting a Phase Tech PH-3 cartridge ($2000), this room was ALIVE.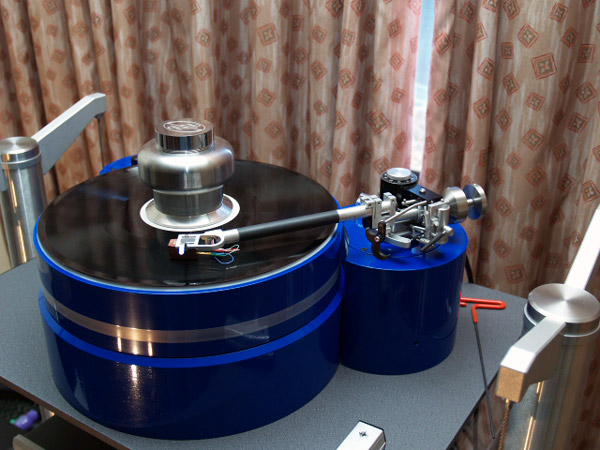 The redpoint model A, Triplanar MK-VII arm and Phase Tech PH-3 cart
The analog feed went to the new ModWright SWP 9.0 SE phono stage ($2995), which in turn handed off to the soon-to-be-released ModWright LS 36.5 ($3995). The LS 36.5 employs a pair of 6H30 tubes, has balanced inputs and outputs, a phase inversion switch, all oil-impregnated poly and Teflon™ film-foil capacitors (custom-made for ModWright Instruments and voiced specifically for this preamp), and an internal 5AR4 tube rectified power supply. Both units are on their way to the audio analyst© to take up residence and to allow me share their virtues and warts with you.
Muscle in the room was developed gracefully and with utter authority by the Belles MB-01 75 watt per channel, class-A, mono blocks ($12,000/pr). And converting electrical energy to kinetic, the Escalante Design Fremont ($20,990), my current reference, completed the package.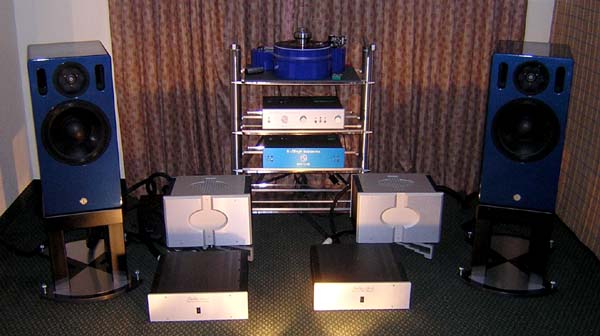 Kinda Blue - redpoint Model A, ModWright SWP 9.0 SE and Escalante Design Fremont, all blue
If you get a chance, be sure to go to Peter's Redpoint webpage and click on the contact page. The cool cat sporting the Fedora in front of the Redpoint turntable and microphone and sitting in the D.J. chair in the "Nightfly" homage photo is Peter himself. I spent a good deal of time with Peter this year talking about music and things analog. Best of all, he has agreed to let me take a first-hand look at the redpoint Model D, his $20,000 statement table. Can you see this ol' vinyl junkie rubbing his hands together and salivating like one of Pavlov's proverbial canines in anticipation?
Lansche Audio/St. Tropez 1401
The Lansche loudspeaker is yet another German creation to utilize an ion/plasma tweeter. Though Lansche Audio has acquired Otto Braun's Corona tweeter design, they have further perfected and improved upon his ion tweeter, first seen in Acapella Audio Arts products. The new Corona driver is an 8mm device that is not bogged down by mass. It directly excites and utilizes the air itself as the medium of transmission. Said to operate from 1.5kHz to 150kHz, with an efficiency of 99dB/1W/1M, it is said to be capable of a maximum 115 dB SPL!
Beside the 8mm ion/plasma tweeter, each of the 168-pound speakers has a single, front mounted eight gram, 8" coated Omniex membrane midrange, and a pair of side firing long-throw 10 inch woofers driven by an integrated power amplifier. Crossover points are 150Hz and 2500Hz.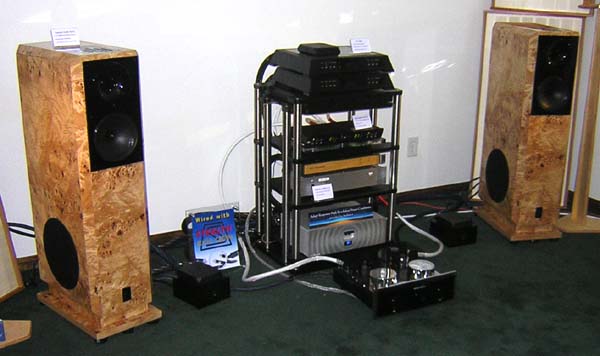 The remarkable new Lansche No. 4.1 with its ion/plasma tweeter
Thanks to the urging of friend Serguei Timachev (the wizard of Stealth Audio Cables), I went back to this room after an interesting, but not overly impressive, first experience. On my initial visit, I found a "looseness" or "slowness" to the lower bass, and a slight discontinuousness to the lower midrange/midrange. It was as though that front paper cone midrange was trying its best to keep up with the tweeter, but was somehow just not quite capable. High frequencies, while sounding remarkably airy and unrestricted, seemed to roll off increasingly as they ascended, say, over 16 or 17kHz. Knowing nothing about the system, my first thought was that it was the inherent nature of that ion/plasma tweeter.
Then, after the original amplifier was discovered to be suffering from heat-damaged components, a Hybrid Einstein was substituted. Now, the HF issues seemed to be well resolved, as were the lower mid/midrange speed issues. The lower frequency issues, while not entirely settled, were considerably better.
Overall, the presentation of this speaker now was captivating. The upper extension from the Lansche No. 4.1 was now seemingly effortless and unrestricted in a way I cannot describe accurately or recall having experienced before. The full-scale orchestral piece was alive with air, space, sparkle, and remarkably vibrant detail. Sting tone was unnervingly honest. Keep your ears on this company.
Studio Electric/St. Tropez 2203
If you thought that the premier of the Studio Electric/Electrodyne products from Dave MacPherson at last year's CES was something special, you should have been there this year! To top it all off, Dave had indicated that he had something extra special in mind for this year. But I'm getting ahead of myself.
This year he showed the T2 ($15,750), which is as much a breathtaking visual statement as it is a high performance loudspeaker. For those who crave the sound quality but don't need or want to pay for the "art," the new T3 ($6500/$6900 in Ash/Maple) offers the same sonic goods. I asked flat out, and Dave honestly believes that that he has sacrificed nothing sonically to achieve the additional value offered by the T3. And at about two-fifths the price of the T2, I can testify that the T3 can make absolute musical magic.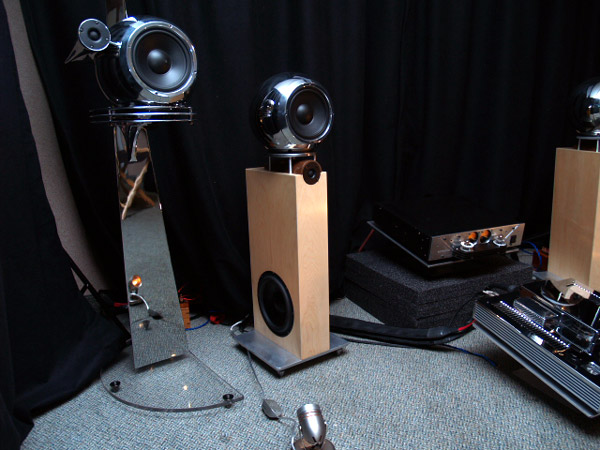 The industrial art of Studio-Electric; the T2 in chrome and the more modest T3 in ash
This system consisted of the T3 driven by the Electrodyne Type EA2 Amplifier. The Electrodyne amplifier is also Dave's baby. Originally designed for use in his mastering, the Type EA2 hybrid amplifier features NOS Siemens E88CC tubes in the first gain stage and premium English MOSFETS for the power stage. Rated at 275 watts per channel into 8 ohms or 375 watts per channel into 4, with four discrete power supplies, available in two striking designs, this amp is also as good looking as it is sounding.
The Sony Pro transport Dave employed is a burner often found in studios to make CD masters and sports a rather more robust transport than most of the Sony commercial offerings. The Sony was optically connected to a Benchmark DAC1, and as the EA2 amplifiers have a 1v input sensitivity and stepped attenuators, they were driven directly from the DAC1. Mogami microphone cables carried line level signal from the DAC1 to the amps, and speaker cables were PranaWire on the T2 or Cardas Golden Presence on the T3.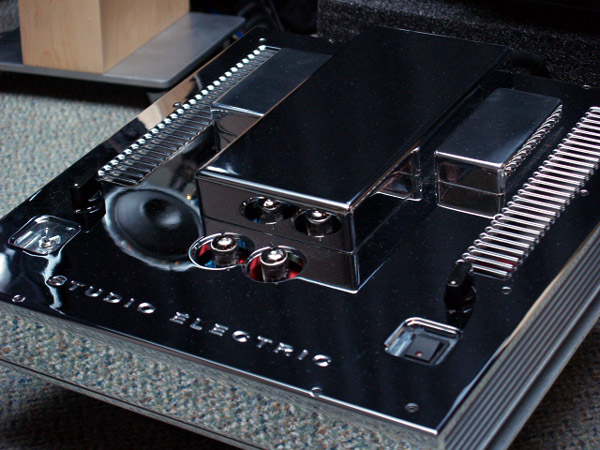 As remarkable looking as it is sounding, the Studio Electric Electrodyne EA2 amplifier
This system had the ability to render fine detail while conveying enormous power and scale. Articulate without being in your face, detailed, delicate, and refined, yet rich in tonal texture and alive with presence. Immediate! While far from the most expensive system I've ever heard, Dave MacPherson's Studio Electric suite made music; sweet, unfettered, get-on-your-feet-and-move, music. Bravo house MacPherson.
Events - Tuesday's Trials and Tribulations
BluePort Bash
One of the high points of this year's CES, and any of recent memory for that matter, was a seminar conducted by Jim Merod of BluePort Jazz. It was also a slight disappointment in its downright lack of attendance. I suspect that the slight turnout may have been due to a lack of promotion and CES support, but then again, it could have had something to do with the fact that this room was lost in the morass of the 1.9 million square feet of the Venetian's meeting room complex. What a shame!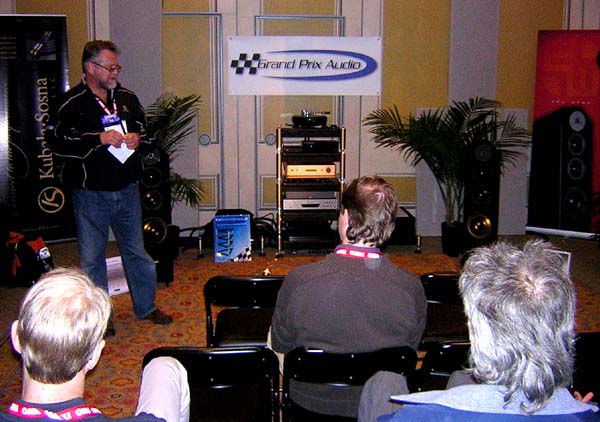 Jim Merod discussing one of his recordings during the BluePort Pro Audio Seminar
In the early 1990s, Jim founded BluePort Sound recording studio and BluePort Jazz, a record label that has ten published albums. Over his twenty year career Jim has recorded a "who's who" of legendary jazz, blues, and Latin musicians: Tito Puente, Wynton Marsalis, Ella Fitzgerald, John Hicks, Sarah Vaughan, Clark Terry, Los Lobos, Joe Lovano, Eddie Palmieri, Jimmy Rowles, Lee Konitz, Hank Jones, Benny Golson, Kenny Barron, Charlie Haden, Nick Brignola, Tommy Flanagan, Stan Getz, Harold Land, Cecil Payne, Roger Kellaway, Mary Stallings, Dave McKenna, Tierney Sutton, Pete Jolly, Jackie Ryan, Jon Mayer, Joe Pass, Bob Florence, Gary Foster, Buddy Collette, Gatemouth Brown, Clifford Jordan, Barry Harris, Tom Harrell, Art Farmer, Conte Candoli, Mundell Lowe, Kenny Burrell, Gene Bertoncini, Larry Koonse, Laurindo Almeida, Joe Diorio, Ray Drummond, Jaime Valle, Cleanhead Vinson, Sweets Edison, Red Rodney, Louis Bellson, Bud Shank, Ruben Estrada, Alex Acuna, Leon Parker, Gerald Wiggins, Charles McPherson, Herb Geller, the Chico O'Farrill Afro-Cuban Orchestra, Ozomatli, the Maria Schneider Orchestra, Tolu, and many more. Are you getting an idea just how accomplished he might be?
Jim has written about music, recording, audio gear, and the jazz scene for the Los Angeles Times, the San Diego Union, Jazz News, the Jazz Link, Jazz Now, and other publications. Jim has worked with jazz education and educators throughout his career, assisting in the production of the "Club Date" jazz series for PBS-TV and with the "Adventures in Jazzland" Project in Marin County. He is collaborating with Benny Golson in the making of the legendary saxophonist-composer's autobiography and collaborating, as well, with composer/arranger/trombonist/screen writer Tom McIntosh in the creation of a film epic that explores jazz history. Jim's "Straight Ahead Jazz" radio show on KiFm in San Diego featured interviews with legendary musicians such as Marshal Royal, Snookie Young, Scott Hamilton, Joe Wilder, Bob Cooper, Pharoah Sanders, Frank Strazzeri, Monty Budwig and Andy Simpkins. He has been program director and board member of the Napa Valley Jazz Festival and is a consultant for numerous academic and professional organizations.
Grand Prix Audio/EgglestonWorks/Kubala-Sosna hosted this remarkable event on Tuesday at 2:00 PM. Steve McCormack of SMc Audio and McCormack Audio Corporation of Virginia (now owned by Conrad-Johnson) emceed the event, with prominent analog luminaries Stan Ricker and Steve Hoffman in attendance.
Jim Merod, a gifted location-recording engineer and one of my dearest friends, hosted one of the most enlightening pro audio events ever offered at any show I have attended. Keep in mind that what Jim does is almost unheard of today. Going to the location of the performance to capture that event rather than having the artist's come into a studio is a challenge bordering on the impossible. Any engineer who has tried it will testify to that fact, and the affirmation of several in attendance that day was no surprise.
Jim would set up a particular track that we were going to listen to by discussing the significant details of the session. Learning about the time, or lack thereof, available for set up, his equipment choices, microphone selection, (including the type, number used, and final placement), cabling choices, venue challenges (like walls in disadvantageous locations), and how he dealt with natural environmental conditions like high winds, traffic, and other local distractions, provided for an unbelievably enlightening and wholly fascinating education. After this detailed and musically informing set up, we were played a cut from that session. What a treat. All involved sat humbled by both the passion and the immediacy and character captured by the recordings.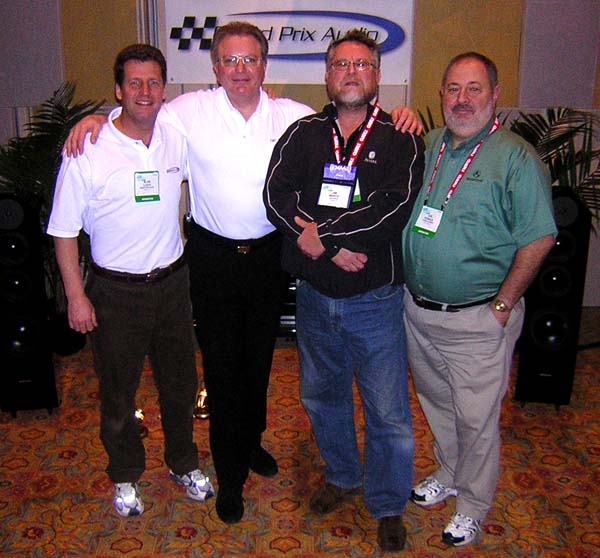 The usual suspects: Alvin Lloyd, Steve McCormack, Jim Merod, and Joe Kubala
BluePort is producing a body of work that is an indispensable and unparalleled archive of Jazz performance. The quality of the performances by such remarkable artists, so accurately and evocatively captured is unsurpassed in this music lover's experience. CES and exhibitors, take heed. This is exactly the kind of event that makes attendance at such trade shows invaluable and worthwhile. All I can say is that I hope someone is listening and that such events grow with each coming year. My personal thanks to Alvin Lloyd, Steve McCormack, Joe Kubala and all the others that had a hand and a stake in producing such an excellent event.
The Beatle's LOVE experience
Later Tuesday night, after a meal at CozyMel's with Alvin Lloyd, Robert Mahler (a gifted artist and engineer with Grand Prix Audio), Jim Merod, Serguei Timachev, and others, several of us were going to meet at 9:00 PM in Dave MacPherson's room at the St. Tropez to listen to something Dave promised would be very special.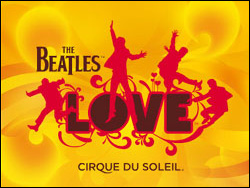 The Beatles LOVE: A thrilling new Cirque de Soliel show and a remarkable recording
It seems that Cirque de Soliel (co-founded by George Harrison), had expressed interest in a Beatle's tribute. After contacting George Martin, long time Beatles producer and often referred to as 'the fifth Beatle," this project began in 2003. Pulling original 4-track recordings from the vaults, many never heard before, George and his son Giles constructed this 78-minute tour-de-force. Applying audiophile restoration techniques to the original tapes, creating medleys, and adding and re-arranging strings and harmonies, the result, called simply LOVE, was released in 2006. I had not heard of it, let alone had a chance to listen to it. This may well be the definitive Beatles recording.
Picking up my car at the Venetian about 8:40 PM, I headed out of the parking garage with high spirits. As I stopped my rental at the traffic light on Sands to turn south onto Koval Lane, I watched the rear-view mirror as a dark Buick Regal drove into my rear bumper. Pulling into the entrance to the Wynn Resort when the light changed to get out of traffic, I noted that it was 5 till 9. I called my colleagues to say I would be late. After the police report and all the fun that is inherent with such an experience, yet in a surprisingly good mood, I made my way to the room.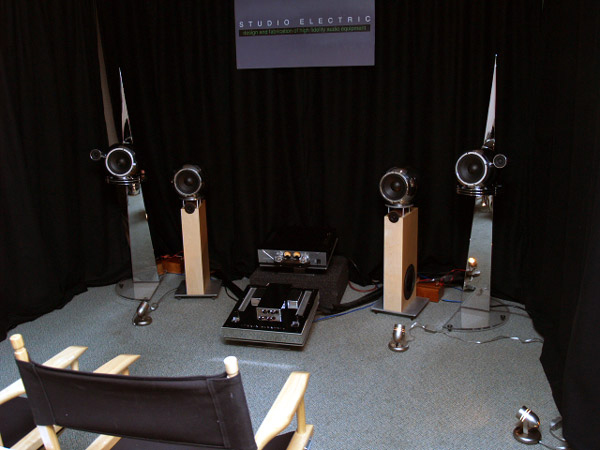 The scene of the crime …Dave MacPherson's Studio-Electric Suite at the St. Tropez
I entered into the darkened room as a version of "While My Guitar Gently Weeps" with a George Martin string arrangement was just starting. I could see Dave of course, as well as friends Steve McCormack, Jim Merod, and Alan Kafton. Placing a cup of Glenfiddich bottled in 1974 for his family in my hand and clearing a seat for me, the experience began.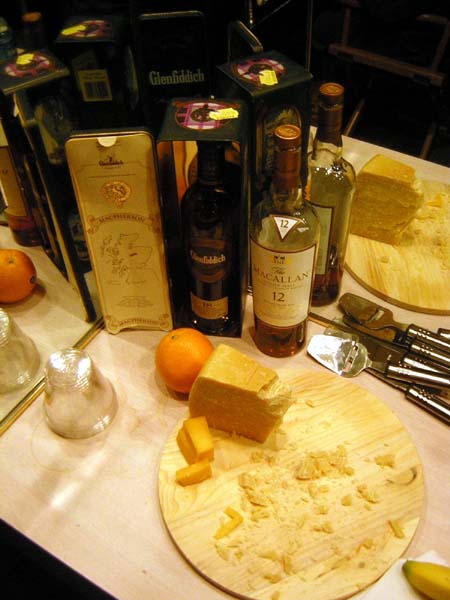 Serving very old the Macallan and Glenfiddich and a wonderfully seasoned Parmigiano Reggiano
When it was over, everyone was speechless. As conversation commenced and people began to move about and stretch, for the first time during the entirety of the disc, the mood was one of enchantment. Phrases like, "incredible," "mind-blowing," and "unforgettable" were common. Jim Merod said that it was an experience that he would never forget so long as he lived. This system, with this music, was so immediate and so alive that all of us were transported to a place that we typically only dream of going to with our music systems. I can honestly say that this listening session ranks in the top ten shared recorded music listening experiences of my life. And yes, Dave has agreed to allow me to audition the Studio Electric system sometime this year.
Epilogue

In the lesson learned department, I will be taking my Nikon D70, SB 800 lighting system, and all my lenses next year. In trying to shed some 15 or 18 pounds that I would have to schlep around every day, I opted for using one of our daughter's Nikon CoolPix 2100s. While allowing me to shoot at 2.1 mega-pixel (more than adequate for web publishing), the limitation of both its on-board lighting system and exposure versatility severely hampered my image capturing abilities this year. My apologies! For that reason, I have employed some of Editor Dave Clark's images (he brought his BIG Olympus digital rig and lighting system) where necessary. I have used mine whenever the subject material warranted, image quality notwithstanding. Next year, I'll hire a pack mule if need be, but I will get the images I wish! Till then…