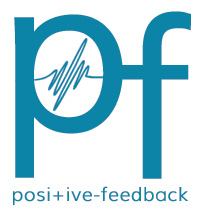 You are reading the older HTML site
Positive Feedback ISSUE 29

january/february 2007
Kabalevsky, Colas Breugnon (suite)
by Stephen Francis Vasta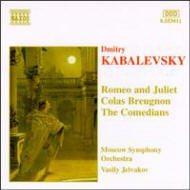 The Comedians; Romeo and Juliet
Moscow Symphony Orchestra/Vasily Jelvakov, Naxos 8.553411. TT: 69:26
Dmitry Kabalevsky's music has never really had the stature it deserves in the West. The piano concerti, which some enterprising soloist will trot out now and then, are appealing and musically substantial; the theatre music, while varying in quality, is unfailingly well-crafted. Yet the impression of the composer as a musical lightweight persists, and I'm not sure why. Perhaps by the side of Prokofiev and Shostakovich, Kabalevsky's output inevitably sounds derivative; perhaps his willingness to work within the strictures of the Soviet regime continues to leave a lingering Cold War taint. Whatever the reason, we're missing out on some good music.
The 1956 incidental music for Romeo and Juliet, which should help bolster the composer's reputation, affords us a glimpse of Kabalevsky, the serious dramatic composer. We hear echoes of Prokofiev's great Romeo ballet, not in the actual themes—though the vaulting, broadly lyrical violin lines certainly show a family resemblance—but in the rich scoring and layered textures. Still, the Prokofiev is hardly a poor model, and Kabalevsky's ten movements paint the tragedy vividly, with dance movements—where the stage action calls for dance—providing the necessary contrast.
The rest of the disc doesn't command the same attention. It's hard to understand why a luminary like Toscanini played the overture to the opera Colas Breugnon: Jelvakov's vigorous performance sounds colorful but empty headed, like a bigger-boned version of Shostakovich's ubiquitous Festive Overture. The other three movements of the present suite, new to me, don't leave much more of an impression. The climax of The People's Feast strongly recalls the slow movement of the Shostakovich Fifth; only the closing People's Insurrection keeps the ear engaged.
The Comedians offers the sprightly, puckish Kabalevsky familiar from the piano works. The brief Prologue and quirky Waltz go nicely, as does the airy, buoyant Intermezzo. In some of the faster movements, however—including the famous Galop—the rhythmic grounding isn't firm enough, and the resulting instability undercuts the music's steady buildup.
The Moscow orchestra sounds responsive and mostly well-disciplined, though in Colas Breugnon, the trumpet fanfares at the climax of the People's Insurrection movement sound just a bit scrambled. At Naxos prices, recommended for the Romeo music; but you'll still need Sinaïsky's rousing Colas Breugnon overture (Chandos) along with Kondrashin's classic account of The Comedians (RCA).