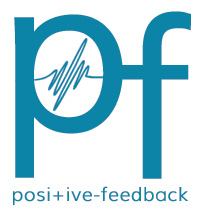 You are reading the older HTML site
Positive Feedback ISSUE 29

january/february 2007
Ralph Vaughan Williams' Film Music
by Roger S. Gordon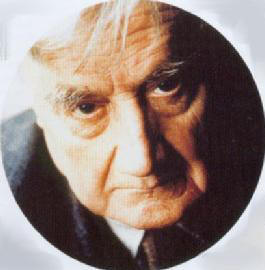 Ralph Vaughan Williams (1872 - 1958) is considered by many to be the greatest English classical composer of the twentieth century. Composing almost to the moment of his death at age 86, he left behind nine symphonies, five operas, two ballets, ten concerti, ten choral works, and numerous works for vocal, military band, and chamber and instrumental groups. Besides composing, he was a conductor, and also a teacher and lecturer both in England and in the USA. More importantly, he was a major force in collecting and publishing English folk songs. This traditional, unwritten music, which had been a major source of music in the small villages and hamlets for centuries was rapidly becoming extinct at the end of the 19th century as England became more modern and literacy became universal. Many of his earlier compositions drew heavily on these folk songs.
It was Vaughan Williams' use of English folk songs in his compositions that brought him his initial fame. His music was happy and easily listenable to the general public. Concert goers would leave the concert hall humming his melodies. This easy listenability, of course, meant to the critics that his music was light fluff—it wasn't serious music—Schoenberg's 12 tone music was serious music because only a small fraction of the music loving public could stand to listen to it. Despite being loved by the public and not by the critics, Vaughan Williams continued to write music his way. He studied for a time with Maurice Ravel in Paris. In later years Ravel would comment that of all his pupils only Vaughan Williams did not write music like Ravel. Vaughan Williams took that as a major compliment as he always stressed that the most import thing about writing music was to be yourself.
If one had to describe Vaughan Williams music in one word, it would be English. Vaughan Williams belongs to a genre of English composers such as Holst, Buttersworth, Delius, Walton and Grainger. Those composers wrote music that sounds like what England looks and feels like. To quote from Peter Ackroyd's book Albion: The Origins of the English Imagination "If that Englishness in music can be encapsulated in words at all, those words would probably be: ostensibly familiar and commonplace, yet deep and mystical as well as lyrical, melodic, melancholic, and nostalgic yet timeless. Ackroyd also quotes from Fuller Maitland, who said that in Vaughan Williams's style "one is never quite sure whether one is listening to something very old or very new."
At the age of forty three, with his musical career firmly established, Vaughan Williams dropped everything and enlisted in the British Army to serve as a stretcher bearer in the trenches of World War I. Later he became an officer in the artillery. The exposure to the big guns was probably the cause of his deafness as he got older. When World War II started Vaughan Williams was discouraged because he felt that at age 67 he had nothing to contribute to the war effort. He mentioned this to his friend, the composer Arthur Benjamin. Benjamin got in touch with Muir Mathieson, who was a former pupil of Vaughan Williams. Mathieson was music director for the British Ministry of Information. At this time Mathieson was helping Sir Alexander Korda with the only major film in production in the UK, 49th Parallel. A short time later Vaughan Williams was writing his first film score. He would compose ten more film scores, the last being written the year he died.
Film scores written by major composers such as Prokofiev (8 film scores), Shostakovitch (36 film scores), and Vaughan Williams are usually a neglected part of their compositions. Few recordings are available of their film scores. In many cases, the actual film score itself has been lost forever. If the film music is recorded, it is usually just a few minutes or at best a small suite that includes just a little of the film's music. In an attempt to remedy this situation, Chandos Records Ltd. has released a series of CDs of film music. The music is primarily of British film composers, but there are 2 CDs of Shostakovitch's film music. The Chandos series does include three CDs of Vaughan Williams' film scores which cover all but two of his films. Omitted are A Vision of William Blake and Stricken Peninsula.
The film scores that are included on the three CDs are: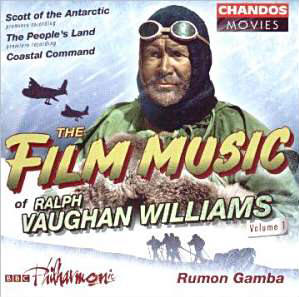 Volume I
Scott of the Antarctic (1948) premiere recording of 10 of the 18 tracks

Coastal Command (1942)

The People's Land (1943) premiere recording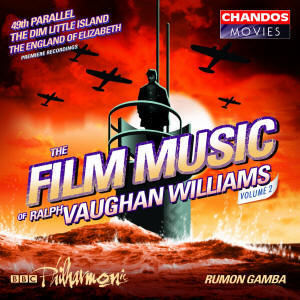 Volume II
49th Parallel (1941) premiere recording of this suite

The Dim Little Island (1949) premiere recording of complete version

The England of Elizabeth (1957) premiere recording of this suite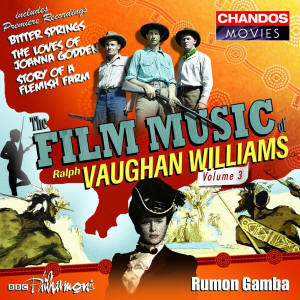 Volume III
Story of a Flemish Farm (1943)

The Loves of Joanna Godden (1947) premiere recording

Bitter Springs (1950) premiere recording
Scott of the Antarctic is probably the best known of the above nine movies. The music from the film is also the best known as major parts were used by Vaughan Williams for his 7th Symphony Sinfonia Antartica. Since I have numerous recordings of the 7th, I was hesitant to buy Volume I because 41 of the 78 minutes on the CD were taken up by music from Scott of the Antarctic. While there are moments, like all of the 53 seconds of track 7, where the music seems to have been used unchanged in the symphony, I found much of the music new and different from the symphony. If you like the symphony, you will most likely like the music from the film.
Coastal Command is a World War II documentary/propaganda film about the planes and men of the coastal command that protected England from German raiders, U-boats, and bombers. The music has the same feel and mood as Vaughan Williams 5th Symphony which he was writing at the same time. This music has been recorded numerous times, though it is definitely not part of the standard concert repertoire.
The People's Land was a documentary film made by the National Trust which holds land in trust for the people of Great Britain. The music consists of folk songs such as John Barleycorn, Springtime of the Year, Chairs to Mend, and Love Will Find Out the Way. This music harks back to Vaughan Williams early compositions that were heavily based on English folk songs.
49th Parallel was a major dramatic film starring Lawrence Olivier, Leslie Howard, and Raymond Massey. Filmed partly on location in Canada. The purpose of the film was arouse USA public sentiment against the Nazis so as to help draw the USA into World War II. The music foreshadows Vaughan Williams 6th Symphony. The opening prelude was later adapted by Vaughan Williams for the choral song The New Commonwealth. The music is quite dramatic and covers a lot of different music styles.
The Dim Little Island was a 10 minute documentary film produced by the British government. The seven minutes of music on the CD includes two folk songs and parts of Vaughan Williams' Five Variants of 'Dives and Lazarus'.
The England of Elizabeth was a documentary done by the British Transport Commission. The film traces the many remnants of the Tudor age still existent. The music is folk songs and folk dances with other music to invoke the Elizabethan Age.
Story of a Flemish Farm is a dramatic film that also served as a World War II propaganda film. The music has been recorded before. The music contains folks songs, but also has references to Vaughan Williams 1st Symphony A Sea Symphony and also to his 6th Symphony.
The Loves of Joanna Godden was a dramatic film regarding a woman and the three men who loved her. Vaughan Williams, himself, wrote a suite from the film music. His original suite has been expanded here to include additional music from the film. The music has much in common with his 6th Symphony, though there is also one theme that was used in his 9th Symphony. His use of the wordless female chorus foreshadows his film score for Scott of the Antarctic which he wrote the following year.
Bitter Springs is a dramatic film about a trek through the outback of Australia. The film score was written by Ernest Irving with liberal use of themes supplied to him by Vaughan Williams for the film. Half of the sixteen tracks for this movie on the CD are Vaughan Williams' music as you can readily tell by the themes.
All of the music on these three CDs is conducted by Rumon Gamba with the BBC Philharmonic Orchestra (Manchester). The recording is a typical Chandos recording—meaning it is very good. Music of a major composer, splendidly recorded and mastered—what is not to like? The CDs can be bought off the web for US $12-13. So buying all three is not prohibitively expensive. If I had to buy only one, I would be torn between Volumes I and II. I suppose if you have copies of Sinfonia Antartica, you should buy Volume II first. Then, if you love the music and want more, you can buy Volume I and then Volume III.
Highly recommended for lovers of Vaughan Williams' music or for those that want to get their first taste of classical music.