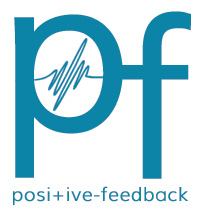 You are reading the older HTML site
Positive Feedback ISSUE
30
march/april 2007
Apostle of Hustle - National Anthem of Nowhere, Arts and Crafts AC021
by Oliver Amnuayphol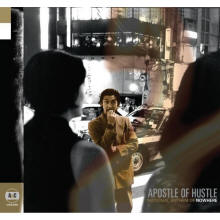 There must be some kind of "good-music elixir" in the water over at indie music label Arts and Crafts: practically every album released under their moniker sounds musically fresh, original and uncontrived—in other words, the antithesis to most of what's heard on mainstream radio these days. With a roster that reads like a veritable who's who of the current indie pop-rock music scene (such as Jason Collet, Feist, and Broken Social Scene among others), it's obvious this aptly-named, Toronto-based outfit has a knack for signing top quality artists who favor honest music and creativity over commercial success. Nowhere is this more evident than in one of Arts and Craft's more recent signings, Apostle of Hustle. Their 2004 debut, Folkloric Feel, garnered much critical acclaim and had fans eagerly awaiting their next album—2007's National Anthem of Nowhere, the subject of this review. So, then: What musical treasures are these apostles hustling this time?
While Folkloric Feel sounded dreamy, sparsely-arranged and introverted in a post-modern rock kind of way, National Anthem of Nowhere shows itself as a more optimistic, upbeat, and groove-friendly album—something that's apparent right from the first track, "My Sword's Hand Anger." Singer Andrew Whiteman (who also doubles as lead guitarist of Broken Social Scene) has a laid-back, easy going voice that serves the music well. The opening number is followed by the well chosen title-track, one of Anthem's many highlights. Densely-layered instrumental textures and a horn section ending shows Whiteman isn't afraid to borrow a musical trick or two from that signature Broken Social Scene sound. The next two tracks, "Naked and Alone" and "Haul Away," subtlety turns the album's upbeat vibe down a couple of notches and show Apostle's more instrumentally experimental side; expect to hear organs, maracas and tambourines in the former and even some melodic Latin musical influences in the latter.
Track 5, "Cheap Like Sebastien," is the album's first standout track. A relaxed-tempo, soft kick-drum intro leads into more of Whiteman's mellow singing; lilting, female-vocals abound in the background. There's an easy, lite-60s swingin' lounge vibe that is so melodic and infectious it'll leave you wanting more. Track 6, "iRafaga!," sees Apostle bringing those earlier Latin influences to full fruition and closes the first half of the album in style. From there, Anthem simply builds on its earlier momentum to make the second half of the record just as strong as the first. Highlights include "Chances Are," with its dance-friendly, thoroughly swinging feel, and Anthem's last standout track, "Justine Beckoning," is an upbeat and poetic ode to pop-rock and lyricism.
In some ways, the sound quality of National Anthem of Nowhere serves the music very well. Engineers Martin Davis Kinack and Whiteman have done a fine job of capturing that nicely textured, "layers of sound" feeling that's the sonic hallmark of many of Arts and Crafts finest releases. There's an emphasis on the initial attack of instruments which perfectly suits this album, and guitars always have a fierce, electronic snarl. Synth-bass sounds clean and low; kick drums sound punchy and fairly deep; horns have an appropriately "blatty" yet smooth sound; and the lateral spread of the piano is positively huge. Like most indie rock albums however, there are a few areas where the sound can be improved upon. Some of the sibilants on the album are quite potent (some little judicious use of a "de-esser" couldn't have hurt), and at times the sounds of instruments can unnaturally blend together. And while the soundstage has nice width, it does lack some depth and imaging precision. Nevertheless, Whiteman and Kinack never do anything to get in the way of the musical message, and they've done a fine job of choosing the appropriate sonic feel for each track of Anthem.
So here's another record the folks at Arts and Crafts can be proud of: National Anthem of Nowhere is a fine album, one that will easily coax repeated listening from those who find joy in its many charms. Whiteman and crew have artfully blended together many familiar and experimental musical elements into an indie-electro, pop-rock sound that is highly accessible and uniquely their own. That Apostle of Hustle have accomplished this in their sophomore effort is impressive indeed. In terms of musical value per dollar then, maybe it's the listener who does the hustling with this one: The 15 bucks or so spent on the LP (or the CD if you must) seems like a mere pittance compared to the amount of inventive, quality music you get from this album. If you want to hear some of the best music the indie scene has on offer these days, look no further than National Anthem of Nowhere.