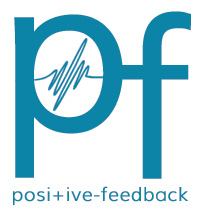 You are reading the older HTML site

Positive Feedback ISSUE

30
march/april 2007
Music, Sound and Personalities: The 2007 CES and T.H.E. SHOW - Part 2
by Dave Glackin
Raysonic manufactures tube amplifiers and CD players. They were getting some great sound from a system that included the Jas Audio loudspeakers.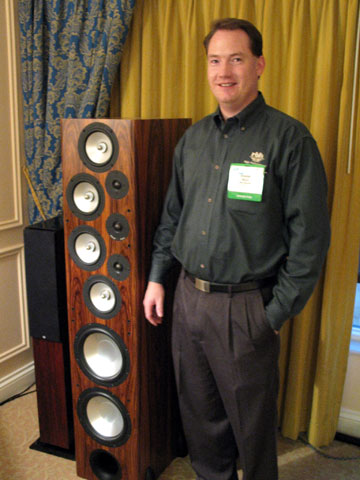 Shane Rich of RBH Sound
Shane Rich of RBH Sound was demonstrating their limited edition T-30LSE loudspeaker. I gave this company best sound in show in 1998 and 2001, and their products continue to impress mightily. The reproduction was totally effortless, with especially great authority, control and nuance in the bass. This is one company that deserves higher recognition in the high-end community.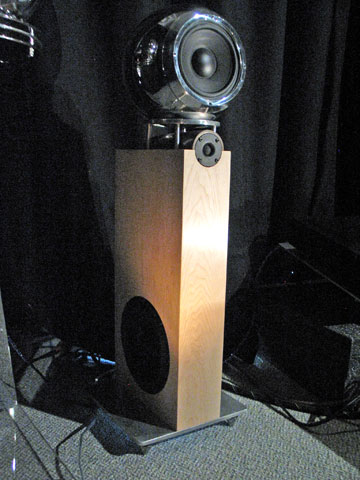 The Studio Electric T3
Studio Electric was receiving good hall buzz, and for good reason. The T3 uses a spherical enclosure for the midrange, and sounded quite transparent and musical. A more expensive version dubbed the T2 is more retro-sci-fi looking, with cabinets hand-made by Josh Stippich. Studio Electric also manufactures some gorgeous tubed amplifiers.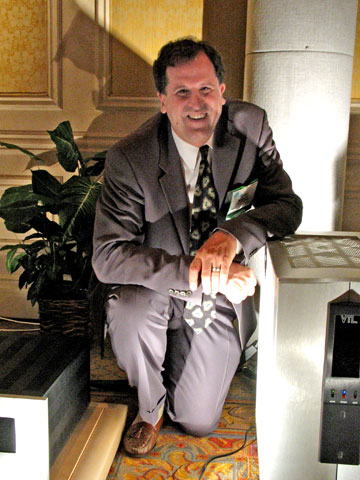 Luke Manley of VTL
VTL (Vacuum Tube Logic) manufactures my amplifiers of choice, the VTL Deluxe 300 tubed monoblocks. These are a marriage made in heaven with my Eminent Technology LFT-VIII magnetostatic loudspeakers. Luke Manley (pictured in less than flattering light) demonstrated his new TP-6.5 phono stage preamplifier, his upgraded TL-7.5 Series 2 line stage preamplifier, and his MB-450 Signature monoblock amplifiers (the modern version of my Deluxe 300s). One feature that I really love about Luke's current designs is the inclusion of absolute polarity switching on the preamps with a remote. He goes one better, by incorporating this feature on some of his amplifiers (the S400 and the Siegfried). The sound in this room was effortless and organic, with outstanding timbre. Luke, thank you once again for a great visit.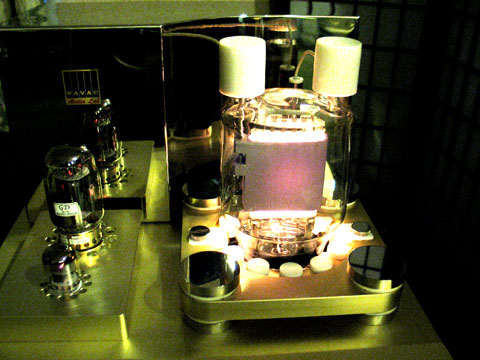 Wavac Audio Labs manufactures some very exotic electronics, and their room this year only bolstered their reputation. The most eye-catching piece of gear in this room was the HE-833MkII monoblock (pictured), featuring a 150-watt output and a $140,000 price tag. This room also featured a Continuum Caliburn turntable, the Venture Audio Grand Excellence loudspeaker, and Prana Wire cables. The sound was very impressive, and I got the impression of hearing details in the music that very few other systems could reproduce.
Other Interesting Rooms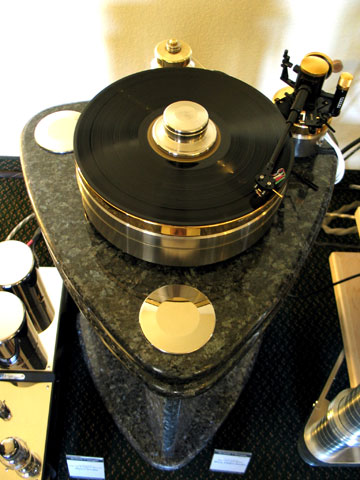 The folks from Acoustic Dreams were featuring the new Blue Pearl Audio JEM turntable (pictured), tubed electronics from Ayon Audio, and loudspeakers from Lumenwhite. The sound was gorgeous and natural.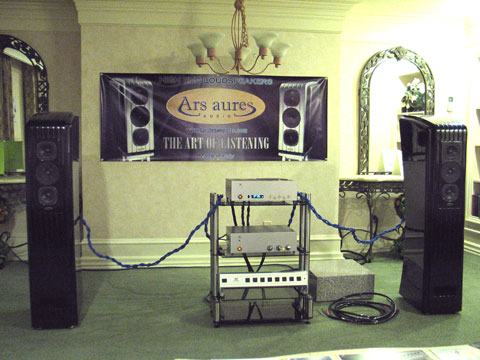 Italian loudspeakers from Ars Aures were featured in a system with Art Audio and Gill Audio Design. This transmission line speaker produced an open, airy sound with an impressive bottom end. Stan Ricker noted that it was the first time that he has heard 4-inch drivers do realistic reproduction. The rather bizarre looking speaker cables (pictured) from K-Works were made from 21-gauge Cardas Litz inside of ropes, terminated with Eichmann plugs. Interesting.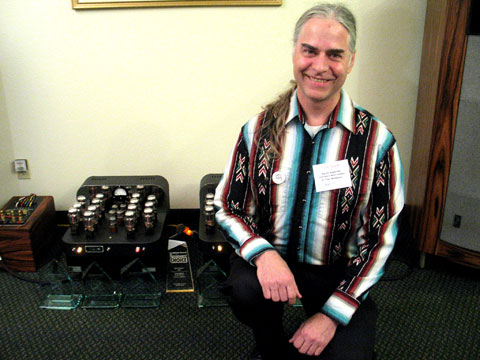 Ralph Karsten of Atmasphere
Ralph Karsten of Atmasphere was showing his new ME-1 Mk3 amplifier. The source was a Kuzma Stabi Reference turntable with the latest Tri-Planar arm from Tri Mai. Loudspeakers were horns from Classic Audio Reproductions. Ralph noted that he'd like to make the world's first OTL (output transformerless) amplifier to cut LPs with. Tri noted that he'd like to learn LP mastering from Stan and help to carry on the art.
Audio Research was showing with the new Vandersteen Carbon Fiber 5A loudspeaker. Miles Davis' Kind of Blue brought me into the the room, and the sound was quite enjoyable.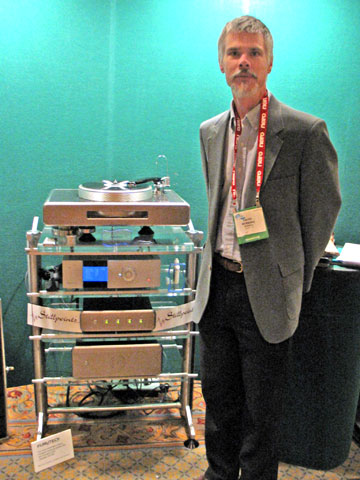 David Berning (pictured) was demonstrating his ZOTL (Zero Hysteresis Output Transformerless) amplifier. The unique circuitry employs RF frequencies and a relatively small number of tubes for OTL. It was great to see David back at CES.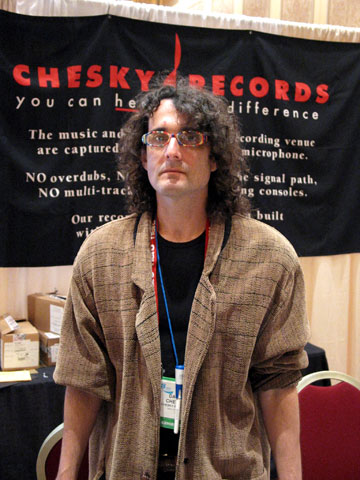 David Chesky of Chesky Records
Despite the usurious rules in force at the Venetian, David Chesky of Chesky Records was bravely selling music. Some of my favorite recordings come from this company, and they continue to produce outstanding recordings. I highly recommend that you try some, if you have not.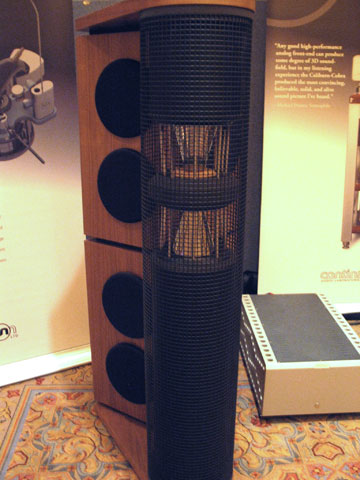 David Payes of Continuum Audio Labs was exhibiting several of his highly renowned turntables with a pair of German Physics loudspeakers using Ohm-Walsh-like drivers (pictured) with only 6.6 grams of moving mass. The sound was great except for the bass, due to flexing of the thin movable wall partitions used in the lower floors of the Venetian. None of the exhibitors in the vicinity were pleased with the general situation.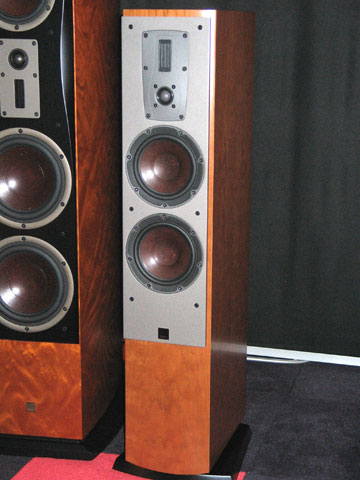 The Dali Mentor 6 loudspeaker
The Dali Mentor 6 loudspeaker had tremendous clarity but sounded somewhat bright. Chalk it up to show conditions, perhaps.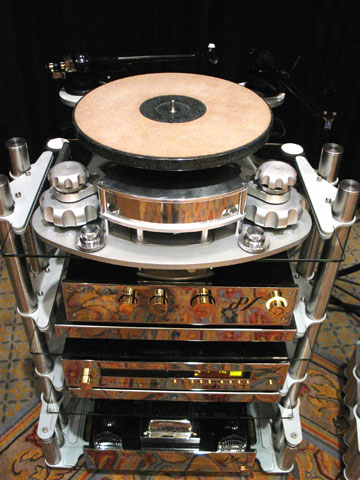 The E.A.R. turntable with associated E.A.R. electronics
Tim deParavicini of E.A.R. was demonstrating his new turntable and playing reel-to-reel tapes. This magnetically-suspended table has received a lot of press, and rightly so.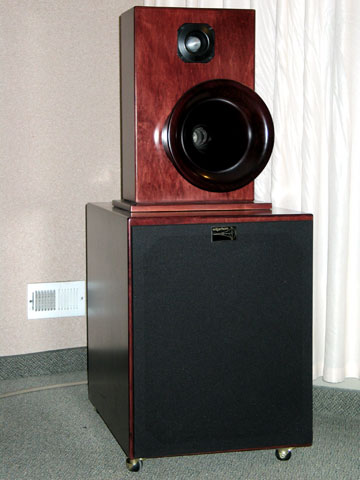 Dr. Bruce Edgar of Edgarhorn was unable to make the show this year, due to health problems. Cy Brenneman of Cyrus Brenneman Audio was doing a yeoman's job of manning the room. I've always been enamored of Bruce's speakers, ever since we worked together years ago at a federally funded R&D lab. The big Edgarhorns (pictured) once again showed why horns done right can be extremely musical and enjoyable.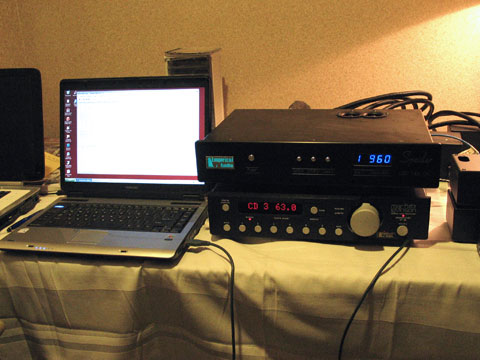 Empirical Audio computer-based audio in action
Steve Nugent of Empirical Audio was showcasing a range of computer audio adapters, via a system including JC-1 monoblock amplifiers and Sound Line hybrid loudspeakers, sporting 4-foot-long ribbon drivers and cone woofers. (For David W. Robinson's interview with Steve Nugent, see Positive Feedback Online, Issue 7, at http://www.positive-feedback.com/Issue7/empiricalint.htm.) The Spoiler USB Tube DAC (pictured) runs on AC or battery power. The Pacecar I2S, Reclocker outputs I2S signals with claimed "inaudible" levels of jitter. The Off-Ramp I2S converts USB to I2S, eliminating the standard S/PDIF interface. The crossovers of the Sound Line speakers were modified by Steve, using Jensen air-core inductors from Denmark, which he said transformed their sound (http://www.jensencapacitors.com).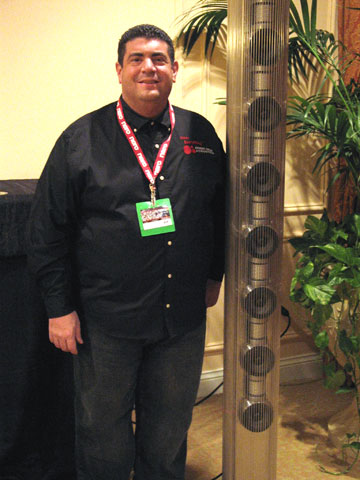 Anthony Gallo of Gallo Acoustics with his Reference 5 LS loudspeaker
Anthony Gallo of Anthony Gallo Acoustics was demonstrating his new Reference 5 LS loudspeaker. These line source loudspeakers use seven CDT tweeters and eight 4-inch carbon fiber midrange drivers in spherical enclosures. Bass is provided by twelve aluminum 4-inch rear firing drivers. This system sounded smooth and natural, with excellent bass definition.
Dr. Poh Ser Hsu of Hsu Research was showing an impressively cost-effective system consisting of his new constant directivity horns, coupled with mid-bass modules, and two large subwoofers covering 16 - 50Hz. The surround-sound video demo was most impressive, including its reproduction of 16Hz at 115dB.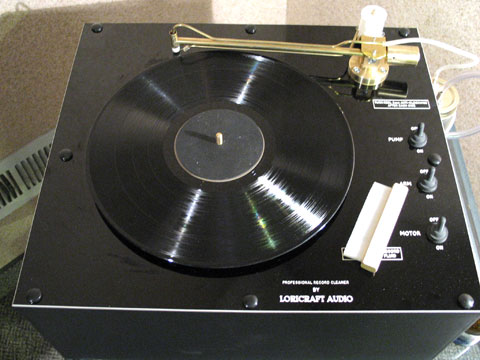 The Loricraft Audio PRC3 record cleaner
Terry O'Sullivan of Loricraft Audio was showing modern Garrard turntables, as well as their Loricraft PRC3 record cleaning machine. Loricraft acquired the rights to the Garrard name years ago, and their factory stands close to the original.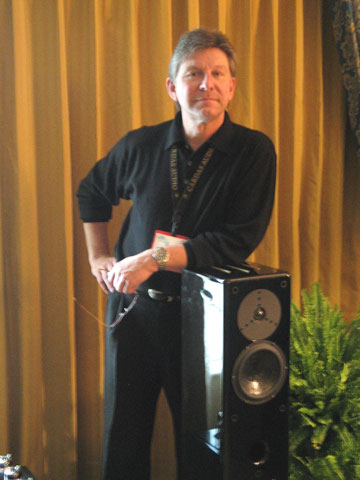 Bobby Palkovic of Merlin Music Systems
It was great to see Bobby Palkovic of Merlin Music Systems, who has been recovering from a bad accident. Bobby was showing his VSM-MXE loudspeakers with Joule Electra electronics. I have given Bobby best sound in show more than once in the past ...his room has always sounded fantastic. The new location likely contributed to this year's not-quite-top-tier showing (but see Roger Gordon's report for a different opinion). At any rate, what's really important is that Bobby is back in the game, and enjoying life again. Here's to you, my friend.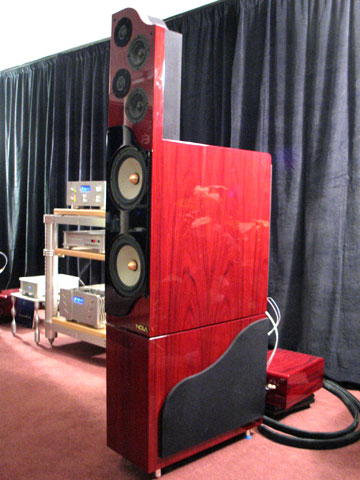 A system comprised of the large Nola loudspeakers (pictured) and Edge Electronics sounded effortless and smooth, with a sense of real instruments playing in a real space. This system was barely edged out of the "sweet sixteen" ranking.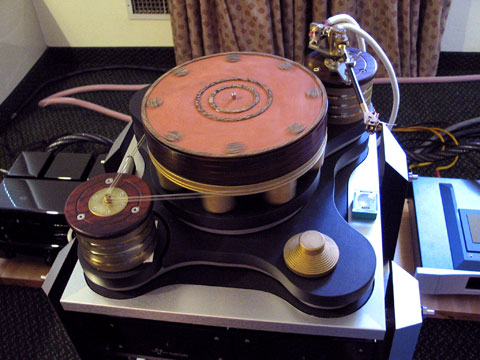 Jacob George of Rethm Speakers was showing a Lowther-based loudspeaker with a 6-inch dual paper cone and a self-powered woofer. Hard as it is to match woofers to Lowther drivers, Jacob has done it, and the results sounded excellent. Showing with Jacob was Bob Benn of Sound Engineering, the manufacturer of a very interesting new turntable, the SE-1 (pictured). The version shown here uses brass for isolation, and the da Vinci tonearm from Switzerland. This deserves a PFO follow-up. Bob also manufactures periphery clamps for turntables, using brass or stainless steel.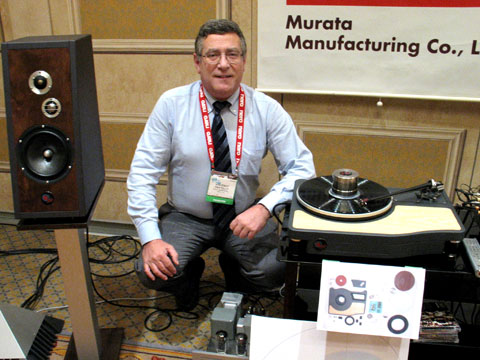 Vincenzo Fratello of S.A.P. Audio S.r.l.
It is always a pleasure to visit the S.A.P. Audio S.r.l. (Strumenti Acustici di Precisione) room, and this year was no exception. Vincenzo Fratello was featuring his new Sonora loudspeaker with its optional ceramic super-tweeter from Murata Manufacturing Co., Ltd., as well as his new Tempo turntable (pictured), shown here with an SME 12 tonearm.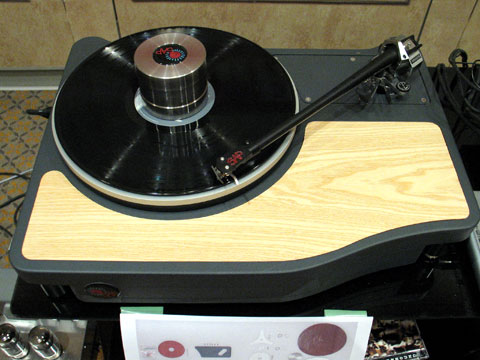 It uses direct drive with a stepper motor, with zero feedback. The sound from the new Eric Bibb album (I have heard him live) was thoroughly enjoyable. Grazie mille, Vincenzo.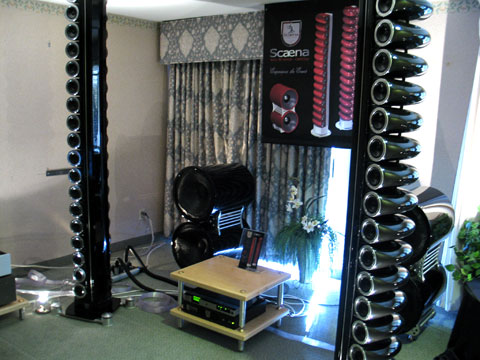 The floor-to-ceiling linear array loudspeakers (pictured) from Scaena were sure impressive to the eye. They had a big, powerful sound, but to my ears were a bit bright. Besides the obvious array of mid/bass drivers, they use a ribbon style planar super tweeter, and are augmented by separate subwoofers (four shown here).
Brian Smith from Smith and Larson Audio was showing The Woofer Tester, a compact loudspeaker measuring device. The basic WT2 model self-powers from a USB port and has quite a number of useful features. The WT-Pro model includes time decay FFT waterfall plots among its many advanced features. If you're a speaker builder, this is worth looking into.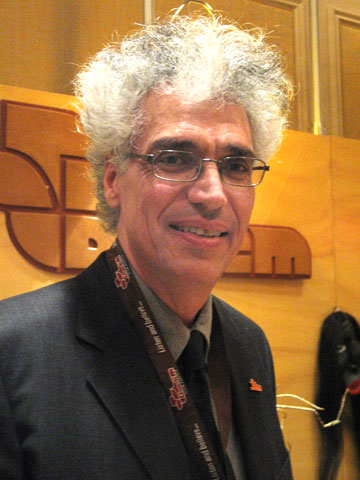 I've always been impressed with the products from Totem Acoustic, and indeed use a pair of their Model One loudspeakers in my second system. Vince Bruzzese (pictured) was showing off some of their new products to a rapt audience.
Post-Show Report
The folks from the Hovland Company were unable to make it to CES, as they were swamped with orders and needed to attend to business. Jeff Tonkin was kind enough to invite me to audition their new solid-state Stratos amplifier at their facility in West Los Angeles. Jeff and Mike Garges demonstrated it side-by-side with their tubed Radia amplifier. Good as that is, the Stratos sounded distinctly better. I would urge anyone seeking a high-power (400 W into 8 ohms) amplifier to consider this one.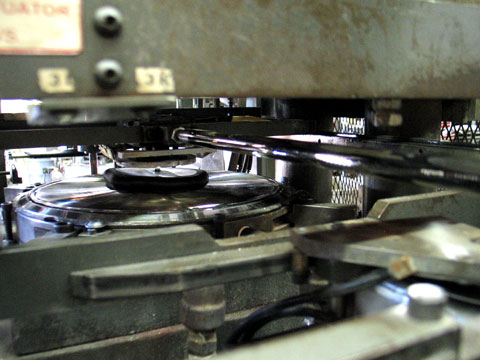 Getting ready to squash the puck!
Kevin Gray of AcousTech Mastering and Record Technology Inc. (RTI) in Camarillo, California, offered to give me my first tour of those facilities shortly after CES. As you know, RTI is considered to be the premiere LP plating and pressing house in the country, and it was gratifying to finally see why. Here we see a vinyl puck (sandwiched between record labels) sitting on top of the stamper for one side of an LP, about to be squashed mercilessly when the stamper for the other side of the LP is pressed down on top of it. One of the most interesting (to me) things that I learned is that the gold-coated LP that flew onboard JPL's Voyager spacecraft was cut on Kevin's lathe.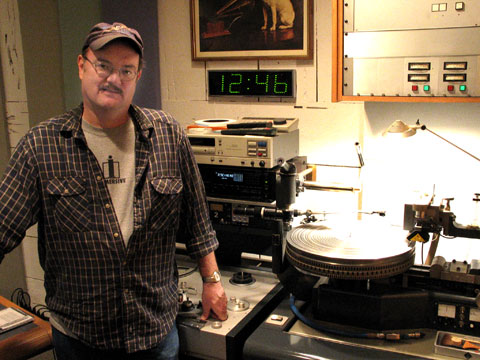 Kevin Gray of AcousTech and RTI
Kevin is pictured here with that very lathe. Look for a story on that LP in an upcoming issue.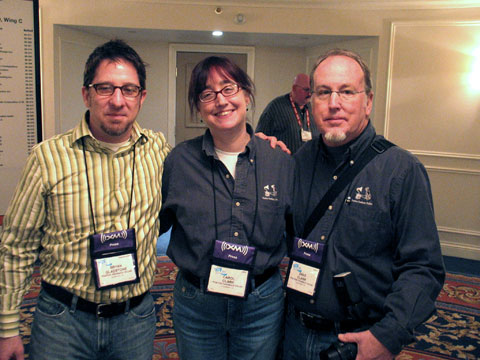 The Three Museketeers!
We close with a photograph of an intrepid trio from Positive Feedback Online in the middle of scouting for superior sound. Pictured are Bryan Gladstone, Carol Clark, and Dave Clark. Until next time, folks.
That wraps it up for this year. Be seeing you.