Many of my friends and colleagues seemed somewhat surprised by the CES 2006 introduction of the Adagio loudspeaker by Robert Lee, known for his superb line up of Acoustic Zen cables. While I won't say I expected it, I honestly did not find it terribly surprising. Robert has a rich history in this industry, one that includes component development (remember the name True Image?).
Yet in the short time since their introduction, they have already come to be known as somewhat of a sonic landmark. Within the first minute of my exposure to the sonic spell they cast at that CES I knew I was in the presence of something beyond the ordinary. The speaker completely captivated me. As amused as Frank Kraus (of FLK Marketing and Distribution) and John Tabernacki (of the fledgling NSR Sonic Reseach) were to see my unfettered fervor over this then new product, designer Robert Lee seemed equally gratified by my exuberance. I wasted no time; I asked for a pair right then and there.
Just two months later, on February 9th, my request was granted and my Adagio's arrived, beautifully finished in Mappa Burl. Standing four feet tall (sans spikes) and just 11 inches wide across the front baffle, their sides roll gracefully back with an elegant curve some 13 inches to terminate with a rear baffle width of just under 5 inches.
A pair of 6.5 inch mid-woofers coalesce with a single custom 1.625 inch round ribbon tweeter mounted D'Appolito style near the top of the front baffle to complete the driver complement. Each mid-woofer is mounted on an inch thick extended black baffle with the tweeter mounted directly between them on the main baffle to provide for proper time alignment.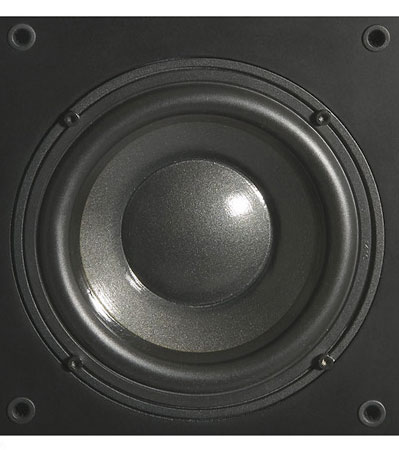 Each mid-woofer diaphragm is essentially a sandwich comprised of ceramic external layers on either side of the fabric internal layer and they employ shielded, 7-ounce Neodymium magnets. The diaphragm layering is performed to help maximize stiffness while minimizing cone break up, flexure, and resonance. These specially sourced drivers have shortened, under hung voice coils, a technique developed to permit the voice coil to behave in an extremely linear fashion throughout its entire length of travel. This short voice coil/long magnetic field gap motor system has been proven to provide up to ten times the reduction of both harmonic and TIM distortion when compared to a conventional over-hung voice coil driver design.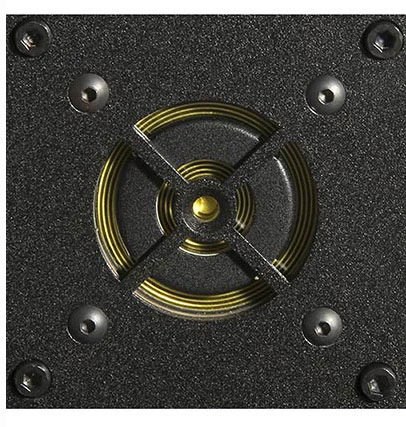 The tweeter's circular ribbon is fabricated from 0.01mm thin heat resistant Kapton®. This imide polymer membrane is virtually weightless, providing for a astonishingly immediate and highly precise response to transients in the original music signal. This limited production tweeter uses a shielded 3.5 oz high flux energy and high temperature resistant magnet structure, again helping to affording exceptional dispersion, transient, and power handling characteristics as well as a highly linear impedance and phase response.
The mid-woofers are loaded internally into a twin transmission line that couples to the room via a 6.75 by 2.75 oval port just and inch and a half up from the base of the front baffle. The flex point of 3 kHz is achieved by means of a Linkwitz-Reily network. Rated at a 6Ω impedance and 89 dB efficiency, they weigh 78 pounds each and claim a frequency response of 30Hz-25 kHz ± 3dB. Gold binding posts reside in a 4 inch by 4 inch recess some 8 inches from the bottom of the rear baffle to round out this gorgeous, small foot-print loudspeaker.
What first captivates you about the Adagio's is their extraordinary combination of clarity, seemingly unfettered speed, certain resolution and irrefutable neutrality. Just light up or spin your favorite piano works to be wowed by their detail, swiftness, transparency, and intelligibility. Whether I fed them the subtle solo musings of Steven Hough performing the Piano Music by Fedirico Mompou [Hyperion CDA-66963] or the sweeping grandeur of Earl Wild with the Royal Philharmonic Orchestra under the direction of Joacha Horenstein offering up Rachmaninov - Piano Concertos Nos 1-4 [Chandos CHANX 10078], they consistently provided me with an almost unnerving glimpse into the performance, seeming to peel away any and all hindrance, almost revealing the soul of the performers. They immediately won me over with their ability to recreate the verve and shimmer of one of the most challenging and intricate of all instruments.
Their infallible capacity to probe directly into the heart of the music, to uncover the essence of a performance, is made starkly apparent with the human voice. Listen to the self-mockery of Tori Amos on Little Earthquakes [Atlantic 7 82358], the mischievous wile of Ricky Lee Jones on her eponymous debut [Warner Brothers BSK 3296] or the unrestrained passion of Sarah McLachlan from Fumbling Towards Ecstasy [Arista ARCD 8725], only to find them all equally exposed and presented. Neil Young's anger and irony from virtually any of his works are laid bare for any that care to listen. Thomas Dolby's acerbity and satire on Aliens Ate My Buick [EMI E1-48075] have never been so obvious. Stevie Ray Vaughan's constrained angst on Absolute Analogue's wonderful 180-gram remastering of Couldn't Stand The Weather [Epic 25940] becomes a near visceral assault on the listener.
While the under hung mid-woofers deliver the foundation of the Adagio's stirring performance, it is only when combined the exceptional speed and responsiveness of this singular planar tweeter that their "flavor" and unique sonic character solidify, pushing their performance over the top. Their sheer musicality speaks to how well these specially built drivers integrate with one another. Their coherence is so accomplished that will be forced to ask yourself why so many other two way systems are unable to achieve this level of performance.
Further, their ability to get out of their own way and fill my listening space with music is unparalleled in their class. Chicago Blues icons Carey Bell, Billy Branch, James Cotton, and Junior Wells are spaced evenly across the plane of the soundstage on "Down Home Blues," the opening cut from Harp Attack [Alligator ALCD-4790]. Each performer takes his turn soloing on this fun cut, both vocally and with his "harp." Cary Bell has never been more solidly and accurately portrayed outside the left edge of the left speaker with any speaker system I've ever heard, period!
The only real foibles in their performance come at the lowest of frequencies and with their dynamic prowess. Though rated to 30Hz at the low end, the system really begins to roll off and lose accuracy and coherence in the last octave and a half or so, starting at about 60Hz, at least, in my room. There is information there, but as I've indicated, its output begins to drastically diminish from that point on down, manifesting as a loss of rhythmic coherence and a slighting of the weight and drive of the music.
The bass drum and guitar contributions on "The Ability to Swing," from Thomas Dolby's Aliens Ate My Buick [EMI E1-48075], while noticeably underdeveloped when compared to my $21,000 reference speakers, was able to present enough of its rhythmic component to preserve much of the illusion. Along with this diminished bass output, macro-dynamic "attack" can also suffer slightly. Take for instance the wood chopping axe strikes from "Too Much Rope," from Roger Waters' magnum opus, Amused to Death [Sony/Columbia CK53196]. While still rendered effectively, I have grown accustomed to the unreserved visceral attack that can be served up by a larger, more dynamic speaker when that axe hits wood.
This should not be seen as serious damnation; far from it, in fact. After all, how many other speakers that employ only twin 6.5 inch drivers crossed over to one tweeter, with no dedicated midrange driver, are able to fair any better? See what I mean? All things considered, when looking at these limitations objectively, such particular shortcomings should be seen as completely understandable, almost insurmountable, given the limits imposed by the driver complement. And, it really peaks my curiosity to see what Robert may introduce next to top himself!
I tried the Adagio's with a fairly wide variety of amplification; gain-clone, linear solid state, class-D, and tubes. They were up to the challenge equally, revealing the warts or beauty of each amplifier they fed from. In my listening room, with every amp I sampled, they showed no particular dependency, proving to be remarkably amplifier independent. The same independence was exhibited with cables. I used Audience, MIT, Harmonic Technology, STEALTH, and Robert's own Acoustic Zen, again, with the speakers revealing only the weaknesses or strengths of the pairing.
In my opinion and experience, you will have to spend close to six thousand dollars to find a speaker that will compete with, let alone best, the Adagio in overall terms of lack of coloration, coherence, and utter musical clarity. Their faithfulness of timbre, their ability to so convincingly decode spatial information, and their beguiling ability to resolve micro-dynamic shadings, rhythmic components, and treble detail put them in a class almost unto themselves. They have such an unbelievable knack for resolving fine musical detail that I still find myself wondering how Robert was able to afford them such a comparatively modest price tag. Go out of your way to listen to a pair. Your musical sensibilities will be very glad that you did! Greg Weaver
Adagio
Retail: $4300 a pair
Acoustic Zen Technologies
16736 West Bernardo Dr.
San Diego, CA 92127
TEL: 858. 487. 1988
email address: InfoZen@AcousticZen.com
web address: www.acousticzen.com
Read more on the Adagios here.