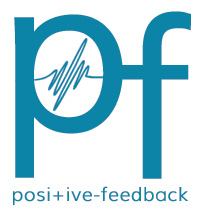 You are reading the older HTML site
Positive Feedback ISSUE
31
may/june 2007
A Highly recommended pair from Telarc: One aimed squarely at audiophiles and the other aimed at music lovers and potential classical music lovers
by Karl Lozier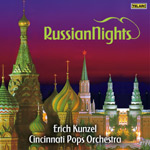 Russian Nights, Cincinnati Pops Orchestra. Conductor: Erich Kunzel Telarc Surround Hybrid SACD- 60657
The Russian part of the title is a straightforward reference to the Russian composers featured on this excellent release; I know nothing about the nights. This is a particularly beautiful SACD hybrid compilation recording of music that will be very appealing to classical music lovers and perhaps even more so to listeners looking/listening for outstanding introductions to classical music (think immediately appealing). The fifteen tracks represent ten composers. Some of the most familiar selections here are so called "chestnuts or war horses" and commonly used as encore selections at live concerts. They should be appealing to newcomers to classical music (Borodin's Polovtsian Dances). Others, while appealing to newcomers, will also generate interest with long-time classical lovers because they are not widely known and as a result can be difficult to find (Liadov's The Music Box, Mussorgsky's Polonaise and my long-time favorite Ippolitov-Ivanov's Procession of the Sardar). Sardar is a Caucasian term for tribal chieftain. All in all the choice of selections is excellent, varied and almost universally appealing.
Fortunately the performances by the top-flight Cincinnati Pops Orchestra (now up to 80 Telarc releases) and conductor are equally excellent and appealing. Specifically I find this to be the best overall performance by Erick Kunzel in my recent memory and the equal of any currently recording conductor of music of this genre. The sound quality is truly excellent with smooth reproduction of the strings, fine but still slightly distant sound quality to the horns and brass. Owners of loudspeakers with level controls can easily improve things with slight adjustment of the mid-range control- that is why the manufacturer included it for music lovers. The drum thwacks deserve special mention. Audiophiles and music lovers need to remember that there is no exact, real or easily repeatable drum sound. It depends on exactly how the drum is tuned, which type of mallet is used, where the drum is positioned (same placement effects as with loudspeakers) and where the recording microphone is placed and so on. With that in mind this drum sound captured is outstanding. Do remember that quality is more important than quantity. Can you knowingly describe the differences between more bass and better bass? Here it is rich with a fully encompassing bloom and a solid palpable feeling. At least three tracks showcase this fine bass drum about a realistically as can be expected with the sound seemingly arising from the entire floor area and then enveloping. Overall detail, even in the entire bass range, is excellent though perhaps subtly lacking in the range affected by the relatively distant perspective accorded to the brass players. As a result this excellent disc is very highly recommended. Keep buying the SACD releases to ensure future supplies of them! Manufacturers respond to sales or lack of them.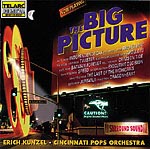 The Big Picture, Cincinnati Pops Orchestra. Conductor: Erich Kunzel, Sound Effects Design: Michael Bishop. Telarc Surround Hybrid SACD-60437
This seems to be the most recent effort by the recording engineer that I dubbed "The Apparent Crown Prince of Special Effects" many years ago. Pay heed to warnings and notations on the case and in the liner notes booklet. "Caution Digital Sound Effects at high levels with infrasonic frequencies to 5Hz!" This warning is not to be taking lightly and though it may seem strange to some of you I need to once again warn that physical damage to your sound system is actually more likely to happen with lower powered equipment. The reason behind my comment is that sort of equipment is far more likely to be driven into severe distortion at the frequency extremes and not just on low frequency pulses; fried tweeters are still an event to be considered when trying to completely reproduce very high level frequencies generated by nonmusical sources! Another important announcement on the back side of the jewel case is as follows: The stereo program on this SACD appears only on the hybrid CD layer in order to accommodate the over 76 minute multi-channel surround program. I can assure you that in at least some instances no sound will be forthcoming unless you deliberately switch your player to the CD layer by using the remote control supplied with your player if no such control is on the player (usually front panel).
The disc contains 24 tracks and almost half of them are less than two minutes long. Every track seems to be exceedingly well done and not just by Michael Bishop and his fine crew (a great deal of effort goes into a special project such as this). Here the orchestral playing, conducting and overall audio quality are all of the highest musical qualities and enjoyment. It has been almost popular to criticize, often unfairly, Erich Kunzel's performances of so called "light, pop or semi"—classical music. In that situation he is often being compared against dozens of the greatest conductors in recorded history though most notably with that icon of light classical music favorites, Arthur Fiedler with the Boston Pops. With film scores, such as the slightly unusual compilation on this release, (and others) I have come to the conclusion that Erich Kunzel, with the fine Cincinnati Pops Orchestra, stand with or above any other group regularly recording music from motion picture soundtracks.
That takes care of the performance aspects of this recording. Audibly this is the equal of Telarc's best and is noteworthy for great clarity and detail over the entire audible range. Distortions and harshness are conspicuous by their absence. The power of a hundred-plus size orchestra is offered here. Audiophiles will find it difficult to find anything to equal much less surpass what Bishop has captured and released here. A particularly fine example is the track, The Apollo 13 Mission. Multiple microphone placements varied from 450 feet to 2 miles from the launch site. As Michael Bishop puts it "the distant microphones are responsible for the lower frequencies that will lift your playback system off the floor as the rocket ascends—the closer microphones pick up the enormous high-frequency energy of the rocket engine blast—no playback equipment can realistically portray that power; use caution! With his slightly warped sense of humor, of the last track titled Bovine Barnstorm, Michael says "Caution: that giant sucking sound you hear is your speaker system collapsing!"
In addition to the highest possible recommendation to audiophiles there is much for music lovers to enjoy here, and in relatively long passages compared to the audiophile oriented selections. The introspective and almost hauntingly beautiful finale of Dragonheart at six minutes is an example. These selections are not mainly from the most popular motion pictures and obviously not just the main or best-known themes. Play this recording for someone that is a motion picture buff and see how many of the films he or she can guess while listening! My guess is that half correct guesses would be hard to surpass.