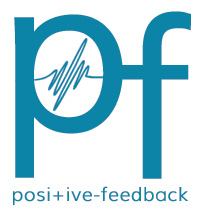 You are reading the older HTML site
Positive Feedback ISSUE
31
may/june 2007
Vinyl From the Vault - Something New, Something Borrowed, Something Blue
by Myles B. Astor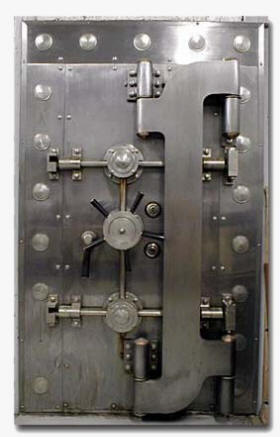 Arghhh... The chocolate truck just delivered yet another box of new vinyl records. There just doesn't seem to be enough hours in the day to listen to and review all this deluge of LPs! In just the last two months, I've spent close to $1600 on new and reissued vinyl from likes of Analogue Productions, Mobile Fidelity, Pure Pleasure Records, Four Men with Beards, Cisco Music and a host of other record labels. There's no escaping this fact: with this glut of vinyl LPs, there's absolutely no reason for any self-effacing audiophile not to own a turntable. My prediction: in ten years from now, we'll be looking back on this period in high-end audio history as the Second Golden Age of Analog.
Returning to 2007. Mountains of records with more UPS deliveries to come. Without further ado, here's the first of many installments to come of the many treasures being reissued on vinyl today.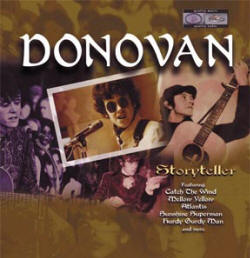 Donovan: Storyteller, MS Music/Audio Fidelity MUS (2)-001. Remastered by Steve Hoffman/ Kevin Gray, 2005.
Dononvan aka "Donovan Phillips Leitch" is perhaps the most underrated and least appreciated '60s rock artist. The man inspired a future generation of artists and groups including the Beatles, Led Zepellin, Van Morrison, Eric Clapton, Brian Jones and Jimmy Page. Donovan proved a master at blending jazz, rock, folk, psychedelic and non-western musical forms. In fact, Donovan's producer Mickie Most saw in him, as related in the Autobiography of Donovan: The Hurdy Gurdy Man, "the potential for a veritable new fusion of music, a 'world music.'" Donovan, as were many leading artists of the day, was inspired by the music of Woody Guthrie—not to mention, the mysterious claw-hammer style of the Carter family, Rambling Jack Elliot, the flat picking style of Doc Watson, Bert Jansch (later of Pentangle) and Deroll Adams.
There's no more fitting title for this collection of tunes from the person who thought of himself as the Scottish Woody Guthrie than Storyteller. As Donovan shares in his autobiography, he found his true calling in life after the release of "Colours" (the second track on Storyteller) to be "sharing a visionary world." Donovan continues, "I thought to myself, it is storytelling, man…" Originally issued by Audio Fidelity on CD in 2003, Storyteller is, courtesy of the MsMusic folks, now available as a pure analog, double disc set. Storyteller consists of two records: a 33 rpm disc containing Donovan's earliest recordings released on the British Pye record label and his later, Mickie Most produced songs (1965-69) appearing on the Epic label and the highlight of Storyteller, a 45 rpm disc containing four sonic blockbusters.
Side one of the 33 rpm disc starts off with the Donovan trip with his first Pye Records release, the Dylan-esque tune "Catch the Wind," replete with vocals with backing strings. Other well-known hits from his Pye years appearing on the 33 rpm disc include "Josie," "Turquoise," "Sunny Goodge Street" and the Buffy Sainte-Marie anti-war song "Universal Soldier,"
Storyteller's highlight is though without question, the accompanying 45 rpm mastered disc (here's one of the few times it's worth buying an album for just four songs). Kicking off the A side of the 45 rpm disc is the psychedelic as Donovan describes it "three cord Latin rocker" "Sunshine Superman" (released in July 1966 on Epic/US) with its assorted LSD references. (note that because of legal difficulties, many of Donovan's later songs first appeared in the US before the UK or Europe.). Backing Donovan on this track are none other than Eric Clapton and then session man and future Led Zeppelin member, Jimmy Page. The first product of the Donovan-Mickie Most collaboration, "Sunshine Superman" reached number 1 on US and number 2 on the UK charts.
Following "Sunshine Superman" is none other than the ALL-time hit "Mellow Yellow" with its muted horns. Described by Donovan as "a throwaways—sing along at private parties," "Mellow Yellow" is perhaps Donovan's most misinterpreted hit. People have long speculated this "drug song" referred to smoking bananas—or for some ridiculous reason, even abortion—when in reality "Mellow Yellow" was simply a brain dump, stream of consciousness.
The flip side of the 45 rpm disc contains the '68 Epic Records blockbuster release "Hurdy Gurdy Man." Written after his visit, along with the Beatles, Mike Love of the Beach Boys and others, to explore transcendental meditation with the Maharishi Mahesh Yogi, there's no mistaking the Eastern influence in this as Donovan describes it, "a metal rocker piece." There's also no disputing the fact that Donovan actually wanted Jimmy Hendrix to perform or play on "Mellow Yellow" but was dissuaded by his producer Mickie Most. What remains in dispute, however, is who backed Donovan on this song. While Donovan claims the session musicians were Jimmy Page, John Paul Jones and John Bonham, it's more like he was accompanied by long time friends Danny Thompson and Bert Jansch.
Last but not least is, especially for the time, the highly unusual Donovan release "Atlantis." Though attributed to Mickie Most, "Atlantis" was actually produced by Gabriel Muckler, a LA based producer (the reason for Most being given credit "Atlantis" is as Donovan explains in his autobiography, that the song couldn't get released without Most's name). Based on Frederick S. Oliver's A Dweller on Two Planets, "Atlantis" features the highly unusual and virtually unknown in its day, spoken introduction along with piano strings strummed with a quill simulating the effect of synthesizer (way before synthesizers became the norm).
As might be expected, the sound varies from track-to-track. Instruments dating back to the Pye years tend to be better recorded than the somewhat grainy and sometimes distorted vocals. "Catch the Wind" is among the better sounding cuts (all of a sudden, it's being used by GE for its TV wind energy advertisements and also on a recent episode of the Bruckheimer hit show Cold Case.) "Hey Gyp" tends to have a little boomy quality to it. "Sunny Goode Street," the Bert Jansch inspired (and somewhat forerunner of Beatles) song also ranks among the better sounding tracks.
It goes without saying that the producers saved the best sounding songs of the group for the 45 rpm release. These recordings have, especially for '60s rock recordings, a soundstage and some semblance of depth though "Hurdy Gurdy Man" does suffer from some congestion and boominess. Unlike many rock recordings of this period, there's actually a midrange response on vocals e.g.. they're not sucked out and hollow sounding. Here "Atlantis" wins best of show sonics for its complexity, very wide soundstage and depth and multiple layers of sound.
Finally, what would any best of list be without a little controversy? Of having 15 top 20 songs only makes that task even more difficult! Personally, my must-have Donovan play list include the Mickie Most produced songs "There is a Mountain" (with it's Zen-Caribbean influence), "Guineverre," (the Celtic myth inspired song with sitar and bongos), "Season of the Witch" (Donovan's first use of electric guitar—and we know how traumatic an experience that was for some artists) and finally "Jennifer Juniper" (sung for Jennifer Boyd, the sister of Beatle's George Harrison's then wife, Patti Boyd). Maybe if we ask nicely, MsMusic would see their way to remastering the above Donovan (and other) hits on an all 45 rpm LP!
Run, don't walk to your brick and mortar or virtual record dealer and grab Storyteller while it lasts! While you're at it, pick up a copy of Donovan's autobiography The Hurdy Gurdy Man (St. Martin's Press, 2005). The book is a fascinating read about the history of rock and roll—and in particular gives an deep insight into how the post-WWII socio-economics affected the British rock scene.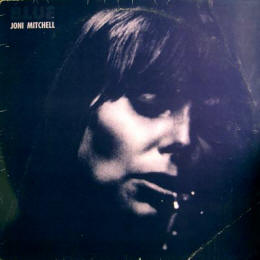 Joni Mitchell: Blue, Rhino/Reprise 74842. Engineer: Henry Lewy; Remastering engineers: Steve Hoffman/Kevin Gray. Recording date: 1971.
Blue, Canadian born musician, songwriter and painter Joni Mitchell's fourth album, is best known for her personal catharsis, confessions and deepest, inner most thoughts. Songs on the album range from a child given up for adoption ("Little Green") to her breakup with Graham Nash ("My Old Man") to my favorite about the trials and tribulations of being an artist—not to mention the feelings of loneliness at holiday time ("River"). Like Mitchell laying her life open, there isn't much to the album. Blue is very simply written and recorded album with piano, guitar and Appalachian dulcimer. Mitchell's supporting cast on Blue includes no less than Stephen Stills, James Taylor (by this time Joni's new hearthrob), Pete Kleinow, and Russ Kunkel.
Over the many decades since the albums release, Blue has received numerous awards and accolades; among them are being ranked #30 on Rolling Stone's 500 greatest albums of all time (Mitchell was also the top ranked female songwriter and musician on the list) and #14 on VH1's Greatest Hits of All Time. Blue represents that oh so rare combination of audiophile favorite and musical value—or as it's become known as J. Gordon Holt's Law i.e. the better the recording the worse the performance and vice versa. While many audiophiles liked the sound of the original Blue album, I've always found this recording, like many of it's compatriots of that time, electronic sounding, possibly a direct result of the solid-state electronics of the day or the use of reverb plates in the mixing of the album. Mitchell's voice is recessed and lacks body and has a slightly irritating, distorted and electronic quality.
On hand for head-to-head comparisons with the 2007 Rhino reissue were an original Blue release on Reprise and a later, mid-80s German release purchased several years ago in the UK. There's no need to spend much time on the sound of the German repressing. Any resemblance between the original and the reissue of Blue is purely coincidental. Either the reissue was cut from a poorly made safety, or even more likely, a digital dupe. Whatever the source tape for the reissue, this German pressing is simply dreadful, not unlike other German rock reissues from that period: two-dimensional, grainy, bright and thin. There's absolutely nothing happening at the frequency extremes. Oh, and the people behind this catastrophe were even too lazy to even reissue the jacket in its original gatefold format. Don't waste your money.
It's a totally different tale when the 180 gm Rhino reissue went up against the original pressing. For whatever the reason (that's a topic for another day), most reissues rarely equal, much less surpass, the sound of the original album. It's a different story with Blue, quite possibly Steve Hoffman's best work to date (along with the new Herbie Hancock Takin' Off on Cisco Music). Hoffman's reissue brings oh so much more to the table. Frequency extremes are more extended though at time the bass does have a slight boomy quality and loss of definition (the boominess is present, but less obvious, on the original because of the pressing/mastering quality). The Rhino reissue has far more center fill as if Hoffman has remixed the tracks. Vocals exhibit less breakup and Mitchell's voice has a more realistic 3-D feel.
Of course, there's as commonly found on almost all rock and jazz albums, track-to-track sonic variability. On "Blue," Mitchell's piano is more robust and harmonically complex. Though less harsh than the original, Mitchell's voice on the reissue is a tad thick. On "River," my favorite track on the album (and certainly several others based upon the number of times others have performed the song), Mitchell's voice is far more breathy adding to the overall plaintiff feeling of the song. On "California," Mitchell's vocals are more dynamic and less distorted.
The best news of all? Blue is just the first of many new rock albums to be remastered by Hoffman and Gray. By the time this article appears online, there will be nine new 180 gm audiophile Rhino reissues done by Mssrs. Hoffman and Gray including personal faves James Taylor's Mud Slide Slim and Sweet Baby James, Van Morrison's Moondance, Fleetwood Mac's Rumours and Rickie Lee Jones Rickie Lee Jones.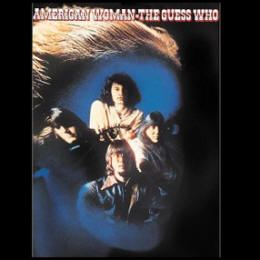 Guess Who: American Woman. Cisco Music/RCA LSP-4266. Producer: Jack Richardson. Recording engineer: Brian Christian. Remastering engineers: Kevin Gray and Robert Pincus. Recording studio: RCA Mid America Recording Center, Studio B. Recording Dates: August 12-November 16, 1969; Release date: January 1970.
Another Canadian export making their mark on the late '60s American rock music scene was The Guess Who. American Woman, featuring Randy Bachman's fuzz tone guitar and Burton Cumming's vocals, was the groups answer to the increasingly edgier, hard rock style being popularized by Cream and Jimmy Hendrix. Produced by legendary rock impresario Jack Richardson (whose credits include Alice Cooper, Bob Seger, Peter Gabriel, Pink Floyd and Badfinger), American Woman (following on the heels of Canned Wheat with the hit songs "These Eyes and Laughing") was the groups most successful release with the three top forty hits "American Woman, No Time and No Sugar Tonight/New Mother Nature."
In addition, "American Woman" was the first single from any group north of the border to rise to number one on the US music charts. This controversial song—that may as Randy Bachman claims to be a metaphor for the Statue of Liberty—had two versions: rarely heard on radio was the 1:15 minute acoustic guitar and spoken word intro. American Woman also marks the bands last album before Randy Bachman broke rank and formed Bachman-Turner Overdrive. (While the groups name was a marketing stunt, Guess Who might just have as easily referred to who was in the group since the members turned over so rapidly.)
Sonically, the album, unfortunately, doesn't live up to its billing. While my original copy of American Woman is history, I really don't hear Cisco Music's claimed wide dynamics, bass extension and clarity (though I don't have original and perhaps the reissue is better). Burton Cumming's vocals are muffled and distorted, and is the case for many rock recordings, lacks midrange presence. The frequency extremes, are basically missing in action. The album is dry sounding, two dimensional and electronic. Probably the most disturbing quality, though, is the overt compression applied to the recording that results in lack of musical life.
American Woman is best bought for the music and the memories.
Lightnin' Hopkins: Lightnin' in New York, Pure Pleasure Records/Candid 9010. Recording supervisor: Nat Hentoff; Recording Engineer: Bob d'Orleans. Remastering Engineer: Ray Staff. Recording location: NOLA Studios, New York City. Recording date: November 15, 1960.
Lightnin' Hopkins: Lightnin', Analogue Productions/Bluesville BV1019 (45 rpm). Recording engineer: Rudy Van Gelder. Remaster engineers: Steve Hoffman/ Kevin Gray. Recording location: Englewood Cliffs. Recording date: November 9, 1960.
Lightnin' Hopkins: Goin' Away, Analogue Productions/Bluesville BV1073 (45 rpm). Recording Producer: Ozzie Cadeno; Recording Engineer: Rudy Van Gelder. Remastering engineers: Steve Hoffman/Kevin Gray. Recording location: New York City. Recording date: June 4, 1963.
Lightnin' "Sam" Hopkins doesn't need any introduction. This Texas-born blues guitarist influenced countless generations of musicians ranging from The Grateful Dead to John Lee Hooker to Bob Dylan to The Jefferson Airplane.
Both Lightnin' in New York and Lightnin' were recorded shortly after Hopkin's first trip to and concert at Carnegie Hall in New York City; Going Away was recorded roughly three years after the first pair of recordings. Each album provides a very different musical and sonic perspective of the great Hopkins. Lightnin' and Goin' Away were recorded by the great Rudy van Gelder while Lightnin' in New York was recorded by Bob D'Orleans (who was about to go onto bigger and better things in the recording industry). All three albums were recorded with tube microphones and electronics and the legendary Ampex 300 reel-to-reel tape deck.
Let's put these albums in their proper historical perspective: Hopkins career was in the late '50s and early '60 experiencing a new upswing driven by a younger and a more mainstream white audience. Hopkin's first concert in New York took place to a rousing reception at Carnegie Hall—and Lightnin' and Lightnin' in New York document this first trip to the big city.
The somewhat more obscure Lightnin' in NY first appeared on the extremely short lived (1960-61) Candid record label. Candid, a jazz subsidiary of Archie Bleyer's Cadence Records, was run by the renowned Nat Hentoff and featured artists such as Charles Mingus, Phil Woods, Clark Terry, Max Roach and Coleman Hawkins. Lightnin' in New York was recorded at NOLA studios on 57th Street (just half a block east of Carnegie Hall in the Steinway Building) in New York, at a time where the city populated by many small, independent, recording studios. Lightnin' in NY features Hopkin's distinctive "fast finger" style that allowed him to create the illusion of a backing band. Captured for all time is a classic Hopkins performance where the Texas Blues master simultaneously plays bass, rhythm, lead, percussion and sings—along with a rare piano solo.
Lightnin' Hopkins in New York is once again available in vinyl format courtesy of UK-based Pure Pleasure Records. Lightnin' in NY was remastered from the original analog tapes by Ray Staff at Alchemy Mastering in London, UK. The master tapes were played back on a Studer A80 Mk. 2 machine with preview heads and mastered on a Neumann VMS82 lathe equipped with a Neumann SAL74 cutter head feeding Neumann SX74 cutter amplifiers. The records were pressed on 180 gm vinyl at the Pallas plant in Diepholz, Germany. While Staff isn't exactly a household name in the US vinyl remastering market, he is a veteran of the engineering console having worked with and mastered albums from Led Zepellin, David Bowie, Elton John, Cat Stevens, Genesis, Van Morrison, not to mention many audiophile record labels. In fact in a 2004 interview in Resolution magazine, Staff averred that "80% of Alchemy's mastering output is vinyl," and "he is cutting more vinyl than he was ten years ago and that the UK remains something of a lathe capital of the world."
The other two Lightnin' Hopkins albums emanate from the superb ongoing Analogue Productions "the best jazz ever," 45 rpm series. On "Lightnin," we find Hopkins teamed up with longtime jazz session veteran Leonard Gaskin on bass and Belton Evans on drums. Recorded by Rudy van Gelder in a somewhat more acoustic and spacious environment than the Candid recording, Hopkin's plays some old blues standards such as Brownie McGhees "Back to Orleans" and Arthur" Big Boy Crudups" Mean Old Frisco." The album's highlight is "Katie Mae," Hopkins (and Thunder Smith's) first hit from his Aladdin days, with its humorous lyrics.
Rudy van Gelder returns two and a half years later to New York City with Hopkins to record Goin' Away (the sit isn't identified by it could possibly be NOLA or Beltone studios). Hopkins sings and plays acoustic guitar accompanied by the rhythm section of bassist Leonard Gaskin and drummer Herbie Lovelle. "Going' Away," one of those wonderful blues style love songs, is notable for its exceptional Hopkins guitar solo.
Each of the recordings couldn't have been more different sonically! Lightnin' in NY is a very close-up recording and the darkest sounding of the group. To its credit, instruments possess an incredible sense of dimensionality and Hopkins sounds like he is standing in the listener's room. Hopkins voice is incredibly smooth but a bit of an upper bass boost colors and thickens his distinctive baritone voice.
Lightnin', the first of the two van Gelder recordings is somewhat puzzling. The album sounds like van Gelder was still experimenting with the newly developed stereo format. Lightnin' is essentially a multiple mono recording with Hopkins in the left channel and the other instruments located in the center and right channel. The recording perspective is set somewhat further back than the Pure Pleasure release giving the listener the impression of being in a club. There is, however, a greater sense of monkeying going on with the vocals that results in Hopkin's voice sounding a touch thinner, grainier and more electronic than the Pure Pleasure/Candid release. By the time Goin' Home was recorded, van Gelder seems more comfortable with the stereo format and Hopkins is now firmly planted now back in the middle of the soundstage where he belong but his voice sounds less natural eg. more processed than the earlier two issues.
This trio of Hopkins recordings absolutely belongs in every audiophile's music library. Pure Pleasure Records in particular, deserves special mention for unearthing yet another musical and sonic gem, this time from the vaults of Candid Records vaults, and releasing a stunning sounding record.