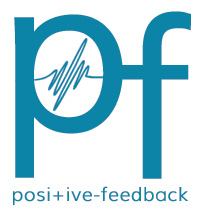 You are reading the older HTML site
Positive Feedback ISSUE
32
july/august 2007
Notes of an Amateur - July, 2007, Part 1
by Bob Neill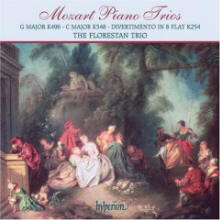 Mozart, Piano Trios K. 254, K.496, and K.548. The Florestan Trio: Anthony Marwood, violin; Richard Lester, cello; Susan Tomes, piano. Hyperion 67609
If you a fan of the Florestan Trio, it is easy to get into the habit of damning them with faint praise. They are such consummate professionals that their musicianship tends to disappear into the music. This is particularly true of their Mozart—and this is the second they've done of his piano trios. (http://www.positive-feedback.com/Issue27/amateur2.htm) It is music that eschews flamboyance and showmanship. It is like a finely woven tapestry. The best performances distinguish and blend its threads as the score prescribes. Which is what the Florestans do. This does not mean they play dull, as their performance of the brilliant K548, a work with more contrast and spunk than the two earlier works on the program, eloquently demonstrates. We get to hear the character of each of these fine musicians. No faint praise due here: this is top-drawer Mozart given its full due. Robert Philip is his (always) informative notes reminds us that K.548 is contemporary with the composer's 39th and 40th symphonies.
Until now, my favorite version of this music has been the Mozartian Trio's (Harmonia Mundi HMU 907033), which has a lighter, brisker, crisper feel, thanks primarily to that ensemble's period instruments, though it is also a matter of performing style. The Florestan's approach, also a matter of both their modern instruments and personal style, results in a more full-bodied, less precious performance. It has no less flair than the Mozartians's version—the Florestans always do flair well—but it feels more substantial. We hear the Mozart Beethoven heard.
Ah well, definitive as usual. It you want to spend a great musical weekend, taking you from the classical to the early modern period of music history, consider listening to the Florestans playing the piano trios of Mozart, Beethoven, Schubert, Schumann, Mendelssohn, Dvorak, Brahms, Saint-Saens, Faure, Debussy, and Ravel over the two-three days. I did this once and both heard and learned things I'd never heard or knew before. May they play together forever!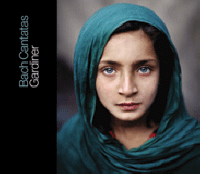 Bach Cantatas, Volume 22, Easter Cantatas. Monteverdi Choir, English Baroque Soloists. John Eliot Gardiner, director. Soli Deo Gloria, SDG 128.
I have nothing especially new to report on this splendid ongoing cantata series beyond urging you to get onboard. While Sundays have stopped having much specifically to do with Christianity in many of our lives, I still find them a little different, especially the mornings, which as a child I spent in a huge, though still miniaturized gothic style church as the son of a Presbyterian elder. At this stage of my life what's left of Sunday mornings is an aesthetic residue. As it did for the Victorians, religion has turned into art. So for me, not surprisingly, art, even contemporary novels, is about seeing the world in its timeless aspect. Why else bother with it? We have newspapers and TV for the world marooned in time.
Bach is a genius in this regard. Even if you aren't aware that these cantatas are 'about' Easter, even if you don't know German, there is never any doubt in listening to this music that we are at "the still point of the turning world." We are in the world, it's the only place we know. But things feel clearer and more coherent. And more beautiful. Timeless.
As usual, Gardiner's Bach wears its gravitas lightly. Eternal matters need not be grim nor even especially weighty. These performances are brimful of confidence and the mainly positive attributes of partaking in an eternal perspective, especially one that reconciles one to death! Even those of us who are unable to share its optimism can recognize and enjoy the eloquence of its joy. Which is why music is such a powerful medium, transcending both text and intentions. Joy is joy. Hallelujah!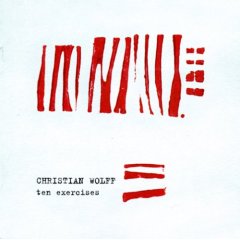 Christian Wolff, Ten Exercises. Natacha Diels, flute; Garrett List, trombone; Larry Polanksy, electric guitar; Michael Riessler, bass clarinet; Frederic Rzewski, piano; Robyn Schulkowsky, percussion; Chiyoko Szlavnics, soprano saxopohone, percussion; Christian Wolff, piano. New World, 80658.
The best way to discover whether or not a piece of contemporary avant-garde, surreal, experimental (or whatever we're calling it these days) music works—whether it is in fact music or not—is not to come to it from traditional classical music but the other way around. Listen to 78 minutes of Christian Wolff's Exercises and then put on some Mozart. If the Wolff is not music, we will experience relief. But in fact we don't. Or at least I don't. For a moment or so, the Mozart sounds square! Confining, overly formal, artificial. And then I make the adjustment because of course the Mozart is music. Too. I found this a very instructive exercise.
Wolff is often associated with John Cage and Morton Feldman, which makes musical sense. But I find him more appealing than either. These Exercises run from a little over two minutes each to little under eleven. They involve (Wolff doesn't specify instrumentation, he tells us in the notes) electric guitar, soprano sax, bass clarinet, flute, piano, vibraphone, marimba, trombone, and various kinds of percussion. They sound whimsical, fresh, peaceful, modest, and good natured. Like the Cage music for guitar in the CD reviewed earlier, they make effective use of space—ellipses, pauses, which have a freeing effect. The bass clarinet makes the recording worth it all by itself. In two duets, with marimba and then vibraphone on exercises 3 and 6, it nearly steals the program.
There are actually twelve cuts on the disc—two of the exercises are presented in different versions. Wolff expects a good deal of improvisation from musicians (including himself), and so the Exercises often come through like alternative takes on a jazz record.
The world of classical music is far larger than many of us imagine.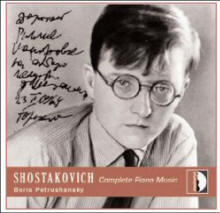 Shostakovich, Complete Piano Music. Boris Petrushansky, piano. Stradivarius STR33763.
When the gods come to decide where Dmitri Shostakoivich belongs on the Eternal Ladder of Musical Merit, I would bet they will base their judgment on his string quartets, String Trio No. 2 in E Minor, and music for solo piano, not so much on his larger scale works, as flamboyant and lovable as some of them (especially the concertos) are. And my ears tell me this 'smaller' music will put him very high up.
Not many of us amateurs knew much about his brilliant 24 Preludes and Fugues for solo piano before Tatiana Nikolaeva's award-winning set of CD's for Hyperion in 1990. (Actually, her 1997 performance for Melodiya is even better, especially its sonics.) We are told that Nikolaeva saw each of the preludes as they came into being from the composer's hand and premiered them in 1952. Since then, we ignoranti began to discover the rest of the composer's piano music. (And Keith Jarrett did a reprise of the 24, demonstrating they could also be jazz.)
Here we have, from the hands of another eloquent and highly regarded Russian pianist, Boris Petrushansky, a five-disc set of the composer's entire output for solo piano on the Italian label, Stradivarius, which recently brought us Gubaidulina's complete music for piano played by Diana Baker (http://www.positive-feedback.com/Issue29/amateur1.htm). I am getting an excellent impression of this label!
I would not have known of this set but for my monthly routine of checking the new releases list from MDT in the UK, a fine source for classical CD's as well as release information, by the way. (www.mdt.co.uk)
The album is arranged chronologically, enabling us to hear Shostakovich develop and to hear what Elena Auerbach, the album commentator, calls "the great miniatures" on their own, before they are overshadowed by the later, grander stuff. There is not a dud in the batch. The 24 Preludes, Opus 34 written nearly twenty years before the more famous set of preludes and fugues, is spell-binding.
Comparing Petrushansky with Nikolaeva on the 24 Preludes and Fugues, she is the more straightforward, letting us hear the music's continuity with earlier works in music history, especially Russian; he is the more modernist, who 'hears' the music as a monument of Modernism. Her performance is emotionally warmer, more passionate; his is more poetic, introspective. Her touch is heavier, his lighter. Composers do not generally know what (or all that) they have written, only what they intended to write. Sometimes it takes a new performer with some distance from the composer to show us what else may be in his music, what he did not know he knew. Nikolaeva'a Shostakovich sounds closer to what Shostakovich likely intended, which, given the close relationship between them, is not surprising. Petrushansky's sounds more like the piece of modernist music that is also deeply imbedded in this mighty work. I will not be able to live without either. And neither should you.
Note: this five-CD set retails for what amounts to $11 a disc!
System used for these auditions: Audio Note CDT 3 transport and Dac 4.1 Balanced Signature; Blue Circle FtTH hybrid integrated amplifier; JM Reynaud Offrande Signature speakers; with Audio Note Sogon interconnects and Lexus speaker cable.
Bob Neill, in addition to being an occasional equipment and regular music reviewer for Positive- Feedback Online, is also proprietor of Amherst Audio in Amherst, Massachusetts, which sells equipment from Audio Note, Blue Circle, Manley Labs, and JM Reynaud, among others.