How does one feel when one hears a piece of equipment that sings? One where the pace and rhythm of a Monk quartet is spot-on or the music of the Rolling Stones gets you jumping around the room, and yet…?
I'm an analog guy. I don't try to hide it and most of you know it anyway. Part of it is that I have so much more to listen to; I have 500—more or less—CDs versus 10,000 LPs. Even so, the LP collection has been heavily pruned while the CD collection just sort of sits there. I work quite hard on my LP collection, organizing, upgrading individual records, adding new and used …and listening.
CDs, well, they just sort of grow roots. I can't say I don't buy new ones; that would be a lie. I buy anything if it seems like I'll enjoy it …but I rarely do that. I have a few favorites and I return to them often. The others I look at, but as for repeated listening, few get played much after a few listening sessions.
So what does this have to do with a review about a preamp? Well, the Cary SLP-03 has no phonostage; which is not at all unusual these days, but I'm used to a full function preamp …one that has a phonostage. I have played with the idea of getting a separate phono preamp, but you're talking to a guy who began this audio journey riding upon a Marantz integrated amplifier …not separates.
Nevertheless, separates were what everyone wanted back in those days when Tyrannosaurus was king. I wanted separates too, but LP was running the audio world back then with reel-to-reel and high-end tuners being a rather distant second—at least in my world. So, all preamplifiers had a phonostage and that was the way it was! My Marantz 1120 integrated had a damned good phonostage.
The Cary SLP-03 (featuring four 12 AU7 dual triode tubes) has six (!!!) inputs, plus one set of balanced input connectors. These are marked the usual CD, etc. though one is marked Tuner (people still have those things?). There are two sets of jacks marked auxiliary, a cinema bypass, and tape in/out. This is a preamp for folks who are seriously into many different types of entertainment! The rear of the unit has its right and left RCA inputs ON its right and left sides! The IEC connector separates the right and left connections; the power cord's in the center …incredible. I've fought with far too many pieces of equipment that, having the power cord on one side or the other, made it impossible to keep wires separated from one another. Ingenious There is no problem with stiff interconnects with this baby—manufacturers should have done this years ago!

The Cary sure was a lot easier to use than my Anthem. Even so, the remote control is far too tiny for a man with poor eyesight (Rats, I need glasses again?) and hands the size of a 40 oz. Porterhouse. It is, however, easy to use. Choosing the input is simple and setting volume control and balance is even easier. There is a mute switch, which is easy to find - as opposed to what one finds on more and more remotes. With my TV remote, I have to frantically search for mute when a commercial that embarrasses me is shown on TV. I can't believe a member of the same species as me can make a commercial that is far more stupid than an inbred poodle. Maybe it's inbred poodles making the commercials; that would explain a myriad of things.
The remote also has functions for the Cary CD players. I would have liked the remote to have had more heft rather than being tiny and lightweight. All in all, complaints about the remote aside, the SLP-03 is ergonomic and beautifully engineered and sounds pretty darned good, too!
I used aux 1 to connect the tape out of my Anthem so I could use its phono section. I listened to quite a few CDs; really, I did, and of course, quite a few LPs, though I must admit I listened to a lot more CDs than LPs …so why do I complain?
I really don't know. Perhaps it was the mating of the Anthem's phonostage with the Cary. Maybe the Silver Dragon interconnects and the mosin specials; mosin (lower case m used by him) being a denizen of the Audio Asylum and one of the more committed (or perhaps should be committed) hobbyists out there in the audio world. He's a devotee of the older, idler drive tables; heck, that makes him a certifiable lunatic without the depth he immerses himself in the rest of audiophilia.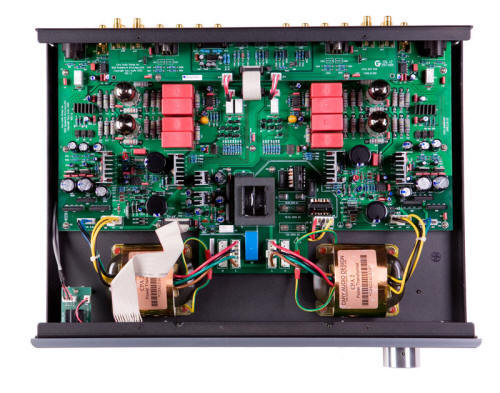 Among other things mosin does is to make some of the most wonderful sounding (or I should say neutral sounding) wires I've used. When I want to hear into a recording I use his copper wire ICs, but I'm not a copper-type guy. I prefer silver wires (like the Silver Dragons) which place a beautiful golden light on all of the music I play—I'm a warm, loving guy.
All that said and done takes me one-step closer to how I feel about the Cary SLP-03. I had the unit plugged in and running for a couple weeks before I got to sit down and listen closely. I was working on organizing my LP collection (I told you I spend more time with LPs, didn't I?) and had music playing through the SLP-03. Some days LPs, other days I played some CDs. The first word I used to describe the sound to myself was "smooth". I repeated that word quite a few times before I finally sat down in my listening seat and began taking notes. I loved everything I heard, especially with CDs. Everything an audiophile/music lover could ever want out of a piece of equipment, the Cary SLP-03 did quite well. It was right on the mark tonally.
I'd like to say, and with the Cary SLP-03 I said it often (and all the other blathering I do), that violins sounded like violins, not guitars …one could easily discern the viola from the violin. It played music! If you have never had the occasion to hear music played through a system that is incapable of playing real music you haven't missed a thing. Happily, the Cary definitely does not suffer in that respect.
Yet, I kept playing CDs even though I had the Anthem's phonostage hooked up. I simply chose CDs more often than LPs when listening to the Cary SLP-03. That is not me. Was it wires? My amplifiers? Don't know, but something kept me from listening to as many LPs I normally would have in a review.
Stating that one hears new things on a well-known disc can get one in trouble: "Why didn't he hear that when he was reviewing the Jambalaya 642?" Many times it's simply a matter of how one feels or how awake one is when listening! But when something leaps out with Lester, I take notice.**
**(a play on the Jazz title, Lester Leaps In for those people not overly acquainted with Jazz) I have to mention it because it may be revealing to someone reading this review.
I had the feeling throughout my time with the Cary that it actually made my CDP sound better. Yes, making a CD player sound like a better CD player …how novel! How shocking! Every time I think my old Audio Alchemy CD player needs to go to my son so that I can upgrade, something comes along to prove that that player still holds its own quite nicely. I was thrilled at how great some of my favorite discs sounded with the Cary SLP-03. I heard things in some very well known discs that I'd never taken notice of through my Anthem …even when it had been connected to a number of other preamps.
With the Cary SLP-03 I was playing more music than I had in quite a long time. For years, I had listened to music instead of watching TV. Recently though I had gotten out of the habit and was using writing reviews as a reason to listen to music. It isn't that I don't like the sound of the system and surely not because I have nothing to listen to, but like any habit, good or bad, I'd broken that habit! The Cary had me back into the habit of listening to music; both CDs and LPs—that is significant!
This is a partial list of the CDs I listened to (I accidentally re-filed them before listing them and didn't find them in my notes)!
David Grisman Tone Poems ACD-10, II ACD18, and III ACD42

Duke Ellington Money Jungle CDP7 46398 2

Jennifer Warnes Famous Blue Raincoat Private Music 01005-8209-2

Paul Simon Graceland Warner W2-25447

Oscar Peterson Trio at the Blue Note TelarcCD-83304

Reiner and the Chicago Symphony Mahler Symphony No. 1 London411 731-2

Ruben Gonzales World Circuit Nonesuch 79477-2

Ray Brown Walk On Telarc 83515

Bob Scobey's Frisco Band L-12006

Mr. De Sainte Colombe Le Fils (Pieces de Viole (Jordi Savall, Viola) AliaVoxAV9827

Lee Morgan lee-way Blue Note CD4034

Dylan and the Dead Columbia CK45056

Dizzy Gillespie Bird Songs Telarc 83421

Pat Metheny Group Still Life Talking Nonesuch 79948-2

Norman Granz' Jam box set

Bonga Angola '72 Tinder 42860622
The LP list is not a short list, either! And keep in mind I'm naming only those recordings I had listed in my notes. I couldn't stop playing music, even to get some sleep.
Hildegard of Bergen LP, "A Feather on the Breath of God" Hyperion A66039

Jennifer Warnes Famous Blue Raincoat (Classic)

Charlie Mingus Pithecanthropus Erectus (Atlantic 1237)

Bill Berry Shortcake (Pure Audiophile PA-004 #70)

Jeff Beck Blow by Blow (Epic AL33409)

Stan Getz , Joao Gilberto Getz/Gilberto (MFSL1-208 #32226)

Muddy Waters Folk Singer (MFSL1-201 #5277)

Tracy Chapman (Elektra 9 E1-60774)

Johann Sebastian Bach, Double Concertos (Schwann Musica Mundi ZKO 50004)

Stephane Grappelli/David Grisman (Warner BSK3550)

Kennethe Gilbert Couperin Concert pour mes amis (Harmonia Mundi HMB340)

Linda Ronstadt Heart Like a Wheel (Capitol SW11358)

Joni Mitchell The Hissing of Summer Lawns (Elektra Asylum 7E251)

Frank Zappa Grand Wazoo (Bizarre MC2093)

Rimsky-Korsakov (Reiner) Scheherezade­ (Classic Records ALSC2446Q)

Sonny Rollins Way Out West (Analog Productions APJ008)

Hank Jones, Clifford Jordan Hello, Hank Jones (East World EWLF98003)

John Fahey, Peter Lang, Leo Kottke Takoma

Joan Baez Diamonds and Rust (A&M SP 4527)

Deep Purple (Tetragrammaton
The CD of Jennifer Warnes' Famous Blue Raincoat gave me the thrills I hear when I listen to the LP. I had always been moved to tears by the title cut when listening to the LP. Not so, with the CD. It left me cold until I listened to it with the Cary in the system! Every song seemed to be wrought differently than when listened via the ACD Pro through the Anthem. I never thought I'd say that I enjoyed listening to both the CD and the LP, but there it was. I must admit I felt a bit miffed.
The snap and attack of the drums on the first cut, "First we Take Berlin" was enough of a shock. Attack, decay…can we praise or blame the production? Who cares, it sounds awesome and gives a real kick to the song! Impressed as I was by the musical attributes of the Cary, I was more impressed by its sonic virtues. On the cut, "Bird on a Wire", Warnes is placed dead center, well behind the speakers. I felt that I could see the wrinkles in her clothes; that is the quality of the Cary's imaging capabilities. My listening notes have me repeating things like "layering of vocals and instruments on "Joan of Arc" is scary!" and "Warnes sings her heart out when pairing with Cohen". "Decay of instruments and voice is natural and lifelike." One can't ask for any more than that in any musical experience!
That "foggy night on the corner" feeling that this recording invokes along with Warnes' voice tearing me apart …that's the stuff of LP playback, not compact disc! The Cary kept showing me what a great CD player my Alchemy still is.
A vast collection can be intimidating for its owner; one gets lost in the largesse. BUT, it means there is music available to examine many parameters that could be forgotten or ignored; a review should reference as many different types of music as possible. But to repeat (and beat a dead horse) I loved listening to CDs with the SLP-03!
The CD box set The Complete Norman Granz' Jam Sessions is so worth the money spent, you may want to give the store extra money to compensate. Each of the jams is well-recorded mono, but through the Cary, great mono with the various instruments' timbres beautifully represented on the recording. Hampton's vibes were rung so beautifully that I really felt that I'd been transported to the sessions; the only trouble being that I was too young to have been there! Eldridges' trumpet sounded about as real as any recorded trumpet has ever sounded in any of my systems in any of my rooms. I highly recommend this set! The Cary set-up was good enough for me to play all of those discs at least twice, if not far more. I never got tired ears or tired musical sensibilities.
I did have a sense of the extreme top-end rolling off a bit, but we may have to blame the old, but still venerable, Audio Alchemy CD player for that. It wasn't bothersome being more a sin of omission rather than commission. Is this an Art Dudleyism? I always though it was far more descriptive than anything else I'd read or could write myself.
Switching back and forth between the CDP and the turntable was however a bit scary. Every time I used that teensy-weensy remote control to switch inputs, there was a loud pop. It didn't matter if I muted, turned the volume down, or what. That pop would scare me on start-up too even with its delay soft start-up cycle. That pop was bothersome to say the least. Perhaps it was the use of my preamp as a phonostage or maybe it didn't like the Silver Dragon interconnects …who knows? I would be interested to see (hear) if the Cary does the same thing in your system.
The Cary strutted its stuff when I played the Hildegard of Bergen LP, "A Feather on the Breath of God" Hyperion A66039. Emma Kirkby's voice was crystal clear, I could hear the glottas …a subtle click when the back of her tongue contacted the soft palate! The voices of the two sopranos, Kirkby and Emily Van Evera, were easily discerned; the subtle differences in their voices being quite apparent. When another, Poppy Holden, joined the other two, there was no hesitation in realizing that third singer had indeed joined them—no blending of their voices into one similar soprano rather than the three. I felt I could see the three of them standing beside one another …the one on the left was heavier than either of the other two.
When I played my original copy of Mingus' Pithecanthropus Erectus I had one of those "This can't be a mono!" experiences. If mono recordings had always been this good we would have never needed stereo. Mal Waldron's piano on the left and Jackie McLean's sax on the right; I'm always impressed with that information being sucked from the grooves and, of course, if the image wanders, something's wrong somewhere. There were no Weebles wobbling.
It didn't matter whether I played the LP or CD, the listening experience was always a thrill when listening to the CD of Reiner and the Chicago Symphony's Scheherezade or the Tchaikovsky's ballet Sleeping Beauty on my old mono Mercury LPs. I was floored once again by the artistry of "April" on Deep Purple's third album, Deep Purple or John Fahey's work on the LP with Leo Kottke and Peter Lang or Joan Baez's voice or Sonny Rollins' sax on Way Out West. I kept hearing things I'd never heard before. The feeling I got with everything I played was "a good bit of enjoyment" rather than the over stated, "It's as if I have a new record collection!"
Listening to hours upon hours of music was once the norm in our home. Fighting my way through a number of health problems I had become a real couch potato; I can almost recite every line to every CSI episode: Vegas, New York, and Miami. The Cary had me listening to recording after recording; getting me back into the habit of music rather than cathode ray tube.
I found that I enjoyed female vocals a bit more on the Cary than with the Anthem preamp. I was drawn more into the recording, hearing Joni Mitchell's vocal inflections her sense of timing …and those drums on The Jungle Line, yikes! The power of those drums is almost scary. The Anthem does a great job, the Cary …well, it does it a bit better.
Listening to Joan Baez on Diamonds and Rust I was as moved as I was when I listened to the audiophile copy played on a Kuzma table through a pair of Sound Labs driven by Atma Sphere amps. Did the set-up in my room reveal what that combo revealed? Are you kidding? No, but it was still fine.
At Brian Walsh's Essential Audio I heard drops of sweat falling from a young Joan Baez' brow. I heard emotion. I heard emotion with the Cary but I did not hear drops of sweat hitting the floor from Baez' brow. The timing and the quaver in her voice was all there, but it wasn't the same. I would have liked to hear an A-B of the original LP and the copy I heard at Essential Audio, but it really isn't necessary. I could tell without an A-B test, that the original does not meet the standards the reissue does.
Yet, that's what I did with quite a few LPs. I hate comparing LPs! I don't like comparing similar pressings; I don't like comparing originals to audiophile reissues. I listened to the original Contemporary Way Out West and the Analog Productions. I listened to both the Classic and the original Scheherezade and the Getz/Gilberto Mofi versus the original Verve. Again, I don't like doing that type of work. The Cary revealed a lot of things about each record. I really don't know whether the Anthem could do that, I hardly ever tried. But I really enjoyed doing it with the Cary.
Even with all those positives, I didn't cry like I did when I sent back other pieces of equipment. I've had stuff grab me by the hairs and say to me, "Don't send me back! Don't send me back!" The Cary spoke nary a word as the box was carried from my home by the FedEx man. Perhaps I did hear a whisper as the Cary left, "You fool, you should have tried some other wire with your phono…" Like I said earlier, I am an LP guy….
Listening for fun, listening for audiophile reasons, listening just to listen to music and throughout, sensing the emotion of the song and the excitement of the musicians. I can't think of a better reason to buy a piece of equipment. Mike Peshkin
A few words by Dave Clark
I have had the Cary SLP-03 here for a few weeks and can agree with Mike that the preamplifier sounds quite good on all types of formats—CDs and LPs. The preamplifier has a very rich and musical tonality that leans more to the forgiveness side than that of neutrality and analytical. It is less revealing than its big brother the SLP-05, which offers much higher resolution and well... well, everything that we strive to realize in our audio systems—the SLP-05 is a stunning preamplifier. But, heck man, the SLP-03 is about the third the price, so what does one expect?! You got to give up something(s) at that price point. Even so, what the SLP-03 gives up I could not live with (or without after living with the 05!), but what it keeps is quite listenable ... make that quite enjoyable. It retains the musical truth of the performance in way that allows for one to still enjoy and appreciate their music collection, it just does it in a nice smooth way ...relaxed it is! For the money the SLP-03 preamplifier is a sonic steal.
I will say that I have not experienced any odd or annoying noises (pops or whatever) that Mike reported on. The SLP-03 is dead quiet and has had no hiccups or issues at all for the past few weeks of constant use. It has worked flawlessly and simply gets the music out into the room in way that is not the least bit fatiguing—this is an easy listening preamplifier. I do plan on passing this onto another reviewer for a second formal review... so stay tuned.
SLP-03 preamplifier
Retail: $2400
Cary Audio
web address: www.caryaudio.com