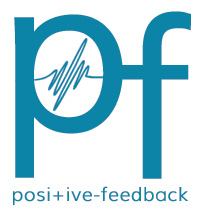 You are reading the older HTML site
Positive Feedback ISSUE
32
july/august 2007
Naxos American Classics
by Karl Lozier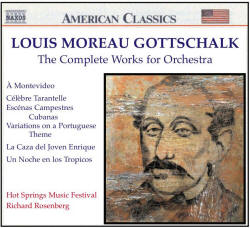 Gottschalk, Symphony No.1 "A Night in the Tropics". Symphony No.2 A Montevideo H Escenas Campestres Cubanas, Celebre Taraantelle, Hot Springs Festival Symphony Orchestra. Director and Conductor: Richard Rosenberg. Naxos American Classics CD 8.559320
This very appealing release in Naxos' outstanding American Classics series also carries the title, "Complete Works for Orchestra". That statement implied by the title is rather surprising particularly in light of comments made in the very interesting liner notes by S. Frederick Starr.
Starr is Author of Louis Moreau Gottschalk, University of Illinois Press 2000. Some background is necessary here. His father passed away early in life and Gottschalk had the responsibility for supporting his mother and four sisters. From the age of 23 until his early death at 39 in Rio de Janeiro he was almost constantly traveling and performing. As a virtuoso pianist always on the go all around the world, he seldom had time to complete or really tweak the hundreds of compositions he so dearly loved. He did manage to pretty much finish scores for piano works, a few operas and orchestral compositions. Trunkloads of his never completed and completed works vanished in Brazil where he died shortly after performing there. Over a hundred years later some of his manuscripts turned up in Philadelphia. Many people are hoping more will turn up in the future. Unfortunately, far more scores were only started and rough sketches or drafts penned with good intentions to finish later. His early demise put an end to that goal. It should be mentioned that he was known to be particularly oriented towards opera and vocal music. It is hoped that he had completed, or nearly so, a number of yet to be discovered opera scores. The particularly well-written liner notes create a fascinating mental image of Gottschalk, extremely so I must add. I remember being introduced to Gottschalk's music by a recording of his A Night in the Tropics performed by Andre Kostalantez and his orchestra decades ago. I since, lost track of Gottschalk, and so as I often do, I did a bit of research, going beyond the liner notes. All I can say is that I do not know, but other descriptions of his compositional abilities are not as glowing as the descriptive painting by S. Frederick Starr. Personally, I am a bit of a pushover for immediately appealing melodic music as atmospheric as heard here in this recording.
There is more music on this disc than listed in the title heading totaling almost seventy-seven minutes. The variety of appealing melodic music is quite extensive and wide ranging. I would usually say that a recording such as this, serves as a great introduction to a relatively unknown American classic composer. However, in this instance there is currently little more available in the way of recordings. Here the wide-ranging selections are seemingly of the romantic period and very melodic. There are bits and pieces of jazz and ragtime a long time before they existed! A fair amount of emphasis on a well recorded piano accompaniment is heard as well as attractive vocals. In the "Symphony No. 2", actually as with "No. 1" (both are really symphonic poems) the orchestra is heavily supplemented and almost doubles in personnel size. The young group is surprisingly polished. The very clean and clear full range recording lets the entire brass section, not just the trumpets, to be plainly revealed to great advantage. Another particularly enjoyable addition to Naxos American Classics' Series of recordings enjoying consistently good recording perspective. That again rates a top recommendation.