Whether for music or movies, there are many compelling reasons to choose a 2.1 stereo speaker system like the Orb Audio Classic One ($529)—though aesthetic appeal may be the least of them. Longtime audiophiles can skip past the following bullet points, but for everyone else, now is a good time to review the many potential advantages of a well-executed sub/sat setup, including:
Ease of placement. While conventional box speakers must often be placed far from rear and side walls to avoid sounding "boomy" and to strengthen their soundstaging and imaging properties, satellites can be mounted nearly flush with any wall or even in corners, while the subwoofer can be located wherever it provides the most natural-sounding bass response.

Easy load. Satellite speakers eat up far less power than full-range speakers do, since an accompanying powered subwoofer will do most of the heavy lifting. Watts cost money, and if you don't needs as many, you can save a lot by purchasing a fine yet inexpensive amp or receiver, keeping the total system cost in check.

Flexibility. A good sub/sat system should make it easy for you to upgrade to additional channels in the future. With the Orb Audio package reviewed here, you can not only add additional satellites at any time should you choose to expand to home theater operation, but you can even stack two per channel if desired – a handy option if you move from a small living room to a large one and need some extra oomph.

Simplicity. Most of today's AV receivers and DVD players incorporate some type of virtual surround processing (for example, SRS TruSurround). For those who would rather do without the complication of rear and center channel speakers, use of these processing modes in conjunction with a 2.1 speaker system can yield surprisingly satisfying results for anyone who's not a die-hard home theater buff.
Therefore, while many music lovers may want big tower speakers or even large monitors, their actual listening environment may dictate something like the Orb Audio Classic One. The system consists of two beautifully made satellite speakers, plus a powered subwoofer that occupies remarkably little space. Setup is easy; connect the output from your integrated amp or stereo receiver to the high-level inputs on the subwoofer, then connect the speakers to the outputs. (Owners of AVRs or processors equipped with a subwoofer output can connect everything directly and use their component's internal crossover instead.)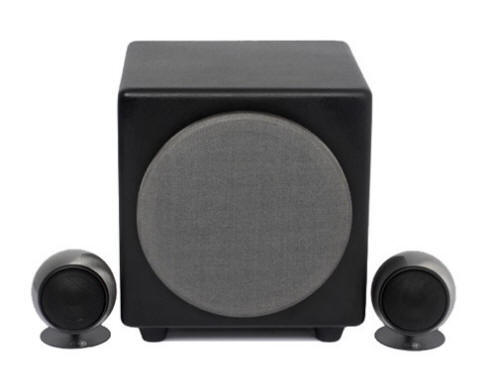 The satellites are handmade in the USA. Handsome, solid steel enclosures each housing a three-inch full-range driver. They're slickly made, smoothly finished, and include impressively stout gold-plated terminals. The drivers themselves use Neodymium magnets, CCAW (copper clad aluminum) capstan-style voice coils, santoprene surrounds, and polypropylene cone material. According to Orb Audio, this combination yields very high efficiency, very low mass, and a good frequency spread from upper midrange to treble.
Gary Pelled, a partner in Orb Audio and its chief designer, says the design of the satellites goes back to his early days designing lighting. "The sphere has been used in track lighting and can lamps for almost a hundred years," he said. "I thought it would make a nifty speaker cabinet, and later discovered that there is a ton of research proving that a sphere is the theoretically ideal shape for a driver enclosure." Pelled points to three advantages in particular: no internal standing waves, no external baffle diffraction, and extreme rigidity without adding mass.
The Super Eight subwoofer employs an eight-inch driver in a highly rigid cabinet that's only about one foot cubed, making it easy to hide. It's front-firing, too—a thoughtful accommodation for apartment dwellers whose downstairs neighbors might not appreciate a floor-firing arrangement. While the Super Eight is utilitarian-looking compared with the satellites, this makes it less conspicuous. Orb claims the built-in amplifier puts out 150-watts of continuous power with peak power at 400-watts. Frequency response is not specified, but in my room bass extended into the 30Hz range with reduced output into the mid-20s, making this a bona fide full-range system.
The Orb satellites are supplied with easy-to-assemble "BOSS" table stands, but aesthetically-minded buyers can opt for wall brackets or the optional $299 "HOSS" floor stands, which, while certainly pricey, are artfully designed and solidly handcrafted. Assembly is easy. In fact, if you read the excellent instruction manual beforehand, as I did, the process seems far more complex than it actually is. The HOSS stands consist of a very heavy steel base, into which you simply slide two long posts, which is where the satellites attach. One look at the included hardware and you'll know exactly where it all goes. The whole process took me about 20 minutes, including snack break.
Connecting the components is even easier. For convenience sake, Orb Audio offers their own brand of speaker wire, which is sonically fine and well-priced. If that's not badass enough for you, go ahead and try thicker stuff like MonsterCable XPHP—I did. The only problems are (a) the speaker terminals on the Orb satellites only accept up to 16-gauge bare wire, so the use of anything thicker will require pin termination, and (b) you'll need to split the thick wire into separate positive and negative strands, running each through a separate post in the HOSS stands.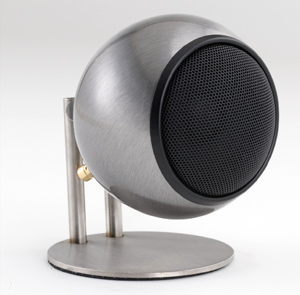 Placement of the satellites revealed their inherently unfussy nature. I squeezed them haphazardly into corners, shoved them against walls, and generally disregarded the fundamental laws of speaker placement in my attempts to make them sound bad. I couldn't. Designer Gary Pelled suggested some basic guidelines and true to his word, the Orbs presented the most convincing stereo image when placed well out from the back walls, and toed in toward the listener. That's unrealistic, though: people who buy this system will be looking for the most unobtrusive placement possible.
For single driver speakers, the Orbs do a convincing impression of a 2-way design. They don't go super-high like Mirage's Omnisats, but their treble extension is notably smooth and non-fatiguing, with outstanding definition and quite an expensive sound overall. The overall presentation from the satellites was airy and precise, with pinpoint imaging from the upper midrange and decent soundstaging (which can be improved by applying the "rule of thirds").
The subwoofer's output is remarkable for its size. Even more impressive was its articulateness. It offers slam and definition that's completely unexpected at this price point. Orb Audio points to its direct sales model and lack of dealer markup for helping them to deliver high value. More than a few audio companies make similar claims, but in this case, it appears true.
Integration between the satellites and subwoofer was among the best I've ever heard. In my small room, a crossover setting of 120Hz provided the best results. Even when the sub was placed way off to the side, I noted no imbalance. With my eyes closed, the Orb satellites simply sounded like two very good, full-range box speakers—except without the box.
The overall level of detail from this system is also worth mentioning. This isn't one of those sub/sat systems that gets high marks because it merely sounds richer or bigger than expected. It gives up little to similarly-priced box speakers in terms of resolving delicate sounds like the piano pedal thumps on a Keith Jarrett CD, or tinkling glass and sound effects on a Pink Floyd album. Seasoned audiophiles may not discover previously unheard details in their favorite recordings, but by the same token, the ones they already relish won't suddenly go missing.
Partnering the Orbs with a Denon AVR-2802 ($700; discontinued) provided more than satisfactory results, but designer Gary Pelled suggests that audiophiles pay more careful attention to their equipment selection. "The hardcore two-channel guys who know what to listen for—and that is key—will hear big differences in the subtle things, like the air around instruments and the tonal accuracy of instruments and voices. Will John Q. Public know the difference? I don't know. Will people on AVS forum hear it? Yes."
When I tried the Orbs with the PrimaLuna ProLogue Two integrated amplifier, male vocals in particular were fuller-bodied and more present, and piano notes tended to be rounder and more convincing. Would I personally use a $1345 integrated amplifier to drive two tiny satellites? No. Even a cheapo Sony STR-DG510 ($200) 6.1 receiver produced satisfying results, so much so that I would be reluctant to recommend anything pricier than entry-level gear from the likes or Rega, NAD, Rotel, Harman/Kardon, Arcam, or Cambridge Audio.
In fact, the Orb's unfussy nature makes system building fun again. Audiophiles who'd normally sweat every last detail of component and cable matching will delight in all of the possibilities. In fact, I came up with a few possible systems right off the top of my head:
For the two-channel audiophile:
Rega Brio integrated amplifier ($545)

Rega P1 turntable ($350)

Sony SCD-CE595 SACD changer ($150)

Orb Audio Classic One ($529)

Total system cost: $1574
For the stereo-music lover:
Harman/Kardon HK3380 stereo receiver ($200 street price)

Harman/Kardon DVD47 universal player ($190 street price)

Orb Audio Classic One ($529)

Total system cost: $919
For a starter home theater system with room to expand:
Sony STR-DG510 6.1 receiver ($200)

Sony DVP-NS57P/S DVD player ($60)

Orb Audio Classic One ($529)

Total system cost: $789
The possibilities are virtually limitless. By the end of the review period, I'd used the Orb system in at least six different configurations, including three-channel (left, center and right) for use with my RCA Living Stereo SACD reissues, and even "faux quadraphonic." In all instances, I used my Denon receiver to drive the four Orb satellites, with the center channel set to phantom mode, and the matrix surround processing engaged on two-channel CDs. The results were surprisingly immersive and I generally had a blast. If you're an overgrown kid who's missing your childhood erector set, treat yourself to a few pair of Orb satellites instead and start playing.
To find out how the Classic One system would stand up to box speakers in the same price range, I did some level-matched comparisons with my PSB Alpha T towers ($550; recently replaced by an improved model). The price difference between the two is only about $20, but the Orb system offered more in terms of low frequency extension. They also had some additional top-end sparkle, with the PSB speakers sounding somewhat veiled in comparison. On the other hand, the PSBs had a richer, more complete midrange, particularly with vocals.
Since Orb Audio provided me with two pairs of satellites, I concluded my listening tests with the system in Classic Two ($689) configuration. That's two sats per channel run in parallel using provided jumpers. While there must have been a significant impedance dip involved, the Denon receiver didn't seem to run any hotter, nor did it struggle sonically.
Running two sats per channel resulted in a more dramatic stereo image, but in smaller rooms, vocals and individual instruments could sometimes sound disproportionately large, while the treble was often emphasized. On the other hand, when playing rock and classical, the double-stack was more convincing in terms of scale. I'd recommend letting your musical tastes and the size of your room dictate which configuration is most suitable. Remember: you can always start with two satellites and upgrade later for the difference in price between one package and another.
All in all, the Classic One is the most affordable full-range speaker system I can think of that also offers audiophile-grade reproduction. When you factor in its inherent flexibility and considerable aesthetic appeal, it's a must-audition for anyone shopping in this price class, even if you're not specifically in the market for a sub/sat configuration. It's easy to assemble and just plain fun to play around with. Best of all, smart shoppers could easily assemble a highly capable system for well under $1000. That's spectacular given the high-quality sound on offer. Highly recommended. Ed Kobesky
Classic One stereo loudspeaker system
Retail: $529; sold direct only
Orb Audio
web address: www.orbaudio.com