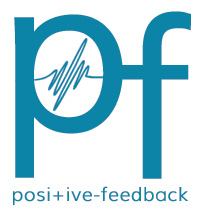 You are reading the older HTML site
Positive Feedback ISSUE
32
july/august 2007
Street Scene
by Jim Merod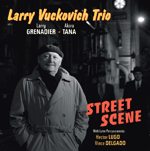 Street Scene, Larry Vuckovich Trio with Akira Tana and Larry Grenadier, et. al. Tetrachord 684
It's been said of pianist Larry Vuckovich that he extended the love lives of more than two generations of San Franciscans. The claim may be exaggerated but its respect for the pianist's exotic touch is not. For a decade or so the much in demand Vuke held forth atop the Hyatt Hotel in downtown San Francisco. Over the past twenty-plus years, his sound became a part of the city's innate character, just as the music of Cal Tjader and Vince Guaraldi defined its musical culture in the '60s and '70s.
It's appropriate, then, that El Vucko's newest release reflects this tradition. Here we find longtime sidekick, bassist Larry Grenadier—a stellar musician who, along with Tom Harrell, was at the heart of the classic 1990 Concord album, Tres Palabras. With Street Scene, the vibe carries a somewhat "noir" quality ...the atmosphere is very much late night San Francisco, the small town that defines big city moods with its wharves and steep hills, its diverse neighborhoods and perennial cable cars.
Saxophone master Charles McPherson notes, on the album's back cover, that we are in the company of a musician whose "vision and musicality come at you from a slightly different angle" ...from an Eastern European tonal and melodic palette, to be precise. Part of the secret of Vuke's magic is his sense of brooding passion, meditative intensity, and an almost otherworldly sophistication. All of that is at work in this album.
The title track is a song long associated with Stan Kenton. Upon hearing it, one is likely to wonder where and when its familiar lyricism touched one's life previously. For this writer two other tracks own great privilege, as well: "I'll Wait And Pray" and Bill Evans' "Blue In Green," a song traditionally (but erroneously) attributed to Miles Davis, who was a genius at getting his name attached to pieces hepartly (or "virtually") crafted Larry Vuckovich is not merely a "west coast" pianist of considerable distinction. He is one of the important jazz pianists on the scene today. Since I've recorded Maestro Vuckovich perhaps as often as anyone (or nearly so), I feel a special closeness to his playing and to these performances. Along with Tres Palabras, and the equally remarkable Blue Balkan album of 1980, I regard this as one of the piano master's essential sessions. Anyone who listens carefully to this album, start to finish, will soon trek this Street Scene once again.