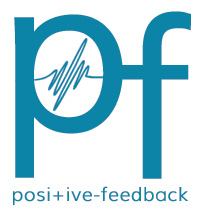 You are reading the older HTML site
Positive Feedback ISSUE
33
september/october 2007
Notes of an Amateur - October, 2007

by Bob Neill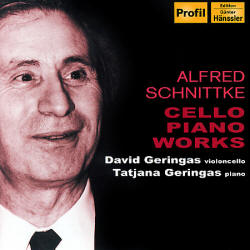 Alfred Schnittke, Cello & Piano Works. Epilogue from the ballet 'Peer Gynte'; Cello Sonata Nos. 1 and 2; Musica Nostalgica. David Geringas, cello; Tatjana Geringas, piano. Hänssler Profil Pho 8002.
The (not very) late (1934-1998) Russian composer Alfred Schnittke is a wild crow among late twentieth century Russian and Eastern European composers. At times he has the forlorn cry we hear from Kanchelli and Vasks, but more often it's a raucously angry caw. I find some of his least compromising music simply off-putting. But not these works for cello. I really like this music, as do the Geringases, who play it with great conviction. "Schnittke's music is a part of our life," they write in the album notes. David Geringas was one of Schnittke's champions in the West during the many years that the composer was not allowed by the Soviet government to travel outside Russia.
I have long felt that the lion's share of late twentieth century music that has any claim to profundity comes from Eastern Europe and Russia, and this music only confirms my opinion. His version of modern Eastern European melancholy has a robust quality to it, which makes his modulations into the angrier and more overtly passionate sections of this music truly compelling. I have listened rapt to this CD many times now. It will send me back to some of his other music that formerly held me off. I suspect that Schnittke's reputation will prove more enduring than some of us believed it would. The Cello Sonata No. 2 is a truly great piece of music.
The sound on this recording is spectacular: we get all of the cello and almost more than all of the piano: both the lowest and highest ranges are extraordinarily well reproduced.
Misterioso. Music of Valentin Silvestrov, Arvo Pärt, and Galina Ulstvolskaya. Alexi Lubimov, piano; Alexander Trostiansky, violin; Kyrill Rybakov, clarinet. ECM New Series B0007328.
This recording affords an opportunity for those who are curious about modern music of Eastern Europe and Russia to sample three of its most prominent composers. Silvestrov (b.1937) and Pärt (b.1935) represent the quieter, meditative wing of this very rich musical world; Ulstvolskaya (b.1919), its more neo-classical modernist wing, where the influence of Shostakovich, especially his chamber music, is most clearly heard. The two Silvestrov works in the program (sonatas for violin and piano and for clarinet and piano) were composed in the 1990s, the Pärt sonata for clarinet and piano in 2003, and the two works by Ulstvolskaya (a trio for clarinet, violin and piano; a sonata for violin and piano) in 1949 and 1952.
Silvestrov's music is exquisitely suggestive and heavily atmospheric—the title of one of his pieces provides the album's title. (There is a recent album of his solo piano music that is even more in this vein: Hänssler Classic CD98229). Both he and Pärt have clearly turned inside from the world that has tortured so many of their contemporaries into more extroverted and passionate composition.
The Pärt work, like most of his music that I know, is more straightforward, moving us by means of simplicity and a representation of candor. He often uses minimalism to more effect than its principal American adherents. His sonata for clarinet and piano is altogether charming and, unlike Silvestrov's pieces, graciously brief.
This is not a 'kind' of music I am drawn to, so I cannot make as strong a case for it as some others might do. If my faint praise has not put you off, do pursue both of these composers, who have proven extremely popular, especially among those who enjoy New Age ambient music. Pärt's cappella choral work is his best known music and some of it is very attractive.
Ustvolskaya, on the other hand, writes music for where I live. Her Trio for Clarinet, Violin, and Piano opens and initially meanders in and out of a mood that suggests it belongs alongside Silvestrov and Pärt; but it eventually pulls away, and we hear an approving nod from Shostakovich. Fresh, brisk, clean modernist contrast, chromaticism, and counterpoint. A great sense of line where Silvestrov and Pärt prefer atmosphere and color. Hers is not the kind of music to win large audiences, especially these days where music is often a means to other non-musical ends. But to my ears, her music, like Schnittke's, will likely prove durable over time, and I commend it to you with great enthusiasm. Stravinsky loved it!
For another, more inclusive and perhaps more moving survey of modern composers from this area, try Gidon Kremer's From My Home, which includes music by Dvarionas, Pärt, Barkauskas, Vasks, Pelecis, Plakidis, and Tüür. Kremer plays violin, Vadam Aacharov plays piano, and the orchestra is the German Chamber Philharmonic. Great sound on Teldec 14654.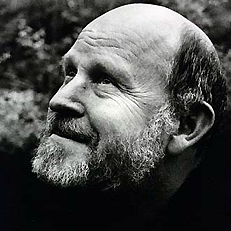 The Musical World of Péteris Vasks
When immersed in the music of modern Latvian composer Péteris Vasks, I believe he is the best of his Eastern European and Russian contemporaries at transmuting the pain and sense of loss embedded in that region's modern history into timeless musical pleasure on the profoundest and also the most accessible scale. His is some of the most beautiful and saddest music I know. I have been listening to Vasks' music for several years now but have resisted writing about it because I simply haven't known what to say. What that generally means is either that the music moves us in easy, manipulative ways and we know it but don't want to admit it. Or that it's simply so emotionally powerful that it brings even someone like me, who thinks there are words for everything and all one has to do is find them, to a sense of humble defeat. I am accustomed to living contentedly, even happily, amidst the complex, ironic voices of modernism and of fending off such powerful and direct appeals to my emotions. Vasks is something new to me and he is taking his toll on my critical confidence! It is clear he is the strongest voice among his contemporaries. He may well be one of our strongest musical voices, period.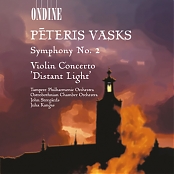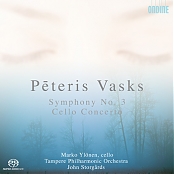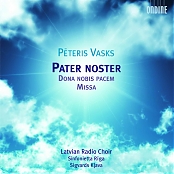 Symphony No. 3; Cello Concerto. Marko Ylönen, cello. Tempere Philharmonic Orchestra, John Stongårdens, conductor. Ondine ODE 1086.
Ondine has now released both Vasks' violin and cello concertos and his second and third symphonies. John Stongården, who conducts both of the symphonies and the cello concerto, plays the solo violin on the violin concerto release (see below). Gidon Kremer has also recorded the violin concerto with his Kremerata Baltica for Teldec (see below also).
Symphony No. 3 opens like a modern version of Brahm's First with a heavy, swelling orchestral attack over a steady beat, and then drops into near silence before rising again in a brooding Sibelius-like woodwind lament. The steady beat of the opening returns and then we're off into a different side of Sibelius, reinvented for our post-modern ears. It's tougher, more muscular, more complex. There are moments when it hearkens back to the simple, elegiac lyricism of the Finish master—on at least two occasions the Swan of Tunela swims by! But for the most part we are in a new and more violent and passionate language that seeks to comprehend what we have become since the time when late romanticism could suffice. It is interesting to note that all of the musicians here (and the record label itself) are Finnish—more evidence, if we needed it, that Finland is where a good deal of the best contemporary music-making (and much of the most interesting composing) is going on.
The Cello Concerto opens on the characteristic Vasks note, a quiet, plaintive, elegiac call from the solo instrument, joined by strings, woodwinds, and brass which will threaten all but the hardest hearts. This is the first movement of five, called Cantus I. The second movement, called Toccata I, picks up the pace and becomes restless unto desperate, the cello working into its upper range, modulating into a third or middle movement called Monologhi (monologues), which has the feel of one of Britten's pasagaglias. The solo cello is prominent as it struggles, almost into speech, in long solo cadenzas. The orchestra in this movement is both contentious and supportive. (At about this point in the concerto I began to notice how beautiful the tone of the cello is, a tribute to both soloist Ylönen and the recording engineer, Enno Mäemets. Vasks has conceded that the cello is his favorite instrument.) On to a second restless Toccata II even more furious than Toccata I, recapitulating its theme with more passion – before arriving at another extended solo cadenza. The Toccata II ends on a loud, dissonant note, then disappears as the final movement, Cantus II, re-enters, bringing us back to the sad, lyric beauty of the concerto's opening. If this were a five-act drama, which in a sense it is, we are at the point in the play just after the violent denouement, when the world is putting itself back together. Here, rather than moving toward another restless toccata, the mood builds toward something more uplifting. In lesser hands, this would be considered a sugar-coated conclusion. In Vasks', it is simply restoring.
This disc is only available as an SACD/CD hybrid. I listened only to the CD layer, having decided some time ago that as interesting as SACD is to listen to, it does not provide as much pure musical pleasure as redbook on my filterless, non-upsampling, and non-oversampling digital gear. Many SACD fans differ with me on this, so take it as an opinion, not a pronouncement.
Symphony No. 2; Violin Concerto: 'Distant Light.' Tempere Philharmonic Orchestra, Ostrobothnian Chamber Orchestra, John Storgårds, violin, Juha Kangas, conductor. Ondine ODE 1005.
Vasks' Symphony No. 2 opens even more boldly than the third and then, like No. 3, drops into a quieter, elegiac Sibellian mood with woodwinds dominating. Again, as with No. 3, there is more tension and dissonance than with Sibelius. The overall effect of this extended passage that follows the opening is plaintive.
As the symphony progresses, the thematic material, especially in the quieter passages, takes on more of a Russian flavor that I associate with their nineteenth century folk music. Well into the symphony, its character turns martial, even heroic, though still anxious, tortured even. Loud, dissonant chords oppose each other in a near cacophonous din. The return to quietude, by now expected—this does seem to be Vasks' way – is plaintive and elegiac again: lovely, melodic, almost rhapsodic but also mournful. And it is followed, as we near the end, with a rise in dynamics and tension that falls yet again, into a quieter form of sadness, which is once more Sibellian with familiar hints of Russian folk melody feathered in.
The Violin Concerto, which has been recorded by both Storgårds and, as I reported above, the illustrious Gidon Kremer, was composed several years after the Cello Concerto and at the request of Kremer. It is written in one continuous movement and is a more intense work, partly because it is written for a chamber rather than a full orchestra, which tends to lean out the sound some. Some intensity is also provided by the violin's higher voice. What is a mournful song from the cello is a painful cry from the violin. It literally wrings the soul out of us, if we let it. And the solo cadenzas here are much more bracing and emotionally charged. My little Audio Note K speakers are especially good at capturing the attacks of instruments and nail Storgårds' violin attacks eloquently.
It is the midst of this work that I am reminded why I have held off writing about Vasks. His music is so directly emotional, we react to it in kind, and then can't help but feel we are being manipulated. I no longer believe this, but it has taken a while. I have rarely heard pain feel and sound so gorgeous without yielding a bit of its pain. And just when it seems he cannot possibly pull our nerves any tighter, the whole thing escapes into a new mood, more toccata-like but still emotionally powerful because the violin refuses to give up its voice to the orchestra.
Then we are back to the more poignant, less dramatic vein of the early part of the concerto, though the emotional stakes seem to have risen somewhat higher now, such that the break from the immediately preceding music seems not so great at expected. Now I see why Vasks has chosen not to break these modulations and mood changes into movements. Changes happen too frequently and are less pronounced than in the cello concerto. There is a kind of relative intensity that is maintained throughout – it is a more emotionally complex piece than the cello concerto. Finally it works its way through a furious climax to peace, at what feels like great cost. Extraordinary, but not for the faint of heart.
Symphony for Strings: Voices. Violin Concerto. Kremerata Baltica, Gidon Kremer, conductor Teldec 22660.
Both the Storgårds and Kremer performances and recordings of the Violin Concerto are very fine and their different couplings make owning both CD's an easy decision. I will take this opportunity to say a few words about Symphony for Strings: Voices, which is the second work on the Kremer recording. Vasks loves to build his works on a foundation of near silence and this device in especially effective in the chamber symphony, Voices. Written in three movements, it is, along with Pater Noster (below), the earliest of the works considered in this review, 1991. The work is good enough to live a full musical life outside of and beyond its origins, but it is interesting to hear the composer's intentions nonetheless.
My symphony is in three parts:

Part One: "Voices of Silence"

Listening to the infinite expanse of the starry night. A string chorale in the eternal silence. Awareness of a vague sense of sadness at the inexorable march of time. An overture to what is to follow.

Part Two: "Voices of Life"

Attempt at a grandiose musical portrait of awakening Nature. Birdsong. Birds as a symbol of beauty and existence. The sun rises, perhaps a child is born. Jubilation, but in a minor key: does this reflect my own personal nature or is it, rather, an essential characteristic of my people, who have known so little freedom?

Part Three: "Voices of Conscience"

Return to reality. We are living at the end of the 20th century. Ecological catastrophes threaten. There are tanks, cruise missiles, oppressed peoples. Questions of immediate relevance to you and me, to all of us. The picture darkens. Vision of annihilation.

At this point we again hear the chorale from "Voices of Silence"—or perhaps it has continued to reverberate throughout the whole of the intervening period. Consoling and questioning. The starry vault arches over us all, and as a counterpoint to it we hear the sound of a heart beating in the bass instruments.
Interestingly, for all of the pain and catastrophe Vasks speaks of here, I find the work wonderfully and mysteriously rhapsodic. He hints at this when he speaks of the "reverberation throughout the whole" of the Chorale. It as if he sees beyond the terrible conditions around him all the while. Without this ability, how else could we make art? "The more perfect the artist, the more completely separate in him will be the man who suffers and the mind which creates." (TS Eliot). The "Voices of Conscience," predictably, is the movement which is least at peace, but even it does finally come to rest, in silence.
Pater Noster; Dona Nobis Pacem; Misa. Latvian Radio Choir, Sinfonietta Rïga, Sigvards Klava. Ondine ODE 1106.
This is a brand new release of Vasks' choral music. I held up the review until it arrived and am glad I did. Pater Noster (1991) is intended to be "simple and convincing," Vasks tells us, inspired by a wish of his Protestant minister father's that he write something the congregation could "sing in faith." It is indeed that, through its minor key keeps it securely in the son's musical world. If Vasks teaches us anything in this piece, it is that it is possible to live in a minor key, that that may finally be what it is to be modern.
In Dona Nobis Pacem (1996), we are back in the mainstream of Vasks' musical vision of the world, the chorus taking the role of the violin and cello in the concertos. This work reveals the power of dissonance and minor keys in speaking of ultimate matters. Calling for eternal peace with poignant disharmonious musical phrases mixes anxiety and yearning into the prayer where, alas, they must probably henceforth forever be. In this music, it is the pain and yearning that make the prayer credible to us. How else can a modern voice, especially one that has been through what Vasks and his contemporaries have experienced, pray for peace? The music is almost unbearably beautiful. It brings new life to the myth of the phoenix reborn from the ashes of its burning. If there is a piece of music we should all be singing now, it is surely this one, though I'm not sure its eloquent dissonance would have been within the capabilities of his father's congregation!
Vasks' Misa (mass) is a grander work, both in genre and intention. The composer tells us it went through two previous versions (a cappella chorus and chorus and organ) before he found the proper one, chorus with his "beloved strings" and orchestra. We can feel here that Vasks is at least partly in other hands than his own, the form of the Latin mass. In many artists, it is binding them to a form that releases their greatest creative powers. Perhaps the form gives them something to push against, thus forcing them to draw on some of their reserves of imaginative strength. Many modern artists have forgotten this, but Vasks' mass reminds us of its strange, counterintuitive truth. This work is more expansive and less locally intense than his others.
There is really too much to talk about here and I have already gone on beyond most readers' patience. I was afraid when I came to the mass that a composer whose power seems to depend on intensity could not succeed in so extensive a form. Have no fear. This work has virtually everything in it: pain, joy, fear, hope, and overall musical delight and power.
I am coming to believe that we have a major composer rising in our midst. Don't be the last to discover and enjoy him.
System used for these auditions: Audio Note CDT 2.1 CD player, Audio Note OTO 10 watt single-ended integrated amplifier, and Audio Note K/SPe speakers, with Audio Note AN-Vx interconnects and SPe speaker cable.
Bob Neill, in addition to being an occasional equipment and regular music reviewer for Positive- Feedback Online, is also proprietor of Amherst Audio in Amherst, Massachusetts, which sells equipment from Audio Note, Blue Circle, Manley Labs, and JM Reynaud, among others.