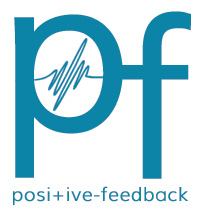 You are reading the older HTML site
Positive Feedback ISSUE
33
september/october 2007
Rocky Mountain Audio Fest 2007
by Adam Goldfine
Now in its fourth year the Rocky Mountain Audio Fest was held this October 12th - 14th at the Marriot Denver Tech Center. It was a wonderfully produced show with a great turnout from both well known and new manufacturers. The writers of Positive Feedback enjoyed a wonderful Saturday night meal together courtesy of the magazine at Ya Ya's, a local continental cuisine restaurant courtesy. Thanks again Dave, Carol and Dr. Robinson! One thing that became clear during the show is the common passion for this industry/hobby shared by the manufacturers, musicians, audiophiles and writers. Everyone there really wanted to be there, and that's just a formula for a good ol' time.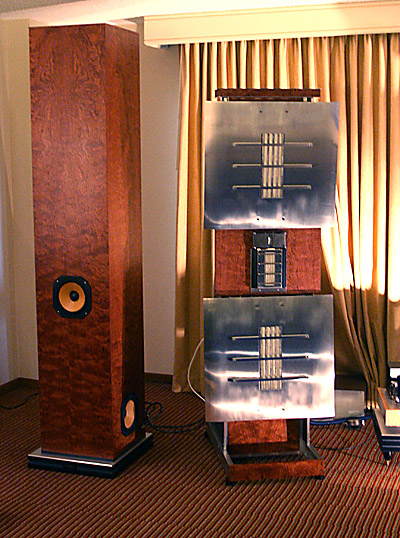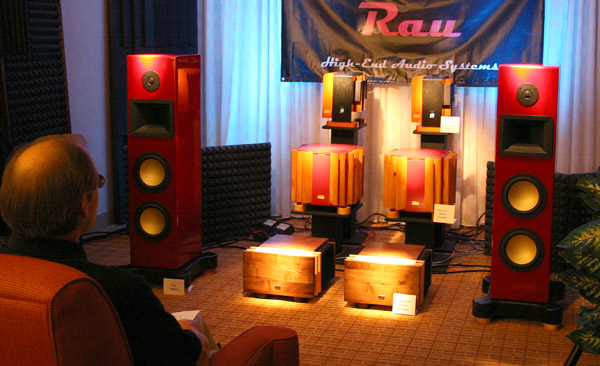 Hundreds of exhibitors demonstrated thousands of pieces of gear, old and new. Many of the rooms sounded quite good but three days isn't enough to give each of the rooms the time they deserve. So I focused on the new and unusual, with a few (at least in audiophile terms) "bargains" thrown in for good measure. And I'm sure there are many great products I missed. So with no further ado and no particular order:
Esoteric Audio
Esoteric was demonstrating the soon to be shipping P-05/D-05 CD/SACD transport and converter. Priced at $14,000 for the pair it said to provide much of the performance of the twice as expensive P-03/D-05 combination at roughly half the price. The new transport/DAC combo was feeding the recently shipped AI-10 Digital Integrated Amplifier putting out 150 watts per channel into 8 ohms. The AI-10 is an integrated amplifier with an onboard DAC that accepts up to 24 bit, 192 kHz digital input via toslink or coax. It only accepts PCM digital at the moment but DSD is planned as a future upgrade. It also includes 3 line level inputs, one balanced and a magnetic phono input. An output for master clock sync will synch any of Esoteric's audio video disc players re-timing the DAC to the transport device, reportedly enhancing digital signal accuracy, staging, transparency and imaging.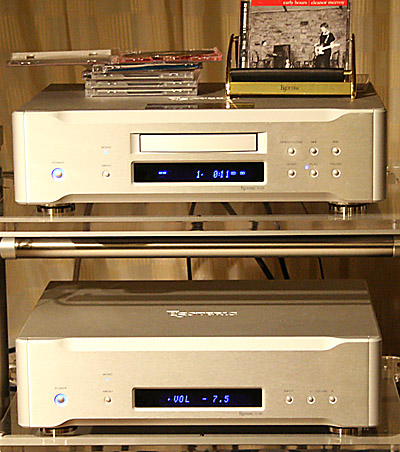 The AI-10 was driving the new Esoteric MG-20 floorstanding loudspeakers. The MG-20 is a two way, 3 driver, ported design, unique in that both the woofers and tweeter are made from a 96% magnesium alloy which, according to Esoteric, has the lowest and most neutral resonance of all driver materials available. The technology was designed by Esoteric's sound engineering department and is manufactured jointly with Nippon Kinzoku. Final acoustic tuning, manufacturing and assembly takes place under Esoteric supervision in the U.K. by British speaker manufacturer Tannoy, Ltd. Price is $8400. They are shipping now though in limited supply. Some very fine sounds were coming from this set up.
Also on display, but not heard was the similarly magnesium endowed MG-10 bookshelf speaker system and the SA-10, a two channel CD/SACD player that uses the same VOSP transport mechanism found in the DV-60 and SA-60. Prices are $4000 and $3500 respectively. And in case you were wondering Mg is the atomic symbol for magnesium. Go figure!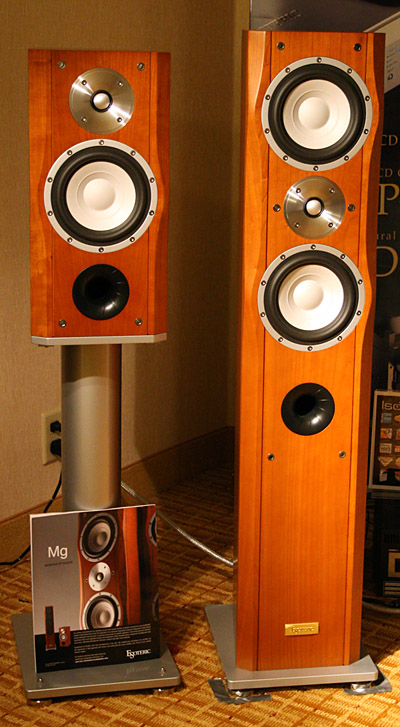 Apogee
Apogee fans rejoice, Apogee is back! Well, sort of. truesoundworks, a Nevada based company can restore any Apogee model replacing everything but the cabinet (as it were) and the magnets, bringing them to like new condition. The pair I heard had what seemed to be a stunning automotive finish on the tweeter ribbon frame with a handsome neutral finish on the rest. Rich Murry of truesoundworks has been building custom cars for the last 26 years so the high quality finish should come as no surprise.
But the really cool part is soon you will be able to purchase brand new Apogee Duettas. How you ask? Graeme "GRAZ" Keet of Apogee Acoustics an Australian company with no ties to the original owners of Apogee is making the speakers down under and shipping them (up over?) where you can buy them from truesoundworks for $21,000. A prototype is currently in the US, no ship date was provided.
Driven by Audio Research electronics, the restored Duettas I heard were fast, open and dynamic and easily among the better sounds at the show. Only the Duetta will be available new, but the Diva may follow before long. For more information visit: www.truesoundworks.com.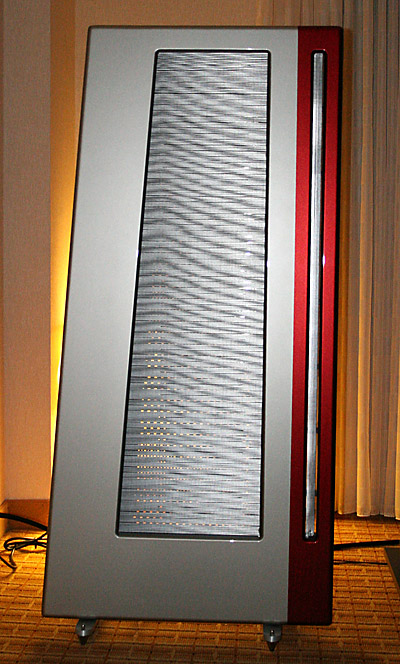 YG Acoustics
Claiming to be the "best speakers in the world", YG Acoustics was demonstrating the Kipod Studio, and Anat Reference II Studio loudspeaker systems. The Anat Reference II Studio is an upgraded version of the original version and is shipping now. Both systems feature a main module atop a powered, sub bass module. Both main modules are available sans bass modules and with dedicated stands.
"Best speakers in the world" is a pretty bold claim, but I have to admit, it's the first place I headed when my feet hit the ground. I had to hear this. I had seen pictures of the speakers but they truly don't do them justice. The anodized, machined aluminum cabinets were gorgeous and extremely well made. They both produced goose bump inducing realism. The sound was tight, clean and highly resolved. Similar to my Wilson Benesch A.C.T. speakers, sounds seemed to materialize out of thin air to startling effect. I kept jumping thinking someone or someone had snuck onto the soundstage. I'm not kidding either. It's unnerving at first but you get used to that kind of realism, he, he, he.
Playback was via the dCS full stack, feeding the Krell Evolution 202 preamp and Krell FPB400 CX amplifier. The Kipod Studio is $38,000/pr, the Anati Reference II Studio, $70,000/pr. Though it was pointed out that you can always buy just the Kipod or Anati Reference II modules then add the sub bass modules with no price penalty. The Kipod Studio should be gracing my door soon for a review. I'll let you know then if they are the "best speakers in the world".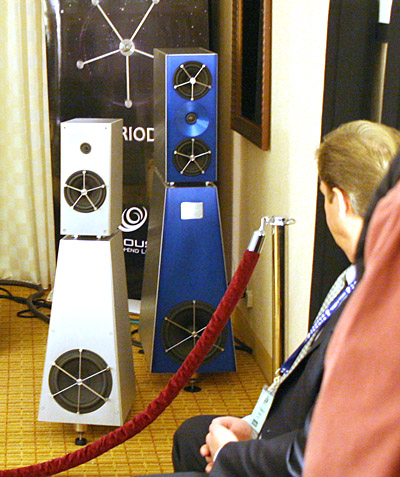 IsoMike
Playing in a large ballroom were IsoMike recordings, engineered by Ray Kimber of Kimber Kable. IsoMike is an experimental recording system using four microphones recording four channels, each mic isolated from the others by baffles. You can view pictures of the recording set up as well as purchase recordings at www.isomike.com. They systems is said to produce greater fidelity and detail.
The recordings were played back from a DSD master on a hard drive feeding an EMM Labs DAC and preamp. Amplification was via eight Pass Labs X350.5s and each of the four channels featured 3 Sound Lab ProStat 922 loudspeakers. Yes, 12 speakers in total. Cable was a variety of Kimber products.
The effect was an uncanny reproduction of the original acoustic space; rather it was like being in the space hearing the performance. I seemed transported to the original venue in a way I've never experienced before. Choral music was open, spacious and natural, listening to some musical theater pieces I felt; well, like I was in the theater. There were no noticeable cues coming from the rear channels but walking right up to them it was clear they were playing at a substantial level.
Total cost: $507,288.00. By the way, those things that look like walls are the speakers. The speakers in front of them were a silent display of a yet unannounced high end project from a very large Japanese consumer electronics manufacturer. You do the math.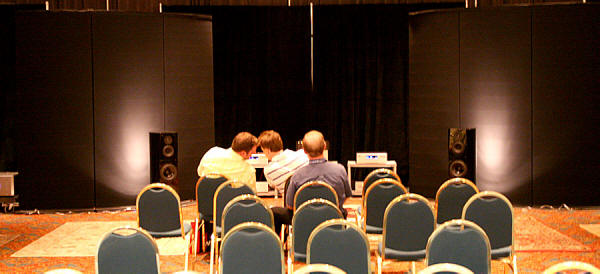 Thiel
I've been a fan of Jim Thiel and his products since the mid eighties when I owned the CS3.5 loudspeakers. Besides being a brilliant designer Jim is also a hell of a nice guy. He wasn't at the show but his latest design, the CS3.7 loudspeaker was. The 3.7 is a radical departure from previous iterations of the 3 series featuring an aluminum cabinet head, coincident midrange and tweeter units and diaphragms that look more like pie plates than speakers, (really expensive, really well made and unusual pie plates). The design retains the sloping, time aligned baffle though it is machined from aluminum.
Jim has really outdone himself this time. Driven by Simaudio Moon electronics the Thiels were among the best sound at the show and at $9900/pr they embody the characteristics that you only get for a lot more money these days. They were remarkably coherent, open and dynamic, and more importantly what came out of them was very musical. It's surprising, with a few exceptions how much really great gear costs these days, but even given that sad state of affairs the 3.7s give you way more than your money's worth. If you are looking for speakers in the $20,000 and under range, go hear the Thiels. I hope to get my hands on a pair for a review. You can visit Thiel on the web at www.thielaudio.com or just go see your local dealer.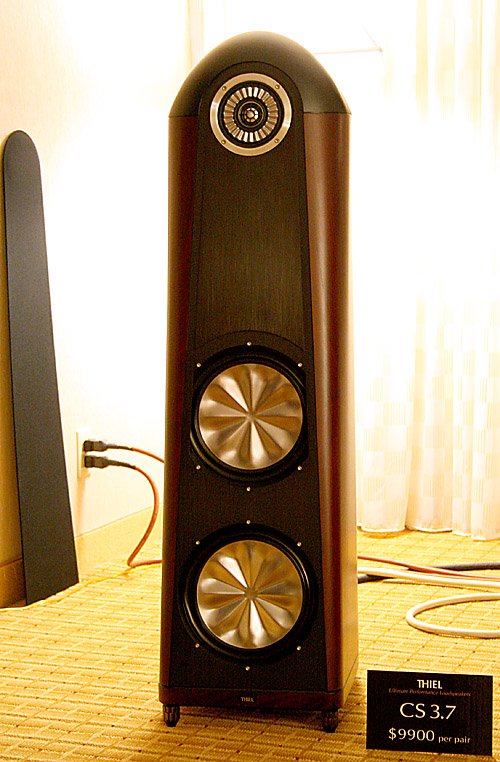 Usher
I've had the opportunity to hear Usher Audio speakers on several occasions and have always been impressed with their price performance ratio. Relatively new in the line up, the Dancer Be-718 Reference is a two way stand mounted mini-monitor reminiscent of the Sonus Faber Electa Amators. They feature a beryllium tweeter (the atomic symbol for beryllium is, you guessed it, Be) and a 7" mid-bass driver. Driven by Oracle Audio electronics and JPS Labs cabling they sounded really good. Through the Dancers, a live version of Supertramp's Breakfast in America produced a seductively tight and rich soundstage with excellent dynamics. The price is $2795/pair without stands. I think these guys are on to something, well worth a listen.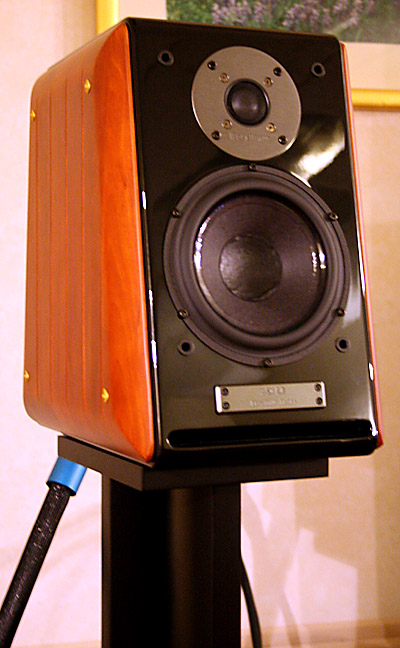 Wilson Benesch
By now I assume most of our readers are familiar with the usage of exotic materials, especially carbon fiber, pioneered by British manufacturer, Wilson Benesch. Known for its incredible weight to strength ratio and superior damping characteristics, carbon fiber has found its way into many sophisticated applications from Formula 1 race cars to jet fighters and bombers. As explained by WB designer Craig Milnes the fibers can even be aligned to direct resonances where you want them (and away from where you don't). And in Wilson Benesch speakers they do just that essentially shunting whatever resonances do develop within the speakers to a physical ground resulting in extremely low cabinet coloration and improved dynamics. I'm not a physicist, but as an owner of the A.C.T. loudspeakers I can say the cabinets are remarkably inert and the sound is about as uncolored and dynamic as it gets. And their bass performance far exceeds what one might expect given their relatively small size.
New in the WB line up is the Trinity, a three way, stand mounted (the crossover is in the stands) monitor utilizing the carbon fiber based Advanced Composite Technology found in other WB designs. It is a ported design featuring a 7" mid-bass unit, a 25mm soft dome tweeter and a .75" super tweeter. Frequency response is specified as 46 Hz to 80 kHz +/- 2dB, the ultra-sonic performance being a big part of the raison d'etre of the Trinity. I could go on about the technology involved in this speaker but the technical description is six pages long and can be found at www.wilson-benesch.com. But be forewarned, these guys are at the cutting edge of materials research and utilization and some of this stuff will make your head spin.
The Trinity was designed to pair with WB's new Torus Infrasonic Generator to create a full range system. And that is how we heard it at the show. Driven by deHavilland Electric Amplifier Company, www.dehavillandhifi.com, tube electronics the Trinity provided the rich, dynamic and exceptionally musical sound Wilson Benesch has become known for. They have that startling real quality I mentioned in the YG Acoustics section above and that I've come to expect from my A.C.T. speakers. Bass from the Torus was deep, fast and well defined. (I was assured a Torus would be heading my way for review before long.) At $10,450/pair for the Trinity you are getting cutting edge loudspeaker technology and state of the art sound.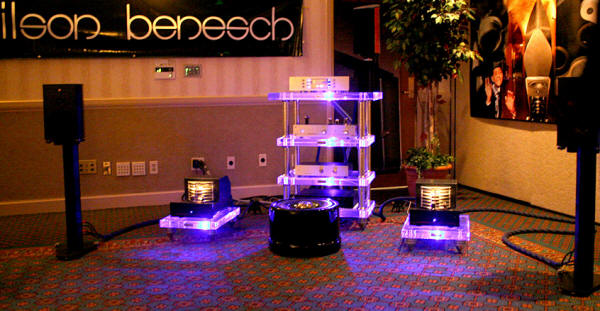 Sanders Sound
New from Roger Sanders is a line of reasonably priced solid state electronics. The Electrostatic Loudspeaker Amp can deliver 360 watts per channel into 8 ohms, 600 watts into 4. A monoblock version can deliver 800 watts into 8 ohms and 1600 watts into 4. Also available is a remote control preamp and a phono preamp with user adjustable gain, impedance and capacitance. All components are fully balanced and have both RCA and XLR connectors. Each unit is hand made by Roger himself including the CNC machining of the case work. Build quality is first rate and the price is $3995 for each unit.
The music through Roger's own Innersound Eros electrostatic loudspeakers (not currently in production) was powerful, dynamic and clear. Sanders will begin manufacturing an upgraded version of the speakers sometime next year. Projected retail will be between $12K and $13K including an electronic crossover and 600 watt per channel bass amplifier.

Chalice Audio
Designed to compete with the likes of Wavac and Audio Note, first time exhibitor Chalice Audio was showing their Grail SET monoblocks outputting 50 watts per channel through two 845 output tubes per channel driven in parallel. The chassis is ½" CNC machined aluminum and the removable wooden covers are available in custom species. Co-founder Pres Edmunds explained that the covers are removable to avoid damage in shipping.
The sound was seductive through the moderately efficient (88dB) Piega P8 loudspeakers. Priced at $70,000/pair, a review sample has been promised.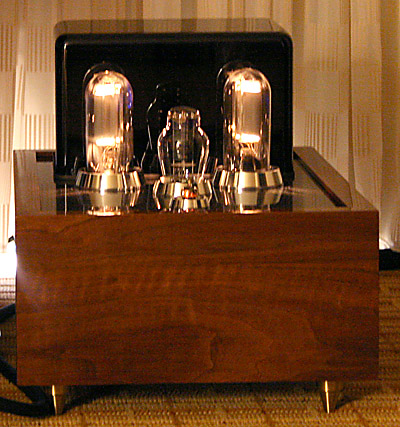 Acoustic Zen
New from Acoustic Zen is the Crescendo 3 way loudspeaker featuring a ribbon tweeter and transmission line bass loading. Frequency response is claimed as 21Hz to 30kHz. These things were making beautiful music driven by Halcro electronics. A pair will set you back $12,000 and they will be shipping before Christmas so you better watch out, you better not cry, you better not pout, I'm telling you why, Acoustic Zen is coming to town.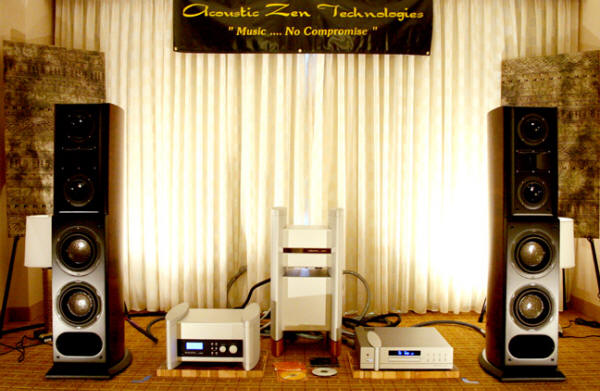 Guru
New to the US and well established in Sweden is speaker manufacturer Guru. Being demonstrated was the QM-10 (QM stands for Quality Manager, wtf?) a rather plain looking speaker originally designed for professional use. Once could easily walk by these guys without giving them a second glance, but underneath the plain façade lurks an excellent sounding loudspeaker. The claimed response is 30Hz to 20kHz and after hearing these little things I they do go surprisingly deep. And the price, $2000/pair. For five times the price, the $10,000 QM-40 floor stander is also available. Both speakers are 2 way ported designs. They are distributed by Sjöfn (pronounced chef-en) Hi Fi out of Denver, CO.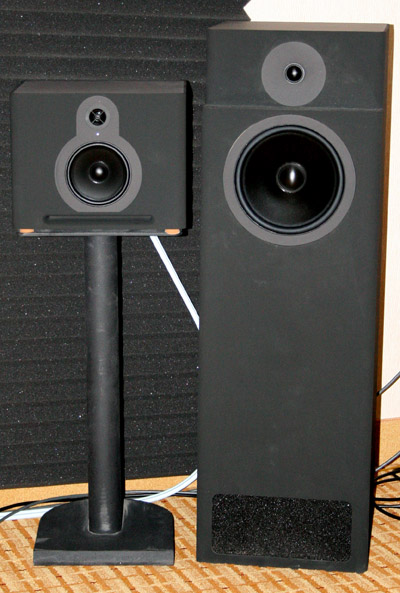 dCS
New from British electronics firm dCS is the Paganini CD/SACD Transport, Word Clock and Digital to Analog Converter. The curved aluminum faceplates are a departure from the rather industrial styling of previous dCS systems. The sound was sublime through Wilson Audio's MAXX Series 2 loudspeakers. The combo will be shipping in November for the tidy sum of $45,000.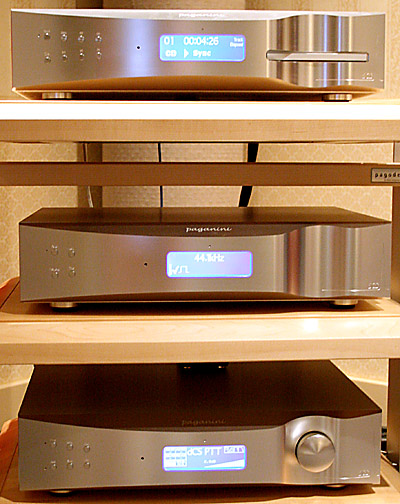 Vivid Audio
From South African manufacturer Vivid Audio comes a line of unusually styled loudspeakers. Founding member and designer Laurence Dickie is a former senior research engineer with B&W loudspeakers and if what I heard at the show was any indication, this is a company to watch. On display was the K1, a three and a half way design in an ovoid shaped cabinet designed to minimize standing waves and refraction. Electronics were from Luxman.
Listening to a CD-R of a master tape of Frank Sinatra singing "The Best is Yet to Come", Frank's voice was rich and present, the horns brassy with the right amount of bite. The US distributor is On A Higher Note, LLC www.onahighernote.com. Suggested retail on the K1 is $22,990/pair.

Kharma/V.Y.G.E.R./mbl
We were treated to some exquisite vinyl playback courtesy of Italian manufacturer V.Y.G.E.R.'s Indian Signature turntable with linear tracking, air bearing carbon arm. $42,000 including the arm. The cartridge was an Air Tight PC1 $5500, phono stage was the LAMM LP2 deluxe feeding mbl's 6010D line stage and 9011 monoblocks, $20,000 and $76,000 respectively. The speakers were Kharma's gorgeous and retro styled Midi Exquisites, $80,000/pair. Joan Baez's "Diamonds and Rust" was delicate and sweet.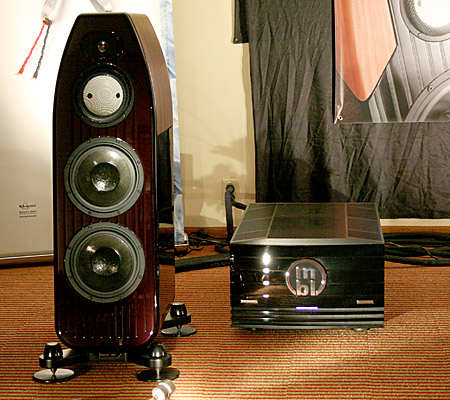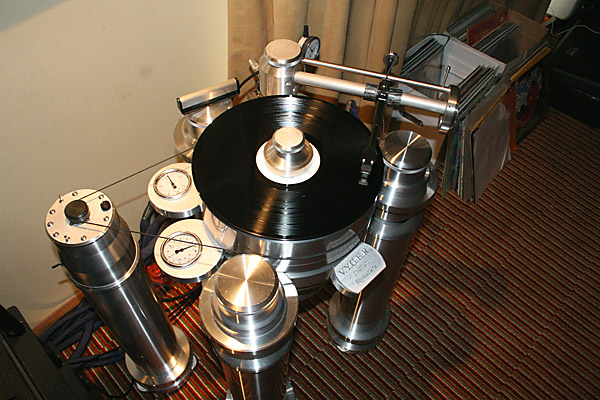 Linn
Music servers are taking hold in the high end and Linn has joined the fray with their Klimax DS reference digital music player. Able to access a network drive through either an Ethernet or wireless connection, the Klimax DS can read FLAC (Free Lossless Audio Codec) and WAV files with up to 24 bit 192 kHz native sample rate. The Klimax is an open system requiring an external drive and network connection. Think of it as a networked, wireless DAC. Linn is convinced that digital audio streamed from a hard drive is far superior to any transport and as such, the Klimax has no coaxial, toslink or AES/EBU digital input. Analog out is single ended or balanced. The sound was refined as is the price, $18,500.
Channel D
Audio analysis software veterans Channel D were demonstrating version 2.0 of their Pure Vinyl playback software. Rather than applying RIAA correction at the phono preamp, the software takes your cartridge's digitized output and applies RIAA correction. (You can also choose from about twenty other curves or create custom curves.) The software sends the equalized signal back to your preamp eliminating the errors inherent in analog correction. Running on the Macintosh only the sample rate is 24 bit 192kHz and also allows you to save, catalog and play back your digitized vinyl as well clean up pops and ticks. You can download it from their web site at www.channld.com. The cost is $229.
New from Channel D is the Seta (that's Italian for silk), an advanced phono preamp lacking RIAA correction for use with Pure Vinyl software. It features variable gain from 40 to 60dB in 6dB steps, variable capacitance and variable resistance. It's fully balanced in and out and switches to rechargeable battery power as soon as a signal is detected. It will run for 24 hours on a charge.
The Seta is available with either a MM or a MC input or both. Unique to the Seta, the circuit topologies are optimized for each cartridge type. The MM input is high impedance, has 300 kHz bandwidth and uses jfets. The MC input uses bipolar transistors and has 1 MHz bandwidth. Thinking this would make a hell of a traditional phono preamp I asked about RIAA equalization. There will likely be an RIAA plug in soon. The build quality was first rate and the sound excellent. It ships in November and the price is $3800 with one input module (MC or MM) and $4600 for both. There is no price or date for the RIAA module.