On Things Antiquated
Turntables and separate phono stage preamplifiers: Anachronistic items of a bye-gone era? Au contraire, mon amie! If you spend any time in the world of fine audio today you know that the market for such products, once thought to be in decline, is in fact stronger than ever. When digital recording and the Compact Disc format stormed on the scene in the early 1980s, many predicted that analog gear was in its twilight and would indeed soon vanish entirety. Thank God those prognosticators were patently mistaken.
The inherent sonic attributes of vacuum tubes, rich harmonic texture, three-dimensional recreation of space and the ability to render almost living, breathing, midrange, make them the obvious jumping off point for low signal amplification. While I'm not convinced that transformer coupled tubes always afford the best devices to feed current hungry loudspeakers, I have come to believe that it is the most logical place to start for remarkable preamplification, phono stages included.
Enter Dan Wright, of ModWright Instruments. I was first introduced to Dan by long-time colleague Mark Schifter, originally of Audio Alchemy and founder of the online entity AV123. During CES 2001, Mark suggested that I look Dan up and check into the remarkable modification work he was doing. At that time, he was modifying already good gear. I personally experienced and lived with the spectacular results of his work with both a DVD player (the Pioneer DV-525) and a DAC (the Perpetual Technologies P-3A). Dan's modifications were so effective that AV123 actually endorsed and warranted them along with their brand new equipment. When I reviewed the DVD player mods, I said that if you hadn't heard of Dan yet, you would. This is one time I don't mind saying I told you so!
ModWright has blossomed from being merely a modification house into a fully developed component manufacturer with no fewer than six offerings (see the ModWright web site for details), with others in development. While ModWright continues to offer component upgrades, their real significance lies in the strength of Dan's line-up of component offerings. ModWright's arrival was unquestionably heralded at CES 2006, where I noted his initial offering, the SWL 9.0SE preamplifier (which now graces my system), fronting something like six or seven systems at that all-important industry show.
Look what just "Blu" in…
Since my evaluation unit came directly from T.H.E. Show 2007, it wore the "Blu" faceplate option. While I freely admit that the blue anodized faceplate doesn't really fit my decor, I just as honestly have to say that I find it rather striking looking, stylishly contrasting the silver of the engraved logo, model, and toggle switches. The SWP 9.0SE is available in the more standard finishes of silver or black.
There are four toggle switches on the faceplate, grouped in pairs, two to the far right and two to the far left, each one having a blue LED to indicate its individual status. The left hand grouping handles "Power" and "Mute" while the right hand set afford "Mono" or "MM" selection.
Supporting moving magnet or moving coil cartridges, gain is selected by the right-most toggle switch on the front panel marked "MM." In the up position, gain is 50dB. In the down position (for MC), gain is 66dB. The "Mono" switch is to its immediate left at the right side of the panel.
Moving to the rear of the SWP 9.0SE, we find one set of single-ended inputs very near the right side of the chassis, each with a corresponding cartridge loading dip-switch set located directly above. Near the center is one set of single-ended outputs; immediately to their right is the arm/cartridge grounding lug. To the far right of the very clean back panel is an IEC socket to accept either the included power cord or a custom cable of the listener's choice.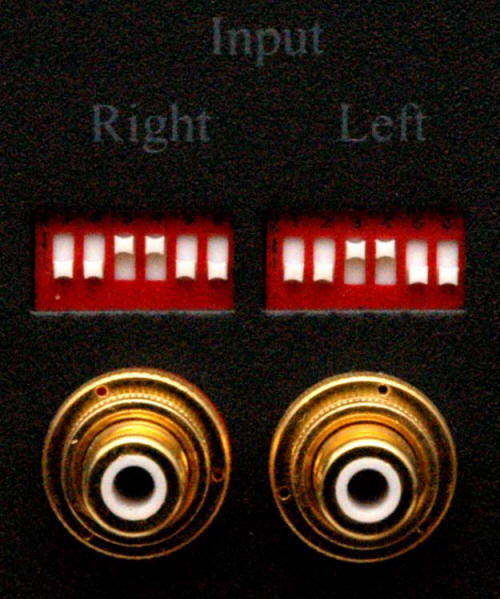 When first powered on, the blue LEDs above both the "Power" and "Mute" switch light, and the SWP 9.0SE will remain in mute mode for approximately 45-seconds. After the tubes have had a chance to stabilize and ramp up to their operating voltage, the unit automatically releases the Mute mode and you are ready to hit the vinyl trail.
Like all of the ModWright Instruments, the SWL 9.0SE utilizes Alan Kimmel's 'Mu' stage circuit type. Inside, the SWP 9.0SE is all business where it becomes apparent that great attention was paid to detail, including shielding, grounding and power supply design.
Dan has populated the board with superlative components including Schottky diodes, Vishay metal film resistors and ceramic tube sockets. Further, the signal path is loaded with ModWright Instruments custom made oil-impregnated polypropylene and Teflon™ film and foil caps. These singular capacitors are designed by and built to Dan's specification, and they all bear the ModWright (MWI) logo. Do-It-Yourselfer's take note; these caps will soon be available for your personal favorite project. The power supply employs choke input current regulation, DC heaters, and discrete B+ voltage regulation. Completing the power supply, a 5AR4 tube, one of the strongest and most widely used rectifier tubes in both audio and guitar amp design, affords rectification for the B+ supply.
In an attempt to optimize high current, low noise and low distortion, the tube compliment was selectively thought-out. To that end, each channel employs one 6C45 in the first stage. The second stage uses one 6N1P, while the final gain stage uses one 5687. The input stage is a tube/FET hybrid stage, using multiple parallel FETs to minimize noise.
The 6C45 tube was Russian developed for military (radar) applications, and has electrical characteristics similar to the now hard-to-find Western Electric 437A (i.e., very high transconductance). The 6C45 seems readily available for around $35 or less, but the increasingly rare WE 437A sells for $450 a valve! This tube seems intended primarily for use in the high frequency voltage amplification stage of wide band amplifiers.
The 6N1P is an unusual Russian-made miniature 9-pin medium gain dual triode. The 6N1P has been heralded for staying smooth while providing quite punchy, full-bodied, and round bass; it personifies tube "sweetness," with a distinct lack of harshness or "grain" in the sound. While Dan settled on the 6N1P, tube rollers may want to play with their favorite 6DJ8, 6922'S or 7308, all of which will work in that location.
Now out of production, the 5687 is a linear dual triode computer tube, one that has garnered a sizable underground audiophile following. The 5687 is employed in a number of highly regarded products, including the almost legendary Audio Note RM Ongaku, as well as their M7 preamp and Meishu integrated.

Cartridge loading is handled by the two sets of 6 dual in-line package (DIP) switches located on the back right side of the chassis just above the single ended inputs. Switch 1 and 2 are both 100 ohms, switch 3 and 4 are both 1000 ohms, switch 5 is open for the user to apply any capacitive or resistive load of their own choosing, and switch 6 is 47,000 ohms.
When any individual switch is in the down (off) position, it has no impact on loading; when it is up, its value is paralleled with any other switch that also may be in the up (on) position and the signal path. So if either switch 1 is up and switch 2 is down, or vice versa (switch 2 is up and switch 1 is down), there is a 100 ohm load presented to the signal path. With both 1 and 2 up, both resistors are paralleled so that value is halved, presenting 50 ohms to the circuit. The same holds true with switches 3 and 4. With either 3 or 4 up and the other down, the load is 1000 ohms. With both up, the value is again halved to .5K (500) ohms.
Essentially, out of the box you have options for 50, 100, 500, 1,000, or 47,000 ohm resistive loading, with minor variations to these values available, and no provisions for capacitive loading. For instance, you will have 45.411 ohms (all switches up – except the open spot) instead of 50 ohms, or 83.039 ohms (by selecting switch 1 or 2 [at 100 ohms], switch 3 or 4 [at 1000 ohms], and switch 6 [at 47000 ohms]), instead of 100 ohms. This seems rather limited for an offering at this price point.
I asked Dan about this seeming limited versatility, explaining that I was used to seeing different values for each switch. He seemed almost embarrassed when he replied that it had never occurred to him to offer different values for the different positions. He went on to say that, he was only thinking of presenting all loads in parallel with the signal, never in series, in order to minimize signal degradation. However, given the nature of our discussion, I would not be surprised to see that future models may offer a more diverse selection of loading options.
Finally, as with all ModWright Instruments products, the SWP 9.0SE is warranted for a full five years from date of purchase, with its included tubes covered for the first six months. ModWright Instrument warranties cover the original owner only and do not transfer.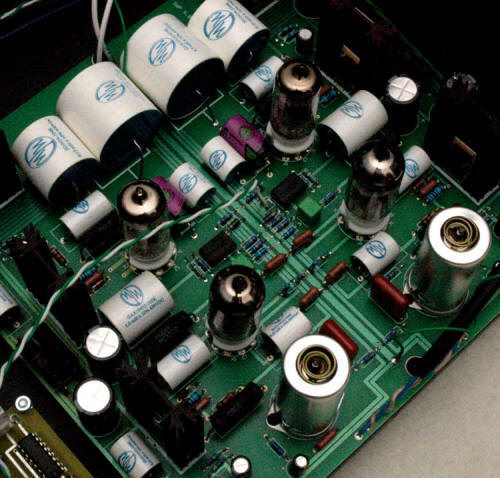 Space - the ModWright Frontier
When it comes to timbre and tonal balance, the 9.0SE paints the sonic panorama with a tonal richness and correctness that encroaches upon reference quality. Bass note reconstruction is amply full, with a remarkable degree of impact and fidelity of timbre, that, when taken in combination, serve up astonishingly accurate and involving pitch definition. Listen to the bass lines on "Black Cow," from Cisco's 30th anniversary remaster of the Steely Dan pop/jazz masterpiece, Aja (Cisco CLP-1006). The 9.0SE treats you to all the glory of this reissue, its focus, texture and harmonic splendor.
Moving to "I'm In Love With My Car" from the DCC remaster of Queen's A Night at the Opera (Hollywood Records LPZ 2072), I was nearly enveloped in the luscious, rich skin tone of the drum kit. This highly effectual recreation of the lowest registers contributes greatly to the 9.0SEs ability to convey a get-up-and dance sensation of pace and rhythmic content.
As wonderfully tuneful as the 9.0SE is in the neither regions, in terms of absolute bass extension, the 9.0SE is slightly remiss. The lowest half octave or so suffers slight underdevelopment and the attack is softened slightly. So slight in fact, that I suspect many, especially those with speakers not capable of reaching into the upper to mid 20 Hz regions, would neither notice or care.
Midrange tonal color is vivid, luxuriant and honest, with no hint of the bloat or editorialization often offered by lesser tube designs. Give a listen to Wayne Shorter's saxophone work on the title cut, "Aja," again from the Cisco 30th Anniversary release, and you will revel in accurate, liquid and vital notes, as they almost drip with harmonic texture. Though this should come as no surprise, being a traditional stronghold of tube-based preamplification, this is one area where the 9.0SE narrowly edges out my $8000 solid-state reference, the Dynamic Sounds Associate's Phono ONE. ModWright has chosen to make a strong statement in this department, one that should absolutely enchant any vinyl addict.
Well-recorded cymbals played back the 9.0SE are a delight, as you are treated to all the delicious detail and bronzy flavor captured by a recording. The ride cymbal on "Black Cow," again from the Cisco release, is richly rendered, and full of detail. Treble performance is especially clear, detailed and articulate, full of sparkle and speed. This degree of detail and air contributes greatly to the overall musical focus the 9.0SE delivers.
The 9.0SE paints a sonic landscape that is among the most vast and accurate available. Soundstage depth, width and height are accurately portrayed and, recording dependant, sized. One of its real virtues is its ability to recreate correct instrument sizes, their locations and interrelationships. In fact, its ability to replicate so convincingly the layering of the soundstage, as well as its ability to recreate hall or room ambiance, is virtually unassailable. Time after time, with intimate jazz, full orchestral pieces, or anything in between, I was treated to every bit of the performance I have come to expect from my reference DSA Phono ONE with these spatial attributes; no small feat, given the $5000 price difference.
Quiet is the 9.0SEs middle name. While not quite as near-silent playing back null tracks as my reference, it is nonetheless remarkably hushed reconstructing the silence between tracks (pressing permitting) and with null tracks. As you might suspect, this characteristic allows the 9.0SE to spawn a very black background from which the music can more magically originate. While there is no question that the 9.0SE can serve up dynamic impact competently, with plenty of jump and slam, it is just slightly remiss in this area when compared to more costly reference devices. The portrayal of microdynamic shadings, while rendered very well, seems to be yet another of the minor weaknesses I noted with the 9.0SE.
Adding a dollop of wallop
I have to admit that I wondered if the minor weaknesses I had uncovered with the 9.0SE, the slight fade in extension and impact at the lowest octave, the slight compression of macrodynamics, and the minor congestion of microdynamic resolve, were attributes that might be readily addressed. Since many will see the 9.0SEs tube-rectification as an inherent sonic strength, contributing significantly to its overall signal liquidity and holographic imaging, I had to wonder if the rather affordable Sovtek 5AR4 might be a weak point…
After discussing these minor shortcomings during an unrelated conversation with redpoint audio Maven Peter Clark (the redpoint Model D is currently in house and under review), and after hearing his glowing affirmation of Mullard rectifiers, it was time to see if I might be able to do some rudimentary tube rolling.
I ran the request for a Mullard 5AR4 past the entire PFO staff, but no one seemed to have one. I was provided an address of a web retailer who could likely hook me up with a used Mullard for about a hundred bucks. Sadly, that seemed a bit rich for a purchase that I may never use again. It was at this point that Dan Wright kindly offered to send me his own GZ34 Brimar Rectifier valve tube, manufactured by Mullard. It arrived overnight (thanks again, Dan), and in it went.
I'm glad I chose to put this theory to the test, as the change afforded by this tube swap was not subtle. Bass authority was now nearly center-of-the-earth, unquestionably much deeper than with the readily available Sovtek. While microdynamic involvement was similarly improved, overall impact and bass rise times were still just a bit wanting. Nevertheless, this NOS rectifier nudged the 9.0SE considerably closer to my reference. This was an outstanding performance upgrade given the overall cost and the limited effort involved.
Now, you may ask, if there is such an audible improvement with just the replacement of one tube, why wouldn't ModWright include such a tube in their production models? There are a number of utterly valid reasons, including NOS device availability, unit-to-unit consistency and target pricing, not to mention the intrinsic fun and education that come in the tube-rolling experience. And truth be told, the out-of-the-box performance is exemplary – it truly is.
We have a winner…
The SWP 9.0SEs strengths lie in its ability to render evocative tonal color and its uncanny ability to portray the space captured on the recording. Its weaknesses, the slightly truncated rise of deep bass articulation and dynamic events and slight homogenization of microdynamic shadings, should be seen for what they are, extremely small blemishes on an otherwise stirring accomplishment. In fact, did I not already own the superlative DSA Phono ONE, I could EASILY live with the ModWright SWP 9.0SE – it's that good.
Dan Wright has, perhaps not so surprisingly, succeeded in impressing me once again. With the ModWright SWP 9.0SE, he has delivered a captivating preamp with a soul, a highly robust and enthusiastically musical one at that. The 9.0SE is unrelenting in its desire to sing the music it plays, to dance in the melodic joy of its own voice. It is an unquestioned triumph; one that you should consider most seriously should you be in the market for a phono stage at any price. I can't wait to see what this talented and gifted young designer will do next. Greg Weaver
SWP 9.0SE Phono Preamplifier
Retail: $2995
Tube Complement: (2)6C45's, (2)6N1P's, (2)5687 tubes

Gain: 66dB Max MC gain. Hi/Low gain switch on front panel

Stereo/Mono Switch on front panel

Variable Cartridge loading for MM/MC

Output Impedance: ~600ohm

Frequency Response: 20Hz – 50Khz +/-1dB

Weight: 27 lbs. (32 lbs. shipped)

Dimensions: 17"W x 12"D x 4"H
ModWright
21919 NE 399th St.
Amboy, WA 98601
TEL: 360. 247. 6688
web address: http://www.modwright.com
email address: modwright@yahoo.com