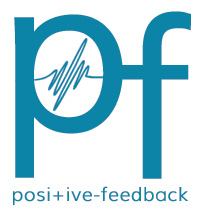 You are reading the older HTML site
Positive Feedback ISSUE
33
september/october 2007
Yerba Buena Bounce, The Hot Club of San Francisco
by Karl Lozier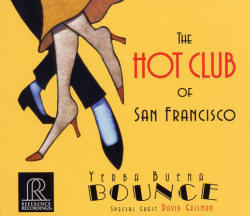 Reference Recordings HDCD RR-109
Wow! What a fun recording and production! Minute after minute the unmistakeable feeling of fun was either constantly or continuously with me. That is true even after a half dozen listening sessions. The musicians absolutely had to be having fun—like all the time. The only possible exception was the surprisingly subtle, beautiful and seemingly deeply felt performance of that famous classic tune by Hoagy Carmichael, Stardust.
What is presented here is a diverse small group named The Hot Club of San Francisco. The instruments played are violin, solo guitar, a pair of rhythm guitars and string bass. The release includes two bonus tracks. The added tracks include solo guitarist Paul Mehling doing a bit of vocals along with an addition consisting of clarinet, trumpet and some double duty with trombone and tuba. Turn up the gain/volume control on your amplification and with decent loudspeakers you will feel a bit of those compression waves hitting almost like you were near a tuba player or the tuba section at a high school football game or other event.
It would be a bit of a reach to call the music they are having fun with, nostalgic, or is it? This, the tenth CD released by the group is transporting listeners back to Paris in the thirties—yeah, seventy years ago. Is seventy years too long ago to qualify as nostalgia for anyone younger than ninety years old? Many jazz aficionados consider Django Reinhardt to be the father of modern swing and jazz guitar playing! For those of you too young to be familiar with Reinhardt, some years ago EMI released a huge CD set, "Djangology" that contains 243 performances with the Quintet of the Hot Club of France co-starring violinist Stephane Grappelli! Gypsy jazz or swing probably best describes the music played on this new release. Paul "Pazzo" Mehling founded this group and is its leader. Three of the selections on this CD are Django's melodies. As was true seventy years ago in France, here Evan Price's violin playing is truly co-starring.
The audio quality and perspective is simply spot on even if not simply obtained. The excellent liner notes describe in detail the unexpected (to me) effort made to correctly capture the perspective of the recording session. At times a subtle and seemingly appropriate bit of spotlighting is evident. The captured or created perspective seems to almost place the musicians in my listening room and the overall audio quality is simply excellent, basically as good as CD gets. I could almost guarantee that for those fortunate enough to have the correct HDCD circuit in their player or receiver (less common nowadays though some components by Denon, Cary and others may still have the correct decoding chip) to take full advantage of HDCD's unique 24 bit processing they would hear a subtle, slight or possibly an easily noticed improvement in resolution or spatial imaging or both. This release easily earns a top recommendation with infectiously enjoyable music presented with Reference Recording's typical superb sound quality. For many years I used players that featured the HDCD decoding chip.
NOTE: HDCD stands for High Definition Compatible Digital. This is a unique encoding process that actually claims to be the most accurate recording process available. The result should be even better performance when used as a "regular CD" used with a "regular CD player". The ultimate in resolution, imaging and spatial information occurs when RR's HDCD discs are used with players or amplification such as some Denon AV receivers that have the HDCD decoding chips. Supposedly the closest competition for current audio quality would be SACD two channel releases (HDCD is not available in multi-channel). I am at a loss to figure out how to prove this with any commercially available recordings. I can personally attest to the extremely high quality of many of their HDCD releases but how to compare them to SACD releases directly, accurately or fairly I would need input from RR's "Prof" Johnson. Consider this as a request Dr. Johnson.