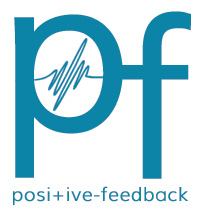 You are reading the older HTML site
Positive Feedback ISSUE
34
november/december
2007
Notes of an Amateur - November, 2007, Part 1
by Bob Neill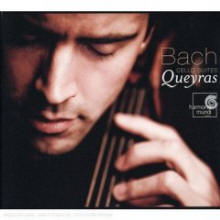 Bach, Cello Suites, Jean-Guihen Queyras, Harmonia Mundi HMC 901970/71.
My latest batch of CD's for reviewing had become a considerable stack by the time I was due to attend the annual Rocky Mountain Audio Fest in Denver, so I decided to take a number of them along to see how they'd be received by music-loving audiophiles. These are the only sort who spend much time in the Amherst Audio demo room at shows because I tend to play music that interests me rather than the recordings that exist primarily for their ability to strut their sonic stuff.
One of the albums that evoked a truly passionate response was Queyras's new set of the Bach Cello Suites from Harmonia Mundi. Queyras has become one of HM's 'house cellists' since the splendid version of the Britten Cello Suites he did for them as one of their 'new artists.' (He is also the cellist and founder of the new Arcanta Quartet, see below.)
Queyra's Bach is wonderfully lyric—the dance movements or suites truly dance—giving this music a flow and forward movement that I have always felt is critical to good Bach. Even the more deliberate suites walk with a lilt to their stride. How to dance this music and still maintain its emotional power takes a musicianship that few cellists possess.
Recommending a single set of the Bach Cello Suites is a silly enterprise. There are nearly an infinite number of ways to play this essential music convincingly. I am fond of Rostropovich, Wispelwey (I and II), Mork, Starker, Casals, Heinrich Schiff, Haimovitz, and will now add Queyras to my collection. I expect to return to him more than most for the pure musical pleasure he gives.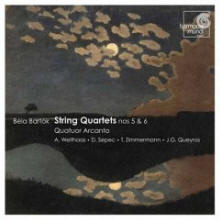 Bartok, String Quartets, Nos. 5 and 6, Quatuor Arcanto, Harmonia Mundi HMC 901963
I can still remember when the Bartok Quartets were a radical musical world set over against the one I was comfortable in. That is, I heard these quartets as they were written and meant to be heard in the heyday of musical modernism of the late1930's. Then, over time, their world became habitable: I found myself, along with most of my contemporaries, relatively comfortable in it. That, of course, is what happens to the avant garde if it's truly avant and not just eccentric.
There are many excellent recordings of these quartets, the Veghs, Emersons, Tackacs among the best known. My first impression of this new release of Nos. 5 and 6 by the Arcanta Quartet, led by cellist Queyras, is that they recover a good deal of the music's original newness. All corners are turned crisply, ensemble work is highly disciplined, musicianship is virtuosic. As a result, the performance as a whole delivers the full, coherent impact of dynamic energy and force that is the heart of musical modernism. This music can be played with less eloquent severity by musicians determined to bring out the root of its Hungarian folk origins; but I doubt it can be played with more aesthetic authenticity.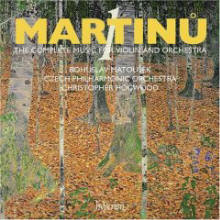 Martinu, The Complete Music for Violin and Orchestra I, Bohuslav Martoušek, violin; Czech Philharmonic Orchestra, Christopher Hogwood, conductor. Hyperion CDA 67671.
Christopher Hogwood, having made a considerable reputation as a leader in the Early Music movement, has lately plunged into a 'second career' as an interpreter of the modernist music of the first half of the twentieth century—often called neo-classic for its translation of eighteenth century counterpoint and complex musical texture into a modern idiom. This is a move that music historian and critic Richard Taruskin, who feels modernist taste fueled the Early Music movement, could have predicted.
With this disc, Hogwood embarks on a four-disc series of the violin music of Bohuslav Martinu, a composer just below the modernist horizon for many music lovers. He may be the only composer of his stature who has a distinctive and immediately recognizable voice who has not been accorded the status of a major composer. His modernism bears the clear stamp of Stravinsky—some of his chamber works could easily be mistaken for the famous Russian's work. But there is something else at work here, something that many of Martinu's better known contemporaries working the same vein—Hindemith, Milhaud, Honegger—lack. A passionate, insistent, rooted voice that continually draws me back to his music. Modernism pulls composers toward a sense of emotional detachment that only the best of them are able to resist. Martinu is one them. His voice is not a highly varied one—he frequently returns to favorite melodic material and familiar rhythmic figures. But if you enjoy the energetic, Dionysian side of modern music, I expect you'll go a long way into Martinu's music before exhausting its possibilities.
System used for these auditions: Audio Note CDT3 transport and Dac 4.1 Balanced Signature; Audio Note M6 Phono preamplifier and Neiro monoblock amplifiers; and Audio Note E/SPx SE speakers; with Audio Note Sogon and AN-Vx interconnects and SPx speaker cable.
Bob Neill, in addition to being an occasional equipment and regular music reviewer for Positive- Feedback Online, is also proprietor of Amherst Audio in Amherst, Massachusetts, which sells equipment from Audio Note, Blue Circle, Manley Labs, and JM Reynaud, among others.