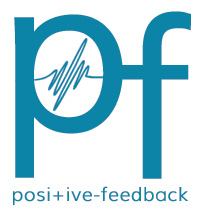 You are reading the older HTML site
Positive Feedback ISSUE
34
november/december
2007
Notes of an Amateur - November, 2007, Part 2

by Bob Neill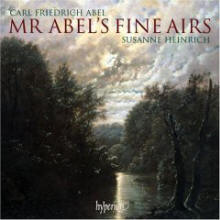 Carl Friedrich Abel, Mr. Abel's Fine Airs, Susanne Heinrich, Viola da gamba, Hyperion CdA 67628.
Another big success in the Amherst Audio room at the recent Rocky Mountain Audio Fest was this out of the way jewel from Hyperion, featuring the silky, tenebrous, coppery sound of the viola da gamba, played by Susanne Heinrich. We're probably not expected to know who Abel is until after we've met him here (though Amazon lists a considerable number of recordings of his music). And after we have heard him, we are surely meant to realize that Marain Marais deserves company in the archive of memorable composers for this instrument.
Abel composed in the generation after Marais, in mid-eighteenth century Germany. He knew Bach and was a contemporary and friend of his sons, one of whom he accompanied to London where they collaborated. All of this said, though he is less melancholy than Marais, there is a good deal of the French spirit in his music. It is more lyrical, diverting, and less ambitious than Bach's Cello Suites. (These are, after all, airs.).
Susanne Heinrich's tender but assured touch appears to get him perfectly. Heinrich has played with the delicious Palladian Ensemble for many years and is considered one of the leading players of her generation. According to the album notes, she is currently focusing mainly on as yet unpublished music for the viol. If these are the first fruits of her efforts, we urge her to keep at it! This album is a delight.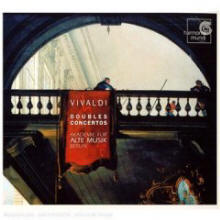 Vivaldi, Double Concertos, Akademie fur Alte Musik, Berlin. Georg Kallweit and Midori Seiler, concertmasters. Harmonia Mundi, HMC 901975.
German 'early music' ensembles are often criticized for sounding Italian without the esprit, especially when they dare to play Italian music and most especially when they are described by new listeners who come to them directly from the Italians. If these listeners hang around the likes of Berlin's Academy of 'Alte' Music long enough to get what they are up to, this criticism, like so many based purely on contrast, tends to lose its point.
Vivaldi definitely changes, as he moves from Il Gardino Armonico to the Academy, but what is lost and what is gained are clearly aspects of Vivaldi, nothing more, nothing less. What the German ensemble features in these marvelous concertos are a clarity and eloquence that requires no Italian emotional indulgence to bring out. Restraint, superb musicianship, and an infectious, natural sense of élan. If anything, their performance narrows the artificial gap between Italian and German baroque music that many writers and even performers have created. In the slow movements especially, we hear what letting the music have its own way can do for Vivaldi: an understated lyricism that goes right to the soul. Italian ensembles love the robust side of Vivaldi which, they persuade us, is very real. The Academy clearly loves the Apollonian beauty in him, which requires a more even-handed approach to bring out.
The Academy of 'Alte' Music has been performing for 25 years and recording for 20. They originated in East Berlin and have become one of the most admired ensembles of their kind. Sometimes led by René Jacobs, they perform here led by their concertmasters. The sound on this recording is terrific, contributing greatly to the clarity and grace the Academy pursues.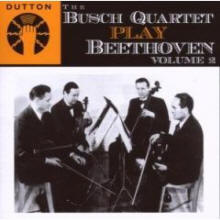 The Busch Quartet Play Beethoven, Volume 2. Quartet in C Major. Opus 50, No. 3; Quartet in C Sharp Minor, Opus 131. Busch Quartet, Dutton CDBP 9773.
Can a lifelong audiophile, even one who considers himself a fairly passionate music lover, ever come to ignore compromised sound for the sake of truly well-performed music? This one can, sometimes; but less often than his artistic conscience tells him he should. I listened to an old, severely limited and compromised vinyl recording of Brahms' Fourth Symphony led by Furtwangler here a year or so ago and was so moved by it that while aware of the bad sound, I wasn't finally stopped by it, at all. I was so impressed with my artistic purity that I bragged about it for weeks. But that was a rare occurrence.
Listening this week to a digital transfer of the much revered Busch Quartet playing Beethoven in the 1930's on a CD by the always demanding and painstaking Dutton label, it was a hard call well into the listening session. The sound was lean and a bit hollow and the cello was seriously suppressed. Should I review this recording or just let it go away? The Opus 131 seemed very right in execution but the limitations of the recording, doubtless restored to the limits the current state of the technological art permits, were conspicuous. If I imagined myself listening through a nearly closed door, maybe?
There were moments when the texture of the instruments jumped into the room, but they were few. In music, the medium is not entirely the message, of course. But it is an essential part of it. I go to concerts to hear the instrumental voices I have come to love; and while the performance on this CD, especially of the Opus 131 after I began to adapt to the sound, periodically drove the medium to the edge of my consciousness, it was never quite out of the picture. This is not tragic, it is just unfortunate. We moderns are accustomed to thinking we can have everything, but we cannot. Some things are lost, or at least partially so. I knew I could fix some of 'the problem' with warmer electronics and speakers, but the fix would sound like a fix because there is something powerfully penetrating about this performance coming through my reference system that would surely be lost. You can pour a lot of cream into really good but very strong coffee to make it easier going down; but it is not then the same coffee.
I say all of this in the interest of honest reporting, but now comes the surprise ending. About ten minutes into my second listening session with the Opus 131, after I had essentially written all of the forgoing, an unusually good Single Malt Scotch just sent by new friend Alfred Schippitz working its delightful way into my being, I suddenly realized I was listening only to the Busch and Beethoven, not the narrowed window through which they were passing. What had changed… that the Scotch can't account for? Well, it would appear that the music had at last and in fact overwhelmed the sound. Was I softening because of the reputation of the performance? No, I really wasn't, as grand as it is. I was simply taken over by the music, as happens even to amateurs who can't account for why they are moved as accurately (persuasively?) as some professionals can. The compromised sound was still there when I shifted my attention to it, but it had come to matter less, Scotch or no. The true beauty of the face had overcome its blemishes, not erased them, overcome them. This happens every day in the world outside of music, as my image suggests. Why shouldn't it happen within it, the world where, musicians themselves tell us, if the performance is good enough, our minds will soon enough compensate for the limitations of the sound?
I commend this recording to you for Opus 131 in particular and challenge especially the audiophiles among you to take the sound vs. music test to see where you come out. With or without Scotch. And I offer my gratitude, which I was reluctant to offer on first hearing, to Dutton for raising the Busch's Beethoven from the dead.
System used for these auditions: Audio Note CDT3 transport and Dac 4.1 Balanced Signature; Audio Note M6 Phono preamplifier and Neiro monoblock amplifiers; and Audio Note E/SPx SE speakers; with Audio Note Sogon and AN-Vx interconnects and SPx speaker cable.
Bob Neill, in addition to being an occasional equipment and regular music reviewer for Positive- Feedback Online, is also proprietor of Amherst Audio in Amherst, Massachusetts, which sells equipment from Audio Note, Blue Circle, Manley Labs, and JM Reynaud, among others.