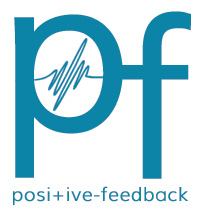 You are reading the older HTML site
Positive Feedback ISSUE
34
november/december
2007
Notes of an Amateur - December, 2007, Part 1
by Bob Neill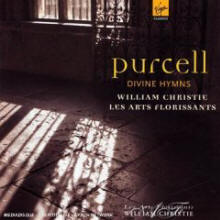 Purcell, Divine Hymns, William Christie, Les Ars Florissants. Virgin Classics 95144.
This became one of my favorite releases of 2007 on the basis of its first cut—and then got better. I will (almost) concede that it takes a love of baroque vocal music to respond so strongly to Henry Purcell. But even for those of you on the outer edges of affection for this kind of music, I expect the quality of the soloists and direction by the inimitable William Christie will make the program irresistible.
To call this tiny portion of the full ensemble—five vocal soloists, a therobist, a viola da gambist, and Christie himself (on organ and harpsichord)—"Les Ars Florissants" is a bit of a push—just as it is to call Jordi Savall's travelling band of six or so musicians "Le Concert des Nations." But the musical spirit that has characterized this best of baroque groups for a generation is clearly present here.
Christie himself is an American music scholar, keyboard musician, and leader who went to France in the early 1970s to become involved in performing and ultimately recording French baroque music. He founded the ensemble Les Ars Florissants in 1979. For a while, in addition to performing in France and the rest of Europe, the group would come to the US annually, mainly to the Brooklyn Academy of Music, to perform their productions of French baroque operas by Charpentier, Lully, and Rameau to great acclaim. I'm not sure they still do that, or at least not regularly. I heard them perform a concert version of Purcell's opera, The Faerie Queene, in Boston's Jordan Hall circa 1990, and it was the most memorable musical experience of my life. Christie is now so well known that there aren't even any notes on him in the album booklet! Many of the group's original members recruited by Christie have gone on to notable solo careers, but he seems more than able to find successors who meet the standards established by the first group, as this album clearly demonstrates.
The only non-French music Les Ars has performed that I know of is that of Purcell. His versions of the Faerie Queen, King Arthur, and Dido and Aeneus turn those operas into gorgeous French masterpieces, which their English composer would surely have loved. They do the same with these hymns. These ravishingly beautiful performances must now stand alongside Robert King's complete set for Hyperion as evidence that even after so definitive a performance as King's, there is always more to say.
Christie includes a handful of hymns by William Croft, John Blow, and Pelham Humphrey to shed additional light on the genre.
For those of you to whom such things matter, the sound of this recording is as fine as the performances. Engineer: Frédric Briant. The CD was made in L'Eglise Evangelique Allemande, Paris.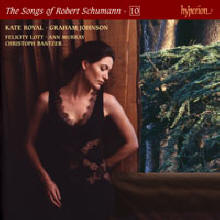 The Songs of Robert Schumann, Volume 10. Kate Royal, Soprano and others; Graham Johnson, piano. Hyperion CDJ 33110
There is something about the sound of music in the nineteenth century that made possible the art of the classical song cycle. By the time we get to Mahler at century's end, they were orchestra accompanied songs. But before that apotheosis, if that's what it was, we had a soloist and a piano and the particular intimate sound that only a duo can create. Some of us drawn to this beautiful, rarefied genre find that Schubert and Schumann got it best. We can hear all that Mahler did already brought to perfection in…well in Schumann's Liederkreis, the principal exhibit before us in this recording. And we are therefore grateful in the extreme to Hyperion Records for their complete song series of these two composers—the Schubert now done, the Schumann nearly so.
If the l970's were the golden age of classical music recording, when excellence in performance and in recording quality seemed to peak in the production of some of the greatest vinyl releases ever, then surely, even as news of decline whirls around us, this must be the silver age, especially in Europe, where the leading labels continue to pump out wonderful sounding digital recordings of a generation of inspiring young and not-so-young musicians. The primary appeal of this, Volume 10, of the Schumann series is young soprano Kate Royal, who commands the first 25 minutes of the recital with a performance of Liederkreis. I have not heard her before but I have promised myself to hear her again. The rest of the album is a miscellany of ensemble numbers and duets with somewhat less appeal. This is, after all, a complete cycle that Hyperion is giving us, so we will get the good along with the great. For me, Royal's Liederkreis is easily worth the price of admission. This is wonderful music and wonderful music-making.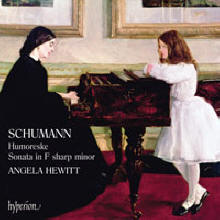 Schumann, Sonata No. 1 in F sharp minor, Opus 11; Humoreske in B flat major, Opus 20. Angela Hewitt, piano. Hyperion CDA 67618.
How wide is Angela Hewitt's range? Having recorded most of Bach's keyboard music, in the process of doing all of Beeethoven's sonatas, and having done two CD's of Couperin, one of Rameau, and one of Chabrier, just to mention the ones I know of, here she is with Schumann, his extraordinary first piano sonata, no less. All of her recordings that I've heard are very good (I've not heard the Beethoven yet), some are exceptional. But this recording of Schumann's first sonata is beyond exceptional.
Her especial quality of moderate restraint gives Schumann a quality I have not heard from him before. I expect I'm being somewhat influenced by the marvelous engineering—her piano is all here. But I've yet to hear this much poetry and this much power not pull each other apart. The trick presumably is to rein in the power without appearing to do so, and she manages this compellingly, mainly by getting on and off the keys with dispatch. Bold chords don't linger with Hewitt. This presents Schumann as the legitimate successor to Beethoven, separating him, at least for the length of this particular work, from many of his contemporaries. The first time I heard this work was over 40 years ago, played by a musician friend in his living room in an effort to persuade me how good a composer Schumann is at his best and how wrongheaded I was to complain about how soft 'romantic' music is. I have never forgotten the experience—and this one has brought it back in full.
The emotional range of this sonata is huge, which brings me back to my opening remark. Those who have type-cast Angela Hewitt as the cool-headed, disciplined performer of Bach, Couperin, and Rameau (I'm guilty too) will be knocked for a loop. That she loves the work is expressed clearly and enthusiastically in her album notes; that she understands and is fully capable of demonstrating how emotionally inclusive it is comes through in her playing.
The Humoresque has all of its roots in the music around it—no hint of Beethoven in its past—and it makes a fine complement to the sonata.
I guess what this means is that I'll have to chase down the first couple of volumes of her Beethoven cycle.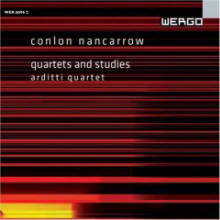 Conlon Nancarrow, Quartets and Studies, Arditti Quartet. Wergo WER 6696.
Thomas Adès, Britain's principal contemporary composer, has said that he considers Charles Ives and Conlon Nancarrow American's chief composers. When composers (and poets) say this sort of thing they are generally telling us little more than who their major influences are: what musical tradition they claim to be a part of. But in Adès' case this may also be a shrewd judgment.
Nancarrow (1912-1997) is known, insofar as he is known at all, as a composer of studies for the player piano (!) (Why the player piano is a long story best pursued in the album notes or on Google.) I discovered him around ten years ago by heeding an enthusiastic review. I have rediscovered him this fall in a new recording by the world famous Arditti Quartet, which features two of his string quartets (one commissioned by them), two of his Studies for Player Piano transcribed for string quartet and one for string trio, a Tocatta for Violin and Player Piano, and a Trilogy for Player Piano. Wergo deserves great credit for this CD, though it would have been nice to have it while he was still living. Wergo also released his player piano studies years ago (WER 69072).
What Adès presumably hears in Nancarrow (and Ives) is the authenticity of their newness.
The existing monuments [of poetry…or music] form an ideal order

among themselves, which is modified by the introduction of the new

(the really new) work of art among them. T.S. Eliot, Tradition and the Individual Talent.
It is this quality that makes works essential not to their own generation but to the one following. What we hear in Nancarrow in these works, especially in the pieces derived from his Studies for Player Piano (and in one case played on one) is a furious weaving together of short thematic riffs and longer contrasting phrases and passages, all conceived to produce an often nearly feral action painting in sound. There are also hints and eruptions of sparse lyricism here and there, calling to mind the Copland school of American romanticism (the middle movement of Quartet No. 3) to remind us what culture this composer and his music "come from." The deeper we get into the program on this recording, the closer we get to the center of Nancarrow—and the uniqueness, the newness, of his contribution to modern music. The eloquent fury and waywardness of a renegade musical mind, which commands our attention to its raw, 'uncultivated' vision of the possibilities of life. I have listened to a lot more Adès than Nancarrow of late, but this trip back to the American has got my Nancarrow ears a popping again.
Go for this—and then, once you've tasted the last three cuts, the Trilogy for Player Piano, go to the Studies for Player Piano and get inside the origins of the generation after Noncarrow!
System used for these auditions: Audio Note CDT3 transport and Dac 4.1 Balanced Signature; Blue Circle FtTH integrated amplifier and Blue Circle BC6000 line conditioner; JM Reynaud Offrande Signature speakers; with Audio Note Sogon and AN-Vx interconnects and Audio Note Lexus speaker cable.
Bob Neill, in addition to being an occasional equipment and regular music reviewer for Positive- Feedback Online, is also proprietor of Amherst Audio in Amherst, Massachusetts, which sells equipment from Audio Note, Blue Circle, Manley Labs, and JM Reynaud, among others