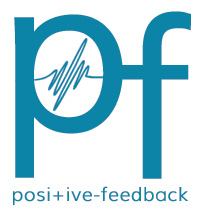 You are reading the older HTML site
Positive Feedback ISSUE
34
november/december
2007
The 4th Annual Positive Feedback Online's Writers' Choice Awards - for 2007
Beginning at the end of 2003, PFO established its first annual awards for fine audio. The Brutus Award was established for the best that Dave Clark and I had heard in our own listening rooms during that year. You can think of it as our equivalent of an "Editors' Choice" award.
The Gizmo Award, on the other hand, was established in memory of my very good audio friend, Harvey "Gizmo" Rosenberg, and is given by me to the most conspicuous audiomaniac(s) of the year. Only one Gizmo is given per year.
The following is an opportunity for our editors and writers to recognize superior merit in the audio arts though their "Writers' Choice Awards". Our writers and reviewers have been given broad leeway to cite excellence in fine audio wherever they find it: products, people, recordings, events, groups, etc., so that our readers can be better informed.
It is our hope that you will find the PFO Writers' Choice Awards to be helpful to you in your audio journey.
All the best,
David W. Robinson, Editor-in-Chief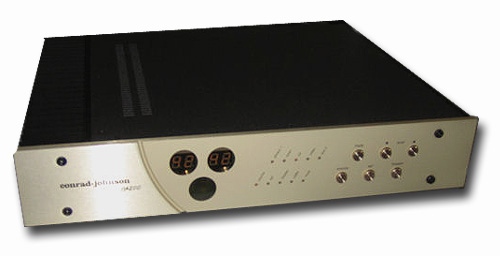 conrad-johnson CA 200 Control Amplifier Review
My nomination for PFO's 2007 Writer's Choice Awards goes to conrad-johnson's remarkable CA200 ($6500) control amplifier. Essentially a scaled-down version of the company's flagship Premier 350 solid-state power amplifier mated to the passive input/output interface and volume attenuator of its Premier 18LS solid-state preamplifier, the 185 watt-per-channel CA200 sets a new standard for integrated amplifier performance. Subtle and sweet, with a midrange that is lifelike and captivating, the CA200 never fails to connect the listener with the heart of the musical performance. While not inexpensive, the CA200 is the best one-box amplifier solution I've heard. www.conradjohnson.com
It seems that my products of the year list gets a little longer with each passing year (well, at least I read and follow the instructions in owner's manuals!) If I write long enough for Positive Feedback Online, my list will someday rival (or surpass) both my editor's David Robinson and Dave Clark. Enough said. Now for the crème de la crème of the class of 2007...
conrad-johnson Anniversary Reference Triode (ART) Series 3 Dual Mono Tube Preamplifier and LP140M (Linear Pentode) Monoblock Tube Amplifiers Review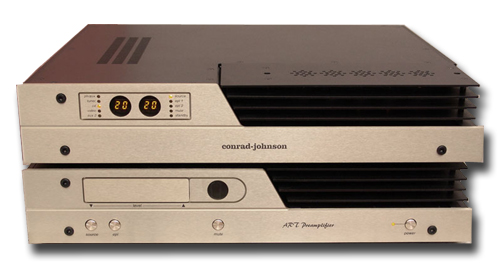 We've come to appreciate over the thirty years conrad-johnson has been in business, that parts quality and selection profoundly impacts the sound of high-end audio electronics, turntables, speakers and cables. Parts quality, namely conrad-johnson's newest cj-D Teflon film capacitors, is a large part of the story of conrad-johnson's two newest products, the updated limited edition ART Series 3 preamplifier and new LP140M amplifiers. These new products have, especially when paired together, an uncanny ability to transcend the sonic barrier between reproduced and live music.
The updated ART, bearing a Series 3 designation, is a substantial improvement over my earlier Series 1. While the new ART Series 3 has much cleaner and extended frequency extremes, greater low level information retrieval, dynamics, transparency and openness, the real story here is the preamplifier's uncanny freedom from overload—read thinness and brightness in the upper midrange and lower treble—under duress. This lowered distortion allows the mind's ear to relax and appreciate the new found musical dynamics.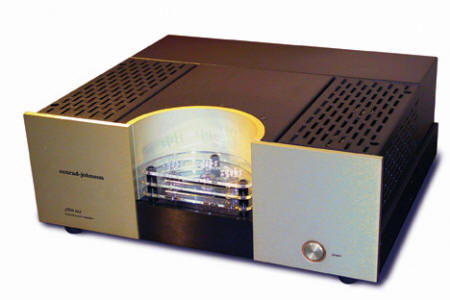 The 140-watt LP140M monoblocks are largely based on Conrad and Johnson's tried and true driver and output stage circuit design. But the real star of the game, as in the ART Series 3, is the incorporation of cj-D Teflon capacitors. And as big a breakthrough as the ART Series 3 is compared to the ART Series 1, the LP140M is vastly superior to much acclaimed Premier 140 stereo amplifier. In particular, there's far better bass and upper octave extension, transient attack, low level resolution and sense of space. And the LP140Ms never run out of steam or sound stressed, even when paired with the somewhat demanding Martin-Logan Summits.
To fully appreciate just what Conrad and Johnson have wrought in each unit requires pairing the ART with the LP140M. To begin with, the dual mono preamp plus amplifier configuration spells less draw on the power supply and as a result, better dynamics, soundstaging, imaging and bass. More to the point, the system is only as good as the weakest point; the inclusion of Teflon capacitors in both units allows each unit to fully bloom. LPM140 amplifiers: $14,400 per pair; ART Series 3: $25,000. www.conradjohnson.com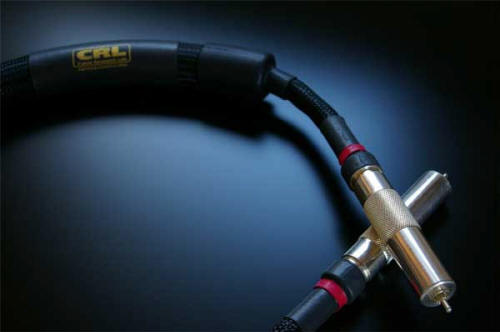 Cable Research Labs Gold Interconnects/Silver Speaker cables/Mk. II AC cords
Originally conceived and designed by the team of Paul Weitzel (Tube Research Labs) and Winston Ma (First Impression Music), the present day Cable Research Labs snakes (now owned by audiophile/ entrepreneur Chip Winston and (re) designed//(reverse) engineered by Art Olmstead of Twisted Pair Design) are among the most musical, yet resolving cables on the market. There is, however, one small non-sonic caveat: the Cable Research Labs multiple strand, solid core copper construction produces a somewhat stiff and unwieldy cable; in addition, the large Bocchino male RCAs and speaker spades may not work with every female RCA connector and binding post, respectively.
That said, these cables represent another example of synergy at work: Each segment—namely interconnects, then speaker cable and last but not least the AC cords—bring out more and more of this cables incredible ability to resolve ambient information on the best recorded albums (read here LPs). The cables carefully toe the line between a freedom from electronic colorations and sounding overly smooth due to a loss of dynamic accents. Couple the aforementioned qualities with superb low frequency extension and timbre, imaging and dimensionality and we're talking a real winner here. www.cableresearchlab.com. Price, Gold interconnects: $2600 (1 Meter)/$2800 (2 meter); Silver speaker cables: $ 1700 (6 ft)/1900 (8 ft); Mk. II AC power cords 795; (1½ meter, shielded or unshielded)/$895 (2 meter, shielded or unshielded).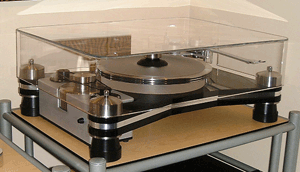 Gingko Audio ClaraVu Dustcovers
Rounding out this years equipment picks is Gingko Audio's ClaraVu dustcover. This well built and extremely attractive plastic cover completes the look of any high-end transport or turntable and keeps them free of dust, dirt or grime—or in my case—kitty cats that love to sit on audio equipment or pull belts off the platter drive system. www.gingkoaudio.com. Price depends upon equipment.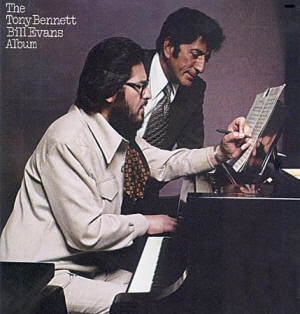 The Tony Bennett/Bill Evans Album (Fantasy/Analogue Productions 9489)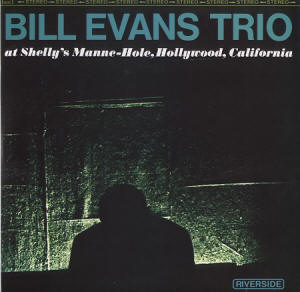 Bill Evans Trio At Shelly's Manne Hole (Riverside/Analogue Productions 9487)
Last but not least, 2007 was another bountiful year for both new and reissued LPs (2008 promises to be just as exciting with the upcoming 180 gm, 45 rpm Blue Note reissue project from the team of Ron Rambach and Joe Harley of Music Matters and Chad Kassem of Analogue Productions). Topping this years mountain of releases are two Bill Evans recordings reissued by Chad Kassem and Analogue Productions. The first recording, Bill Evans Trio At Shelly's Manne Hole (and last together for Evans and Riverside founder, Orin Keepnews), traces back to Bill Evans May 1963 performances at the Manne Hole. The second album, The Tony Bennett/Bill Evans Album, captures Evans' meticulous production and Bennett as Evans describes him on Bill Evans How My Heart Sings (Peter Pettinger, Yale Univ. Press, 1998), "one of those guys that keeps developing—digging deeper into their resources."
Bill Evans' recordings almost always received good to excellent sound, and the Analogue Productions reissues are no exception. While I don't own the original releases, the 45 rpm reissues clearly better, even after VTA adjustments, the later OJC reissues or the earlier 33⅓ rpm Analog Productions releases. The 45 rpm reissues are more musical and transparent; instruments have greater three-dimensionality and frequency extremes, especially lower octaves, exhibit greater resolution and impact. Get them before they're sold out!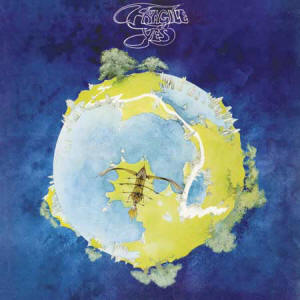 Yes Fragile (Analogue Productions AAPP 7211)
One of my favorite '70s rock recordings, Fragile is a somewhat eclectic, if not schizophrenic collection, of works by the groups various members, most notably new addition, Rick Wakeman. Fragile's sound is far above the average rock recording of the time and Analogue Productions has done a magnificent job in recreating the original release. At low to moderate levels, Fragile gives up nothing to any recording; Anderson's unique vocals, in contrast to the sucked out midrange on many rock records of the era, are actually understandable. Unlike other rock reissues that I've heard, there's even some macro and microdynamics. Despite a touch of congestion at louder levels, the recording's atmosphere comes through nicely. A must-have.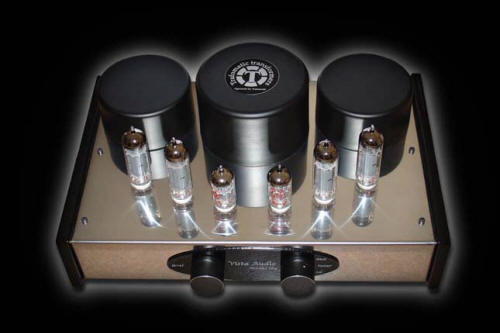 Vista Audio il84 amplifier Review
This is just a standard push pull 12AX7-el84 amplifier done right. Its value, build, and sheer sonic balance across the spectrum won me over. For $740, it represents a staggering value. I really liked what it did with single driver speakers I used it with.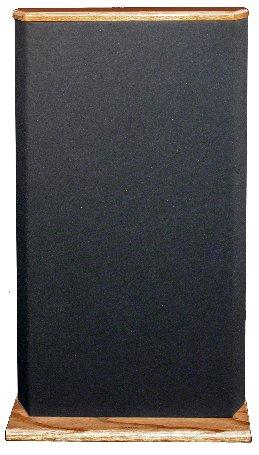 Hawthorne Audio Duet Review
For sheer value in a full open baffle system, this is hard to beat. You get high efficiency, open baffle woofer and mids, audiophile components, and the friendliest service. What's not to like?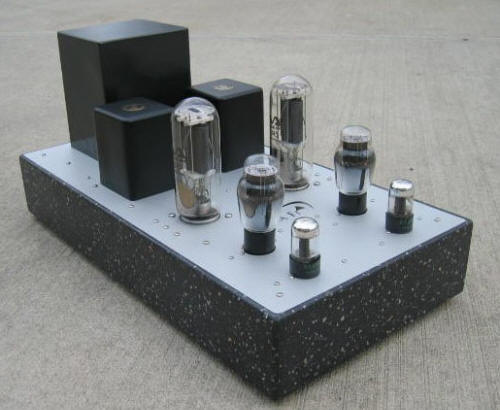 Larry Moore Monaco 845 SET Review
It's one of the finest amplifiers I have heard, period. For sheer tone, bass control, naturalness and overall musicality, this is definitely up there with the really big boys in the SET world. The secret is in the circuit, especially the power supply and the combination of the 6sn7/46/845 tube sequence. Great with any kind of speaker over 94 db (for normal listening volumes).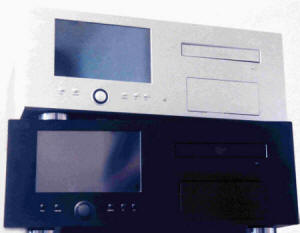 Nova Physics Memory Player Review
A year has passed after I wrote the Memory player review and my regard and sonic respect for this unit has only increased. It did help that the unit was the beneficiary of the "Build 7" upgrade, but overall the Memory Player has served me exceptionally well during this extended period. It also benefited from the Signature DAC Upgrade for the MSB Technologies DAC III Digital-to Analog Converter (with the optional analog volume control) that I have used use as my reference for the past two years. The MSB DAC in this refined state, allows me to appreciate the virtues of the Memory Player to a new and an unprecedented level of performance. I have compared the Memory Player to a number of very esteemed mechanical transports, such as the Wadia 270 SE and the Esoteric P-03, and the Memory Player came out comfortably on top on each occasion.
What sets the Memory Player apart and puts it ahead of any other digital front end I have tried, is its exceptionally involving musical presentation. It is not just a matter of several positive aspects. The Memory Player takes musical enjoyment to a special level where it is not necessary to pick away at details. I continue to be amazed at its ability to keep the analytical and the musical values palpably balanced. In addition, the Music Server feature has simplified the access to all my favorite music which now resides in its memory. Every saved selection is only a couple of mouse-clicks away. The Nova Physics Memory Player has allowed me to get closer to the treasured essential elements of reproduced music in the home. And, as such, it has enhanced my enjoyment of music immeasurably. www.novaphysicsgroup.com
While 2007 may have been a Spartan year for me in terms of new audio experiences and this may smack of convenience to our readers, the one and only piece of audio gear to grace my home in 2007 is also my highly recommended selection for a PFO writer's choice award: The Slim Device Transporter Network Music Player. The Transporter is an easy pick. It is simple, yet robust in operation and sounds great. Unfortunately for me, I chose not to buy the review sample. I am currently revisiting that decision and may hop on the Transporter in the near future. Dan Wright has just begun adding his thermonic signature to the Transporter and I just might see where that lands me too.
Having chosen the Squeezebox 2 for a PFO award in '05, I would also like to give some props to the good folks at Slim Devices (Logitech). They have refused to sit on their laurels and have continued to improve the free open source software interface that runs all their products. With the recent addition of a terrific sounding beta test software platform called SqueezeCenter and the announcement a new UI remote called Jive currently under development, http://wiki.slimdevices.com/index.cgi?JiveUI I am sure Slim Devices will continue to be a smashing success.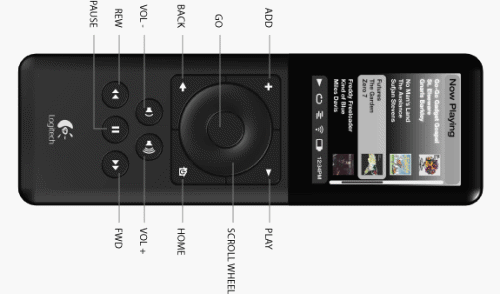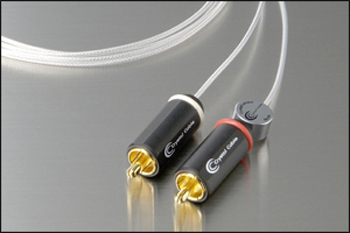 Crystal Cables Connect Reference Review
These cables worked so well in unison to create a level of synergy that was nothing short of outstanding. While I did evaluate each of the cables individually—interconnect, speaker wire and power cords—with excellent results, it was the group effort that merits this award. I found their ability to tether the best qualities of each individual component in my system into one sonic and amalgamated whole to be uncanny. It is a no-brainier to get one or two of their products at a time with the goal of system wide Crystal Cabling. www.crystalcable.com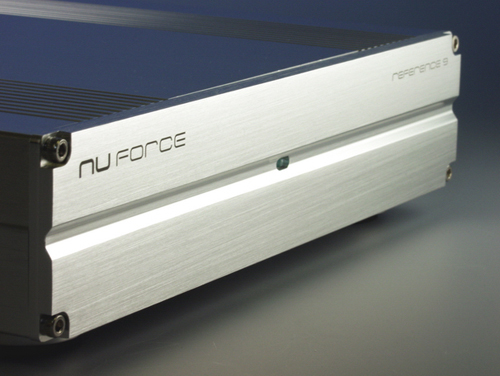 NuForce V2 Review
This nomination applauds the "V2" introduced by NuForce earlier this year. I have heard both the Reference 9 V2 and Reference 9 SE V2 and own the later as my reference. The effect of the V2 was to truly refine this "new" technology to a point that it should be accepted and undisputed as a legitimate contender among the best amps available. The smoothness and air introduced by the V2s brought so much more to the sonic picture, and I believe the pre-V2 amplifiers were fantastic in their own right. I am sold on the technology based what Nuforce has been able to extract from it with the V2. Give any V2 a listen and you will be hard pressed not to agree. www.nuforce.com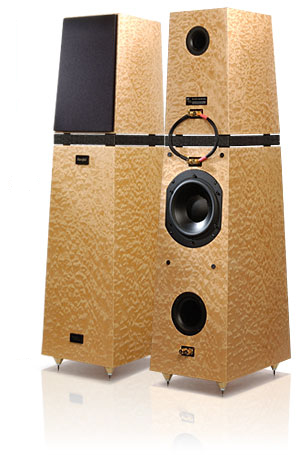 Verity Audio Parsifal Monitors Review
Having spent most of my audio life perched between stand-mounted "monitors", I found the very wide range of the VA Parsifal Monitor's mid-woofer to satisfy nearly all my desires for an intimate listening session. On the flipside, they can play loud and controlled, but full-range they are not. even so, they come closer to the full-range feel more then any other monitor I have ever heard, and such a statement has little to do with their bottom frequencies, as produced. It has much more to do with the "fundamentals" being dispersed within the mid drive's frequency range. They offer the finest, if not perfect, nexus of detail and musicality. Their upgrade path, with the addition of the base/bass module, is the ultimate opportunity to grow into the speakers as your room and budget allow.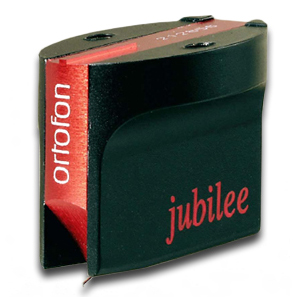 Ortofon Jubliee Review
Detailed, balanced and engaging. Easy to set up right, economical, and from one of the oldest names in analog. Those comments alone should be sufficient cue to check out the Jubilee.
The Jubilee is as finely balanced a cartridge as I've heard, being neither obviously romantic nor analytically desiccated. The Jubilee's performance was equally good across all frequency and musical spectra. As with live music, it is easy to hear each instrument or voice within most complex passages; and yet, while revealing all that detail, the Jubilee does not emphasize its own noise when dropping into the groove or in its normal operation—try to find that in a relatively inexpensive cartridge. Transient attack and decay get their proper time, without the overemphasis that can drown out the sustained tones that are at the heart of music's harmonic structure.
Another way to say this is that the Jubilee is well balanced without sounding like it's trying to be that way. It just worked. Perhaps the Jubilee is exceeded in its top most octave by airier, silkier, or more delicate cartridges, but those cartridges will cost multiples of the Jubilee. And, yet there's no obvious sin of commission by the Jubilee in the top end, it's just not quite as open sounding. Want more romance? Perhaps a Koetsu will do it. Want more reality, perhaps the Jubilee is the cartridge to mark. Make no mistake, the Jubilee is a terrific cartridge and at $2000 it's a very good buy. www.ortofon.com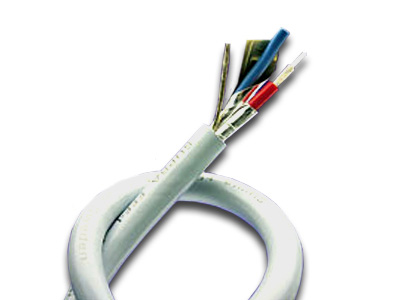 SUPRA EFF-I Review
No cable I've heard is invisible, including the Supra EFF-I interconnect. However, its way with timbre is beyond reproach. With a liquid sound, and a broad frequency response it's a very good choice, especially at its mere $220 a meter price. This is a no nonsense, easy recommendation for essentially neutral systems. There aren't more flexible cables, and I doubt any multiples of cost will deliver better build quality.
On the other hand, this is not the cable for mapping out the four corners of a soundstage, nor the product to measure the nanoseconds of decay—it's about listening to music in a natural way. Try this on for size: when you listen to live music do you sit and wonder about decay, soundstaging or image height? I don't. Do you wonder if you're hearing every sound there is to hear when you are at a live event? Probably not. Rather than wonder if I'm hearing "everything" there is to be revealed, when I listen to live music, I listen to hear musical expression, not "has everything been revealed about the recording venue." I don't listen that way at a live concert and so don't care if my home stereo sounds like that.
I grew up with "live" music (piano, sousaphone, stand up bass, accordion, and pedal organs) constantly playing in the house. I listen for timbre, for the interweaving of instrumental voices, and for the fullness of the live event. When I listen for those qualities with the Supra EFF-I interconnects, my system delivers it. For more money, you can get more than the Supra, but those cables will simply reveal a bit more than the Supras, they won't be telling a substantially different story. What the Supras don't do is hard to distinguish, it's like it swallows (omits) some details without obscuring the musical whole. For more money you will get a more nuanced cable—but those nuances come at a much higher price and with an "airier" sound, which may well be a treble emphasis which is absent in the Supras. At $220 a meter pricing, it's a great place to start for a music lover.
www.tonianlabs.com and www.supra.comwww.jenving.se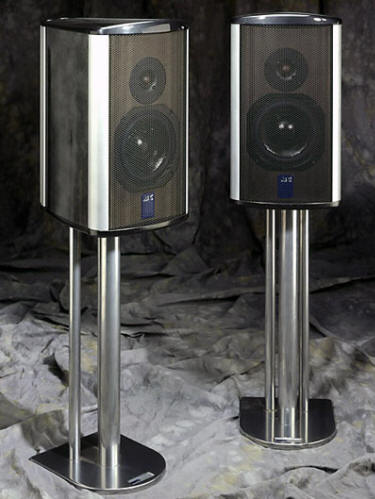 ATC SCM 20A-2 Speakers
I bought expensive speakers two years in a row (my GamuT L5 speakers are hidden away from my two-year old son's prying hands). I loved the GamuT, but worried about the marks and scratches he might inflict on their art house beauty. The powered ATC are a stand mount speaker with amplification and electronic crossovers built-in, or what is known as an "active" speaker. Though a "bookshelf" speaker in size at 50 plus pounds they're substantial and deliver more bass than you'd think, and certainly more than the -6dB 45Hz ATC reports. They fill my 5500 cubic foot listening room with nearly all the bass I want—even so the GamuT's have spoiled me.
There aren't more dynamic non-horn loaded speakers on the planet. They nearly match the sonic output of my $11,000 GamuT speakers, which don't include an amplifier in their price. Yes, the GamuTs are a bit airier in the lower treble and upper midrange, but only a little so. At $7300 a pair for the ATCs, you get speakers and all the amplification you'll need in a very robust design and build quality, making them a bargain and perhaps making the GamuT's blush a little.
When I told Francisco Duran I was thinking of replacing my GamuT's with these he said, "Think Larry," as in, you're making a mistake. Having heard them, Francisco says, "you know, I really like those speakers" and "wow, those look good!" Far prettier than their square box heritage, they taper from a wide face to a smaller rear profile to appear svelte. The wire grille does nothing to the sound, and my son can run his trains up and down the speakers without a mark. Linked by Supra EFF-I cables to an Apogee Mini DAC and for a "mere" $8500, I created one of the most magical setups at home, bar none—and no kidding. Oh, and if you want a live event conjured up in your room, you've got it. ATCs get louder without changing their sonic character—J. Gordon Holt has a pair of powered ATC 50s in his home and is reported to say it's the most realistic sound he's heard. Who wouldn't want that? www.flatearthaudio.com and www.atc.gb.net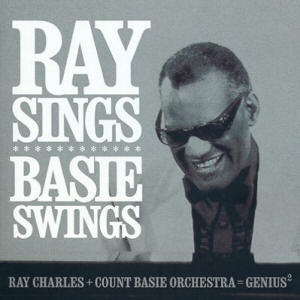 Ray Sings/Basie Swings Review
Of the gear passing through, there are some you don't read about because I dislike reviewing products for which I have little or no enthusiasm, but the ones I felt made an outstanding contribution in 2006 are as follows:
Ray Charles' posthumous album, Ray Sings/Basie Swings (Telarc Hybrid SACD 63679) proved itself a joy for me, and my whole gang, while on vacation. It was played and replayed until four generations were rockin' (singing along, dancing, too) at the old beach house. I reasoned that if it brought so much joy to my mother, wife, two daughters, two sons in law, and two grandchildren, it must have a universal appeal. I think Ray's singing (along with the Raelettes), and the accompaniment of the Basie Band, mixed thirty years after the singing was performed, is a technological miracle, a recording engineering stunner, and an overall artistic knockout that may become the one album for which Ray is best remembered in decades to come. If you had to choose one CD of Ray Charles' music while stranded on a desert island, this is the one. Easily, Max's Pop CD of the year.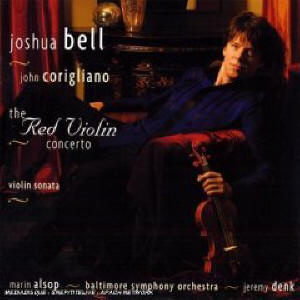 John Corigliano's The Red Violin Concerto Review
America's heavyweight champion violinist, Josh Bell's performance of John Corigliano's The Red Violin Concerto (Sony 82876-88060-2) is a knockout. The album is of interest because Corigliano is a major American composer of the current generation whose work consistently shows a high degree of ring savvy. This concerto has been written and re-written a few times, which makes it of greater interest. The accompanying Baltimore Symphony Orchestra is an organization on the rise, which is of interest; its new conductor, Maestra Marin Alsop, is offering this high-precision performance as her debut recording with the BSO, which is of interest; Meyerhoff Hall (home of the BSO) has had its acoustic adjusted recently, which is of interest; and the Sony recording engineers have managed to capture the synergy of all these changes, which, in sum, makes it all the more interesting. On the whole the recording succeeds in fine style. This is a most interesting CD, and for these reasons I judge it to be Max's Classical CD of the year. Winner by TKO.

Wireworld Cables Eclipse 5² Review
Wireworld Cables Eclipse 5² line now contains their top audio products based on new twists in materials and geometry. Wireworld's C.E.O. and chief designer, David Salz, has taken some familiar designs (ribbon interconnects and bundled strand speaker cables) into new sonic territory. These cables represent the culmination of decades of iteration and re-iteration with materials (silver, copper, silver-plated-copper), and configurations (the DNA™ double Helix array, and the stacked Diagonal DNA™ designs). This latest iteration is only about a year old now, and the ear-popping realism these improved design elements produce in the listening experience is not subtle. For this reason, I judge Wireworld's all-copper OCC (Ohno Continuous Casting), Eclipse 5² (five squared), line of interconnects Max's Accessory Product of the Year.

Parasound's Halo JC 2 Preamp Review
Parasound's new Halo JC 2 Preamp is the tenth iteration of John Curl's basic pre-amp design that has been evolving since the mid '70s. It is a finely-tuned piece, in the sense that a Stradivarius violin is finely-tuned. Every detail has been well thought out, and the appropriate parts have been selected and positioned to bring these details from conception to concretion. The sound itself is jaw-dropping, and more so when compared with preamps costing many times more. Though it is moderate in expense, the JC 2 is extravagant in performance. This is a semi-production line, semi-boutique product—with considerable "hand-work" and parts matching. The result is a preamp that is a worthy mate for Parasound's highly praised Halo JC 1 amps (or any others), and their T 3 well-thought-of FM tuner. It seems the gang at Parasound are blurring the distinction between super small production run "Boutique" gear, and semi-mass production gear—with little or no performance loss. The sound is on a par with the best preamps I've heard now available. This is not a me-too preamp. It may become the exemplar of great bang for the buck gear. As such it is worthy to be judged Max's Product of the Year.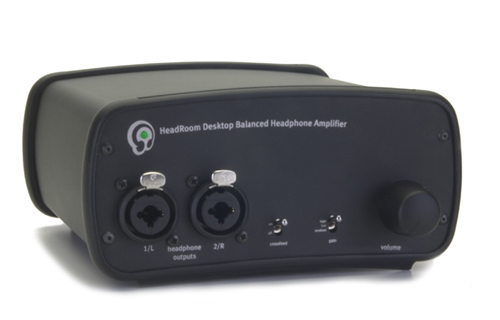 HeadRoom's Desktop Balanced 'Phones Amp Review
HeadRoom's new Desktop Balanced 'Phones Amp features all their goodies, and demonstrates why "Balanced Drive" from front to back is the cleanest way to go. It has its own, built-in DAC, that converts the bitstream from digital to analog without requiring all the stuff a stand-alone DAC requires (hardware, power supply, impedance matching, etc). Consequently, the analog feed can be amplified in the balanced mode without contamination, and then exported directly to balanced-wired headphones via a Neutrik SLR connector. It comes with unbalanced connectors, ¼" stereo sockets, also. In addition, the piece features a Class A driver circuit, a stepped attenuator volume control, and the high quality parts that have come to be standard on all HeadRoom products. It is a breakthrough design because it offers true balanced drive from the DAC on, and that means the cleanest sound possible. Uncompromising in design and build, this is an amp for broadcast engineers and serious listeners who demand the cleanest sound available. With this amp Tyll Hertsens and his gang have expanded the envelope, and given us a new standard of "clean," worthy to be judged Max's Headphones Product of the Year.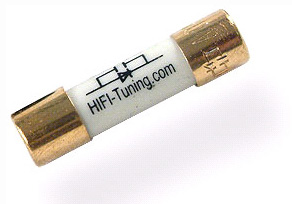 Hi Fi Tuning Fuses Review
Never has a product looked so seemingly insignificant, yet has had such a positive effect on my system, as the Hifi Tuning fuses. Yes, replacing the five and dime fuses that come with 99.99% of audio components with these gold, ceramic, and silver beauties, results in a cleaning up and filling out from the midrange on up. Gone is a quite noticeable degree of smearing, glare, brightness, and flatness that I attributed to everything else in my system—but the lowly stock fuses. These effects are cumulative, especially when I replaced the five fuses in my Monarchy SM-70 amp. But so what! In the end, I changed every stock fuse in my system with these small wonders. Without soldering or spending a grip of cash, the improvements far out weight the cost by a mile. If you can change a light bulb, you guessed it, you can change a fuse in your components, and put a smile on your face in the process.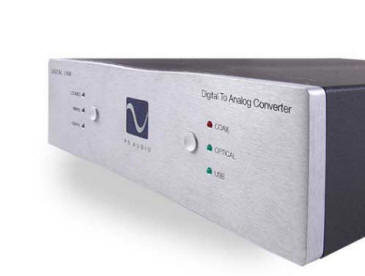 PS Audio DL-III digital to analog converter Review
After a cursory inspection of the PS Audio DL-III and one would be tempted to call it a jack of all trades. Well not quite, but it does have a lot of technology and connection options in one handsome box. The DL-III quickly went to work in my system doing what it was designed to do: play music. I didn't have to work much to find the right digital cable, power cord, or anti-vibration platform to start enjoying music; though these things are certainly worth investigating in bringing out the best in the DL-III. In my review I admitted to not shopping a great deal for my new digital front-end. But time passes on, audio component prices keep rising, and the dollar just ain't what it used to be. For what you get, the DL-III is very much a bargain. Detail, dynamics, soundstaging, and a slight warming up of the digital coldness make this an inviting musical product. What more would I want or expect from a digital component? How about greater effortlessness, more solid dynamics, and a tad more fullness. But you are going to have to pay multiples of what the DL-III costs to gain improvements in one or more of these areas. And, that is just what is offered in an upgrade offered by PS Audio partner Underwood Hi Fi. If the buyer wishes, they offer instant upgrade ability without voiding the warranty. PS Audio is to be commended for this gutsy move. even so, I find this unit pretty much spot on as it is.
As far as similarly priced digital components are concerned, there always seems to be a compromise in one area or another. The issues of sonic compatibility, connectivity, build quality, and even off-shore service are issues that many other companies seem to have built in to their product. Not so the DL-III. I meanthe highest compliment when I said that this unit is a plug and play component. Gear heads can agonize forever which digital product is the best. I am too busy listening to music through the DL-III.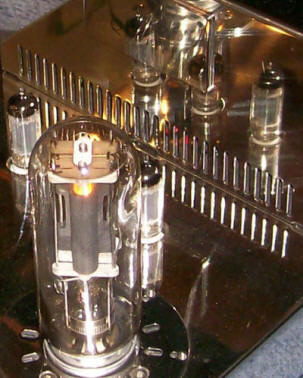 Art Audio Quartet amplifiers Review
I meant to do a follow-up review of the minor short-comings (if any) of these beautiful amps, but it never happened. Actually they were out of my house way faster than I would have wished without laying down the long green. Basically what I wanted to say concerned their power output. If you are running these amps into clipping and out of steam, you are either a sadist or you have the wrong speakers. These amps are musical, solid at the extremes, and true and natural to the crucial midrange. But that is just a basic sonic description. There is a musical, almost magical rightness to these amps that draws one into the music. Which for me many high end components, at whatever the price, fail to do. Not only that, they are gorgeous. Forget about the tubes versus solid-state debate, or any other such nonsense. To coin an old phrase, Joe Fratus and company have definitely hit one out of the ball park with the Art Audio Quartet monoblocks!
So there you have it. Francisco's faves for '07. If you have a chance to listen to any or all of these fine pieces of audio design, I hope you have as much fun as I had. While the Hi Fi tuning fuses and PS Audio DL-III are now permanent fixtures of my system, sadly the Quartets had to go back to their east coast home. But I have a feeling that someday soon an Art Audio amp will be finding its way back to my system.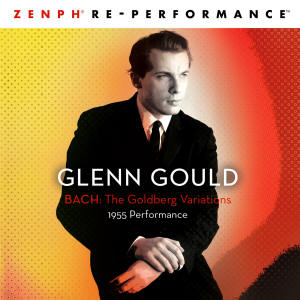 Glenn Gould Plays Bach: The Goldberg Variations (1955 Performance) Zenph Re-Performance on the Yamaha Disklavier Grand Piano - Sony Classical 88697-03350-2 - Multichannel Hybrid SACD Review
Zenph Studios' initial release in an estimated slate of 18 or so upcoming releases for Sony/BMG, this re-performance of Glenn Gould's legendary 1955 recording of J.S. Bach's Goldberg Variations is a triumph on every possible level. I've played this disc an ungodly number of times over the last nine months, and regardless of how the naysayer's may expound at length regarding their "ghost in the machine" theories, you are hearing Glenn Gould at the piano, minus all his legendary vocal and mechanically-induced warts. Hats off to John Walker and the entire cast of characters at Zenph Studios, who spent countless hours voicing the Yamaha Disklavier piano to match as closely as possible the sound produced by the actual piano used by Gould at the now defunct CBS 30th Street Studios in New York in 1955. They've given those of us who love the original recording something to truly cherish. If this disc is representative of what's to come, each disc in the entire series will all become instant classics, and must-haves for music lovers, collectors, and audiophiles in general. www.zenph.com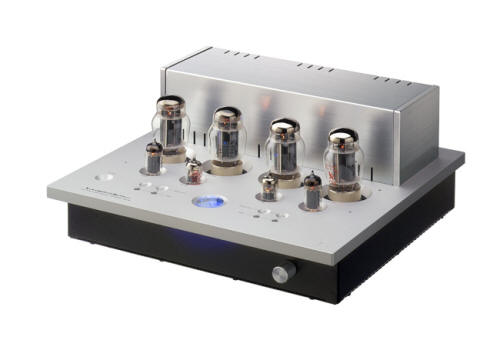 Luxman MQ88
Upon hearing a handful of premium Luxman products a few months ago, I wrote, "Luxman is back and back with a vengeance". Having spent some time with Luxman's MQ88 amplifier in my system, I have to preempt my formal review by announcing it to be the recipient of this year's Amplifier of the Year Award. Next to my original Quad II amplifiers (obviously way past their "award" time), the MQ88 managed to play in a league of its own: quick, fast, dynamic; yet tactile when called for, this superbly built (the flawless Japanese build quality ought to have its own award category) tube amplifier had me singing, humming and tapping my toes from the moment I first heard it. Retailing for a world-class amplifier modest $7500 you owe it to yourself to give this puppy a listen; with 50-watts per channel (and the ability to bridge to mono) of KT88 power, the MQ88 will drive all but a handful of speakers to their maximum ability. Highest recommendation!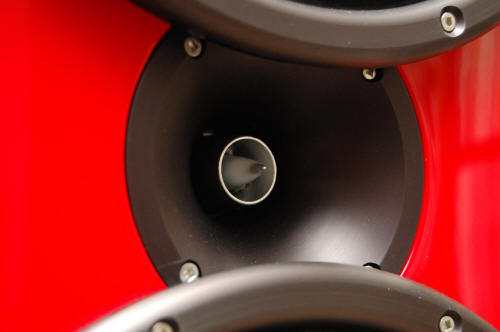 Zu Definition Pro Mk2 Review
The previous model left me convinced that Zu has it down (how low? Consider flat extension to 16Hz in my room) in more ways then one. When Sean Casey called me to advise that a new model would be shipping my way, I wasn't quite sure what to expect. "How much better can the Definitions get?" was my reply to Sean. The rest as they say, is history. The Def 2s (for short) will immediately feel at home with those familiar with the Zu sound. One that is of dynamic realism, uncolored neutral tonality, and the shear natural ability to portray realistically sized musical images. A tighter bottom end, superior high frequency extension and resolution further add to the sonic realism of this ground-up redesigned reference model, which still manages to sell for a giant killing real world super speaker price of $11,000 in your choice of automotive finishes. I challenge anyone to find me a more capable full-range speaker that fits in the square foot area of the Def 2—'nuff said. Highest recommendation!

Bent Audio TAP Transformer Volume Control Review
Hardware-wise, the Bent Audio TAP Transformer Volume Control preamplifier I reviewed this year seemed a breakthrough product, given its price/performance ratio. The UK supplier of his transformers seemed to agree, first wanting to distribute it, then canceling the agreement to even provide the transformers. They now have their own (and more expensive) remote controlled TVC on sale in the UK. So I'd give the award posthumously, and see what Bent Audio comes up with next—they say the new TVC modules should come along later this year. Who knows, Version 2 might even be better, if that's possible.
The software I listen to is mostly that obsolete vinyl stuff, but I do have a thing for Julia Fischer's Pentatone SACD recordings. Actually, it may just be Julia Fischer!
In the "and/or" category, the find of RMAF for me was a blue piece of paper picked up off a table overflowing with raw drivers for the DIY crowd, headed, "How well does your system really measure?" I always regretted moving to New Mexico after John Atkinson packed up his test gear and headed to NYC. Yes, Bob Harley is still down the road, but he's at TAS where measurements are not exactly a priority. But adobe makes for tough room acoustics, and just upgrading to to a digital Rat Shack sound level meter was not going to do the trick.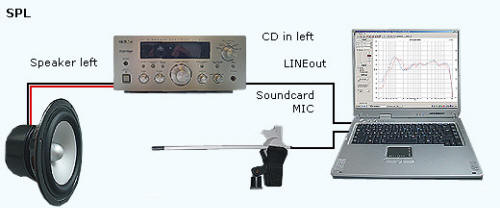 The blue sheet led me to the Meniscus Audio Group (Meniscusaudio.com), and from there to www.kirchnerelektronik.de, the home site for the ABT PC Pro. What is that? For less than the price of some decent interconnects ($219) you get a nice suite of measurement software (Electric and
acoustic—i.e., loudspeaker—amplitude frequency response, electric and acoustic phase frequency response, loudspeaker impedance measurement, step response, distortion THD, and distortion IMD), a calibrated microphone, test box, USB dongle, and cable. My wife provided an older, battery-dead Windows laptop, and I was up and running. It's really designed for car audio and home theater installers, but is remarkably effective for setting up speakers for plain ol' stereo. Serious fun, and really informative. There's even an optional accelerometer for gauging resonance suppression. In fact, you guys ought to buy a couple for the PFO crew, just to keep them honest. Take that, JA.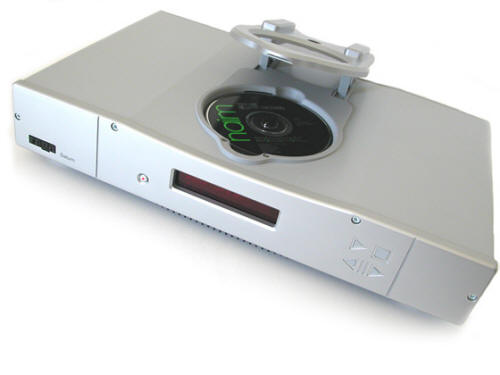 Rega Saturn CD player
Rega's $995 Apollo is clearly a better value than the $2395 Saturn. In fact, it offers much of the Apollo's performance for less than half the price. Yet the Saturn is an exceptional player in its own right offering nearly state-of-the-art CD playback in an elegant, easy-to-use and compact package. Rega's engineers employed what might be described as "sensible overkill" to maximize the Apollo's basic architecture while keeping costs in check. Upgrades include a larger transformer with separate, circuit-specific windings, and two parallel-connected Wolfson VM8740 DAC chips, backed up by a Class A analog output stage. Combined with Rega's sophisticated (and proprietary) control chipset and operating system, the result is a player that extracts considerable detail from every disc, while sounding completely at ease and never analytical. For those who can comfortably justify the difference in price, the Saturn is worth serious consideration.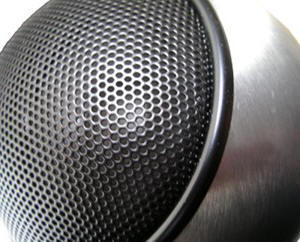 Orb Audio Classic One stereo loudspeakers Review
The fun factor for this attractive $549 sub/sat system is off the charts; it's like an audiophile Erector set. You can double up on the satellites to add oomph in bigger rooms. You can also add extra satellites and a center channel at any time to turn your 2.1 system into a 5.1, 6.1 or whatever-point-one your heart desires. But the sound quality in relation to the system's price and flexibility is what impressed me most. Treble extension was notably smooth and non-fatiguing, even using chain-store components. Detail and definition were good, and the system presented quite an expensive sound overall. The subwoofer's substantial (and well-controlled) output was completely unexpected at this price point. Integration between the satellites and subwoofer was among the best I've ever heard. With my eyes closed, the Orb Classic One simply sounded like two very good, full-range box speakers—except without the box. If I cared one whit about home theater, or suddenly needed to downsize to a sub/sat system, this is what I would unhesitatingly buy for myself.
Tough to pick only three winners this year! It has been a wonderful year for the audiophile. I have heard numerous important products that advance the ability of the serious audiophile to recreate the musical event in your listening environment ...minus the difficulty of parking, expensive snacks, and poor over-priced seats.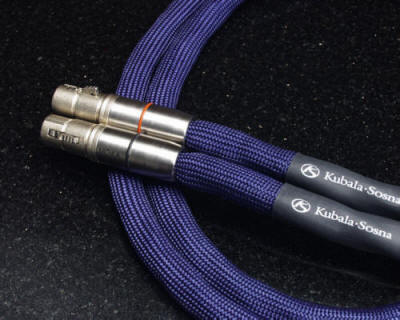 Kubala-Sosna Emotion Cables/Power Cords/Digital Interconnects Review
I won't tell you these are inexpensive or perfect. What I will tell you is they cost what they should cost to perform as closely as possible to the real thing. I think they call this "value" since you can spend a little more and not get much more. On the other hand, you can spend a lot more to get a little more. The Emotions sit at that high place in the audiophile perfectionist cable universe where the lines of performance and cost intersect. At this point, an entire system wired in Emotion will bring you very close to that harmonious world of seeing, feeling, and hearing into the musical event provided by top notch software on superb playback gear. In my own experience, it's one of the few brands that actually allows you to fully wire from source to speaker without overshooting at some frequency within the audio spectrum. Once you hear the endless textures the Emotion is capable of ,as well as the openness and airiness of its soundstage, its hard, very hard, to use any other wire. I have found that sonic sins I've attributed to the Emotions just disappeared when I tried other players, preamps, or tube combinations. I am not really sure what they sound like, other than "not much." What they don't do, and this is important, is subtract critical textural and color cues from the musical source at anywhere near the deleterious level of most other cables I've heard; some being much more expensive. System after system wired in Kubala-Sosna Emotions, including my own, just sound more alive and involving. Acoustic "unsweetened" recordings sound honest and right with the Emotions. Even Kimber's Isomike SACD beauties, sorry Ray, sound more convincing and "in the room" with the Emotions. The same goes for the power cords and the digital cables. Try the AES/EBU Emotion interconnect. This is reliable, predictable, unfailingly musical stuff. I believe that it costs what it needs to cost to achieve this level of musical excellence. The entire Kubala-Sosna Emotion suite of wires receives my 2007 Reviewers Choice Award.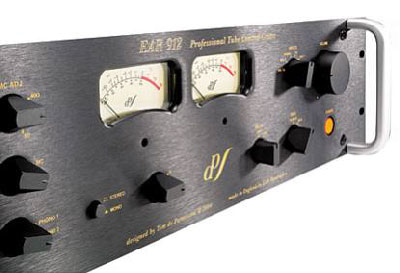 The E.A.R. system including the 912 and 868 preamps, the 890 amplifier, the Acute CD player, and the 324 solid-state phono preamp
Cocktails created with different brands of top electronics usually adorn the high-end audiophile's domain. The closest I previously got to undoing this popular paradigm was with ARC gear in the 1970s. Over the past decade, gear has come and gone as I reviewed multiple manufacturers and kept the best of the best. Well guess what? I now own and use as references all but the E.A.R. 868 in my primary system. Fate? Chance? Luck? Who knows? I have succeeded in coming mighty close to that fleeting ability to create the recorded performance in my listening room. The E.A.R. gear is the reason for this success.
I recommend each piece to you unequivocally. The 912 tube preamp including phonostage is a wonder toy. The 868 is its smaller brother with equal sonic prowess, though fewer features. Pick either one. These preamps are so harmonious and neutral, they get out of the way of the music. I have no idea what they might sound like. I have been unable in over a year of use to assign any colorations or character to them. The 890 amplifier—I have 2 in mono—is clarity, finesse and dynamic slam personified. If you have speakers with 89dB efficiency or higher, one will do. Less efficiency, I recommend two in mono. The 890 is the best tetrode push-pull amp I know of, period. And the best use of KT90 tubes ever. The Acute CD player upsamples to 24/192 automatically and uses a tube amplification stage immediately following the Wolfson DACs. It's difficult to find a player that will best the Acute even when the competitor plays the SACD layer and the Acute plays the CD layer! The Acute is a miracle product for today's audiophile who has invested in a zillion CDs and will probably not replace them again with a future format. Though both E.A.R. preamps have top phonostages, the 324 is special indeed. It has trend setting flexibility mostly on the front panel, it's quiet to the max, has single-ended and balanced outputs, and can remain on and warmed-up 24/7. It has an output suitable for ultra low or high output devices and has a solid-state circuit that sounds exactly like fabulous modern ady tube gear. Yes, its flamboyant to not use the phonostages in the preamps, but the 324 is that good. Thanks to the Euro and to E.A.R.'s insistence that Brits build their gear, the E.A.R. goodies are fairly expensive and not made in great quantities. That said, you can spend vastly more and get less musical performance and verisimilitude in today's market. The complete E.A.R. system have earned my Reviewers Choice Award for 2007.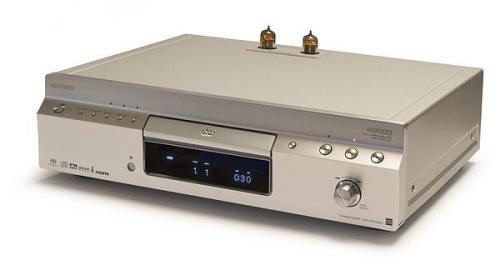 ModWright Sony 9100ES with Signature Truth Mod and Tube Power Supply Review
For $4300 turnkey, you just have to love the ModWright. This almost universal player, minus DVD-A, is a sensational piece. Add a Mullard GZ34 and Kubala-Sosna cables and power cords, and you are dressed up for a White House concert. I find the CD performance an 8 out of 10 ...better than 80% of all CD players available. Take the SACD performance up to a 9 out of 10, better than 90% of SACD players available. What a spectacular bargain! Plus, the performance is alive, uncolored, elegant, airy, dynamic, and harmonious. ModWright has improved the 9100 over the award winning ModWright Sony 999, which I still own, and moved to that exalted level of audiophile heights. Put a Ginko 11 or Townshend Sink under the transport for maximum performance—either of which will really improve the sound. If you already own a Sony 9100, ModWright will transform it for $2500. Did I say this was a bargain? The brilliant Dan Wright, CEO of ModWright, has now branched out into manufacturing preamps and more, also loaded with new technological thinking, so I recommend you don't delay getting your Sony modified since this part of their business may not last forever. ModWright and their beautifully modded Sony gets my Reviewers Choice Award.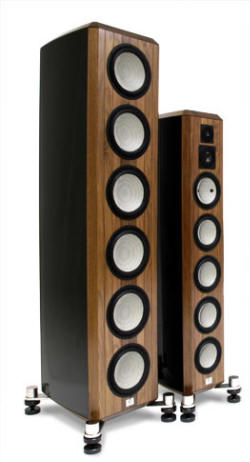 Marten Design Coltrane Supreme loudspeakers

I'm giving a 4th award this year because it's important and necessary for audiophiles everywhere to know that Marten Design of Sweden has produced a loudspeaker for the ages. It is four towers of pure elegance and contains most of today's knowledge with respect to point-source speaker design: Bybee filtration, Jorma Prime wiring, and advanced driver technology currently known. The included 2000-watt bass amplifier also contain the outboard crossovers so you may use your own exotic amps to drive the efficient mid/tweeter towers to greatest effect. All the drivers are the top ceramic type, except the midrange and tweeter. Those drivers are pure diamond. The only thing more lovely than seeing them, is to hear them. WOW! This is the first, and I mean first loudspeaker, with multiple towers I have ever heard in 45 years of this hobby that disappear into the music. No etch, no lumps, or bumps ...you revel in sonic joy as the performance comes alive. At $250,000, it may be this or a Bentley, but I'd live with a Beemer and go with the Supremes. Never heard anything like this and am very jealous of the any owner of these masterpieces. Perfection is expensive, but hey, at least it exists! The Coltrane Supremes deserve my Reviewer's Choice Award! It advances the state of the art!