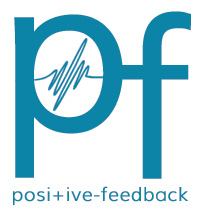 You are reading the older HTML site
Positive Feedback ISSUE
34
november/december
2007
The Higher End: Robinson's Brutus Awards for 2007, and the Gizmo Award
by David W. Robinson
[Images and image processing by Robinson, unless otherwise noted]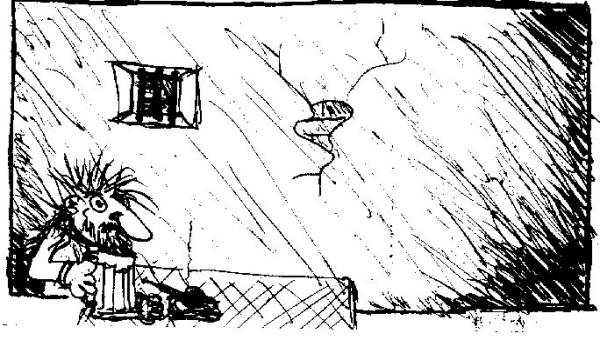 In which our hero meditates…
As the end of 2007 approaches, it's time for me to sit down and think about what has passed through my listening room this year. As veteran readers of Positive Feedback Online know, at the end of every publication year since December of 2003, PFO announces the winners of its Brutus Awards, and of the Writers' Choice Awards. I honor the best fine audio products that I've had in my listening room during the year with a list of the Brutus Award winners. My good friend and partner Dave Clark, ably assisted by Carol Clark, may also hand out a second set of Brutus awards for the best that they've had in their listening room. The Brutus awards are given out only by the Editor-in-Chief and the Editor; all other recognition from our fine crew of fine rogues is to be found in the Writers' Choice Awards.
It is true that my Brutus Awards are late this year. This has been due to some serious health issues within my family, as well as some major professional obligations that I've had in 2007. Apologies for the delay, but that's the way some years are. I hope that things are better in 2008 …and enough said.
I explained the ground rules of the Brutus Awards, and the related Gizmo award, all the way back in PFO Issue 10:
We at Positive Feedback Online are going to have two main categories of annual awards. The first will be our Brutus Award. This will be recognition given to "the best and the brightest" products that we have experienced in various categories in a given year. In hardware, these will range from "best bang for the buck" to "the best period, and hang the expense!" designs. In recordings, we'll be paying tribute to the best that we've found in various formats. In addition, we'll have a "Lifetime Achievement Award" that will recognize individuals whose contributions to fine audio in various respects has been both superior and sustained.

All products that are so recognized by PFO will be work that has been reviewed by us personally; no design will be recognized that we do not have experience with in our listening rooms. This means that you, our readers, may disagree with our selections, wondering why this or that component, recording or individual was not mentioned. Quite apart from differences in taste/opinion, the answer is simple: we won't be mentioning any design that we haven't spent time with in our own listening rooms. If a product does not win a Brutus Award in a given category, this does not signify lack of merit—we just may not have gotten to work with it. You're certainly welcome to write to us and bring worthy components to our attention.
Our Gizmo Award for the year's best audiomaniac was named in honor of my good audio friend and former Positive Feedback editor, Harvy "Gizmo" Rosenberg, who passed away in 2001. As I wrote back in 2003:
Long-time readers of PF and PFO know that Harvey Rosenberg (AKA "Gizmo") was a close friend of mine, and a valued member of the PF writing community for a number of years. His untimely death a couple of years ago was a real blow to fine audio, the loss of a uniquely creative writer. In Harvey's memory, we have created an annual award that (like Harvey!) will be unique: a one-only-per-year recognition of a person/design that is surfing the edge of audiomania, going all-out to push the frontiers of fine audio. There will be no multiples of this prize… no hard-and-fast categories… and if nobody floats our boat in a given year, it won't be awarded.
I should also mention that we do occasionally issue PFO Lifetime Achievement Awards, recognizing those who have made significant and sustained contributions to the audio arts over the course of their career.
So those are the ground rules for anyone new to reading PFO.
In retrospect, 2007 was an odd year. There weren't as many new large components in the past twelve months as there had been in 2006. (2006 was a particularly heavy year for major components; 2008 is already shaping up to be another heavy year in that regard.) Much of this year has therefore been occupied with sources, cables, enhancements, and the like.
My Brutus Award Winners for 2007:
Product Categories
SACD/CD Playback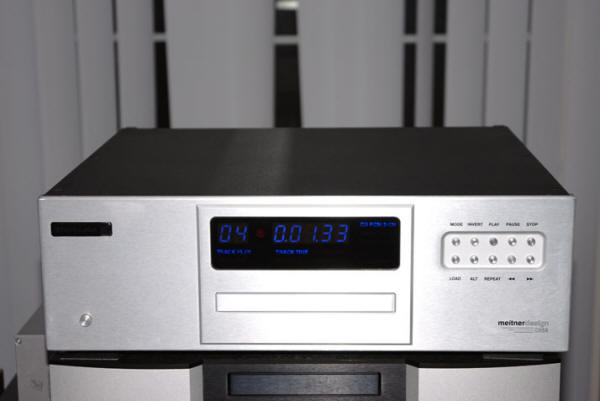 The EMM Labs CDSA SE SACD/CD Player - no surprise here. The EMM Labs line of products has consistently produced superior digital reproduction in my listening room for years now, and remains my personal benchmark for "reference standard" in both SACD and CD playback. The CDSA SE is EMM Labs' single-box solution for audiophiles who want the quality of Meitner without multiple boxes. The sound of the CDSA SE is different than that of the CDSD SE transport paired with either the DAC6 SE or with the DCC2 SE—somewhat warmer, somewhat less detailed—but that is precisely the sort of thing that some listeners are looking for. (For example, Dr. Sardonicus preferred the sonics of the CDSA SE to my preferred CDSD SE/DCC2 SE workhorse.)
The CDSA SE is definitely world class to my ears, no matter how you slice your music. Consider it to be a "Ye Olde Editor's 'very highly recommended.'" And it is a clear and obvious choice for a Brutus Award in 2007.
So ordered; so done!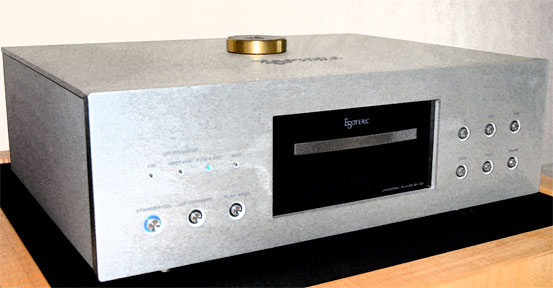 The Teac Esoteric DV-60 Universal Player - There may have been no surprise with the Meitner, but I was very pleasantly surprised by the Teac Esoteric DV-60 multi-format player. SACD and DVD video; CD and DVD-A…and with both stereo and surround sound output, and a fine array of I/O, including HDMI, and both PCM and DSD chipsets …what's not to like? Add to that the typically terrific Teac Esoteric engineering, ergonomics that I wish more fine audio manufacturers would emulate, an excellent drive, and beautiful to boot—all with a price tag of $5,600, and I'd say that Teac has a real winner. The sonics are very fine right out of the box, but bloom magnificently with a JENA Labs Model One power cable (see below), right into the top rank of players.
If you're looking for an all-in-one stereo/multi-channel player with the performance of a thoroughbred, the DV-60 is definitely top o' the heap in my book. It has "Ye Olde Editor's 'very highly recommended!'"…but remember that JENA Labs Model One power cable.
A Brutus Award for 2007 is duly awarded.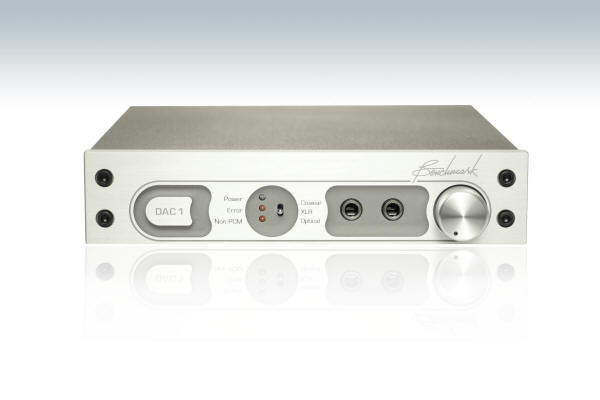 The Benchmark DAC1, silver finish (image courtesy of Benchmark)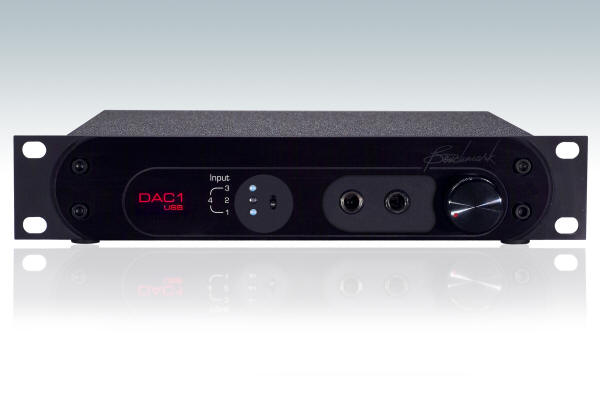 The Benchmark DAC1 USB, black finish (image courtesy of Benchmark); note that the input switching and the labeling are not identical to the DAC1.
Benchmark DAC1 and DAC1 USB is another "no shock here" award winner this year. For anyone seeking an external DAC that will take their Red Book PCM audio to the next level, particularly if you're on a limited budget, the Benchmark solutions are the best I've found. For USD $995 (DAC1) or $1275 (DAC1 USB), you can take a decent transport and turn it into an excellent one. In fact, as the owner of other external DACs over the years (including the Theta Pro Gen Va, which I still have), I'd have to say that the Benchmark DACs embarrass what we used to think was sterling performance…and that, at a fraction of the cost.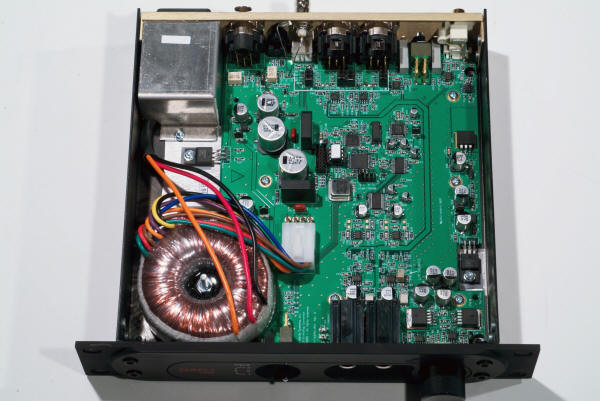 Interior view of the DAC1 USB (image courtesy of Benchmark)
Benchmark is a manufacturer of professional grade audio gear, and is not an "audiophile company," per se. Nevertheless, their DAC1/DAC1 USB products have caused quite a stir in audiophiledom by providing exceptional value for the dollar, and showing just how good a small (9.5" W x 1.725" H x 9.33" D, including port stand-off space) 192kHz/24-bit (nominal; max input sampling rate is 195 kHz, with a "24-bit" DWORD length) processor can be. Inputs include an XLR (AES/EBU), a BNC coax (AES/SPDIF; use a BNC coax to RCA converter for RCA SPDIF), and Toslink. The USB version of the DAC1 includes a fourth input for USB, which supports the Microsoft standard with claimed device-level transparency for Windows 2000, Windows XP, and Windows Vista. Outputs include a pair of balanced ports, a pair of unbalanced ports, and two headphone jacks on the front panel. There is a volume pot on the front plate, which worked quite smoothly and quietly for me. Note that you can also set either of the DAC1 models to "calibrated" output, which turns it into a non-variable, line-level DAC. I preferred to use the variable output during my listening.
I listened to the DAC1 and DAC1 USB using the Teac Esoteric DV-60 as the transport. Output was via the DV-60's SPDIF RCA to the coax BNC of the DAC1 using Stereovox's excellent (if now superseded) HDXV digital cable. The HDXV has the advantage of having coax/RCA adapters at both ends, which allowed me to quickly connect BNC (DAC1) to RCA (DV-60), and also of being in a reasonable price range for potential users of the DAC1. It's a high bandwidth solution …Chris Sommovigo knows digital cables. Output was via the unbalanced ports, courtesy of a pair of JENA Labs Symphony cables. Power cabling was by Silent Source; isolation devices were the new Critical Mass Systems component pucks. Downstream was the Lamm LL2 preamp/M1.2 Reference monoblocks, via JENA Labs Solos.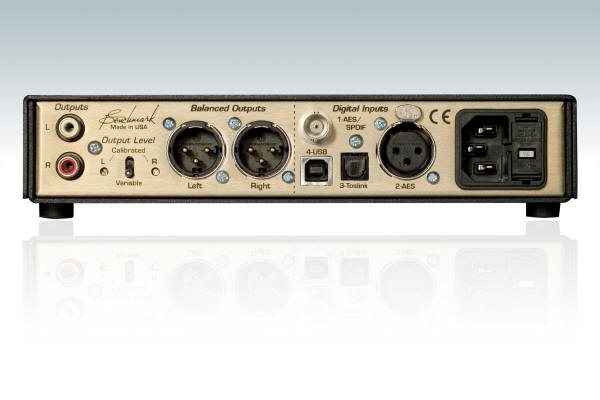 Rear view of the DAC1 USB (image courtesy of Benchmark); note the USB-B female port in the input section just below the BNC AES/SPDIF connector. The only difference in the I/O between the DAC1 and the DAC1 USB is that port.
The sound of CDs on this system was better than I had been anticipating. (Of course, my expectations of Red Book CD playback are always restrained, in any event. And the Teac Esoteric DV-60 with its VOSP drive is a very fine transport to begin with…likely better than an audiophile using the DAC1 would be deploying.) Using some new XRCD24 and K2 CDs sent along by Winston Ma of FIM, I was able to do some listening with current state-of-the-art CD mastering. All CDs were treated with JENA Labs 3D-X or Walker Audio Vivid disc enhancers, then were treated with the Walker Audio Talisman destatic/demagging device. The resultant sound of the tested configuration was pleasantly dynamic without being too pushy, edgy, or unduly harsh. Tonality was cleanly rendered, and soundstaging/imaging was surprisingly good. Benchmark claims that the DAC1/DAC1 USB are "nearly 100% jitter immune" with its Ultralock™ system for handling timing on the digital signal transmission (for the technical explanation, see their documentation at www.benchmarkmedia.com, pp. 22-24). I would say that the sonic results I was hearing would testify in favor of this claim. The DAC1 was clean, clear, and non-metallic/non-fatiguing, all signs of jitter-induced "digititus." Don't take this to the bank…aural memory being what it is, and is not …but I'd guess that the DAC1 would have been a top-rank DAC back in the days of the Theta Pro Gen Va—which shows how far PCM processing has come over the past ten years.
Since I know I'll be asked: was it the equivalent of the Teac Esoteric DV-60's finely tuned PCM playback options? (See my recent review of the DV-60 at www.positive-feedback.com/Issue34/dv60.htm). And what of the EMM Labs CD playback?
Well, the DAC1 did pretty well to these ears against the DV-60's FIR filter option, but a gap opened up when compared to the FIR+RDOT filter setting (more atmosphere, spaciousness, and depth here), and particularly when compared with the DV-60's PCM/DSD option (using the Cirrus Logic 4398 chipset, which was smoother, silky, yet detailed, and both wider and deeper in its soundstaging …improved imaging as a result.) The EMM Labs CDSD SE/DCC2 SE combination left the DAC1 even further behind, and in all categories …it remains king of CD playback in my listening room as of the end of 2007.
Then again, at $995, who was I to complain? Comparing the DAC1 to either of these two much more expensive options (the DV-60 retails @ $5600; the EMM Labs CDSD SE/DCC2 SE tandem at over $21,000) is like swatting a skeeter with a neutron bomb, anyway. If you're looking for an external DAC at under a kilobuck, and don't have lots of wampum for your digital front end, then a good transport feeding a DAC1 will get you well down the road.
I should note that computer-based music jockeys will want to check out the USB version of the DAC1 (MSRP USD $1275). It's the same core unit as the DAC1, but the DAC1 USB incorporates the ability to interface with Windows-based playback of up to 96kHz/24-bit sources on your PC via its Windows 2000/XP/Vista operating systems, and also with the Mac OS X. The important thing here is that the DAC1 USB operates at the device level with Windows, and does not require any special USB drivers to be loaded before connecting the unit. You simply get a quality USB A/B male-male cable; connect the USB-B connector to the DAC1 USB, and the USB-A connector to your computer. Any one of the four operating systems listed above should detect the DAC1 USB automatically, and activate an internal driver set for it. That's it…you're done!
For computer wonks, the USB interface used on the DAC1 USB is version 1.1, which should be compatible with all USB ports on all computers (including USB 2.0). This is a lower throughput standard, but is sufficient for audio projects. The advantage that the USB interface gives is the flexibility of being able to work with computer-based audio files at sampling rates of up 96kHz and word lengths of up to a nominal 24-bits. Benchmark claims true bit-transparency with native OS device drivers, and without requiring any changes in Windows 2000/XP/Vista audio editing settings. This is a major relief, since loading third-party USB drivers often causes instability or even system crashes …not a good thing! (OS X users should note that Benchmark states that you will have to tweak sampling rate and volume settings manually.) And bit-transparent transmission means that 96kHz/24-bit source files will be sent directly and automatically to the USB port and the DAC1 USB without any changes, allowing you to hear the original signal without compromises. This is particularly true, and especially easy in Windows Vista.
I'd say that if you're working on computer audio files, are doing a lot of work ripping PCM music, or have a media server, the DAC1 USB would be a valuable addition to your system. And if you're on the go, would like to listen to your notebook-based music via headphones at your hotel room and do so without compromise, then the DAC1 USB is a no-brainer. (The same would be true for the executive audiophile who'd like quality computer-based playback in his or her office.)
Both the Benchmark DAC1 and DAC1 USB offer an enormous amount of quality for the dollar expended …both are worthy of a "Ye Olde Editor's 'very highly recommended!'" and a Brutus Award in 2007.
Turntable Playback
There were no attempts to dethrone the Walker Proscenium Black Diamond system from the top o' my turntable heap this year. This isn't too surprising, though, since the logistics of turntable review projects at a reference level are so very difficult to arrange. We'll see if anyone is courageous enough to take up the challenge in 2008.
Tube Line Preamps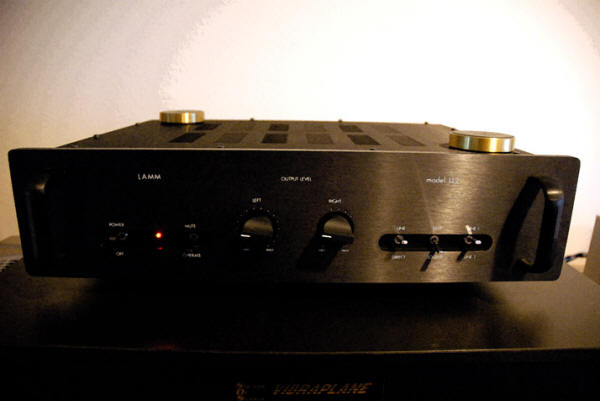 The Lamm LL2 preamp in fresco, wearing a pair of Walker Audio Valid Points tuning discs.
I was very pleased to spend some time with the Lamm LL2 Deluxe Version tubed preamp. My review of the Lamm M1.2 Reference hybrid monoblocks (Brutus Award winner in 2006) had also given me the opportunity to evaluate the LL2 Deluxe preamp, Lamm's "lesser of two Vladimirs." (Its big brother is the two box L2 preamplifier, which I hope to review in 2008.) The LL2 is a one box, pure Class A, single-ended design. The tube complement consists of a pair of 12AU7A's handling the left and right first stage, in tandem with a pair of 6DJ8's handling left/right in the second stage. A 6X4 functions as the full wave voltage rectifier.
The specs are good: frequency response of 20 - 20kHz, +/- 0dB; - 3 dB is found at 1.5Hz and 400kHz …impressive numbers. Slew rate at 41 Volts/microsecond …tolerably quick. (Check www.lammindustries.com/PRODUCTS/LL2spec.html for more detailed specifications. Once again, Lamm does a fine job of providing meaningful specs.) The tube rectification zaps the 60Hz nasties …even with the volume knobs at 12:00 high (very high gain!), there was just the faintest touch of hiss, and no RFI or hum. For a tubed preamp, this is an excellent result; I would rate the quietness of this preamp as exceptional.
All inputs and outputs are unbalanced, with gold-plated RCA jacks. There are four inputs: Line 1, Line 2, "Direct" (which bypasses all other switching, going directly to the left and right gain pots for the minimalists out there), and Playback (for tape). Outputs consist of Output 1 and 2, connected in parallel, for amplifiers, plus a record out for whatever you're using to record these days. Power on/off is automatic soft on/off, a real plus. The separate left and right gain pots are of high quality ALPS manufacture, and have very satisfying ergonomics. The front panel provides power, mute, separate left and right volume pots, record looping (getting rare these days!), and input controls.
Minor nits: for the lazy amongst us, or for the A/B comparison artists out there who "don't want to move one inch!" there is no remote control. Doesn't bother me, but it does bother others. Of greater significance to my way of thinking is the lack of polarity (or "phase") switching, which does benefit from a remote control for comparison purposes. Otherwise, I cannot fault the LL2.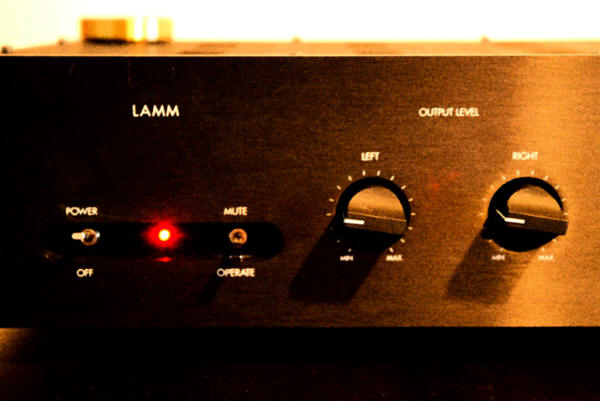 And as to its sound: what a sweet preamp! No, I do not mean "sappy," or "'musical,' as a euphemism for 'colored/syrupy/rolled-off and tubey sounding." No, little brother in the Lamm lineup or not, the LL2 is a collection of real audio virtues: clean, clear, tonally well integrated, quick, and spacious in sonic presentation. Music lives and breathes quite comfortably in the care of the LL2. The level of transparency is superior, but there's just the lightest, blessed touch of warmth, which reaches to the heart. You can listen to it for hours and hours, and never end up with a case of audio alienation—and believe me, I have heard preamps that do give you that "get me outta' here!" feeling. This is a preamp for any audiophile looking for sonic revelation, without wanting to attend a dreary audio autopsy.
At an MSRP of USD $4990, this is also a preamp that is more accessible to the moderately-heeled audiophile, while still delivering exceptional sound.
This is a superior preamp, and fully deserves a "Ye Olde Editor's 'very highly recommended!'" and a Brutus Award for 2007.
Done!
Solid-State Line Preamps
None in 2007, no, not a one.
Tube Phono Amps
I didn't review any tube phono amps this year…no cigars!
Solid-State Phono Amps
None this year; the Walker Audio Reference Phono amp continues its reign as king of that particular mountain.
Tube Amplifiers
None reviewed this year.
Hybrid Amplifiers
None this year; the Lamm M1.2 Reference continues serenely at the top of this category.
Loudspeakers
I was anticipating at least one very important new speaker design this year, but production delays kept it from arriving until it was too late to be considered. I have several speaker projects lined up for 2008, though.
Line Conditioners
None this year. Walker Audio's Velocitor continues to rule its product roost undisturbed.
Isolation Platforms
None submitted this year.
Cables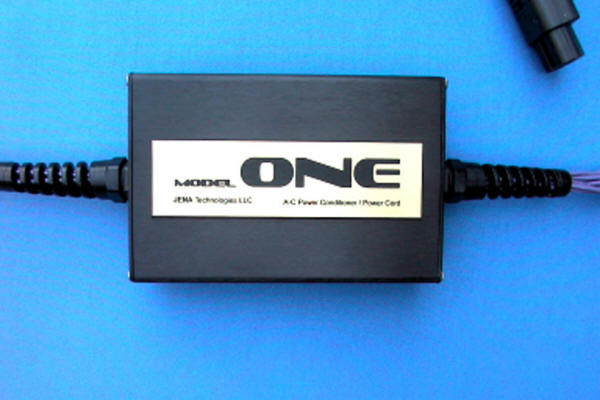 The JENA Labs Model One Power Conditional/Power Cord (image courtesy of JENA Labs)
JENA Labs Model One Power Cable - Here's a real wonder: a power cable that single-handedly hoists most audio components that I've tried it with to surprising new levels of performance. The JENA Labs Model One power cable looks fairly simple…braided construction with an integrated filter module…but what a difference the Model One makes! In all but one (unusual) case, the performance of SACD/CD players was uniformly improved, and not by just a little. No incremental gain here; we're talking a true transformation of performance. Hard/brittle playback becomes rich and musical without losing detail; analytical presentation becomes a living wholeness. It's nearly shocking how good this power cable is…both Dr. Sardonicus and I agree on this one completely.
Think I'm exaggerating? Give the Model One a try; I honestly think that you'll be delighted. I'm giving it a "Ye Olde Editor's "highest recommendation."
And it's definitely a Brutus Award winner for 2007.
Silent Source Music Reference Loudspeaker Cables - I've got to blame Lloyd Walker for this one; he had been bugging me to give the Silent Source speaker cables a try. While I've been a long-time fan of JENA Labs speaker cables, I'm always willing to give something new a try—particularly when I had become so fond of the Silent Source power cables, a Brutus Award winner in 2006. (See those awards in our archives, PFO Issue 28, Nov./Dec. 2006, at www.positive-feedback.com/Issue28/gizmo.htm.)
Over the course of 2007, I've used the Silent Source Music Reference speaker cables, treated with Walker Audio's Extreme SST Contact Enhancer, to run the midrange/tweeter section of my Nova Rendition II's for all review projects this year.
The fact that I didn't tear them out after a few days says it all. The cryogenically treated Silent Source Music Reference may not be JENA Labs' "The Awakening" Twin 35's (what is?), and they may not have the transformational power of a JENA Labs Model One, but they have an ease, detail without pain, and an unassuming naturalness that is very appealing. They're also very flexible and easy to deal with, an extremely important consideration for some 'philes, who may not have the elbow room for stiffer or more unruly cables. You can spend a lot of money on speaker cables, and not get what I'm hearing with the Silent Source Music Reference. (For current pricing, check your favorite cable purveyor.)
They are therefore issued a Ye Olde Editor's "highly recommended," and are named a Brutus Award winner for 2007.
JENA Labs GT Guitar Cable - Now here's something you don't see every day: Ye Olde Editor revealing his guitar jones, and praising an electric guitar cable here in the pages of PFO! Yes, I have to confess it: I've been a guitar lover and guitar player for decades now …acoustic and electric both. In the past 15 years, I've owned three different Mesa Boogie amps (the .22 Studio, a Mark IV head amp with 4 x 12 cabinet, and my pride and joy, a brand new Road King Series II 2x12 Combo in Flame Maple with tan wicker ...outstanding!) to go with my Fender Strat HM, several Rickenbackers, a Gibson, and a Takamine or two (currently the excellent Super Natural 15CF with tubed acoustic-electric pickup …exceptionally cool.)
All of which is to say that I've wasted a lot of money on guitar cables over the years, generally two or three at a time, to accommodate various fiddlings with pedals, effects processors, and the like.
I'm glad to say that I've finally reached the end of that trail, partners. With the arrival of the JENA Labs GT Guitar cable, in all of its carefully hand-constructed, shielded, cryogenically treated, twin cable helix glory, my frustration with edgy, harsh, garish guitar sound is banished. A GT's between my Strat and my Vox ToneLab pedal/processor system, and another 'twixt my processor and my Boogie Road King Series II, and I've been a truly happy man! It's absolutely the best guitar cable I've ever used.
The acid test: taking the GT down to Guitar Center in Clackamas, and having my main man, store manager and jazz guitarist Eric Abaté, compare it with the likes of Monster Cable and Mogami, their "reference" cables. A/B/C swap and listen, with a handful of guitar specialists listening in.
Kazow! To say that this was no contest …to say that the GT annihilated the other cables…to say that the Guitar Center folks were shocked, would be only accurate.
Got an electric guitar? Get thee to a GT!
For more information on this just-launched product, email JENA Labs: mail@jenalabs.com. The web page isn't up as of publication.
Meanwhile, here's my first Brutus Award for a high-end guitar cable—and richly deserved!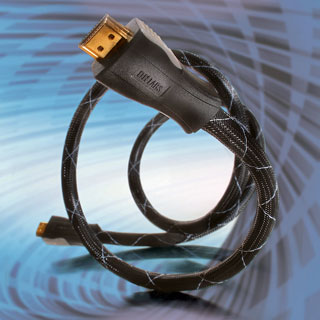 The DH Labs Silver Sonic HDMI Cable (image courtesy of DH Labs)
DH Labs Silver Sonic HDMI Cable - Here's a truly sweet product for home theatre enthusiasts looking for something better than the same ol' same ol' when it comes to HDMI cabling for their video systems. I was able to score a couple of review samples courtesy of Terry Rossen of TRI Audio Marketing immediately after RMAF 2007.
Having just installed a new Panasonic TH-65PX600U 65" Plasma 1080p HD TV with a Panasonic DMP-BD10 Blu-Ray player in my home theater system, I was very anxious to give something other than generic HDMI cables a try.
Darren Hovsepian's DH Labs HDMI's are ultra high bandwidth designs, which will handle HDMI 1.3 (and higher!) without breaking a sweat. The Silver Sonic HDMI cable is rated to handle up to a claimed 1440p resolution, and Dolby 7.1, which are exceptional performance targets. The improvement in video performance was immediately apparent to me on the Panasonic 65" plasma: more saturated colors, better clarity, and improved sharpness. It's been a real pleasure to watch Blu-Ray's with the Silver Sonic …and so say we all here at PFO River City!
And believe it or not, the price of the DH Labs Silver Sonic is quite reasonable: 2 meter runs retail for only $90, which I would say is exceptional, real no-brainer value. (For a complete list of current retails prices for the Silver Sonic HDMI, see the DH Labs site at www.silversonic.com/docs/prices.html#HDMI. Note that longer HDMI's are available, and that they include integrated amplification and equalization. Very good stuff!)
Got HDMI? Get the DH Labs Silver Sonic HDMI. And get happy!
DH Labs gets the Brutus Award.
System Tweaks, Enhancements, and Accessories
Walker Audio Prelude Record Cleaning System (Spring 2007 formulation)
I hate to rave too much, but the Prelude Record Cleaning System is one of those relatively rare audio products that really produce moments of real revelation when listening to LPs. You do have to be patient here; the Prelude system is requires a series of cleaning/rinsing steps for best results, and the use of the new Prelude cleaning pads, which make cleaning much easier than it was with other brushes I had used before. But if you're willing to put in the time, the improvement in the performance of your LPs will be worth the wait.
I wrote this all up back in May/June of 2007 (see PFO Issue 31 at http://www.positive-feedback.com/Issue31/talisman.htm), where I covered both the Prelude system and the Talisman (a Brutus Award winner in 2006).
Walker Audio's latest enzyme-based formulation is simply the best I've ever heard in a record cleaner, and I've heard a few. I therefore give the Prelude Record Cleaning System a "Ye Olde Editor's 'highest recommendation!'"—and also a Brutus Award for 2007.
Walker Audio Vivid SACD/DVD/CD Enhancer (2007 formulation)
Also from Walker Audio is the latest formulation of their excellent Vivid optical disc enhancer. Walker and company are always working hard to get that last percentage point or three from their product line, and they have done so once more this year with Vivid. While it is still (as the name implies) "zippy," excelling in bringing out detail, improving imaging and soundstaging, and enhancing dynamics, this latest iteration seems to have a touch more warmth to it. If you are especially interested in detail and dynamics, Vivid should be on your audio accessories shelf, without doubt.
For SACDs, DVDs and CDs, Vivid has become an indispensable aid to better performance. After using it throughout 2007, I give this latest formulation a "Ye Olde Editor's 'highest recommendation!'" and a 2007 Brutus Award.
JENA Labs Esoteric 3D-X (2007 formulation)
Jennifer and Michael Crock of JENA Labs have not let the proverbial grass grow under their feet. The 2007 formulation of their Esoteric 3D-X strikes me as better than last year's essay, and is the other optical enhancement product on my accessories shelf.
The latest Esoteric 3D-X imparts a special kind of velvety warmth, a silky feel to SACDs or CDs treated with it. The detail is there, but the sonic envelope has more warmth to it. Tonal and harmonic structures are brilliantly emphasized with 3D-X, with an integration to the sound that is most gratifying. Soundstage width and depth are enhanced, giving a greater sense of spaciousness. As a result, opportunities for emotional connection with the music is significantly improved.
Once again, JENA Labs has hit the bull's-eye. Here's another "Ye Olde Editor's 'highest recommendation!'" and an accompanying Brutus Award for 2007.
Furutech deStat and SK-II Electrostatic Brush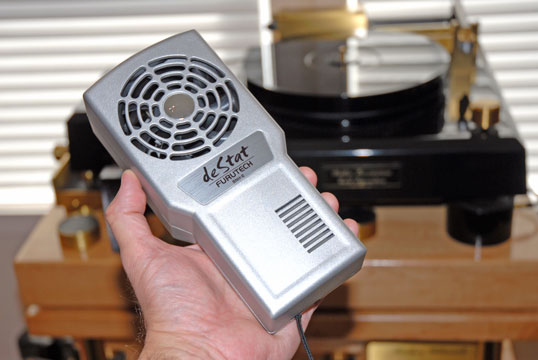 Remember the days of the Zero-Stat guns? Those garish red plastic zappers with the funky long trigger and the strange clicking sound that told you ions were blasting static charges on your LP? (I still have mine; that makes me a hopeless audio gadget archivist.) I got variable results with mine, and was never quite sure that it was working.
If you still have Zero-Stat, you can chuck it. Furutech has come up with a static charge remover that really works well, neutralizing static build-up, and is beautifully designed instead of being ugly as sin. I've been using it during the fall/winter of 2007, and have found that it is highly effective in zapping static build up and quiet in operation as well. Its battery operation means that I can carry it from place to place for use, which is another plus for me. And it's simple to use: at the activation of a switch, the hand-held unit directs a stream of ionized air in any direction that you point it. You can definitely smell the ozone as it works; you can also definitely tell that static charges are being neutralized. In fact, I've found that dust can often be simply blown off a surface after using the deStat, which is very handy.
Outstanding! Once more Furutech comes up with an audio accessory that is both effective and beautiful, priced at USD $360. It gets a "Ye Olde Editor's 'highly recommended!'"—and a 2007 Brutus Award.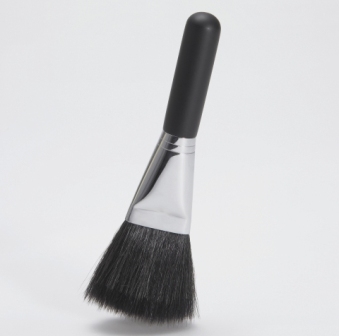 The Furutech SK-II Electrostatic Brush
I also want to mention another small, but useful accessory for the audiophile sick 'n tired of fighting the static charges on his or her discs and LPs. Furutech's SK-II Electrostatic Brush has replaced earlier measures that I had used to get the bloody dust off of my discs. (You know: blowing hard, using the sleeve of a cotton sweatshirt, hunting around for any kind of brush, that sort of thing.) Made of what Furutech calls "the finest hard-to-find goat hair prized for its softness," the SK-II certainly has done fine work for me in helping to get last-minute dust off the disc.
Hint: the SK-II works particularly well with the deStat. Hit the disc or LP with the deStat to neutralize the charge, then use the SK-II to brush off any stragglers. If you're thinking of purchasing one, you should consider sourcing the both. The SK-II adds only USD $99 to the USD $360 price tag of the deStat unit. This makes for a handy tag-team against static charge.
This useful accessory that earns "Ye Olde Editor's 'highly recommended!'" and a Brutus for 2007.
Furutech DFV-1 Disc Flattener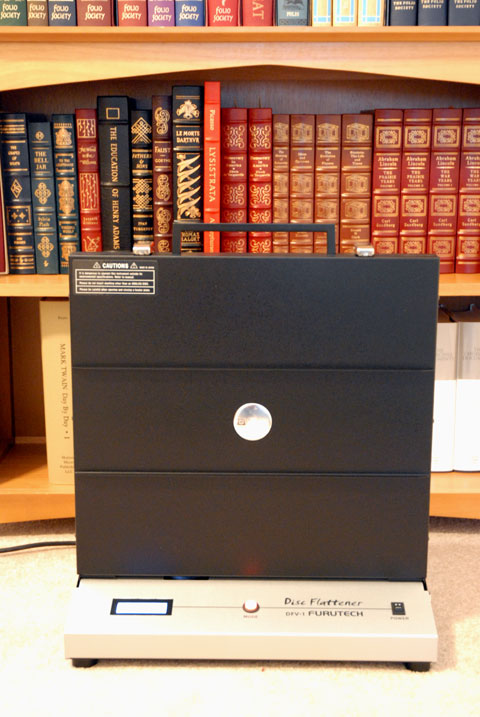 If you enjoy finding good LPs, you know the great feeling you get when you find a real winner. There are still a lot of vinyl treasures out there…whether collectable, a favored title, or a mystery title. Many are just a buck or three for the taking, and all you need back home are the tools necessary for cleaning up and restoring these albums for playback. If you do this right, it's amazing how wonderfully many LPs sound.
At the current time, my armory of preferred LP restorative/care accessories includes:
the Walker Audio Prelude Record Cleaning System

the VPI 17F LP vacuum (though I will be evaluating upgrades to the 17F in 2008)

the Walker Audio Talisman

the Furutech deStat and SK-II Electrostatic Brush

the Furutech deMag full-LP demagnetizer

anti-static-lined paper LP inner sleeves

re-sealable protective LP outer sleeves
So far, so good. But I still didn't have an important missing component for that occasional problem-child warped LP—a rock-solid reliable LP flattener. One of the worst things that can happen to the LP hunter is to find a terrific album, only to discover that it's something other than flat. Misuse/careless handling over the years have warped a number of black pizzas. That's OK when they are too scratched up to be playable, but agony when you see an LP whose grooves are fine, but whose idea of proper geometry is more three-dimensional than two.
In years gone past, the main remedy was to warm up an oven precisely, place a warped LP between two very thick panes of glass, and watch carefully while the LP flattened. You had to take it out at just the right moment, then allow it to cool between those glass panes. You hoped it would flatten correctly. You hoped that it would remain flat. And you hoped that the grooves themselves wouldn't have mooshed together. Ugly, tricky stuff, and definitely not for the faint of heart.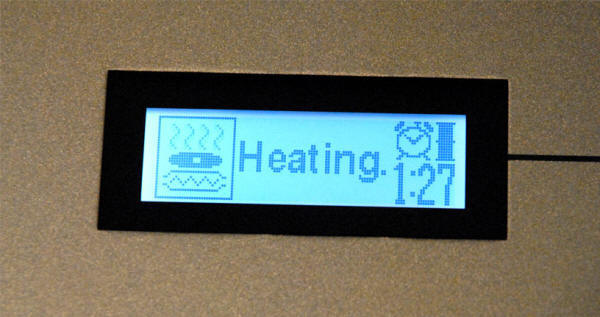 I had some warped LPs in my collection, but they were irreplaceable albums that I didn't want to risk to kludgey procedures, so I left them alone, hoping for a cure some day. I kept my eyes open, but hadn't found a truly acceptable alternative…until this year. Which is when I got the notice that Furutech had produced an LP flattener that just might do the trick.
The folks at Furutech were kind enough to ship a review sample of their DFV-1 Disc Flattener. When it arrived, I popped it out of its box immediately, curious to see how it shaped up. Now here's just what the doctor ordered: a fully automatic LP flattener that does its job superbly, requires no special oversight, and stands upright to save space! State-of-the-art heating surfaces, with no heat applied directly to the groove areas. Computer controlled heating and timing system, allowing for controlled heating and cooling cycles, without harm to your vinyl. A simple screw-on mounting and centering component for loading an LP into the Disc Flattener, and a very simple clamp latch system for closing and operation. All of this with an upright stance, minimizing the component footprint …very important around these parts.
I pulled out some warped LPs that I had been waiting for years to fix. They had warps ranging up to 1/8" in lift, and covering 20-25% of the albums' circumference. They were listenable—barely—but anyone fearing for their cantilever and their sanity wouldn't be able to take it for long. How would the Furutech DFV-1 Disc Flattener do with these ugly ducklings?
It took me about 2 minutes (literally) to get the feel of operation by reading the very brief docs, and noodling for a moment with the LP centering mount. First, I plugged in the unit and powered it up. This initialized the system, put a ready screen in the LCD window, and lit the middle "Mode" button. I then took one of the warped LPs and loaded it onto its mounting and centering holder. Holding it by that holder with one hand, I quickly applied an anti-static flow with the Furutech deStat, then brushed off any dust particles with the Furutech SK-II Electrostatic Brush. (I didn't want to put an LP into the Disc Flattener with dust all over it…you wouldn't want anything to get embedded. I would also counsel users not to put freshly washed LPs into any LP flattening system where it might sit and bubble for several hours; having leftover cleaning solution/water in the grooves is not a good thing during a heating/pressing/cooling procedure, I think. Clean your LPs, left them dry thoroughly overnight, then proceed to the flattening process.) Then the first LP went into the Disc Flattener. I found that the best way to clamp the DFV-1 was to hold it closed right in the middle with the thumb and forefinger of one hand, while battening down the two clamps with the other.
All that I had to do after that was press the "Mode" button to start the automatic procedure. The default heating cycle was 1.5 hours, which is normal for an ambient temperature of 20 degrees C (about 68 degree F). Longer time periods were available for lower ambient temperatures. You can access these during a five second window after pressing the "Mode" button, allowing you to access heating time periods of 1.0 hours (30 degrees C), 1.5 hours (default), 2.0 hours, and 2.5 hours (less than 10 degrees C, which ambient temperature I would avoid if I were you.) The cooling cycle is 2 hours, regardless.
The results of my first trial were perfect, to my surprise. The LP that I had put in had a measured warp of a very full 1/8" over nearly 25% of the album's circumference, and had been completely unacceptable for playback. I had carefully checked the warp again on my LP-12 just before putting the LP in the DFV-1. Horrible! Three and a half hours later, I put the LP back on the LP-12 and spun it up. Talk about being perplexed …then delighted…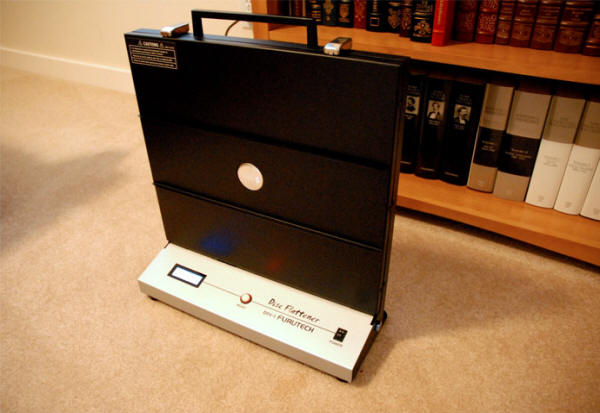 The test LP was now flat as a pancake. Flat as flatland. Flat as the LP-12 platter that it was spinning on.
I had to confirm this. On went another warped LP. Mount, clean, load, clamp, and put the "Mode" button.
Come back in 3.5 hours. Pull the LP. Put it on the LP-12 and give it a spin. It's now flat as a freshman's bank account at the end of a semester.
Scratch head. Take another warped LP. Mount, clean, load, clamp, push the button.
Come back in 3.5 hours. Pull the LP. Put it on the LP-12 and give it a spin. It's now flat as old bike tires.
And again. Fourth verse, same as the first.
This bloody thing really really works!
Inside of a couple of days, and without spending more than ten minutes of handling, I had rescued four treasured, irreplaceable LPs from oblivion, and had made them reference-grade flat, ideal for future use. The DFV-1 had done the work, and had not required one bit of intervention from me at all.
Not only that, its vertical stance makes it a snap to deploy or to store …it has a very small footprint…and its 20 pound weight is easily transported from one location to another using the carrying handle. If you need more space when you're not flattening LPs, you can store it in a small area.
Enough! In my humble opinion, any serious LP lover ought to have a Furutech DFV-1 Disc Flattener in his or her arsenal of audio accessories. At an MSRP of USD $1480, it isn't exactly cheap, but you don't have to rescue too many valuable LPs to amortize the investment. And if the cost is beyond your individual means, look at splitting the cost with some other LP lovers, or seeing if your local audio society would be willing to help cover the cost for an entire group. Believe me, this easily transported, easily stored unit would make such an arrangement quite simple to do.
The Furutech DFV-1 Disc Flattener therefore richly merits a "Ye Olde Editor's 'highest recommendation'"—with enthusiasm—and wins a Brutus Award for 2007, as well.
Gizmo Award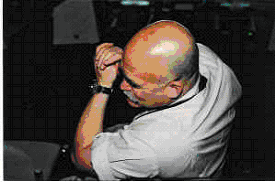 A photo of Harvey Rosenberg, taken shortly before he died. (Image courtesy of Dr. Longbeard.)
As I said back in 2003 (and repeated above), "There will be no multiples of this prize… no hard-and-fast categories… and if nobody floats our boat in a given year, it won't be awarded."
Well, for the first time, nobody new floated my yacht. Lloyd Walker and Fred Law of Walker Audio had been slam-dunk for several years, so I gave them a unique "Lifetime Gizmo Award" last year. But was there anyone who had demonstrated the sort of passion and commitment to the audio arts that was worthy of this unique recognition?
As a matter of fact, there was such a person.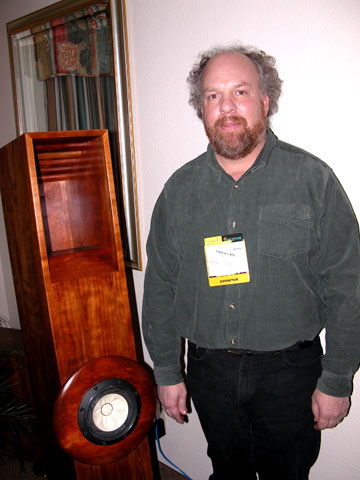 Terry Cain at CES 2005 with his IM-Ben loudspeaker, posthumous winner of the PFO Gizmo Award for 2007 (image and processing by Robinson)
Terry Cain of Cain & Cain
Terry was an audio acquaintance of mine, and a fellow Pacific Northwesterner. Working out of his shop and studio near Walla Walla, Terry was a lover of SETs, and built high efficiency speakers that were always a glory to behold. Terry's artistry and deep passion for audio was obvious, both in his words and his works. For years I would see him at VSAC, Rocky Mountain Audio Fest, or at CES; we would chat for a moment or two, I'd take some photographs and listen for a bit, but would then have to head out to the next room.
Terry became very ill in 2006, and fought a losing battle against disease. He finally passed away on December 10, 2006, due to respiratory complications.
It was too late in 2006 to recognize Terry's special craftsmanship and unique audiomania, but I am resolved to recognize him now.
My 2007 PFO Gizmo Award therefore goes to Terry Cain of Cain & Cain, posthumously.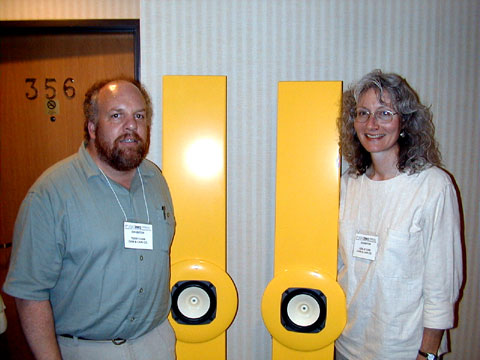 Two artists: Terry and Leslie Cain - Cain & Cain - at VSAC 2003
Ironically enough, it was Terry who helped me to launch the Gizmo Award originally, as a posthumous recognition of our mutual friend, Harvey Rosenberg. In fact, I asked Terry to write an article explaining the meaning of the Gizmo, and why he agreed so enthusiastically with me about its value and significance. We published Terry's words back in PFO Issue 10, December of 2003 (http://www.positive-feedback.com/Issue10/gizmo.htm).
I can think of no better tribute to Terry Cain than to re-publish his words on the first anniversary of his passing—in many ways they apply to Terry just as much as they applied to Harvey.
---
Beauty and the Gizmological imperative: Positive Feedback Online's GIZMO Award - Terry Cain
[Terry Cain is President of Cain & Cain, a firm in Walla Walla, Washington that specializes in fine audio, furniture, art …quite a lot of wonderful things, actually! His website is http://cain-cain.hypermart.net.]
What do I know about Gizmo? I'm set to typecast myself by writing this. I can live with that. I'm a tenderfoot Gizmologist, so what? I was asked by David Robinson one day to write about Harvey Rosenberg, and why there should be an award named after him. I believe there should be. Many of you knew Harvey far longer and better than I, but it didn't take me long to figure out what Harvey was about. Harvey followed his nose on a direct path to advanced musical bliss. Along the way, he annoyed and inspired perhaps more audiophiles than any writer could ever hope too.
I apologize in advance if my writing here is annoying or diffuse. I'm a builder, not a writer. One way or another, Harvey connected to audiophiles, I know he also connected with builders and artistic types.
He certainly did me.
---
In the movie The Blues Brothers, the black suited pair of Akroyd and Bellushi visit "the Penguin," their parochial school Principal, from years before. The scene is one of authoritarian carnage wreaked upon the quite true to life personas of a couple yahoos undisciplined, and unworthy. Not that the Penguin was out of line, to be sure; she was simply delivering discipline, deserved, required and quickly.
When I was in parochial school we had other names for our sisters of the cloth besides "Penguin." We hid our undisciplined nature in the presence of our teachers, officials of the school, et al. It was however a wonderful and rewarding time in life, one that I so luckily happened upon, in retrospect, in a similar fashion to the Blues Bro's story.
Anyway, the higher cost of tuition at this school bought a nice audiovisual theater at a time when analog film was king. Watching Edison's rotogravure machine record voices, played back on the same machine was one of many epic adventures on film caught or lodged in my brain while holding back my undisciplined nature during the 5-8th grades at this private school. Particularly the "Industry on Parade" series catalyzed my brain for gizmological imperatives. Mesmerized by "Kon-Tiki" and "Midsummer Nights Dream," the theater this school was blessed with was one of exquisite assembly. I was a Private First Class theater operator. I had access to all the lighting systems colored gel sheets that I jokingly stuck to other students in the hallway, and I could play my Animals or Tommy James records during lunch.
The Japanese culture films flowed from an all Altec solid-state system with pyramid shaped speakers hung over the audience. Watching the Shokunin (Japanese shoji master carpenter) glide his plane down the log, tissue shavings unrolling like toilet paper, I was there. I had built things since I could reach things. What the "Penguins" did was provide an intense an orderly input of knowledge at the right time in a caring place, money back guarantee.
I'm not overly religious, but I sense a good deal of what some call being "guided by a spirit." Simply put, I look at what gets built around me and I understand that not only is there skill, patience, study, insight, rejection and a million other things involved, but there's also a biological summation of DNA, a higher presence of existence that inspires, develops and succeeds in our sense of creative accomplishment. We are elevated to a sense of wonderment and joy in the presence of things built with a touch of this "spirit" guided quality. We see creations as "reflections" of someone, something; of ideas and of another's will.
Things get built because we expand and divide our cell structures in our body. That's jumping ahead a bit, but that's the way it is. We build to live. Living amongst our collection of objects we begin to have a deeper intellectual meaning. Materialism is the distraction; buying is not creating. Satisfying the soul is why we yearn to create beauty. And bask in its universal glow of truth and simplicity.
This is a tribute as well as an award in honor of a man who understood this meaning better than most. Harvey Rosenberg, "the 7th Earl clan McTannoy", GIZMO, the vaudevillian villain of tubular crazy duct taped "gizmos." Gizmo the writer, the Bohemian brute of all things absurd, unnecessary and frivolously fun. Harvey was all these and more, so much more.
I really did not know Harvey but for a brief flurry of emails for a year or so; he died on July 16th, 2001, the day of my birth. I just signed his guest book one day at http://meta-gizmo.com, and he started this conversation with me; he's all worried about MY musical satisfaction. We chatted online about all things tubular and horny. I began to re-connect to music in ways I had forgotten as an adult. Communicating with Gizmo, I began to feel comfortable dancing around my stacks of plywood, naked, my undisciplined nature finding a sympathetic, as well as antagonistic soul. He communicated freely the darker and "undisciplined" nature of our being, and how it relates to what we see and build and hear, as well as what we simply appreciate. This darker and undisciplined side of us is also where creativity finds nourishment. Denying this darker and undisciplined side, I imagine the world with far more consistent surroundings, a common and repetitive place where the slide rule is the only rule.
Harvey was dogmatic in his endeavors to find beauty and satisfy his well-developed blue blood senses. His search was not limited to the earth. He found ways to reach out and "make good shit happen" beyond the limits most people are comfortable with. His journey was, in human terms, a marathon, an epic voyage of discovery. When it came to artistic appreciation and the quest for beauty, Harvey covered a lot of ground. I'm not qualified to say for sure, but I do think he's quite responsible for expanding the triode movement on this continent. Guys like Herb Reichert, Joe Roberts, Loesch, Futterman and many, many others were the "first ashore" in contemporary post war hi-fi, and Harvey was their self appointed clown general.
I personally feel that his greatest contribution to humanity was how he either brought people together or separated them like so much salad dressing, so at least the rest of us could clearly see the "battle lines" of ideas. In the case of "audio arts" he fashioned bridges of cultural exchange and ideas flowed forth or stopped dead in their tracks. The baggage (or tools) of his decorum providing the comedic backdrop of truly noteworthy achievement, he could tirelessly engage in massaging ideas, or toss them aside like a child and vegetables. He simply wanted meat. Moreover, the beauty he would seek was artistically quite traditional, and armed with self-humility he blazed a path for others to get naked and dance. You know: intellectually, spiritually and creatively.
So along with Edison, the Penguins, Julian Hirsch, Akroyd and Bellushi, and a great many more, I find inspiration in Harvey Rosenburg. A man named Gizmo. I want others to be inspired as well. Not everyone; the world would be far too boring if everyone wore kilts and sashayed about like unkempt college students. No, the world needs far more beauty than even Harvey could contemplate.
But beauty only ever had one Harvey Rosenberg. And that's why we are here, to honor beauty, in some way, somehow….
The Gizmo Awards
So if we are seeking inspiration and beauty and a better understanding we have to stop. And focus for a moment on what Harvey was looking for. Why did he become, as Clark Johnson says, "relentless"? What drove him to drive his Harley Davidson leather-skinned ass to the edges of the planet seeking a higher metamusical expanded gizmological being?
Harvey was looking to warm, or rather burn, his soft college educated hands on the very flame of universal beauty, the kind of beauty in all of us if we can only let it out or find it. Universal beauty. Unchallenged unanimous beauty, the kind we worship and cleanse our senses in. Beauty that burns away the emotions of hate, fear and doubt. Beauty that knows no bounds and beauty created by the child within. The common beauty seen in a face or the light of a 1938 10y driver tube. This beauty is all around in hi-fi: it's not common, but it's there.
The Gizmo award is not about technical sophistication, or clever solutions. The Gizmo award recipient could well be chosen for far more meaningful contributions to the audio arts. Contributions such as affordable tubed hi-fi kits brought to market to fill a need, serves a huge gizmological imperative. Affordable state of the art playback systems, both analog and digital, deserve credit for connecting us to music, and inspiring they are. "Less is more," Harvey used to say; and it is in that context that we begin to connect with what we need, to reach that next meta-musical context. So we should not be confined just to "objects" of the audio arts. Certainly a "performance" could qualify. Objects that qualify will be our ticket to the musical beauty we hear in our own voices and the instruments we build.
Audio objects exist with unquestionable and exhaustive technical sophistication, which deliver a musical truth for the sake of truth. Truth is the carbohydrate of our mind. So it makes sense to me that beauty would be the protein. Both are needed to sustain us. The Gizmo Award is a prize meant to acknowledge the spirit of Harvey Rosenberg's carnivorous, heavy meat diet of beauty found in truly beautiful musical gizmos.
The award recipient's "object" or "performance" will expand our understanding of beauty in a new and meaningful way. And not necessarily Harvey's way, either. I would think Harvey would agree that diversity rules, and that the world can always see beauty in a different light. Created only for pleasure, the Gizmo recipient casts light for our musical eyes to see. The finest execution and deliverance only begins to approach our need for expanded meta-gizmological musical understanding; the Gizmo Award recipient must also transport us to the next level.
So, as Harvey once inspired a great many, the Gizmo award inspires us.
Well said, Terry. You mourned Harvey's passing; now we mourn you. You helped me to explain the meaning of the Gizmo Award when we first launched it, and did so with real eloquence. I am returning the favor now.
This Gizmo is for you.
David W. Robinson, Editor-in-Chief, Positive Feedback Online.