Gilbert Yeung of Blue Circle Audio may be the most customer-oriented designer in high-end audio. Not only does Yeung offer special-order customizations to current production models, but he will often build components to satisfy a customer's one-off request. A recent desire for a solid-state alternative to traditional low-powered SET amplification led to the introduction of the Blue Circle SB (ShoeBox) Series of preamplifiers, amplifiers, headphone amplifier and DAC. The goal of the SB series is to provide an inordinately high level of sonic performance at entry-level pricing. To realize this goal without compromising internal parts quality, Yeung sacrificed frills like ultimate power output, full-size casework and external cosmetics.
The SBT tube linestage preamplifier and SBM monoblock amplifiers represent the flagship models of Blue Circle's SB Series. The SBT preamplifier is a two-box affair, with the linestage in one case and the power supply contained in another. A non-detachable umbilical affixed to the external power supply connects the two units. Aside from the power supply umbilical and an IEC AC inlet, the only external features present on the power supply chassis are the toggle power switch on the back panel and the trademark Blue Circle logo on the front fascia, which lights up when the unit is under power. The SBT linestage chassis contains a large wooden volume control knob on the front, along with a small toggle switch for source selection. Around the back, the SBT contains two RCA inputs and one RCA preamp output as standard, with additional inputs and outputs available at additional cost. All connectors are of very high quality. An inlet is provided for the power supply umbilical. As a way to keep costs down on the standard two-input model, no markings or printed indications of any kind are provided on either unit, so the end-user must read the manual prior to making connections. Additional inputs and/or outputs ordered by the purchaser are accompanied by external markings to assist in making connections. Internally, the SBT makes use of two 6922 tubes in its single gain stage. A Shallco stepped attenuator provides for control over volume, and an internal two-position toggle switch allows the user to adjust the Shallco's sensitivity to better match the overall gain of his/her system. Due to its single gain stage, the SBT inverts polarity, so, assuming that polarity is maintained throughout the rest of the system, care must be taken to compensate by reversing the polarity of the speaker connections. As high-end audio components go, the SBT and its external power supply are very small, with the linestage chassis measuring 5.375" wide, 3.375" tall and 8.25" deep (additional 1.625" clearance required for the volume control knob on the front and RCA connectors on the back), and the power supply chassis measuring 3.375" wide, 5.375" tall and 8.25" deep. The linestage chassis weighs five pounds. The power supply chassis weighs eight pounds. Like all SB Series components, the SBT eschews the traditional Blue Circle stainless steel front face for a black gloss one. Remote control is not an option.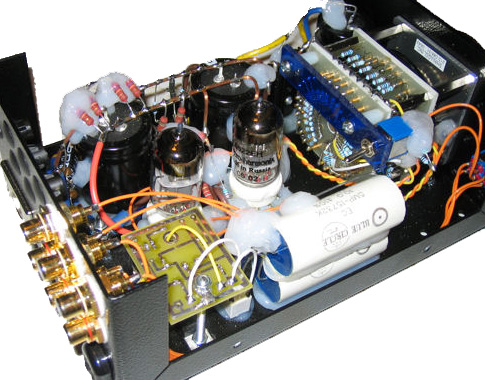 The SBM monoblock amplifier packs a lot of technology into its pint-size chassis. The SBM is fully-balanced from input to output and incorporates Blue Circle's True-Balanced Output Technology (TBOT), whereby the amplifier drives both the positive and negative loudspeaker terminals for greater control over the transducer diaphragms. The SBM employs Blue Circle's power op-amp modules and is a high-current design rated to deliver 50 watts per channel into 8 ohms and 80 watts per channel into 4 ohms. As with the SBT preamp, the SBM monoblock amplifier eschews external markings and fancy cosmetics. The front of the SBM is finished in gloss black and contains only the Blue Circle logo, which lights up when the amplifier is turned on. The back of the SBM contains one set of five-way binding posts (a second pair can be installed for bi-wiring), one single-ended RCA input, one balanced XLR input, a toggle switch for power, a toggle switch to float the ground and an IEC AC inlet. The connections are all of high quality. The SBM measures 5.25" wide, 4.75" tall and 14.25" deep (figure in an additional inch for the rear speaker binding posts). Warranty for both the SBT preamp and SBM monoblock amplifier is three years.
Per his usual custom, Gilbert Yeung, chief designer of Blue Circle, delivered the SBT preamp and SBM monoblocks personally. All components were very well packed, with the SBT preamp and its external power supply in one box, and the SBM monoblock amplifiers in another. Installing the SBT preamp and SBM monoblocks was very straightforward. I placed the SBT linestage and both SBM amplifiers together on the bottom shelf of my audio rack, and per Yeung's recommendation, I placed the SBT's external power supply on the floor next to the rack. The SBT preamp and SBM monoblock amplifiers ran very cool, and I typically left them powered up to ensure that they performed at their best.
During the course of this review, my source comprised a Simaudio MOON Evolution SuperNova CD player. Loudspeakers were the EgglestonWorks Fontaine II and Focal Electra 1027 Be. Cabling and power cords were by Audience, Blue Circle and Ecosse. Power conditioning duties were handled by the Blue Circle BC606 Music Bar and Audience aR1p. The listening room was heavily treated with ASC Tube Traps and Studio Traps.
As paradoxical as it may seem, the more colored an audio component is, the easier it is to review. All audio components evince colorations to some degree, and it's these subtle flavors that differentiate one component from another. Writing about Blue Circle products has proven to be somewhat difficult for me, as they are so neutral, so non-colored, that it's self-defeating to write about what they do. Indeed, it's easier to write about what they don't do. In listening to the SBT preamp and SBM monoblock amplifiers, here's what I didn't hear. I didn't hear overblown bass. I didn't hear a midrange that was sterile and cold or conversely warm and syrupy. I didn't hear a treble range that was grainy or rolled off. What I did hear was an extremely open and transparent window to the upstream musical recording, front-end source component and cabling. More than any other components that I've had in my system aside from Blue Circle's own FtTH integrated amplifier, the SBT and SBMs simply got of the way and let me listen to music.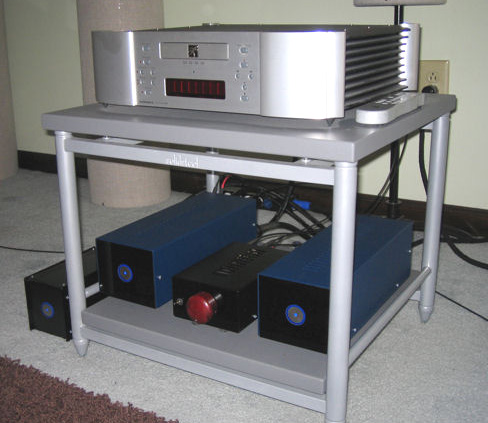 The thing that struck me the most while listening to the SBT linestage and SBM monoblocks was the sheer intimacy and refinement of their presentation. Perhaps even more so than other Blue Circle products I've heard, the SBT and SBM provided a direct connection to the musical message. A major contributor to this was the Blue Circle combo's midrange. Extraordinarily immediate and pellucid, the SBT and SBM combo rendered Feist's vocals on songs like "When I Was a Young Girl" and "Leisure Suite" from her CD release Let It Die (Cherrytree/Interscope B0004442-02) without any hint of opacity or grayness. Listening to "Here Again" from Spyro Gyra's Catching the Sun (MCA MCAD01487), I was captivated by Jay Beckenstein's saxophone playing. Unencumbered by any stereotypically tube-imparted warmth or lushness, the SBT preamp and SBM monoblocks nevertheless imbued each note with a lit-up presence and palpability.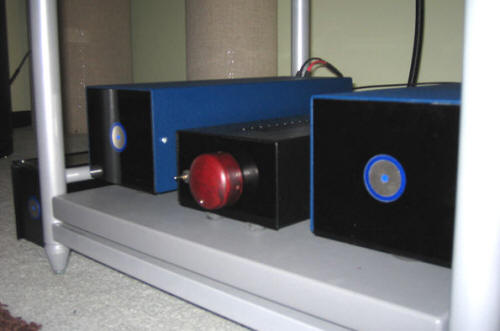 The other aspect of the SBT and SBMs that really impressed me was their nimble celerity and concomitant rhythmic prowess. The little Blue Circle preamp and monoblocks captured and let go of notes quickly and dynamically. Bill Bruford's frenetic drumming and percussion work on "One More Red Nightmare" from King Crimson's Red (Virgin CDVKCX7 7243 8 49937 2 6) was rendered with consummate snap and precision, with no truncation of dynamics. This exceptional rhythmic ability was also apparent on more acoustic fare. The arpeggiated acoustic guitar notes on "Melrose Avenue" from The California Trio's Yamanashi Blues recording (DR 9301 2) were reproduced with lifelike dynamics and pacing.
The SBT and SBM's treble range was textbook Blue CircleŚclean, quick and clear, with seeming limitless extension and not a trace of grain or artifice. I reveled in Elvin Jones' cymbal work on bill frisell with dave holland and elvin jones (nonesuch 79624-2). But it wasn't just well-recorded fare that benefited; I derived just as much as satisfaction listening to Keith Moon beat the skins on The Who's Who's Next - Deluxe Edition (MCA 088 113 056-2).
So what about power? After all, how far can the SBM's 50 watts really take you, if you are in the majority of music lovers who utilize medium sensitivity speakers and listen to more than string quartets? Well, surprisingly far, I found. In my admittedly smallish room, listening at less than head-banging levels, I never found myself wanting for more headroom. And, I was frankly astonished at how well the SBM monoblock amps drove the Focal Electra 1027 Be loudspeakers. Ostensibly an easy load on paper, with a nominal 8-ohm impedance and 91dB sensitivity rating, the 1027 Be seems to perform at its best with a healthy reservoir of power behind it. However, the SBM belied its modest power rating, portraying a spacious soundstage and effortless dynamic scaling on demanding songs like "Yulunga" and "The Wind That Shakes the Barley" from Dead Can Dance's Into the Labyrinth (4AD 9 45384-2). Likewise, bass response was not in any way diminished by the SBM's limited power rating. The very deep bass modular Moog sequencer strains on "Runes" from Redshift's Oblivion CD (Distant Sun DS05) were reproduced with tremendous power and control. I can only speculate, but I can't help but wonder if this feeling of power from the SBM monoblock amplifier wasn't a result of its high-current design and True Balanced Output Technology, which, taken in aggregate, should provide for greater control over the speakers than its power rating would otherwise suggest.
In listening to the Blue Circle SBT linestage and SBM monoblock amplifiers, I was hard-pressed to discern any significant shortcomings. The SBT and SBM are so neutral that they're very hard to fault. However, it's this sheer neutrality that may be their Achilles' heel. Audiophiles looking to inject more warmth or detail into the overall presentation might be disappointed by the "straight-wire-with-gain" approach of the SBT and SBM. Likewise, those seeking to offset colorations further upstream or downstream in their systems may be frustrated by the honesty and neutrality of the Blue Circle components. And while the SBT and SBM bring to the table a level of mellifluous refinement that belies their modest cost, they conversely do not possess some of the bombastic grunt and dynamism of bolder, less subtle designs.
I was able to compare the Blue Circle SBT preamplifier and SBM monoblock amplifiers to two integrated amps, the Ayre AX-7e and conrad-johnson CA200. The Ayre AX-7e couples a passive line-stage to a high-sensitivity power amplifier. The AX-7e is a fully-balanced, non-global-feedback design and utilizes a high-quality resistor-based volume attenuator and input selector. The AX-7e is rated at 60 watts per channel and retails for $3000. Like the Blue Circle SBT and SBM components, the Ayre AX-7e avoided obvious colorations for a generally neutral presentation. The AX-7e sounded a shade bigger than the Blue Circle combo, with a slightly more upfront and immediate sonic signature. The AX-7e could not quite match the Blue Circle gear's subtle fluidity and refinement, but countered with a bolder, more dynamic approach. The SBT and SBM surpassed the AX-7e in their reproduction of treble instruments, imbuing cymbals, sibilants and other high-register transients with a sublime crystalline purity and verisimilitude. The conrad-johnson CA200, like the Ayre AX-7e, mates a passive line-stage to a power amplification stage, albeit one with considerably more power output, being rated at 185 watts per channel. The CA200 is single-ended in topology and utilizes only two gain stages between input and output to maximize signal purity. The CA200 utilizes very-high-quality parts and is accordingly priced at $6500. Unlike the SBT and SBM, the CA200 traded absolute neutrality for a presentation that was subtly voiced towards the midrange. Where the SBT and SBM reproduced music in a manner that was unerringly accurate, the CA200 imparted a burnished glow to vocals and other midrange instruments that was beguilingly seductive. The CA200 matched the refinement and subtlety of the SBT and SBM, with an added element of musical coherency and flow. While grain-free and utterly transparent, the CA200's treble range could not quite match the pellucid clarity and transient snap of the SBT and SBM combo.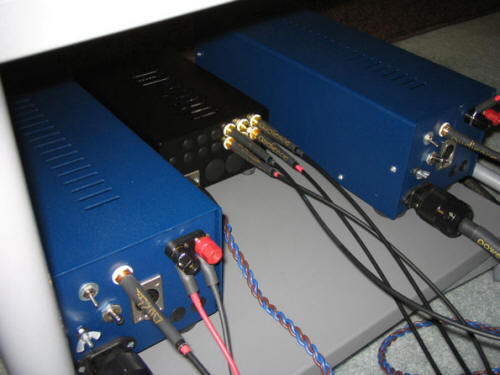 The SBT tube linestage preamp and SBM monoblock amplifier represent a departure in design for Blue Circle. With their small, easy-to-place dimensions and understated colors, the SBT and SBM appeal to music lovers who may have passed over Blue Circle products in the past due to their size or ostentatious color schemes. Sonically, however, the SBT and SBM are unequivocally Blue Circle, with their transparent and crystal-clear presentation. Extraordinarily neutral with an overreaching refinement, the Blue Circle SBT and SBM reproduce music with subtlety, grace and rhythmic precision. And while it does not possess the ultimate in power output, the SBM monoblock amplifier will surprise listeners with its depth and control over real-world loudspeakers. Ultimately, though, the greatest strength of the Blue Circle SBT tube preamp and SBM monoblock amplifiers lies in their ability to provide a direct connection to the heart of the musical performance. Truly great audio components encourage you to keep listening to one album after another, and with the SBT and SBM in my system, I didn't want to leave my listening chair. I can pay no higher compliment than that. John Acton
SBT tube linestage preamp
Retail: from $1795 CDN
SBM monoblock amplifiers
Retail: $1995 pair CDN
Blue Circle
web address: www.bluecircle.com