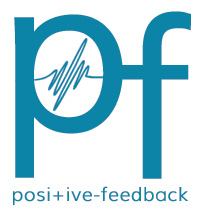 You are reading the older HTML site

Positive Feedback ISSUE

34
november/december 2007
Rocky Mountain Audio Fest 2007: The Audio Oasis! Awards, a photo essay - Page 2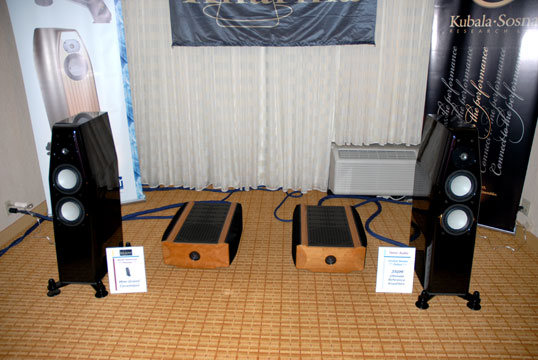 Yet another Audio Oasis! winner was the Kubala-Sosna Research/GTT Audio & Video/Kharma/Tenor Audio/VYGER room (Room 537).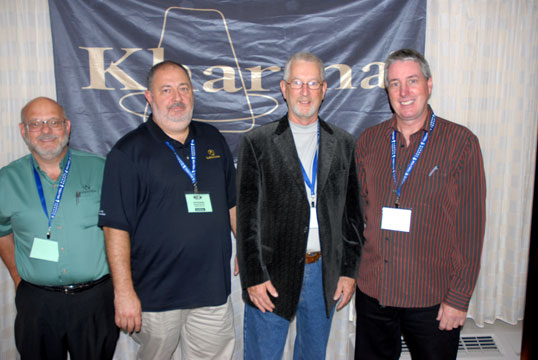 Some of the rum gang running the show in this room (left to right): Howard Sosna, Joe Kubala, Tom Moynihan, and Jim Fairhead.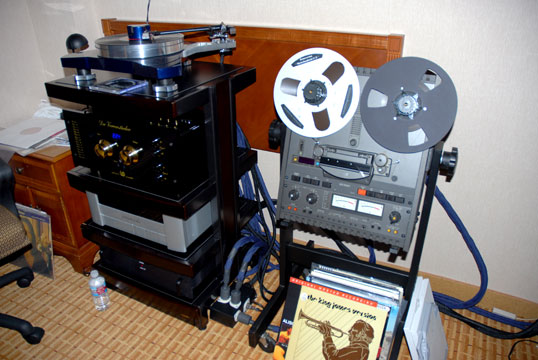 Now here's a source stack for you: a Tascam open reel, VYGER Baltic turntable, and Meridian CD player feeding an mbl 6010-D Reference stereo preamp, then on to the new Tenor 350M "Ultimate Reference" monoblocks (350 WPC) and from thence to the new Kharma Mini Grande Ceramiques, all via Kubala-Sosna cabling. Truly amazing sound, amigos: I kept looking for a hidden subwoofer. Too bad they had trouble with the Tascam …a problem with the drive mechanism …but the rest of the demo was a real pleasure. A definite winner here.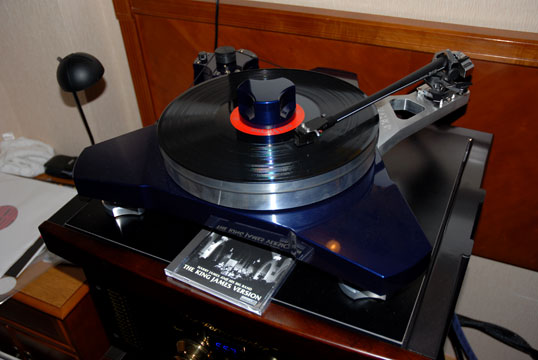 The VYGER Baltic is a turntable that I was not familiar with, but I enjoyed the sound quite a lot. Very solid, very clean sound. By the way, that's an SME Model 312 tonearm; the cartridge is an Air-Tight PC1. I would want to spend more time with the combination, but my first impression of this tandem was quite favorable.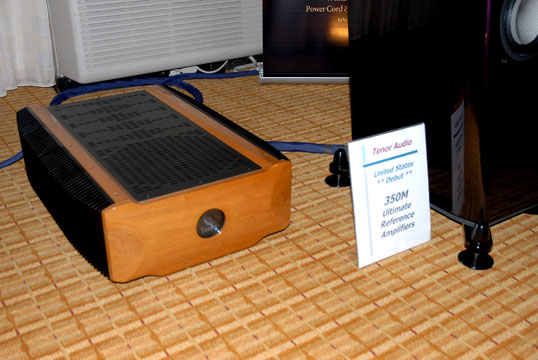 Here's a closer view of the new Tenor 350M monoblock. Looks like a Tenor, all right! The Kharmas certainly appreciated the feed.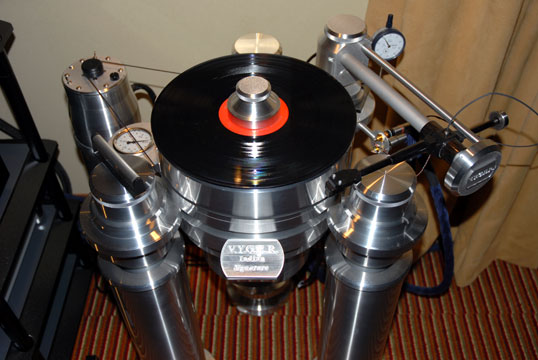 Here's something that rarely happens: Right next door in Room 535 was another PFO Audio Oasis! award. GTT Audio & Video/Kharma/mbl/VYGER one-upped the display in Room 537 with an even more impressive room. The VYGER Indian Signature turntable was certainly an eyeful, with its carbon fiber tonearm and Air-Tight PC-1 phono cartridge…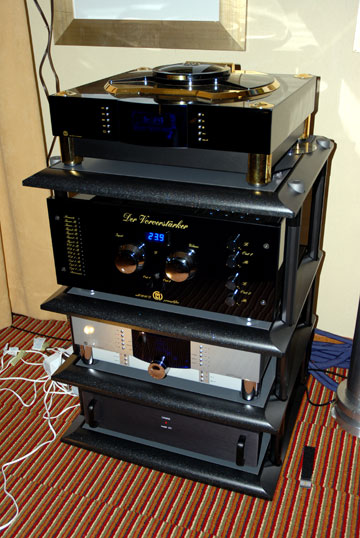 …as was the component stack. At the top is an mbl 1621 A CD player feeding an mbl 1611E D/A converter; on the analog side, the VYGER Indian Signature was fed to a LAMM LP2 phono amp. All sources then went to the mbl 6010-D Reference stereo preamp…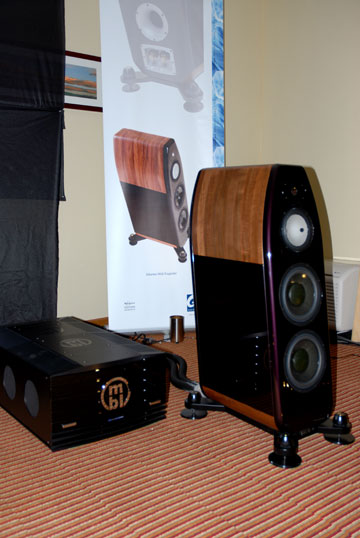 …which then tumbled downstream to the mbl 9011 monoblocks (440 WPC @ 8 Ohms—pleasant, that), and finally to the new Kharma Midi Exquisites. Note that all cabling was by Kharma, as well, via their Enigma cables. The form of the new Midis reminded me of the Kharma Grande Ceramiques that I gave a PFO Brutus Award to several years ago, and the sound was likewise excellent, even at first pass. Clear, authoritative, effortless, and quite pleasing; I confess that I could have stayed in this room for quite a while longer. Obviously the combination of mbl and Kharma has a lot of magic going for it …I am going to have to try to get some mbl gear in the door sometime in 2008.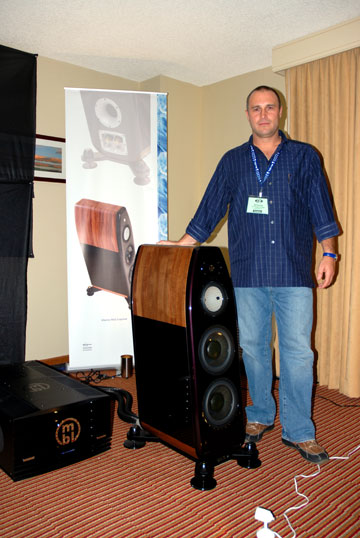 Bill Parish of GTT Audio & Video poses with the new Kharma Midi Exquisites. He'll be receiving a PFO Audio Oasis! award for all his trouble.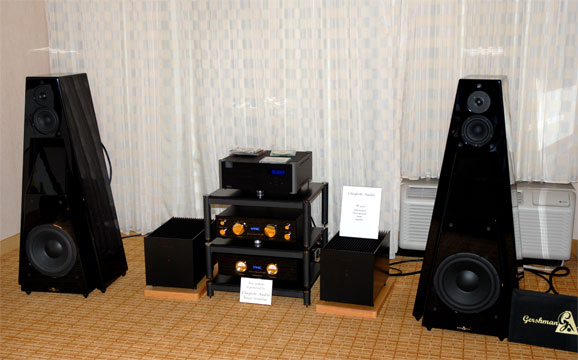 My next award winner goes in a different direction, but was likewise a provider of an oasis experience: this was the TRI Audio Marketing/Clayton Audio/Gershman Acoustics/DH Labs (with additional components by VAC and Wadia) room. I was not familiar with this combination of gear, but was drawn into the room by the excellence of the sound. It had just the right touch of tone and detail ...not too wet, not too dry, and a real sense of natural ease …just the sort of thing that I look for at an audio show. The speakers are the Gershman Acoustics Black Swans, powered by the new Clayton Audio M-300 monoblock balanced power amplifiers. The front end featured the new Wadia 581 SACD/CD player, feeding the VAC Renaissance Signature Mk. II balanced preamp. All cabling was by DH Labs, which did the job quite nicely, to my ears.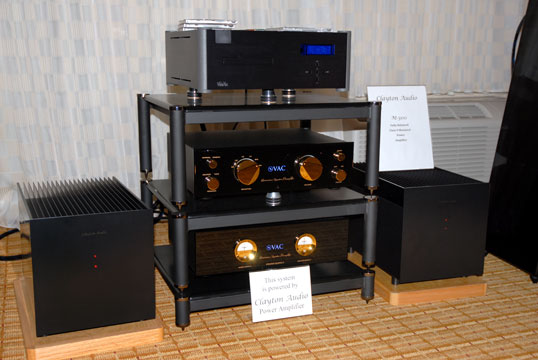 Here's a closer look at the component stack, with the new Wadia 581 SACD/CD player on top, the VAC Renaissance Signature Mk II preamp on the middle shelf, and the VAC power supply for the preamp down below. The Clayton Audio M-300s are on either side; at 300 WPC, they didn't have any problem driving this space with room to spare!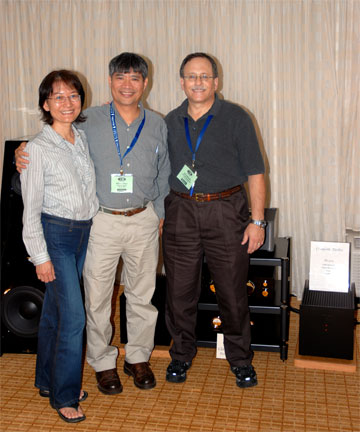 Winnie and Wilson Shen of Clayton Audio enjoy the photographic moment with Terry Rossen of TRI Audio Marketing. Good folks producing/handling superior designs. Hard to beat. They have reason to be pleased with their Audio Oasis! award; this room was a real stand-out.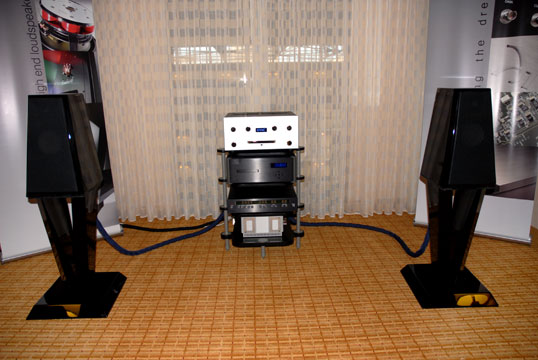 The good results that I had heard in the TRI/Clayton Audio room led me to check out Kevin Hayes' room. Sure enough, there was more musical delight happening there, in the VAC/Talon Loudspeakers/Wadia Digital/Rives Audio space (cabling supplied by Kubla-Sosna …again!). The source was supplied by the Wadia 581SE SACD/CD (hmmm …this has showed up in several of my favorite rooms), feeding the VAC Alpha Integrated amp. The output was sent to the Rives Audio Sub-Parc unit (bottom two shelves), which in turn feed a pair of Talon Acoustics Hawks, and a Thunderbird 13" passive sub. I liked the results quite a lot: rich, enveloping sound that was always musical, with a surprisingly good soundstage, and a foundation in the bass that was excellent.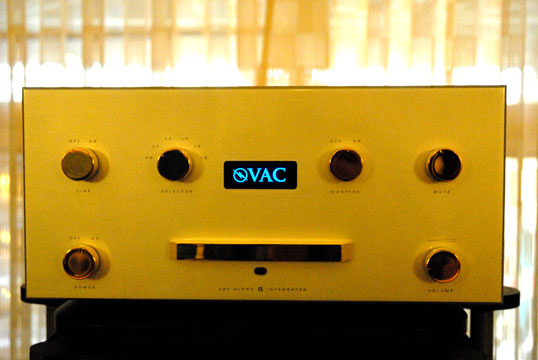 At the top of the component stack was the eye-catching VAC Alpha Integrated (note that this is a prototype on display). Kevin does great work with his look and feel; who knows, maybe one of these days I'll actually even get some VAC gear in for review. (That's an inside joke between Kevin and I …a long-standing and friendly tease!)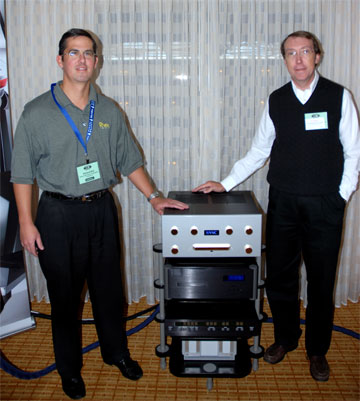 Richard Bird of Rives Audio and Kevin Hayes of VAC.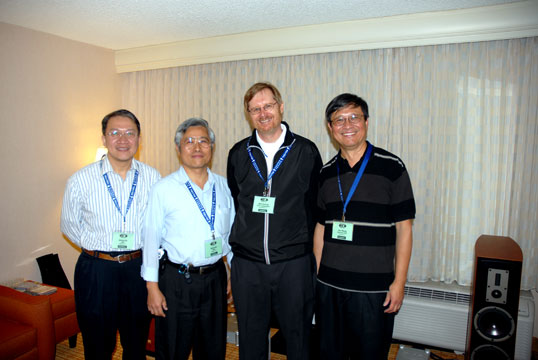 Yet another Audio Oasis! place: The Harmonic Technology/Inex Innovation room (with loudspeakers by Dali). Talk about yet another radical vector …and another example of how different the award winners could be from one another …this is it. First the folks in the room: from left to right, Jimmy Ko and Mitch Ko of Inex Innovation, Ben Gosvig of Dali Loudspeakers, and Jim Wang of Harmonic Technology.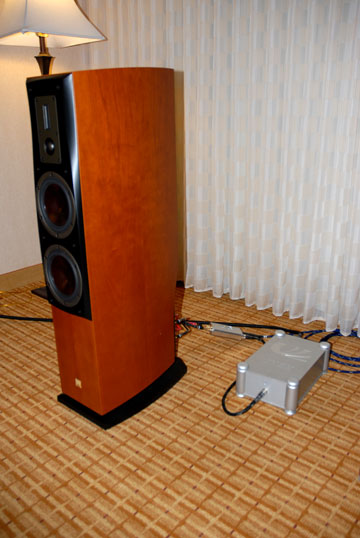 The loudspeaker's a Dali; but where is the amplifier?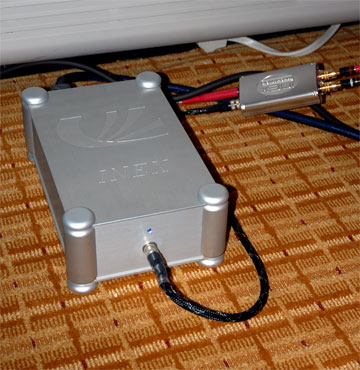 Uh, wait…what's that?
Yep, there 'tis, sports fans: the Inex Innovation Photon AmpliCable. This wondrous device allows you to directly connect sources or a preamp directly to your speaker. It can even be set up using Harmonic Technology fiber optic cabling, though at this exhibit it was connected to the Inex Innovation Photon preamp A200 …a very nice piece of work. "Innovative" describes this way-out-of-the-box concept quite nicely. The combination of Harmonic Technology and Inex Innovation sounded terrific; the Dalis filled the room with music quite nicely. Me, I kept looking at the little beasties on the floor in amazement.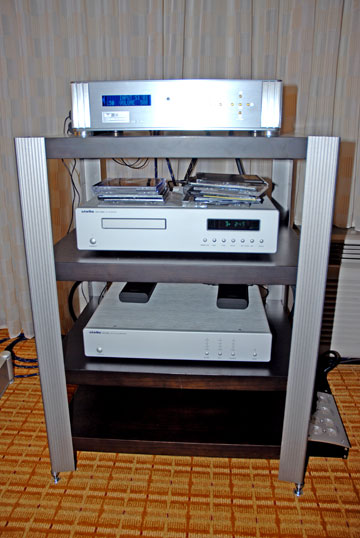 The front end of this unique system was a Stello CDT 200 CD transport and Stello DA 220 24/192 D/A converter (lower two shelves) feeding an Inex Innovation Photon Preamp A200 (top shelf). The preamp goes directly to the Photon AmpliCable in the previous image, which goes directly to the speaker. In theory, one could one-up passive preamps, and create a very direct signal path, if you didn't need multiple sources. By the way, the Photon preamp boasts a remarkable bandwidth: 2 Hz to 30 MHz (no attenuation points cited, however). Judging by the sound I was hearing in this room, the results were truly credible.
Which is truly incredible.
A bemused congratulations to the Jimmy and Mitch Ko of Inex, Ben Gosvig of Dali, and Jim Wang of Harmonic Technology…your room was a creative oasis!
Two More Rooms to Go…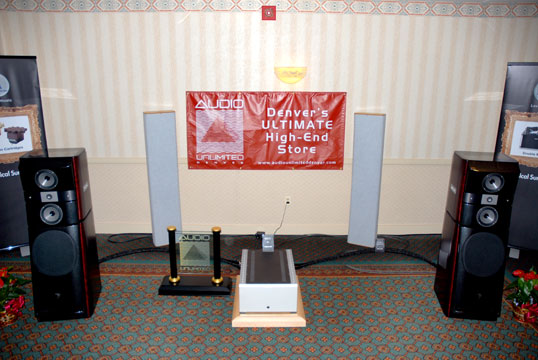 The first was the Audio Unlimited room. I have visited this room in past shows, but frankly, was never particularly compelled by what I heard. This year was different, I'm glad to say. The speakers above are the Focal-JM Lab Nova Utopia Be's, which the Boulder 2060 stereo amp really lit up, and produced music that was so clean, natural and effortless that it was a pleasure to actually sit down and spend some time just relaxing …always a good sign.
Remember that my comments on the Boulder 2060 a year or so ago came to the conclusion that this was probably the best amplifier that I've ever heard. (See my sidebar comments in PFO Issue 27, at http://www.positive-feedback.com/Issue27/2060_boulder.htm.) My experience in this room underlined that conclusion once more. And I have only one "best" in each component category, believe me.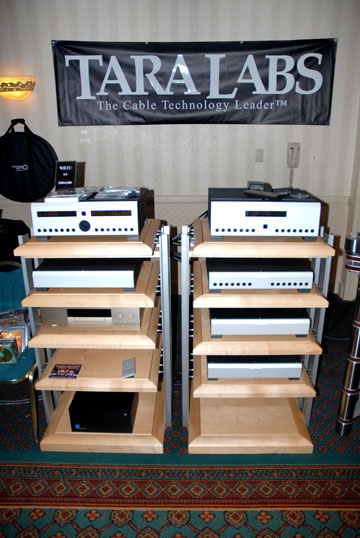 Was it the impressive Boulder stack of reference-level sources? That undoubtedly contributed a portion to the quality that I heard…but I still favor that 2060 stereo amp!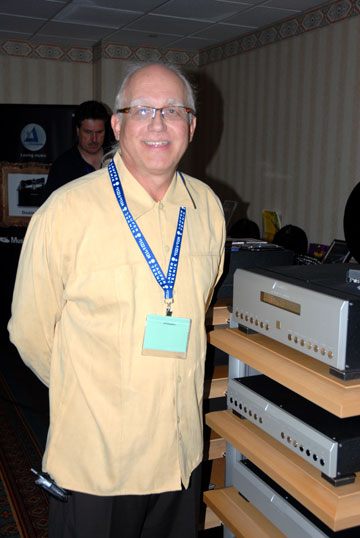 John Barnes of Audio Unlimited was a genial host, and was quite pleased to hear that his room would be winning its first PFO Audio Oasis! award. Of course he is, eh?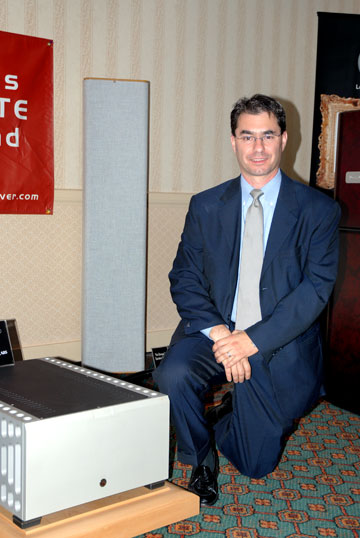 Audiobud Rich Maez of Boulder Amplifiers, a great guy who actually like real music (gasp!) with the Boulder 2060. We expect to see more review components from Boulder in 2008 …should be a real treat.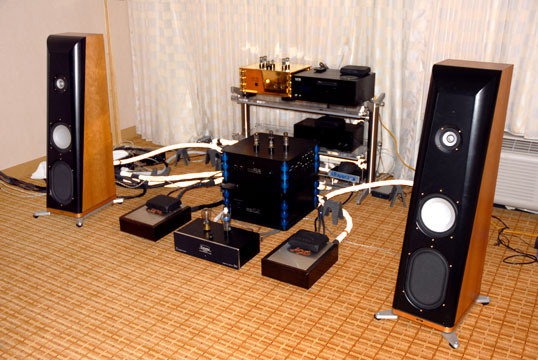 The final room to receive a PFO Audio Oasis! award was the Synergistic Research/VRS Audio Systems/Single Power Audio/Red Dragon Audio/Stillpoints US/Hewlett Packard space (room 453). This one was another surprise; it was late in the show for me, and I dropped in just because the quality of the sound (and the light!) was intriguing.
I'm really glad I did, too.
The complex of components is completely different from the other rooms who won an Oasis! award …no surprise there. The source of the music was Vincent Sanders' extraordinary VRS Audio Systems computer-based playback. I have to say that, on first hearing, this was one of the best computer-based sources I've heard. (I didn't get enough quality time with the highly regarded Memory Player at this show to have a sense of how it stacks up in comparison.)
The feed went to a Single Power Audio SDS-XLR balanced tube preamp, and was then sent along its way via an extraordinary array of Synergistic Research products and Tesla Series cables: Apex Precision XLRs, the D3 digitals, and Apex speaker cables. Power cabling was via the Synergistic Research Hologram D (digital sources) and Hologram A (analog sources). Line conditioning was provided by the Tesla PowerCell; active shielding for the cables was powered via the Enigma Valve Power Supply. This last was an extraordinary device, with two extremely rare tubes on display: a 1943 Western Electric NOS, and a 1932 Tungar NOS.
How extraordinary was the Enigma Valve Power Supply?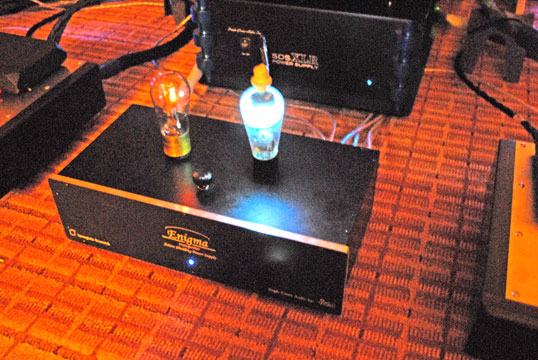 Well, if you love tubes, I'd say it was nearly irresistible…
Ted Denney of Synergistic Research spent a lot of time switching between the 1943 and the 1932 tubes. I could certainly hear a difference between the two as the power supply handling the active shielding for the cables went from one to the other. The 1932 tube provided a mellower, richer sound, while the 1943 provided more spaciousness and detail. Just the thing for A/B comparisons, that's for sure. I was extremely impressed with Synergistic Research's active shielding system; first take, it's the best active system that I've heard so far, though I would only be able to confirm that over time. I do believe that Synergistic Research is on to something significant here …I hope that they're able to follow up on this discovery.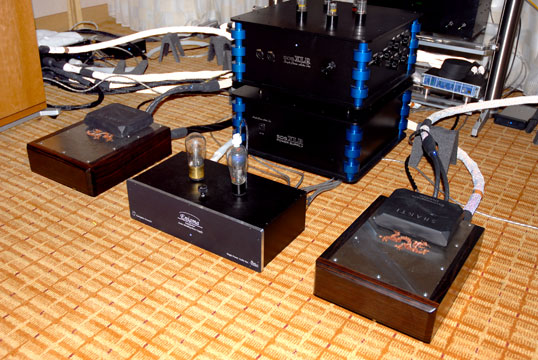 The Enigma Valve Power Supply, flanked by a pair of Red Dragon Class D monoblocks; the output went to a pair of Thiel 2.4 loudspeakers. The result was a very fine combination: very quick, detailed, and yet rich, without a sense of PCM digital glare or edginess. This is a complex audio network, but the synergy achieved was exemplary; I can recommend the result very highly.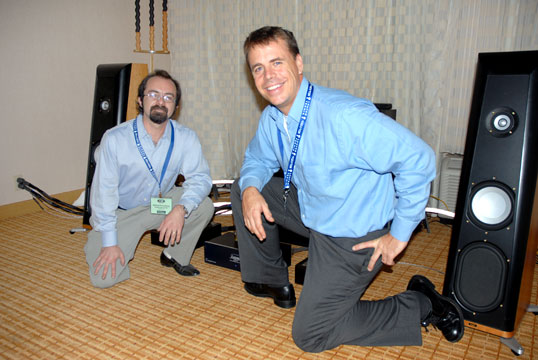 Mikhail Rotenberg of Single Power Audio (on the left)—magnificent tubes, Mikhail!— and Ted Denny of Synergistic Research take a break from the action.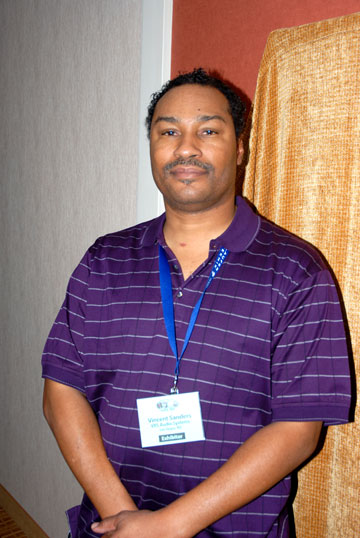 The very talented Vincent Sanders of VRS Audio Systems; I am hoping to hear more of his work with computer-based audio playback. The quality of his system was evident to me as I listened. He also shared with me some of his concepts for future developments; it's impressive stuff. Best wishes, Vincent …make it so!
PFO Friends Gather for the Final Evening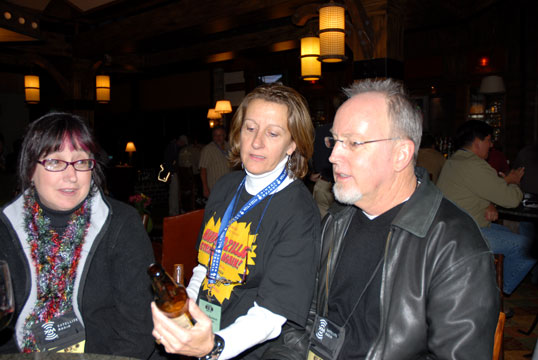 After show hours on Saturday night, the PFO gang did its usual thing and repaired to the brew pub in the atrium for a well-earned breather. Above, Carol Clark, Marjorie Baumert, and Dave Clark enjoy yet another brewsky.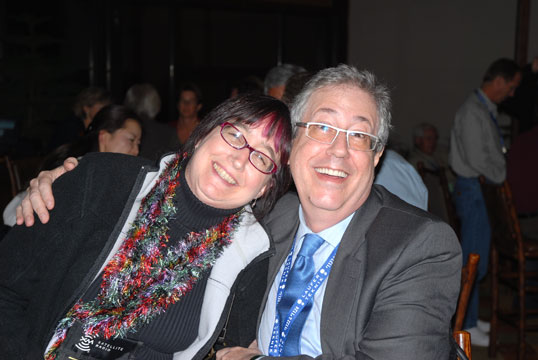 No audiobash would be quite the same without our ol' audiobud Jonathan Scull, hereabouts hamming for the photog with glamour model Carol Clark. Charm galore!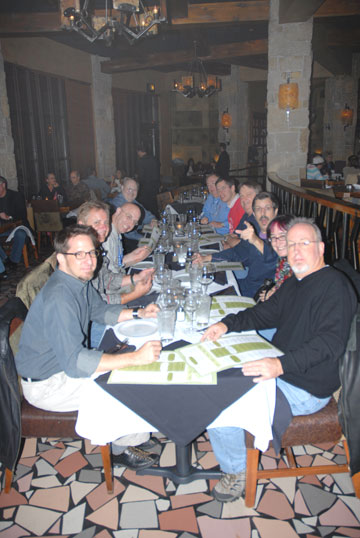 Thence it was on to YaYa's Restaurant to …well …get our YaYa's out. Nothing like a dozen or so good friends to top off a superior audiobash!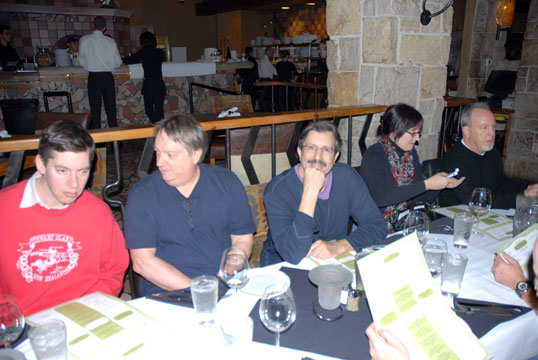 Al centro, Alan Kafton of audioexcellenceaz contemplates Ye Olde Editor, while Jacob Heilbrunn of The Absolute Sound listens to Albert Porter hammering him about turntable lore on stage left, and Dave and Carol, stage right, plot our next bottle of wine. We really have too much fun, you know…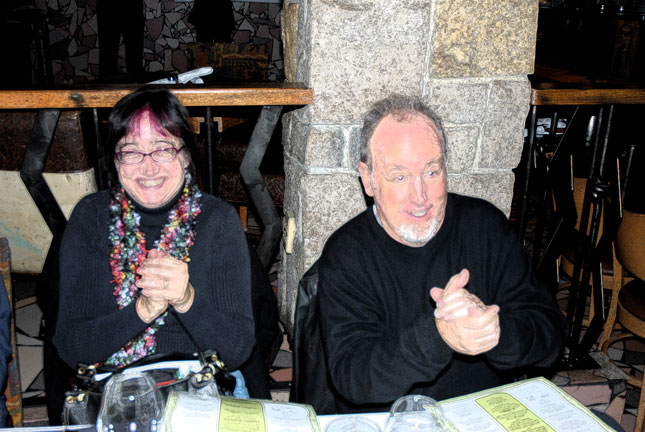 Having decided upon the next (all-too-expensive!) bottle of wine, Carol and Dave rejoice madly! We really, really have too much fun.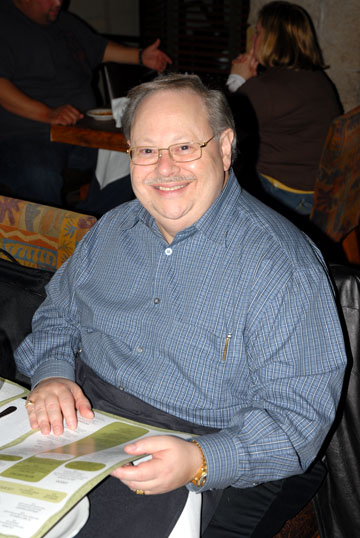 PFO's Bob Levi, Prez of the Los Angeles/Orange County Audio Society, in flagrante menu.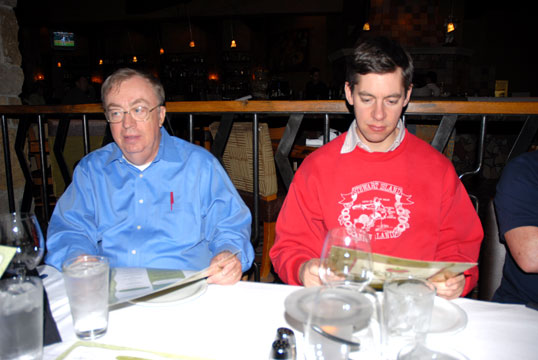 Chuck Bruce and Jacob Heilbrunn lining up their gastronomics, in the midst of a discussion of the nature of audio transformations. Only in America…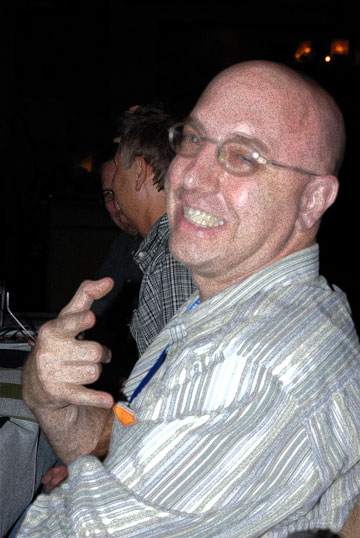 Yo! Dude! PFO's Adam Goldfine gets his gnarly thing goin'! (And man …that's just his first …or second …drink!)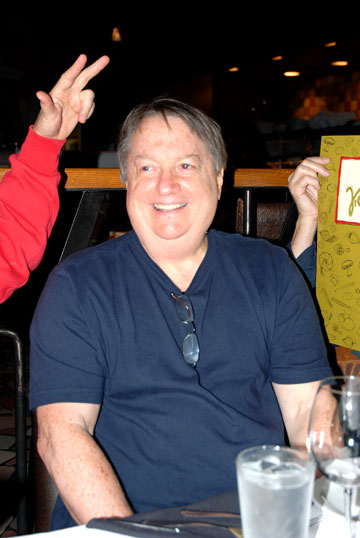 Having vanquished Jacob Heilbrunn about some aspect of turntable wisdom, Albert Porter relishes his triumph. Note how his foe taunts him from stage left, however! Alas! I fear that yon varlet will rise again …and flip the LP! (Meanwhile, Alan hides behind his YaYa's, to the right.)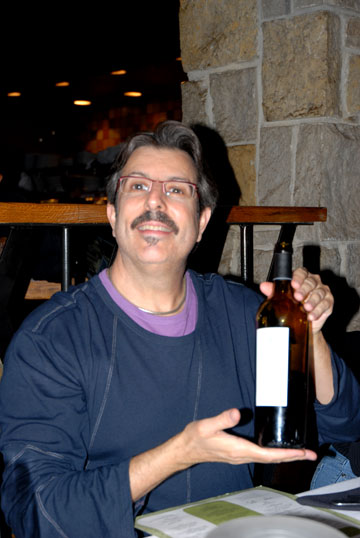 Alan Kafton before his first glass of wine…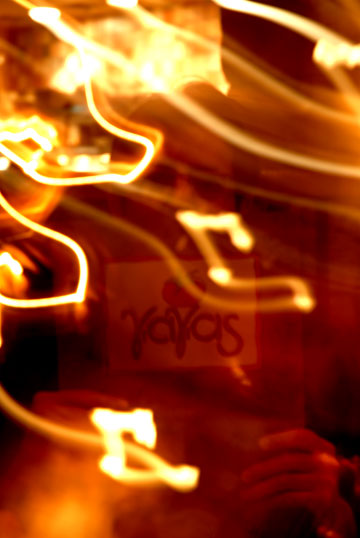 …and Alan Kafton, immediately after his first glass of wine.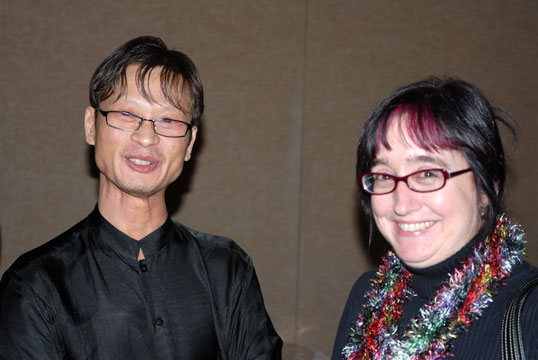 After dinner, we dropped in to a party at the Classic Audio Reproductions/Tri-Planar/Atma-Sphere/Purist Audio Design room. Our audio friend Tri Mai of Tri-Planar had invited us to stop in for some single malt …so we did. Tri and Carol enjoy the single-malt moment.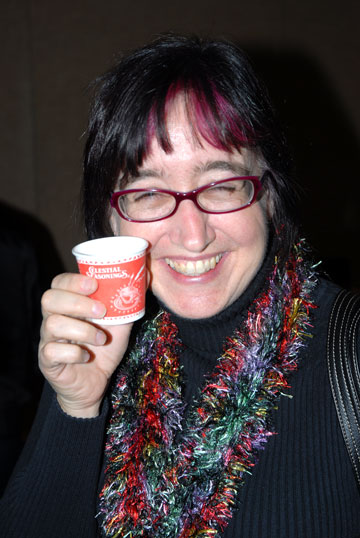 Here's the last of this year's cavalcade of "Carol Clark drinking at audio events" series. Some day, these are going to be worth some money …just watch.
Poor Carol. She and I both discovered that cheap paper cups do NOT make durable vessels for fine single malt whisky (in this case, some very enjoyable Talisker). By the time we were half-way through the first two fingers, the seam was leaking. Quick …on to the plastic cups! (Single malt just isn't right unless it resides in some really righteous glass shot glass, you know?)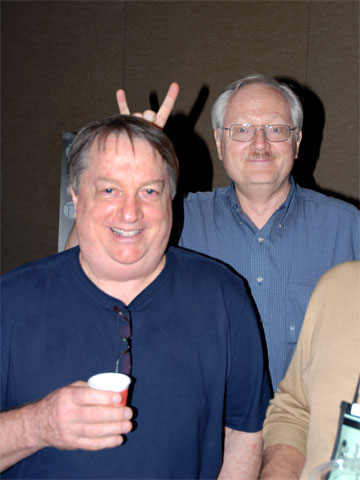 As we headed out the door, I got a final study of two of PFO's highly professional turntable experts, Albert Porter and Roger Gordon, sharing their profound respect for one another. It's moments like these that an editor just lives for….
Journeys End…
RMAF 2007 was another exceptional show; a great time was had by all of us at PFO. Thanks again to Al and Marjorie for all their hard work, and congratulations once more to all of this year's PFO Audio Oasis! award winners.