Alan Yun's Taste, and Mine
I first heard an Alan Yun designed speaker at the 2005 HE Show in New York two years ago. He was introducing a large, very nice sounding, three-way loudspeaker system built with Dynaudio drivers. As I had spent some time working with similar drivers, I knew the ins and outs of the task he was faced with. He had made some of the difficult choices and worked out the problems better than I could, better than most similarly designed speakers were doing at the show. I reasoned that the sound he was getting was very like the sound I preferred, so we had in common what a good speaker ought to sound like. But, owing to the quirks of the market, the time had passed for such a speaker. It was too large. The next time I saw him, at the 2007 HE Show in New York, Alan Yun was touting smaller speakers, speakers that could be used in modules to make up a home theater surround sound system, or could stand alone, as a surprisingly good, big-sounding stereo rig.
In a June, 1990 Stereophile article, Barry Willis wrote that (I'm paraphrasing here) the then-top Alan Yun speaker was able to give an abundance of fluidity, and an overall great value for dollar. This is but a mere corroborative detail that demonstrates to me the "continuity of liquidity," or the "Silverline Sound," or Alan Yun's taste, has remained the same for many years now, independent of the price point. So has mine.
The Magic Tweeter
At the 2007 H.E. show in N.Y. Alan was showing a small (I mean very small), good sounding (I mean very good sounding) mini-monitor of his design with a pulp-paper 3.5" woofer and a fabric dome 1" tweeter at $600/pr.; and a floor-standing, D'Appolito configured, good sounding (I mean exceptionally good sounding) mini-tower of his design at $1200/pair. He had found, or had asked some driver manufacturer to develop for him, a 3.5" metal alloy mid-woofer, and the magic tweeter that is the key to his floor-standing mini-tower, a similar alloy formed into a 1" dome tweeter. In any event, I fell for the relatively coloration-free sound of his D'Appolito, Silverline's Prelude.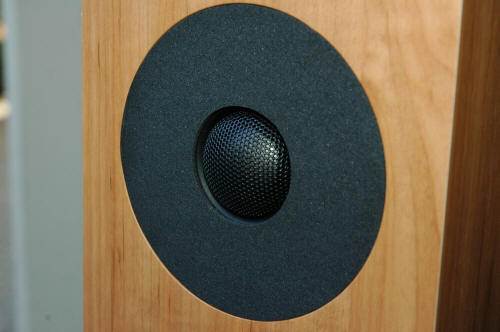 On his website, http://www.silverlineaudio.com, some advertising copy-writer specifies the tweeter as a 1" aluminum-magnesium alloy dome model. It seems to be coated with a layer of something, I'm guessing a damping compound. It also has a shield of perforated metal that may act as a means of dispersing the highs, as well as a guard against any stray bits of metal that could be drawn to the magnet. No matter. The result is a very "sweet" sounding tweeter that captures all of the fine details in the high frequency band without insulting the ear, and which projects a wide and deep sound-stage. The crossover point is listed in the specifications as 3500 Hz. That means it does most of its work pretty high up, with little of the high midrange being its responsibility. The blessing of the mid-woof is that it can go up so high to allow the tweeter to carry the highs without the strain or stress of making lower pitches. This may be what gives the Prelude its "relaxed sound," even at very high output levels.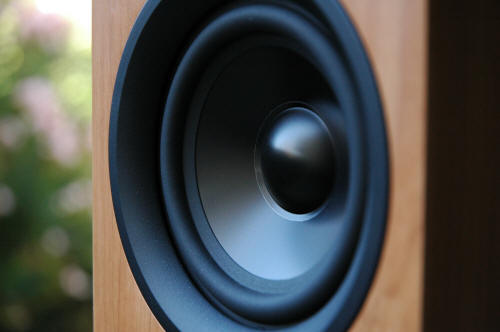 The Biggest 3.5" Driver I Ever Heard
The Silverline mini-monitor features a treated pulp-paper coned 3.5" woofer, but the Prelude features a 3.5" "ultra light weight and extremely rigid diaphragm made from ... an alloy of aluminum and magnesium." Its feather weight makes for ultra fast transient rise time and braking, and suggests it ought to have awesomely life-like reproductive qualities. According to my ear-brain, and without test equipment more than comparing it to some of the other speakers I have hanging around, I'd say the mid-range is very clean and noticeably free of colorations. In this sense, the design goals are met.
There are those who say you can't get away from the colorations of a metal-coned woofer. They, who hold this, say the best material for sound reproduction (as opposed to test results) is plain old paper cones. This may account for the success of the Silverline's mini-monitor. I have recently heard some metallic coned speakers with 10" and 12" woofers, and I found them so "well-damped" the harmonic overtone structures were largely lost. It was hard to tell the difference, for but one example, between the acoustic bass and the electric bass. The bad rap on those larger woofers is that they make low fundamentals, but damp out higher partial overtones that contain the details that comprise "texture."
In the midrange, especially, with the 3.5" fast aluminum-magnesium alloy coned drivers, there is a facsimile of live performers in the room, and that means sound-staging, airiness around the notes, and freedom from poorly reproduced electro-mechanical artifacts, like bowing sounds or fingering noises. In that regard, the Silverline Preludes hold their own with some of my speakers that are known for extraordinary performance in the midrange. The generalization about metallic coned loudspeakers doesn't hold across the boards. And why should it? Most of my other generalizations have proven shaky, as well. My grandfather used to say, "Good judgment comes from experience, and experience comes from making mistakes."
I remember a similar speaker, the Jordan TP165R, a 2" full range driver made with a metallic cone, that was used in banks of fours; and the sixteen driver vertical column was said to measure virtually flat from 100 Hz to 22kHz. It required coupling it to a woofer of hi speed and accuracy to make it sound good. And it did when I auditioned it in the early '80s. If I remember accurately (sonic memory is notoriously poor), the sixteen driver array could actually pass signal at 45Hz. That may have been six or ten dB down, but there was something there to measure. The manufacturer recommended a crossover point of 150Hz. So it was doable, building such a speaker. And it sounded pretty good. A little bright for my taste, but pretty good. I think I remember the Jordans suffered from metallic colorations.
How Does the Prelude Sound?
The Preludes have a sweet, slightly rolled-off, high frequency sound that is never overly bright, metallic, or screechy. They do not exhibit the kind of high end (which some well-thought-of speakers have) that starts me grinding my molars. Plus, they have a marvelous midrange that is life-like without seeming brash or in-your-face. Together this makes for the kind of intimacy you might hear in a small night club where an unamplified folk music (male or female singer) is playing, or with a recording of a small jazz group, or of a chamber music recital. That is the strength of the speaker as it stands. It is relaxed, and never tries to muscle itself into your nervous system.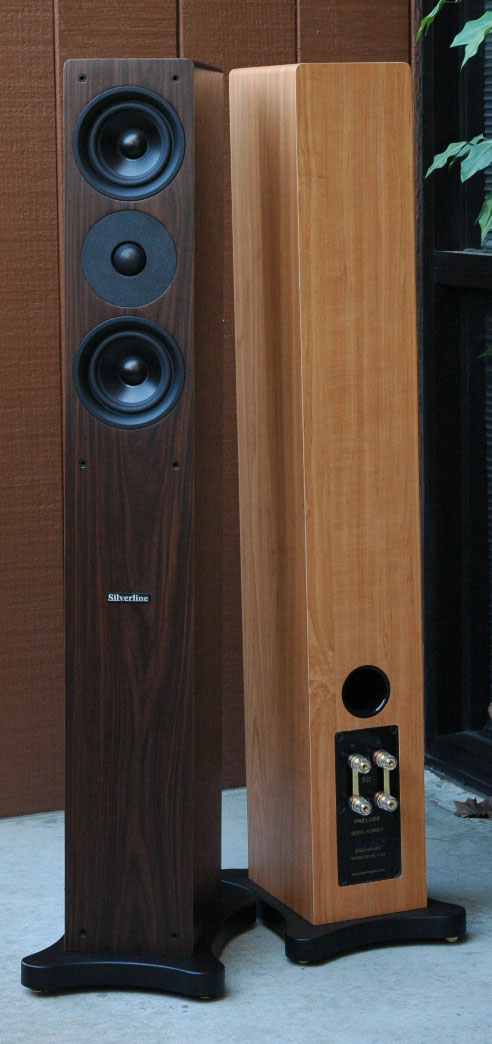 With A Little Help from Its Friends
On the other hand, the Prelude does not make the bottom octave of bass (20-40Hz), and it doesn't convey great authority when it makes the next octave (40-80Hz). What it needs is a sub-woofer. How much bass can anyone expect from a 3.5" mid-woof? Even two per side? I, being a staunch advocate of bi-amplification, have a couple of subs hanging around, and I played the Preludes with one such: a Renaissance "Phantom" model—a 12" active driver with a 15" passive radiator (with the radiating surfaces equal to one 18"), and with a 300-watt built-in amplifier. Now we've got something really outstanding!! I hope Alan Yun, and his design team have anticipated this need, and have a sub-woofer in the works.
With a sub-woofer, the Preludes come into their own. Without a sub the sound is damn good. Very listenable. Very easy to live with. Most systems that get the mid-range right (and this speaker certainly does) are largely over-the hump in those ways. The Prelude has outstanding mid-bass to high frequency sound, and if you like that you could order them tonight, on my say-so. Sooner or later, for deep bass you could pick a sub-woofer in your price range and you would have a very superior stereo system for music, or the beginning of a home theater surround system. All you'd need then, is the Silverline's Center Channel speaker, and a pair of the Silverline Mini's for the two surround channels. For a lot less money, you'd be close to the "best in class." You'd be doing very well for a reasonably-priced, very high-performing system that won't burn the skin off your ear-drums.
The Amenities
The speaker comes with the capability for bi-wiring, and that can sometimes bring a notch better performance. They also come in a vinyl wood-grain (cherry or rosewood) finish, which is at least OK, possibly better than OK depending on your definition. In addition, the Preludes come with a base stabilizer attachment that gives them a larger paw-print, greater balance, and makes them harder to knock over. The cherry wood color on my review sample has a black fabric grill cover, and the base is also black. They measure 40 x 5 x 8 inches, and they weigh 60 lbs. per pair. It is claimed they can handle 10-300 watts each. I wouldn't test them with a 300-watt amp, but I will say they sound pretty good on my 8-watt Sonic Impact switching amp. I'd guess around 25-50 watts would be all they'd need to sound their best. They produce astonishing sounds with my Fisher 50A, push-pull triode, Williamson type amps, at 50-watts per side. Talk about your illusion of live music in the room: the Preludes can deliver that with well-engineered CDs.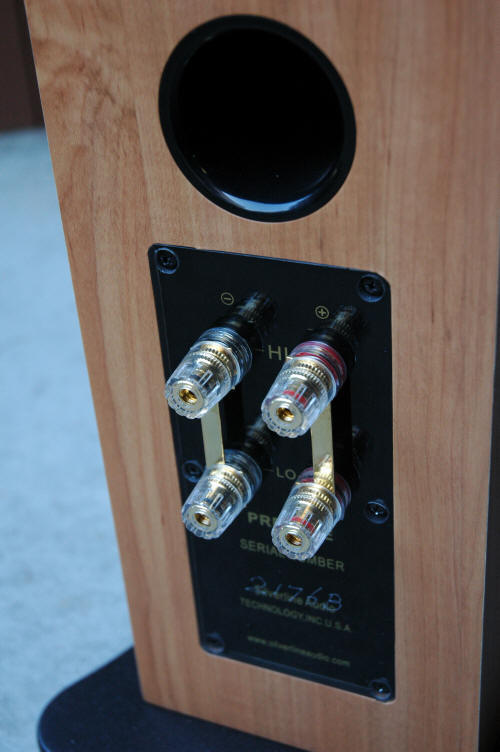 To Summarize
The Silverline Preludes are a very special speaker. They are very good on the high end without sounding a bit "tizzy," "etched," or "harsh." They also are excellent on the mid-range, very fast without sounding electro-mechanical, which is to say they "sound natural." They do exceptionally well on reproducing the human voice. They do well on high-quality solid-state electronics, and sound even more natural on tubed equipment. They have the kind of bass that will do fine in small to medium sized rooms, or in apartments where you can't play bass-heavy music without getting a rash of complaints from your neighbors. On the other hand, if you want a really superior sounding stereo system that will play loudly enough for larger sized rooms, you could get the self-powered sub-woofer of your choice and you'd really have good sound without bank-breaking cost. At $1200 per pair, you'd be getting a lot of bang for your buck with Silverline Preludes.
Recommended.
A Brief Post Script
In this season of gift-giving, any red-blooded American audiophile ought to consider such speakers as Silverline's Preludes for his kid going off to college, or for his wife to listen to in her boudoir, or for himself as reward for doing such a good job taking care of the family for the past year. They can be the speaker that provides non-fatiguing music for him alone, or for the whole family's home theater surround sound system. So maybe it's time to do The Stroll down to your local audio boutique, or to get in touch with Alan Yun himself at sales@silverlineaudio.com to order a pair. If you value sweet, natural-sounding speakers, you won't be sorry.
Ciao Bambini.
Max Dudious