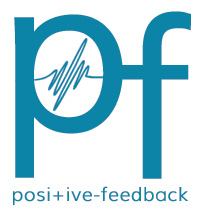 You are reading the older HTML site
Positive Feedback ISSUE
35
january/february
2008
Prokofiev Symphony No. 5, Vladimir Jurowski and the Russian National Orchestra
by Mark Wagner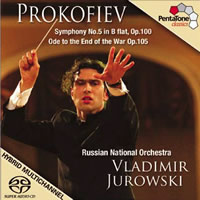 The announcement of this SACD in the 3rd quarter of 2007 made me quite the happy camper. In the past year or so, we have been inundated with SACD recordings of Mahler, Shostakovich, Beethoven Tchaikovsky, etc. As a huge fan of all these composers, I do not mind but others composers I also like, such a Prokofiev and Sibelius, have seriously been lacking. Why?? Who knows??
Prokofiev's 5th, like the fifth symphonies of Beethoven and Mahler, the composer's most frequently played works. Ever since I discovered SACD, I have been desperate for the Prokofiev symphonies to make it to SACD. Pentatone stepped up to the plate and recorded this symphony with the extremely competent Russian National Orchestra. I already own several other Pentatone recordings with Vladimir Janowski and the same orchestra, so I was not really all that worried about the performance and certainly not worried about the highly consistent Pentatone sound.
I do not have a plethora of Prokofiev symphonies on redbook except for an older Chandos Redbook set with Neemi Järvi and the Royal Scottish National Orchestra and a single recording of the 5th with Leonard Slatkin and the St Louis Orchestra on RCA. I have always loved the Jarvi and the Slatkin has always been a favorite.
Jurowski's performance is easily as fine...or possibly better than both the Slatkin and the Järvi. Jurowski captures all the angst and passion that Prokofiev wove in his music with aplomb and the forces of the Russian National Orchestra rise to the occasion, especially on the very slow tempi chosen by Jurowski. Funny, I have heard numerous performances of the 5th and it is interesting to note the two massively different tempos used in both the opening of the 4th movement as well as the conclusion. Jurowski takes the slowest tempos I have ever heard and while the trumpet player in me cringes at that slow tempo, the emotional impact is substantial! Quite a ride indeed.
Prokofiev's "Ode to The End of War" was a new discovery for me. I am well acquainted with his suite from "The Love for Three Oranges" as well as the ever famous "Lt Kijé Suite", his complete ballet music for "Romeo and Juliet" and the stunning film music from Alexander Nevsky ...wait, let me not forget the ubiquitous "Peter and the Wolf"! The "Ode" is excellent music, though I need to spend a great deal more time learning the piece.
The sound is up to Pentatone's usual high quality. I have read other somewhat negative reviews of the Pentatone recordings done in Moscow's DZZ Studios and perhaps on the first recordings done in that particular studio I can maybe agree. However, the new recordings out lately (including this one) are simply incredible.
In closing I can say with all honestly that I rate this SACD very high and I certainly hope that Pentatone will continue this cycle as we are off to a great start!