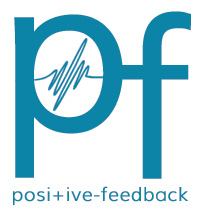 You are reading the older HTML site
Positive Feedback ISSUE
35
january/february
2008
Two Super High End AC Power Conditioners
by Robert H. Levi
Two very cool power conditioners have arrived at my doorstep. Both advance the state of the art. Both are relatively expensive and both are wonderful!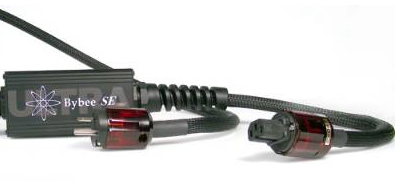 Bybee SE Ultra Powercords
Tweak Geek www.tweekgeek.com
From Jack Bybee:
I licensed Mike Garner (Tweek Geek) to build and market the power cords utilizing my newly developed technology to reduce 1/f noise....they can be for home or pro use. I just don't have time to build them myself, I furnish the internal parts and Mike completes the project. Also being introduced at the CES is another company that will be introducing power conditioners, interconnects, and speaker cables incorporating the new technology, the company is called Bybee Wire
These amazing cords are 6 feet long and contain a large Bybee module in their center. This is Bybee's best AC conditioner to date and Tweek Geek houses it in high quality AC cable. Numerous terminations and lengths are available; currently $2695 in 6 foot length with standard Furutech plugs. They need 250 hours to sound their best per the Tweek Geek. I tested them twice, once new and once again at 250+ hours.
From the Tweek Geek website:
Features
Two Bybee Super Effect Purifiers. One on the hot, and one on the neutral

One Standard Bybee Purifier on the ground

Shielded Aluminum enclosure houses the Bybee devices

11 awg 6N stranded Ohno Continuous Cast Copper

Double shielding by a ilver plated copper braid shield and a foil shield

Furutech FI-15E(G) IEC and FI-15ME(G) male plug standard, with other optional terminations available
I tried the Bybees in three systems. It was dramatic in two, and fascinating in the other one. Within the high quality systems featuring two way monitors, the improvement was stunning. Placed on individual components, the definition improved instantly. On power conditioners, the entire systems improved. I heard more definition, lower noise floor, improved imaging, and near state of the art performance. No quibbles, the improvement on two way monitor style systems was outstanding! Biggest change was when used on each system's power conditioner. Next biggest was when it was used on the CD Player. Least difference was when it was used on the preamp or amp directly.
On my state of the art, highly tweeked floor standing system, the new cords were very beneficial.
On my Avalon Eidolon system, I particularly liked the Bybee on my E.A.R. Acute CD Player and on the World Power Power Wing AC Conditioner. It enhanced every piece of gear I tried it on bringing out added definition and clarity. I heard more depth, quietude, and improved imaging. I also heard more overall definition, even connected to my Rel Sub Woofer. Certain frequencies were more elegant and sophisticated. Overall, I loved the lower noise floor and heightened imaging with the Bybee's.
I detected a textural coloration shift, too. The Bybee's emphasize certain frequencies just over 2000 hertz while de-emphasizing frequencies right around 500Hz. This is subjectively what I heard. It was clearly apparent on the Avalons though not so on either 2 way speaker systems I listened to. You need a very detailed system to hear this though I suspect that's what you'll have if you spend $3000 for a power cord. For instance, cymbals sound more silvery with the Bybee's, brassier with the Kubala-Sosna Emotion AC Cords or the Kimber Palladiums. Background blackness was also more intense with the Bybee's.
I also heard a less confused sound on major musical forte's…not thinning or any sonic reduction…just more clarity and less apparent distortion. I have no idea what's going on here, but better is better. The improvement was additive and over and above all other tweaks I normally use.
The Bybee module is killer. However, the cable itself with the Furutech plugs may still be holding the Bybee back a wee bit. More exotic plugs are available, but the wire utilized is the same. Maybe the better plugs will give you performance even superior to what I heard. It's truly worth experimenting! Nevertheless, these Bybee power cords advance the state of the art by lowering the noise floor on every system I tried regardless of the power conditioner used including PS Audio, World Power Power Wing, Tice, Acoustic Revive, and Monster.
I also tried it on a new Samsung 63 inch plasma with Blu-Ray source. The plasma monitor was absolutely improved over the stock Samsung power cord…more definition, crisper, sharper, and more contrast. Changing to an inexpensive Synergistic power cord improved the picture only slightly over stock …nothing like the Bybee. The Bybee made the Samsung plasma look like true perfection.
I highly recommend you try the new Bybee SE Ultra Power Cords. Get one and place it in your power conditioner and treat your entire system. A must audition I think! They will take your system where it has never gone before. The improvement is not subtle! Well done Jack!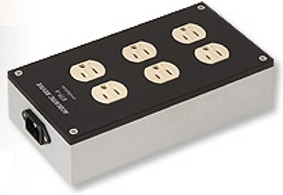 Acoustic Revive RTP-6 Ultimate Power Conditioner with Acoustic Revive AC Cable
Lotus Group www.lotusgroupusa.com
This is one exotic passive power distributor! Read from the website:
Eliminates noise and static electricity non-contact and non-magnetism!

RTP-2, 4 and 6 ultimate`s box is filled with Green carborundum, Tourmaline powder and natural quartz powder to eliminate noise and static electricity without no contact and non-magnetism.

Most of power supply box uses series type noise filter.

But series type filter transfers noise elements to heat by magnet which not only absorbs noise, it also absorbs important electrical energy.

Also the magnetic body produces magnetic distortion by the noise absorption which adds a distorted feel and thinness to the sound.

This is because an electromagnetic wave absorbent material itself is a strong magnetic body.

Also parallel type noise filter or choke coil can not avoid loss in transmission energy.

It eliminates noise buy it takes away feeling of restraint and energy feel from the sound.

Green carborundum has no side effects because it non-magnetic body.

It only absorbs electromagnetic wave noise which is produced from receptacles and internal wiring.

Green carborundum is the only electromagnetic wave absorbent material which improves sound quality and S/N ratio.

Also the Tourmaline powder releases negative ion and keep the amount static electricity very low.

The natural quartz powder releases far infrared rays which has an surface activation effect. This leads to very realistic and sound filled with a feeling of throbbing pulse.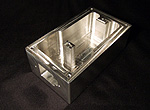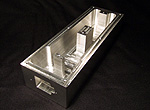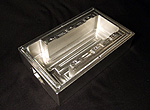 Hear is the Duralumin block after it been carved out. After this it gets treated by Sand Blast Process and the surface gets by Snow White Alumite. The lid gets treated by Hair Line Process and on top that, the surface gets treated by Black Alumite.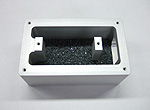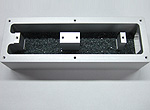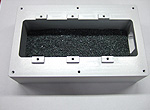 Electro magnet absorbing material Green carborundum is placed inside the Snow White Alumite treated chassis.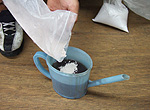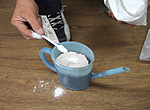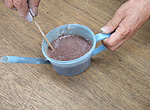 Top quality Lithia tourmaline powder and natural quartz powder gets mixed into Epoxy resin. Instead of using industrial use black tourmaline, for RTP ultimate series, we Jewels uses top quality Lithia tourmaline which releases more negative ion.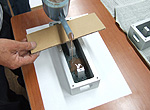 Epoxy resin which contains Lithia tourmaline powder and natural quartz powder gets pored on the top of Green carborundum carefully.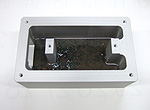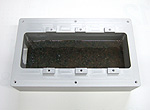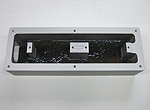 Hear is the chassis which is set and pore with Green carborundum, Lithia tourmaline powder and natural quartz powder. The chassis is left for about a week for the epoxy resin to set.
I am very impressed by their RIO-5 negative ion generator technology and love what this does to all silver disks. Blasting my CDs with negative ions is now part of my listening procedure. The RTP-6 contains the negative ion material and other exotica to passively reduce all traces of EMI and RFI without compression. It does just that. I tried it in both of my systems and was delighted with the results. It blows away my Tice and Monster conditioners and competes with my World Power Wing in most ways. At $2775, it's rather expensive, but absolutely performs to price. I liked it even better with the very good $400 Acoustic Revive Power Cord removed and the $1500 Kubala-Sosna Emotion cord in its place.
The RTP-6 lowers system distortion, enhances textures, firms imaging, and never limits powerful amps. It imparts a certain elegance and sophistication to the sound I really like. I heard as much improvement from the Acoustic Revive as any other conditioner I've tried at any price. Its build quality is first rate. This company is the real deal!
Quibbles?
Yes, two. It's a bit crowded size wise for six audiophile plugs. It could be a bit larger I think. It does not protect from power surges. That makes me nervous. It may sound great, but you need protection somewhere and this is the place.
I noticed that the RTP-6 sounds a more lush and for some a touch soft. This is a good thing in most systems, as live music is not bright and crisp as a rule. This is due, I believe, to their choice of socket material used. My reference AC connectors are gold on gold. The RTP-6 uses thick silver and rhodium plating which in my testing sounds more relaxed and less sparkly than gold plating. I usually prefer the gold's sound, but find the rhodium sound is very attractive too, and applicable quite often in systems tuned to the ultimate in definition. Try it for yourself.
This is cutting edge power distribution and absolutely one you should audition. These folks developed the RTP-6 by using advanced science and listening cues so as to be adopted by fanatical audiophiles. They achieved these goals big time.