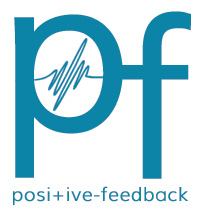 You are reading the older HTML site
Positive Feedback ISSUE
35
january/february
2008
Notes of an Amateur - January, 2008, Part 1
by Bob Neill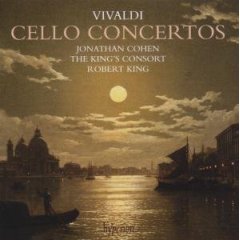 Vivaldi, Cello Concertos, Jonathan Cohen, cello. The King's Consort, Robert King, director. Hyperion CDA 67553
These performances are very much against the current Vivaldi grain: they are gentle, easy going, salon-like. Very comfortable in the living room. They will likely bore fans of the more typical high energy, highly inflected, and tangy Vivaldi of the popular Italian ensembles, at least on first hearing. The cellist is the Jonathan Cohen of the recent London Haydn Quartet CD I reviewed in November ( see amateur4). He is accompanied by Robert King's group, who have recorded all of Vivaldi's religious music and so who clearly know their way around the composer. But this sounds like Cohen's show—a deliberate proposal to rethink Vivaldi, setting aside for a while his now famous red hair. It is a brave venture, and it will be interesting to see how well it is received. (My copy was back-ordered before I got it, which is an encouraging sign for Cohen.)
He brings out the often submerged lyric aspects of this music—even the fast movements have an attractive lilt rather than the more typical drive. Cohen forces you to listen where others ask you to dance. It took me a while to come around to his way with Vivaldi. But it works—he's very good at what he does and King clearly gets him as well. Give this CD a try, especially if you find current Early Music Vivaldi too furious.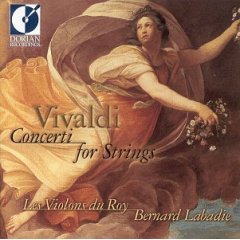 Vivaldi, Concerti for Strings, Les Violons du Roy, Bernard Labadie, director. Dorian SC D 90255.
But wait! This is not just another album of Vivaldi violin concertos—it's the gorgeous, until recently almost impossible to track down, Violons du Roy from Quebec, who have been known to cause otherwise sane drivers to scoot across two lanes of interstates and freeways and pull over to the breakdown lane just to be sure they hear it all and get the label and number. Les Violons du Roy are the mysterious angels of FM classical radio, who, now that Dorian CD's are once again available (selectively), can be secured for enjoyment in the home.
I put this CD on five different combinations of equipment to make sure I was hearing what I knew I was hearing: the most beautiful sounding performances of Vivaldi in the world. Not prettified or sugary, just flat beautiful. Labadie's musicians play on modern instruments, which is rare these days for baroque music. (This recording was made in 1998.) But that is not conspicuous, unless in the lack of bitter-sweetness in the violins. Dorian, one of the best labels ever at the art and science of recording, gets all of the instruments, even at what sounds like a discrete distance, so there is no suppression of timbre or rolling off of the highs involved in the beauty. It is simply the sound that no combination of gear (or card radio) can hide, the sound of Les Violons du Roy.
This is the usual fare for a Vivaldi collection—meaning lots of Opus 3—but it is absolutely fresh and exhilarating in these extraordinary hands. Is that enough of a rave for you?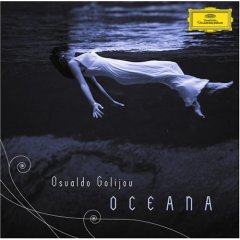 Osvaldo Golijov, Oceana; Timbrae; Three Songs. Luciana Souza, Dawn Upshaw, vocal soloists; Kronos Quartet (for Tenebrae); Atlanta Symphony Orchestra, Robert Spano, conductor. Deutsche Gramophone DGG 9069.
"Three vibrant scores by the composer, 'whose works are profoundly shifting the geography of the classical music world,'" say the notes on the back of this CD, quoting somebody from the New York Times. I doubt if even Golijov would accept this estimate of his work, at least considered literally and especially considered as a whole; but there is a metaphorical point buried in the hyperbole. Golijov, born of Eastern European parents, raised in Argentina, an inhabitant of Israel for a while, and now composing in his studio in Brookline, Massachusetts, is doing for classical music, at least in his best known vocal music, what Rubalcaba is doing on a less publicized scale for jazz: speaking in a distinctly Latin idiom to a largely non-Latin audience. (That's not all Golijov is doing—more on that later.) He is not the first to do this to be sure, but he is the most ambitious and most recent. His ambition is demonstrated most clearly in his St. Mark Passion, which showed us exactly what it means to speak through and beyond ones culture and on spiritual matters with a Latin voice. (Oceana was actually written four years before the St. Mark.) It challenges our perception of what constitutes the western classical music aesthetic. I can't begin to say how important this is for American culture in particular, which must continue to see beyond its European roots if it is to maintain its promise as a culture, as a civilization. What makes Golijov's mission significant musically is that he is a major world composer, who stands shoulder to shoulder with the likes of Adès, Legeti, Kurtag, Vasks, and Gubaidulina. We can feel this immediately in the force and eloquence of his music.
Oceana is a secular cantata-like work for solo voice, small boys choir, double chorus, guitars (the Los Angeles Guitar Quartet), and orchestra, using material from Pablo Neruda's Ceremonial Cantos (1961). Golijov's express goal in the work is, like Bach, "to transcribe passion into geometry, to transmute water and longing, light, and hope, the immensity of South America's nature and pain into pure musical symbols." Sousa, who was a soloist in the St. Mark, sings the lead here but it is the huge choral forces which dominate the proceedings. Neruda's words are "too powerful for a single voice to sing," (Golijov). There was a time when Oceana would have been patronized as 'crossover' or 'world' music because of its rootsy, passionate quality. No longer. To return to the opening metaphor, the geography of the classical world is shifting.
Tenebrae for String Quartet, is from another side of Golijov, based on his reactions to the rising violence in Israel at the time he was living there, though it blends other voices with its Middle Eastern ethos. It is an extremely moving elegiac work, which turns what in another context would be melody into lament.
The Three Songs, sung by almost everybody's favorite soprano interpreter of modern music, Dawn Upshaw, provide more insight into Golijov's many sources of inspiration. A spellbinding lullaby, "Close Your Eyes" (from the song, "Night of the Flying Horses"), we are told, is a setting by Golijov of a text by filmmaker and poet Sally Potter, a song that occurs throughout The Man Who Cried, her film about the tragic fate of Jews and Gypsies in the mid-twentieth century. The haunting "Colorless Moon" is based on a text by Galacian poet, Rosalia de Castro; Golijov makes use of it in the St. Mark as well. "How Slow the Wind" creates a mysterious farewell to a lost love from words by Emily Dickinson. Upshaw shares the success of this performance with an eloquent bass clarinet.
As a whole, like everything Golijov does, this album asks to be considered as an important piece of contemporary music history. If you haven't found this composer yet, I urge you to do so.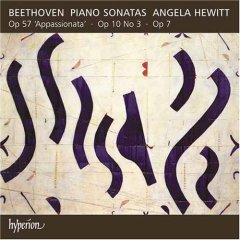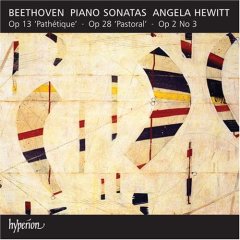 Beethoven, Piano Sonatas, Angela Hewitt, piano. Volumes 1 and 2. Hyperion CDA 67518.
After hearing Angela Hewitt play Schumann last month (see amateur6), I decided I had to hear the first two volumes of her new and ongoing Beethoven cycle. It is getting raves from serious listeners, which is not surprising for her. But Beethoven is a tougher challenge than Schumann for most pianists.
While her Schumann is bolder and more eloquent than I'd expected for this very fine Bach and Couperin performer, her Beethoven is less surprising. My first impression is that it is very Bachy Beethoven. Very much under control with lots of forward movement. The loud/soft dynamics are Beethoven but emotions are held in check by a brisk pace and a generally light touch: there is a tendency to move on rather than linger. This is almost stoic Beethoven. I compared her timings with the more romantic Tatayana Nicholayva (Olympia) and found Hewitt faster by 40 seconds in the first movement, 22 in the second. That does not seem like a lot but it sounds like a lot. A musical phrase that is a second or two slower feels considerably slower. As I remarked in my Schumann review, Hewitt is also off the keys in a hurry: in Schumann this brings a measure of discipline to the passion; in Beethoven it seems to cut it off before it can develop. It almost brings a chill to the proceedings. What is missing mainly is the Beethoven who dominated the ears of the first half of the nineteenth century.
My most recent experience with Beethoven's sonatas has been with Paul Lewis ( see amateur3). Lewis is a far more commanding interpreter of this music—no stoicism there. His left hand is wonderfully strong and clear. He can also be rhapsodic and lyrical when the composer calls for that, which combined with his power is what gives his performances such a feel of authority. Preferences are just that—but it is hard not to feel that Lewis is closer to and more comfortable with the composer than Hewitt. He sweeps us up. My goal in reviewing is mainly to describe what I hear as clearly as I can, not to promote preferences. But in this case to call Hewitt's Beethoven stoic and Lewis's commanding is somewhat beyond description, isn't it! Oh well, blame it on Lewis.
There is a case to be made for Hewitt's Beethoven. She hears his ancestors more clearly than many other performers do. And she gives them considerable weight. More than Nicholayva does, a lot more than Mitsuko Uchida and Lewis do. You can learn a lot about Beethoven by listening to both Hewitt and Lewis alongside each other—remembering that they are playing the same composer!
System used for these auditions: Audio Note CDT3 transport and Dac 4.1 Balanced Signature; Blue Circle SBT preamplifier and SBM monoblock amplifier; and Jean Marie Reynaud Offrande Signature speakers; with Audio Note Sogon and AN-Vx interconnects and Lexus speaker cable.
Bob Neill, in addition to being an occasional equipment and regular music reviewer for Positive- Feedback Online, is also proprietor of Amherst Audio in Amherst, Massachusetts, which sells equipment from Audio Note, Blue Circle, Manley Labs, and JM Reynaud, among others.