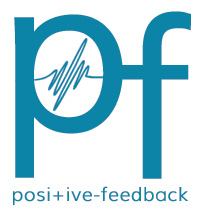 You are reading the older HTML site
Positive Feedback ISSUE
35
january/february
2008
Notes of an Amateur - January, 2008, Part 2
by Bob Neill
Sound and Music: The High Definition Tape Transfer Project
High Definition Tape Transfers in Saddle Brook, New Jersey, make the best case I have ever heard for audiophilia—the case that virtually perfect sound reproduction can make the recorded musical listening experience different in kind, not just in degree, from "normal", even very good, audio reproduction. Listening to these two discs below, it is impossible to tell where love of sound divides from love of music.
What HDTT begins with is the best sounding analogue tape recordings they can lay their hands on, vintage 1950s and 1960s, which remarkably are in the public domain. Then they sort through them in search of excellent performances—not necessarily 'the best' or best known but in the two cases I have sampled, extremely good. Then they go to work—if you want to follow the process, go to www.highdeftapetransfers.com—attending to every step of the transfer process. The results, available in both redbook and 24/96 DVD formats are by no small audible margin, the best digital recordings I've ever heard. (HDTT also has a sister site, accessible from the main site, where you can buy the titles in 24/96 Flac format ready to play on a computer audio system.) I auditioned the Redbook versions. Clear, naturally warm, immediate, weighty, and smooth as the bottom of a baby in Boston's Jordan Hall. And this quality is audible on all of my gear, from the least expensive to my reference system.
Here is their president, Robert Witrak's introductory blurb, which is sufficiently informative that I see no reason to edit or paraphrase it:
Like vinyl, analog tape is a relatively neglected storage medium now enjoying a renaissance, due to the enlightened efforts of a growing alliance of audiophiles and "tapeaholics." High Definition Tape Transfer is the brainchild of an avid 2 & 4 track open reel collector who is also a serious audiophile. Collected over the years, many tapes contain forgotten performances of historical importance, with unusually good sound quality when played back through modern, state of the art music systems.
Further investigation into the history of these tapes provided a shocking revelation: the copyrights to many of these fine performances had been abandoned, had expired altogether, or had become as forgotten as the tapes themselves, casting the survival of a priceless legacy of musical history in doubt. The desire to preserve and share these rare gems with other music lovers resulted in the birth of HDTT, and our very special discs are your gateway to a unique musical and sonic adventure.
Every HDTT release begins with a hand-picked tape which is painstakingly remastered with the finest state-of-the-art equipment and techniques available. Every HDTT disc is individually burned - not stamped—on a special, matched CD burner—making every HDTT disc the digital world's equivalent of a master disc. Offering this type of master compact disc and its unmatched sound quality available to the general public is unheard of, and an HDTT first.
Contrary to what some "experts" might say, we have found that every one of the numerous techniques and aspects of the HDTT transcription process makes important, audible contributions to the quality of the encoded digital signal; and all of them together make sonic magic. The improvements with HDTT discs are apparent on any kind of CD player—from budget portables to the finest state of the art digital playback systems. But even if you're not an audiophile, you'll appreciate the opportunity to hear performances which are otherwise unavailable to you in any other medium. In today's world, it's truer than ever that music is precious. We are sure that as an audiophile and music lover you will be impressed, delighted, and perhaps even astonished by the recordings offered by High Definition Tape Transfers—in fact, we're confident that they will do nothing less than redefine what you think is possible from the much maligned compact disc!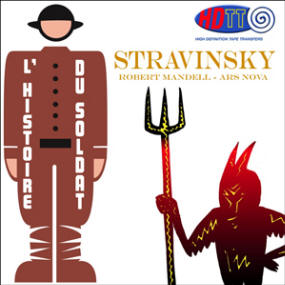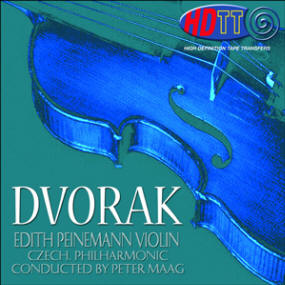 The Stravinsky CD appears to be a recording following up on a 1957 Carnegie Hall performance by Ars Nova, led by Robert Mandell, featuring Stanley Drucker on clarinet and Herbert Sorkin on violin. (I am told this information accompanies the CD now.) The recording was made on and transferred from a Westminster Sonotape 2-track. (The Respighi work that accompanies it is from a Westminster 4-track tape.) The sound is spectacular—this CD could easily become anyone's Demonstration Disc it is so clear and bursting with individual instrumental timbres. If the performance weren't so compelling—it captures this characteristic Stravinsky work extremely well (blessedly without the narration which frequently accompanies it)—the verisimilitude of the recording might even be distracting!
In the case of the Dvorak recording, HDTT isn't sure when the original was made. It comes from a DGG 4-track tape. I have seen it in this pairing as both a Heliodor and DGG LP. It appears to have been recorded in 1963 or 1966, depending on what source one goes to, with Edith Peinemann playing violin on both the Dvorak and the Ravel works with the Czech Philharmonic led by Peter Maag. What is most remarkable about this recording is that its analogue qualities are truly analogue qualities: the warmth blurs not a smidgen of musical information: it is the classic 'warmth with detail' most of us seek but seldom find as good as this on a CD. Peinemann's tone is pure. Her playing style is unaffected and pleasing. The tempo of the performance as a whole feels 'right.' By none of this do I mean to suggest the dull or the ordinary, quite the contrary: it feels definitive. Everything is as we would want it or feel it should be, giving this classic every chance for success. I enjoyed it immensely.
I wish I could say more about the HDTT project, give it more press—or at least more influential press. They do splendid and important work. They do not always know as much as we would like about the performances or situation of the original recordings, and so their notes on these matters tend to be somewhat scanty. Well, I had to find at least one nit to pick. Check their catalog and have a go. Nothing I've heard can compare.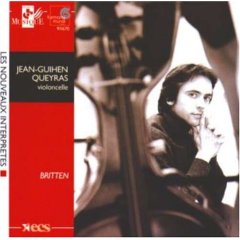 Britten, Suites for Cello. Jean-Guihen Queyras, cello. Harmonia Mundi. HMN 911670.
It takes a great effort for me to write objectively about the music of Benjamin Britten. He writes to the animal soul that would run alongside me in the world Philip Pullman creates for Lyra Belacqua. It is also getting harder to be critical of this wonderful young cellist. Queyras' Britten recording is ten years old now—it was one of Harmonia Mundi's "New Interpreter Series," which has an extremely high success rate. I am revisiting it because I have been reviewing Queyras' other recordings of late and actually hadn't heard this one, which came out in 1998.
This is an inspired performance. Queyras' Britten has the lyricism of Wispelwey's and the passion of Rostropovich's. All three of Britten's Cello Suites are moving music but, contrary to what some Britten fans feel, I don't think he ever quite matched the first one (1964). Queyras is master of this suite. What most impresses me about his performance is how he makes the individual sections belong to one another – there is a continuity to his movement through the nine sections that refuses to let us out. In for one, in for nine. Queyras has a coherent view of what they are about as a single work: the power and beauty of darkness dramatized as a habitable human landscape. Never uniformly dark, anymore than night is. Details flicker across our sight-line, but without seeking to illuminate it. Ironies and dark creatures are present here and there as musical asides. The suite was written a year after the extraordinary Symphony for Cello and Orchestra and has some of that work's feel to it.
The Second Suite (1967) is still working on me. For now, for all its quirky eloquence, it is still the odd suite out. Queyras makes it interesting and highly suggestive, so don't take my resistance too seriously. I'll get there.
The Third Suite (1971) brings us within range of Britten's death (1976)—and Rostropovich, for whom all of the composer's works for cello were expressly written, did not play it until 1974 and never recorded it. Britten walked steadily and open-eyed toward his death (from heart disease), his creative powers absolutely intact, which made playing his last works an emotional challenge for dedicatees and others musicians close to him. Few were closer to him than Rostropovich. The Third Suite is forcefully autumnal. It is not until the fourth section, Barcarola, that we get the work's first truly lyrical motif: the cello sings out a moving little phrase of emotional appeal, then retreats to more complex and less emotionally accessible musical discourse in a Dialogo, Fuga, and Recitativo. It is so much like thought we can't forget how often the cello is called the instrument closest to the human voice. The Moto Perpetuo which follows is a whirlwind that subsides into one of Britten's famous Passacaglias, a plaintive dialog between the upper and lower ranges of the cello, which soon becomes fairly contentious, once again taking on some of the feel of the Cello Symphony. The final section feels almost like an epilogue - Mournful Song - Autumn - Street Song - Grant Repose Together with the Saints. Whatever peace that needed to be made has been made. I can imagine that this section especially would have been almost unbearable for Rostropovich to play. For Queyras, it is simply (!) the end of a work which came near the end of a composer's life and perhaps of a musical tradition. It is far too soon to hear whether Britten was the end of something or the beginning of something still aborning. Not for us (amateurs) to say.
Systems used for these auditions: Audio Note CDT3 transport and Dac 4.1 Balanced Signature; Blue Circle SBT/SBM separates, Blue Circle DAR and Audio Note OTO integrated amplifiers; Blue Circle BC6000 line conditioner; JM Reynaud Offrande Signature and Audio Note K/SPe speakers; Audio Note Sogon and AN-Vx interconnects and Audio Note SPe and Lexus speaker cable.
Bob Neill, in addition to being an occasional equipment and regular music reviewer for Positive- Feedback Online, is also proprietor of Amherst Audio in Amherst, Massachusetts, which sells equipment from Audio Note, Blue Circle, Manley Labs, and JM Reynaud, among others.