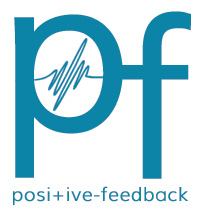 You are reading the older HTML site
Positive Feedback ISSUE
35
january/february
2008
Notes of an Amateur - February, 2008, Part 1
by Bob Neill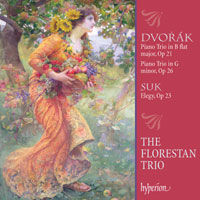 Dvořák, Piano Trios, Op. 21 and Op. 26; Suk, Elegy, Op. 23. The Florestan Trio. Hyperion CDA 67572.
Despite what many of us may think, there are very few composers whose music is immediately recognizable (unless we already know the work) on the basis of the first phrase played. I had not heard Dvořák's Op.21 piano trio before, but as soon I heard its opening notes I knew I was in the particular world that is only Dvořák's. It is a close cousin of Brahms' world but generally lighter in texture and less ambitious in emotional range; though there are passages in Dvořák's symphonies that sound a great deal like Brahms, and the Czech has acknowledged Brahms' strong influence on him. Dvořák's music is absolutely at home in its century, (intentionally) oblivious to the new, deeply disturbing, chromatic music rising in nearby Germany that will soon prove enormously influential. Dvořák's music swirls rhapsodically around us with big but sunny emotions; it can also be wonderfully wistful. It is safely this side of sentimental, but in less strict and inspired hands it could go that way. Trollope is often considered sentimental relative to George Eliot but he is not. He has simply a sunnier disposition and doesn't take things so seriously; but he understands human nature as well as anyone. Dvořák's music is plenty interesting but the composer is in love with melody.
The Florestans understand Dvořák perfectly. There is no attempt in these performances to pump up small and poignant contrasts into large drama or to wring more intense emotion from the music than its composer wrote into it. As a result, we are charmed, in the best sense of the word. We feel we are within the unique and familiar world Dvořák makes, not bursting to get out of it. There is beauty in this music that only consummate musicianship can reveal. I never appreciated how beautiful the largo section of the G-Minor, Opus 26 trio is before hearing this recording. And the beauty is confirmed, if anything made more beautiful, by the control the musicians exercise over the scherzo that follows, muting the contrast between them. Masterful, perfectly judged playing.
If this sounds like something you've heard from me before about the Floristan Trio, it is. The hallmark of their performances—and I've heard all of the recorded ones and many of the lives ones as well—is playing within the spirit of the music in order to realize it absolutely rather than trying to turn it into something else. They subordinate their individually impressive virtuoso talents to both the ensemble and their sense of the composer's purpose. We never get the feeling with Susan Tomes, Anthony Marwood, and Richard Lester that the music is their vehicle. They are the vehicle, they are the medium, we could almost say they are the servants of the music if it didn't sound so passive. They are the enactors and the realizers of the music. In this recording, Dvořák is more Dvořák than I have ever heard before, though he was also very Dvořák in the Florestans' earlier release of the composer's better known Op. 65 and Op. 90 ("Dumky") trios on Hyperion's CDA66895!
It is always an enormous pleasure to hear the Florestans play. I always feel I understand both the music they play and music as a whole better when they perform. They are about to begin their 2008 US tour as I type. Seek them out!
March 7 Library of Congress, Washington, D.C.
March 9 Palm Beach, Florida.
March 10 Pittsburgh, Pennsylvania.
March 11 Houston, Texas.
March 13 Amherst College, Amherst, Massachusetts.
March 14 Middlebury College, Middlebury, Vermont.
March 15 Union College, Schenectady, New York.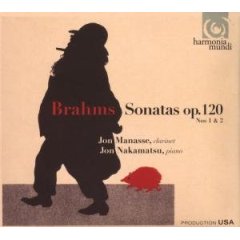 Brahms. Sonatas Opus 120, Nos 1 and 2. Jon Manasse, clarinet; Jon Nakamatsu, piano. Harmonia Mundi, HMU 907430.
Brahms and Tchaikovsky are the first composers many of us come to—and the first we abandon. We come for the right reasons: they are hugely inviting and offer few obstacles to the uninitiated. We leave because we ultimately decide they are too unsophisticated, too easy. We are a little ashamed of our early infatuations.
And then most of us return, though not always through the same door—not to Brahms' symphonies or violin concerto; nor to Tchaikovsky's ballets, later symphonies, piano or violin concerto. Instead, we happen onto Tchaikovsky's early symphonies… and Brahm's clarinet sonatas. In the Brahms, the lyric simplicity that originally drew us to the composer is leaner and so somehow more acceptable to our more mature, more 'knowing' minds. But make no mistake about it: it's the same Brahms we once loved so easily. He hasn't changed, we have, of course. Twice.
I hated the clarinet as a youngster, mainly because the clarinet players in the junior high band around me blew them so badly. It wasn't until my twelve-year old son, who has moderate talent but wonderful, natural tone, showed me how rich, warm, but also reedy-clear the instrument can be that I finally got it. Reeds played right have a quality that colors and enriches their famous clarity, as if mixing it with air. Reed instruments are capable of great subtlety and suggestiveness.
In a word, the clarinet gives Brahm's romanticism more ways to get around our emotional defenses. Even the most tough-minded music lovers find this music (and the clarinet trio) hard to abandon. I find it interesting that Tchaikovsky also uses the clarinet to great effect—in his orchestral music. Great romantic minds think alike.
These two (American) musicians both bring strong resumes to this recording and do as well as any I've heard. The voices of their instruments speak compellingly. I have never enjoyed this music more.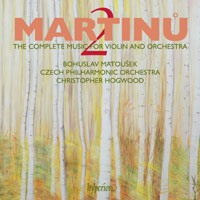 Martinu. The Complete Music for Violin and Orchestra, Volume 2. Concerto da camera for violin and string orchestra with piano and percussion H285; Concerto for violin, piano and orchestra H342; Czech Rhapsody H307a. Czech Philharmonic Orchestra, Christoper Hogwood, conductor. Bohuslav Matousek, violin. Hyperion Records CDA 67672.
There are really only two ways to "hear" Martinu that I know of. You either hear him as a appealing, colorful and often interesting musical younger sibling of Stravinsky—someone who found what he wanted in the Russian modernist's neo-classical style, especially in the concertos and symphonies, and ran with it, adding his own lyric Bohemian twist and taking out a bit of modernist pepper. Or you hear him, at least in his concertos and symphonies, as a savory romantic modernist (!), who wrote a very large number of variations on one melodic theme. If you don't listen to a lot of Martinu, you may not hear the theme; but it's always there, even in so modest a piece as the Czech Rhapsody, which is the filler piece on this CD. It will take Martinu's biographer to unearth the origin of this melody that has such an extraordinary fix on the composer.
The works on this recording wander away from the theme here and there, whirl around it, transpose it, turn it into only partly recognizable versions of itself. But it is never out of earshot for long. It provides a, unique in my experience, organizing device, far more noticeable than a Wagnerian leitmotif, which makes us feel we always know where we are. It is like a characteristic shade of color that a painter will find he cannot do without, and which hence provides a continuity among his works that we only come to notice after seeing a considerable number of them; or when it is pointed out to us.
It is fascinating to hear all of the things that Martinu can do with his theme, sufficiently so that I return fairly often, which I suppose is the real test of any composer's worth to us. This is Hogwood's second set of violin works in the series. I reviewed the first one last fall. (www.positive-feedback.com/Issue34).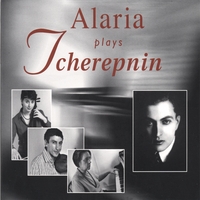 Alaria Plays Tcherepnin, Five chamber works by Alexander Tcherepnin. Alaria Ensemble. (Available from CDBaby at www.cdbaby.com)
Oh god, here comes Neill with another unknown minor composer to sell! Where does he find these guys? Word of mouth, FM radio, Fanfare magazine.
Alexander Tcherepnin was born in St. Petersburg, Russia in 1899. After the 1917 Russian Revolution, he emigrated and then lived in France and the United States. He visited the Far East between 1934 and 1937, promoting composers in Japan and China…He married a Chinese pianist…During World War II, he lived in France. In 1948, he came to the United States, and in 1958 acquired US citizenship. He and his wife taught at DePaul University in Chicago, where the Chicago Symphony Orchestra premiered his second symphony…He died in 1977. (from the liner notes)
On the basis of this recording from CD Baby, (Don't let the label's name put you off or you'll miss some really good music), Tcherepnin is a son of Shostakovich and none the worse for that. He beats with the rhythmic heart of the Russian's master but gives it to us in a somewhat gentler mien, bringing out a hint of the lyricism and rapture that Shostakovich often plows under with his passion.
Mannes College's (NYC) Alaria have a great affinity for Tcherepnin and play him with eloquent conviction. This is Shostakovich without the intensity, reminding us of the Sorrel Quartet's performance of his string quartets. I would pick out one work to describe in more detail, but I find I like them all. As I write this, I am listening for the fourth time to the Sonata for Violin and Piano and am absolutely taken. This piece alone proves that you don't have to be absolutely original to be first rate. It is as if Tcherepnin has been designated to work out and develop some of the possibilities of Shostakovich's oeuvre. "Here Alexander, I haven't time to do this—and haven't quite what it takes to get it right. My hands are a little too large, my spirit too bold…"
The most original work in the program is the Suite for Solo Cello, which has a vaguely Far Eastern flavor to it.
I cannot thank CD Baby enough for releasing this recording. It's among my favorites of the last six months. You will have to go to www.CDBaby.com to get it.
Note: Be forewarned that the listing of the works has them out of order. The actual order is: 1-Piano Trio, 2-Violin and Piano Sonatas, 3-Suite for Solo Cello, 4-Suite for Cello and Piano, and 5-Duo for Violin and Cello.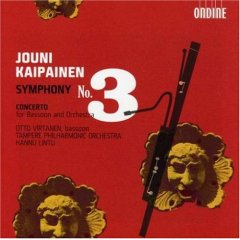 Kaipainen, Symphony No. 3; Concerto for Bassoon. Otto Virtanen, bassoon. Tempere Philharmonic Orchestra, Hannu Lintu, conductor. Ondine ODE 1089.
Finland has been a fulsome source of new music over the last few decades—Kokkonen, Sallinen, Sariaho, Lindberg, and Aho are the names I know best. But none of these has yet emerged as the heir to Sibelius, the great and much loved late romantic Finish composer. It is not that he has proven too strong an influence—none of these composers seems to have a Sibelius Problem: they are all well clear of the nineteenth century and audibly content to wander about the soundscape of modern musical possibilities in Nokia Land searching for new ways to establish distinctive voices. But none of these composers, as interesting as their works can be (and I have explored a lot of them) strikes me as having arrived at a recognizable and musically compelling place, yet.
And so I came with new and perhaps unreasonable hope to the latest aspirant, Jouni Kaipainen and his Symphony No. 3 (2004) and Bassoon Concerto (2005) on Finland's Ondine label. The symphony strikes me as fairly representative of current Finnish fare: lots of loosely connected, bold and high-energy orchestral passages on their way to nowhere in particular. Frustrated by my inability to find a way into the music, I turned to Fanfare reviewer Jerry Dubins to see if he'd found something I wasn't getting. He tells us he hears "pent-up frenzy and frustration that packs a powerful punch," later becoming "quieter and more lyrical…but restive beneath the surface." Dubins then flees to the liner notes where he finds the composer describing the work as dealing "with a chained beast running rampant in its cage and trying to escape." Okay, I guess—that'll do as well as anything I can say. I've been back to the work several times and, while it gets me here and there, I have trouble staying in it. The beast must be a chimera!
The Bassoon Concerto is a whole lot more interesting. Kaipainen lets the solo instrument have its musical way—we get the sense that the orchestra is more or less willing to keep its distance—and it tells us more about itself than we are used to hearing, what its expressive capabilities are. Sibelius loved the English horn (the darker close cousin of the oboe), but he never gave it the free rein Kaipainen gives his darker still bassoon. There is a great deal of the spirit of Richard Strauss's Till Eulenspiegel's Merry Pranks and Debussey's Prelude to the Afternoon of a Faun here. In the last movement, the orchestra becomes a more active player, but it's still the bassoon's tale to tale. A truly delightful piece of music, which I will revisit as soon as I take one more crack at the chimera!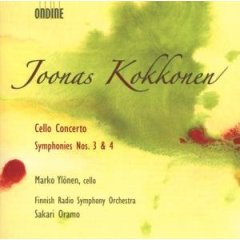 Joonas Kokkonen, Cello Concerto; Symphonies 3 and 4. Marko Ylönen, cello. Finnish Radio Symphony Orchestra, Sakari Orano. Ondine ODE 1098.
Which brings us to the father of twentieth century Finnish music, who, though thoroughly modern(ist), is considerably more approachable and of a calmer and more reflective disposition than the younger Finnish composers now prominent. He wrote during the 1950's, 1960's, and early 1970's, comparatively late in a career of a man born in 1921.
This is the second recording of the Cello Concerto (1969) that I know of. The Swedish label Bis has recorded a host of Kokkonen's music, most under the direction of the very fine Finnish conductor, Osmo Vanska, current conductor of the Minnesota Orchestra. Vanska's version of the Cello Concerto is played by cellist Torleif Thedéen. The Finnish label Ondine is now catching up with some fine new releases. This is an enjoyable curious work with a great deal of unaccompanied solo music written for the cellist. It is not a monumental piece but I have grown quite fond of it. Ylönen is as good as Thedéen and the sound is terrific.
Symphony No. 2 (1967) feels like an orchestral fantasy, which slips about exploring shadowy places, its mood shifting from whimsy to more purposeful striding. It is impressionistic and episodic. The fourth and final movement has a more earnest feel to it, but even this music gives us the sense that it is written by an arch mind watching the (modern) world from the sidelines, not entirely pleased with what it sees but disinclined to say too much, overreact, or make major pronouncements.
Symphony No. 4 (1971), Kokkonen's last major work, is much the same, though its moods are even more varied. There are stray and wispy hints of Sibelius here and there, as if in valediction. The piece becomes a little bolder toward the end of the final movement, but then recedes into its dominant mood, which by the end feels quite moving and elegiac.
If there is such a thing as understatement in music, that is how I would characterize this music, and his whole oeuvre has much of this feel to it. Kokkonen does not take us by storm, but if you give in to his modesty and introspection, he makes his musical points.
System used for these auditions: Audio Note CDT3 transport and Dac 4.1 Balanced Signature; Blue Circle SBT/SBM separates; Blue Circle BC6000 line conditioner; Audio Note K/SPe speakers; Audio Note Sogon and AN-Vx interconnects and Audio Note SPe speaker cable.
Bob Neill, in addition to being an occasional equipment and regular music reviewer for Positive- Feedback Online, is also proprietor of Amherst Audio in Amherst, Massachusetts, which sells equipment from Audio Note, Blue Circle, Manley Labs, and JM Reynaud, among others.