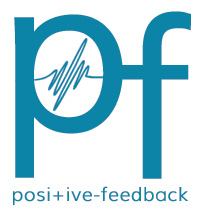 You are reading the older HTML site
Positive Feedback ISSUE
35
january/february
2008
Notes of an Amateur - February, 2008, Part 2
by Bob Neill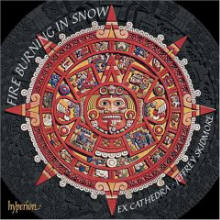 The Fire Burning in Snow: Baroque Music from Latin America - 3. Ex Cathedra Consort and Baroque Ensemble. Jeffrey Skidmore, conductor. Hyperion CDA 67600.
Is it possible to hear Jeffrey Skidmore's English ensemble, Ex Cathedra, perform Latin American baroque music without hearing the sound of Jordi Savall and his La Capella Reial de Catalunya in your ears? For many of us, not really. Spanish and Latin American early music are intimately related—the composer featured in this recording, Juan de Araujo, was born in Spain and grew up in Peru. Only a musical scholar could likely separate the traditions. We listen to Ex Cathedra sing the music of Araujo and say to ourselves, is this how Latin baroque should sound? Or is Savall's more buoyant, high energy, heavily rhythmic more apt?
Ex Cathedra are easier on the beat, sing longer lines with softer voices. Their guitars are strummed with less vigor, percussion struck with less force. The result is a more lyric and beautiful sound than Savall's. So some of us have to make an adjustment. While Savall's approach tends to increase the space between this music and that by the composer's contemporaries in seventeenth century Italy and northern Europe (Charpentier, Caldara, Buxtehude, Purcell), giving this Latin music a strong Latin flavor, Skidmore narrows it. We would never confound his music with that of the Europeans, but the links are more audible.
Well, history and interpretation aside, what of this particular music and performance? To begin with, a good deal of the music is not liturgical, and so as beautiful as it can be, Araujo's muse in many of the pieces here is Amor, not the Holy Spirit. "For fire burning in snow/is the effect of love" are the final lines of one of the pieces in the collection! So beauty is not what we are most about here. Rather, it is the eloquent expression of human feelings, which, of course, spill over into the religious material. And interestingly, though Araujo's music is colorful and appealing (he is said to have been the most esteemed composer of his age—presumably of his continent), contributing to its effects on us is the equally moving anonymous Hanacpachap Cussicuinin (The Bliss of Heaven), made up of 20 verses interspersed between groups of Arajo's pieces in four-verse sections each. Going straight through the 20 verses might be a bit much, but as programmed here, the work is extremely moving, providing a melodic and thematic context of almost militant religious beauty (the choir sings over a steadily beating drum!) within and around which Araujo's more fluid and florid religious and amorous songs present themselves. A brilliant piece of programming.
By the time we are to Araujo's second piece in the program, Silencio, essentially a nativity carol, we understand what drew Skidmore to this composer. In addition to using the European liturgical style he inherits from Europe, he also writes in what Skimore tells us is the 'popular villacio style,' a rootsy Latin genre, which adds an infectious rhythmic element to his music. Exactly what we would hope to find in seventeenth century Bolvia! We can hear the formal European material contesting with and in most cases merging with the more popular Latin art that it finds itself amidst. High art meets the reality of the New World, resulting in a new music that modern performers and audiences are just beginning to appreciate. Skidmore is fairly confident that nine of the pieces here are making their first recorded appearance. This is exactly what the classical music 'industry' should about. More power to Hyperion and Jeffrey Skidmore.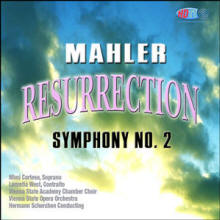 Mahler, Symphony No. 2, 'The Resurrection.' Vienna State Opera Orchestra, Hermann Scherchen, conductor. High Definition Tape Transfers HDTT 136.
This is the third release I've heard from the HDTT people. What it is most notable for is a wonderful but strange intimacy. The timbre of the strings is remarkable and immediate, especially the cellos and basses. Resolution overall is very high but because of the intimacy of the recording perspective, this is unrefined, pure cane sugar Mahler. We don't get the overall smoothness we expect from an analog transfer of a full orchestra, nor the grandeur. It feels almost like a recording of a chamber orchestra. This effect must have something to do with the mic'ing: it sounds like a 'live' recording, where mikes had to be placed in unusual locations, resulting in a dry, non-reverberant acoustic. I do hear odd noises from time to time, so it may well be live. The overall effect is as if we are hearing this music for the first time. And it does grow on you. By Part III, I was hooked. And Part IV, featuring contralto Lucretia West, reeled me in. The instrumental early sections of Part V are also extremely effective—and somehow more refined in sound, which is clearly intentional: we are after all building toward the 'resurrection' itself. But the freshness and immediacy remain intact. When the chorus enters in Section 9 of Part V, we are absolutely in Scherchen's hands—and also those of soprano Mimi Cortese. And then in Section 10, we have both superb soloists singing together against and with chorus. The Conclusion is all one can imagine.
If you are a Scherchen/Mahler fan and haven't got this on vinyl, give it a go. But expect the unusual. The transfer is from a Westminster 2-track tape, recorded in 1958.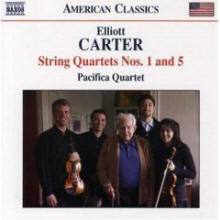 Elliott Carter, String Quartets Nos. 1 and 5. Pacifica Quartet, Naxos 8.559362
Elliott Carter (1908 – !) is the dean of American modernism in its least compromising, most exploratory form, and it is fascinating to hear him in these two quartets (1955 and 1995) follow his own muse into the musical terrain we are now calling post-modernism. Because, in a word, he knows where he (and it) are coming from.
Carter's string quartets are often where he is most compelling—though there are some other fascinating chamber works to track down, including a rich Sonata for Cello and Piano; and several complex concertos, one a Double Concerto for Harpsichord. The definitive recorded performances of the quartets since 1988 have been those by the Arditti Quartet, recently re-released (though not remastered) on Etcetera Records. But these new releases by the Pacificas (a second with the rest of the quartets is due out in late spring), in addition to delivering bold and infectious performances from this fine young quartet, are a dramatic demonstration of how much digital recording has progressed in twenty years. This Naxos CD is warm, clear, and ambient.
As his 'date' above reveals, this is Carters's one-hundredth year on the planet—and he's still actively composing. Even if you're not (yet) a modern music enthusiast, the brio of these performances and the superb sound might just turn your head. A great release, which leaves me with nothing else to say.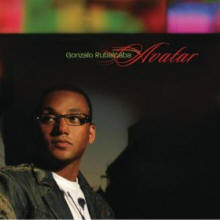 Gonzalo Rubalcaba, Avatar. Rubalcaba: piano and keyboards; Yosvany Terry: alto, soprano, and tenor saxes; Mike Rodriguez: trumpet and flugelhorn; Matt Brewer: acoustic bass; Marcus Gilmore, drums. Blue Note 84185.
I don't really know anything of what I'm talking about when I talk about jazz, but I love Cuban jazz pianist Gonzalo Rubalcaba, and this looks like a new quintet he's playing with, unless I've missed a CD in his recent discography. Rubalcaba plays straight ahead jazz as a trio with Charlie Haden, Jack Dejohnette, Paul Motion, Carlos Henriquez, Ignascio Berroa and John Patitucci for Blue Note. He plays Latin jazz with several configurations of Cuban musicians for Pimienta Records. But the quintet listed above is a new group and it's on Blue Note; and this really does sound like new Rubalcaba. Reed player Terry writes three terrific up-beat numbers, two of which sound like jazz/straight ahead fusion. (I told you I don't know what I'm talking about!) Bassist Matt Brewer and Horace Silver (!) are responsible for two slower moving lyric pieces. Rubalcaba writes one and arranges the final piece. As I've written several times before, I think what gets me about Rubalcaba is eloquent technique grounded in a compelling, earthy aesthetic that simply won't let you go. Contrasted with Jarrett, whom I also admire greatly, Rubalcaba feels more rooted, less abstract. Both approaches are successful in these equally skilled and soulful hands. But Rubalcaba is the one who grabs me tightest and holds me closest. He deserves a bigger audience.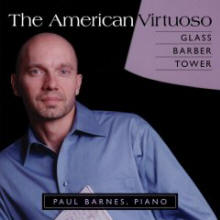 The American Virtuoso: Glass, Barber, Tower. Paul Barnes, piano. Orange Mountain Music 0036.
I subscribe heartily to the spirit of Positive-Feedback. My own version of its 'positive' philosophy is that when confronted by a piece of junk, best to ignore it rather than beat on it, since the beating will invariably provoke a counter-attack, which will have the effect of promoting it from junk to controversy. So I would have tossed this CD aside if I had quit halfway through it. But just past midway, things got dramatically better, with what may end up being our absolute best performance of Barber's Piano Sonata. So bear with me for a couple of paragraphs while I have some nasty fun, mainly at the expense of Philip Glass.
I have always found doctrinaire minimalism mind numbing. The roots of this mannerist malady in music history lie for me in Ravel's Bolero, which at least has a carnal subtext. The first movement of Philip Glass's Piano Concerto No. 2 (transcribed here for solo piano) is about as mind numbing as minimalism gets. It is new Age on steroids. The second movement is somewhat less so, as some sort of thematic material struggles to emerge from the relentlessly repetitious formula. Since it's little more than a bar song, it can't get very far. Halfway through this movement, things slow down, the minimalist machine seems to shut down …but alas, it's just the tempo that's changed. The incessant musical pedal point continues to grind away: dá-da-da, dá-da-da, dá-da-da. The third movement, called "The Land," sounds more like the musical cliché for water running down a mountain: notes tumbling over one another. It's hard to imagine a serious musician, which based on the flower of this program Mr. Barnes surely is, taking pleasure from the experience of playing this stuff. I gather that the whole minimalist movement in modern music was some sort of reaction to the intellectual complexity of extreme modernism, a Thoreauvian cry of "Simplify, Simplify." But it is hard not to respond to music like this by saying, "Less is indeed less." I can never block out the sense that it's not really Bolero that's responsible for this but Chopsticks.
From Glass we are taken to the romantic reactionary, Samuel Barber, who knew enough not to fight modernism with simple reduction but chose instead a version of romanticism, which in Nocturne borders on the corny and which in Ballade sounds like something Keith Jarrett might play on a particularly self-indulgent night. Halfway through this piece, it picks up rhetorical steam, turning into Erroll Garner for a minute, then recedes into chordal mumbling.
Which brings us to major piece of the program, Barber's Piano Sonata, Opus 26, which is a WHOLE different kettle of fish that all by itself (with some help from Joan Tower at the end) transforms this album into something worth paying attention to. This is truly great stuff, which sweeps the Glass piece and the two little Barber trifles off the stage. With this work, Barber welcomes the modern musical world, showing us how to keep the emotionally expressive wine of the nineteenth century by pouring it into a bold and exciting new modernist bottle. Pianist John Browning has 'owned' this sonata during my lifetime, and he plays it more beautifully than Barnes. But Barnes, by playing it more boldly and dramatically, makes us realize how new and truly extraordinary this music is. A wonderful performance of music I have never really appreciated until now.
Joan Tower also helps to rescue this album from Glass with two short pieces, though it would have been nice to have her for more than the seven minutes or so she is allotted. Tower is the Emily Dickinson of American music, both in stature and originality. It was nice to see her most recent CD on Naxos, Made in America, win a Grammy this year, though I'm not sure exactly what that means, unless its title tells us…! Naxos has released two other CDs of her music. Got get 'em!
System used for these auditions: Audio Note CDT3 transport and Dac 4.1 Balanced Signature; Blue Circle SBT/SBM separates; Blue Circle BC6000 line conditioner; Jean Marie Reynaud Duet and Orféo speakers; Audio Note Sogon and AN-Vx interconnects and Audio Note Lexus speaker cable.
Bob Neill, in addition to being an occasional equipment and regular music reviewer for Positive- Feedback Online, is also proprietor of Amherst Audio in Amherst, Massachusetts, which sells equipment from Audio Note, Blue Circle, Manley Labs, and JM Reynaud, among others