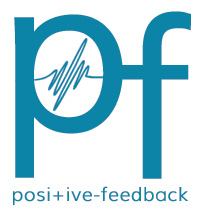 You are reading the older HTML site
Positive Feedback ISSUE
35
january/february
2008
CES 2008 - Another One from the Road (or, 41 @ 52), Page 2
by Greg Weaver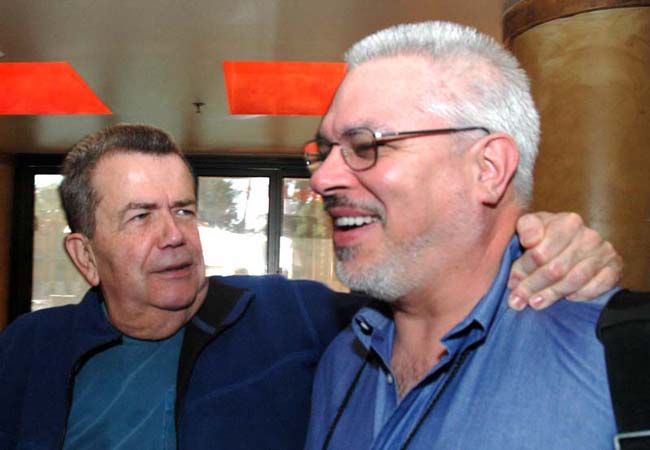 The inimitable hp (Harry Pearson) takes time out to ham it up with yours truly
I am a long time fan of Luxman products. I owned their remarkable D-105u tubed output CD player (circa, 1990), and I still have a vintage 1970's R-1050 receiver. When it was announced late last fall that the long retired name had been resurrected, the proverbial "team of wild horses" couldn't have kept me away.

Following that announcement came the personal invitation to attend a private audition from "On a Higher Note's" own impeccable gentleman, Philip O'Hanlon. Then there was the "kicker." This event was also to mark the debut of the $54,000 Vivid GIYA G1, developed by Laurence Dickie. "Dic," as he prefers to be addressed, was the designer of the original B&W Nautilus a dozen years ago. The Vivid Giya G1 represents his latest realization, advancing on the technology developed for that original milestone design. As Sir Arthur Conan Doyle's fictional über-sleuth Sherlock Holmes was fond of saying, "the game was afoot."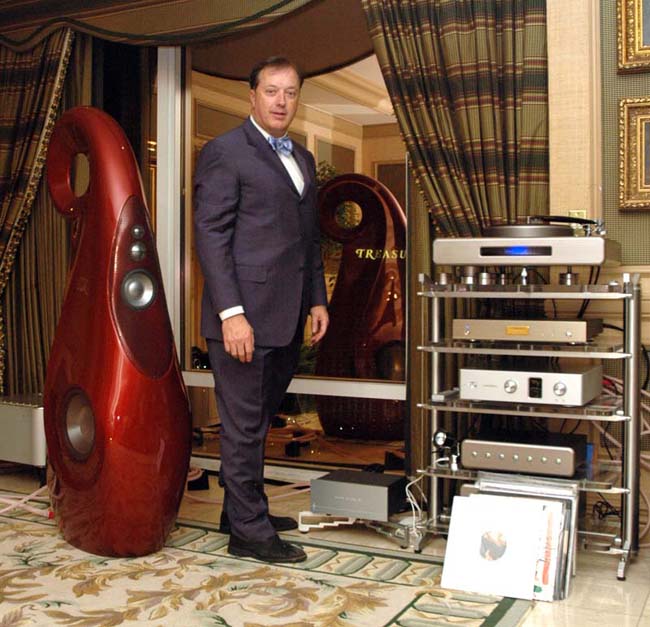 Philip O'Hanlon hosted the new Vivid GIYA G1 and all new Luxman line in Penthouse D-17 at the Mirage
Late Tuesday afternoon found Jim Merod and I on our way to Mirage Penthouse D-17 to beat the structured chaos of the scheduled 6:00 PM open Press Event. Philip had put together a superb system of Luxman gear consisting of the $48,000 B-1000f monoblock amplifiers, the $16,000 C 800f preamplifier, the $3700 E-1 phono stage, and the $9400 DU 80 universal music player. The $35,000 Weiss Engineering Jason transport and Medea DA Converter combination also provided digital sourcing. The $55,000 Continuum Audio Labs Criterion turntable, the Copperhead tonearm, and $4500 Koetsu Urushi cartridge reconstructed vinyl. Everything rested on some version of Stillpoints equipment racks.
Besides getting to hear the superlative recordings of Jim Merod on this exceptional system, we had the distinct pleasure of hearing the Sonny Rollins and Bill Evans re-issued tapes from the aforementioned Tape Project on a professional Studer A-80 deck.
As the room started to fill up with journalists just after 6:00 PM for the scheduled press event, I asked "Dic" if he would mind stepping out into the hallway, where it was a bit quieter, to discuss the new design. He graciously took the time to describe how he had been able to develop a reflex chamber at the front of the woofer cabinet and still attain the benefits of the celebrated receding tapered tube. Using patented, in-house designed, dual 12" aluminum woofers, employing short coil, deep magnetic gap construction, the woofers are mounted on the G1s sides, and their magnets mechanically coupled.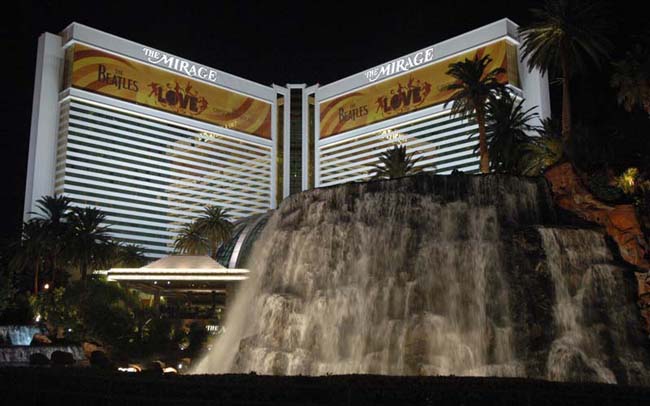 The Mirage, where Philip O'Hanlon hosted the Vivid, Luxman room, and, where the successful Cirque du Soliel Beatles LOVE show is still running
The whole point of the "inverted horn" loading, tapering away to the rear of the drivers enclosure, was to attenuate the unacceptably sharp peak in the woofer response, known as a high 'Q' resonance. The original B&W Nautilus employed a straight tapered horn, receding directly away from the back of the driver, protruding out the rear of the loudspeaker. It was, in large part, what gave the original Nautilus its distinctive look.
While we had been talking outside, the volume of the music in the suite had increased dramatically. As we were concluding our discussion, the music suddenly stopped—mid track, and the door opened. A composed but nonetheless concerned looking Philip O'Hanlon looked at "Dic" with a slightly pleading look and said, "Can you come in please? The speakers are smoking!"
As we entered the room, everyone inside was discussing and pointing to the smoke clearly wafting out of the woofer ports. "Dic" took a quick look and discovered that there was no real damage done. It seems that in their current prototypical form, just finished for CES, he had mounted a resistor/resistors (that wasn't clear) to a wooden brace. His analysis was that the resistor/resistors had gotten hot enough under the load presented by the very loud music to start burning the wooden appliance it/they were mounted to. Thankfully, this turned out to be a non-issue, and the music recommenced immediately, albeit at a more reasonable volume.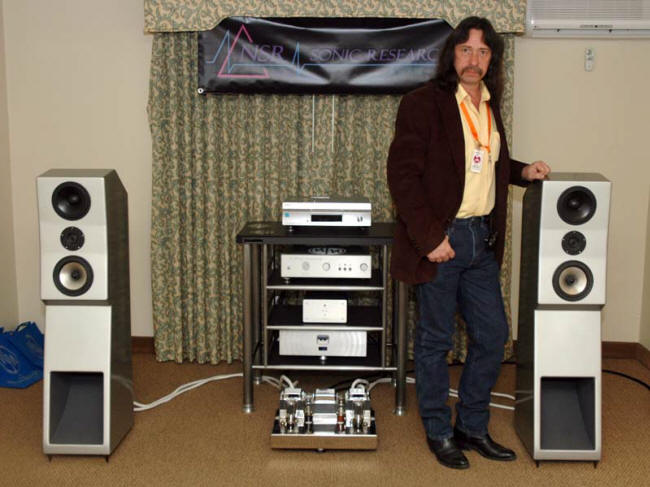 NSR CEO/Designer John Tabernacki stands beside the new $4500 Concerto D-3 Sonata
If you haven't yet heard, John Tabernacki, of NSR Sonic Research is causing quite a stir with his modestly priced $4500 Concerto D-3 Sonata. The paring at the Alexis Park with a small (10-wpc) ART Audio tube amp, along with a preamp from Dan Wright that John informed me had been damaged in shipping, left me wanting.
Though the D3s remarkable nature shown through (as Jim Merod can attest), I have heard them sound much better at John's home just south of Chicago a number of times since last September. These things go DEEP, play soft or loud, are detailed without being in your face and are DYNAMIC as hell. They have the ability to just about completely disappear and leave ONLY the music and will seemingly image quite well from anywhere in the room. Keep your eyes on this company. They are moving up FAST.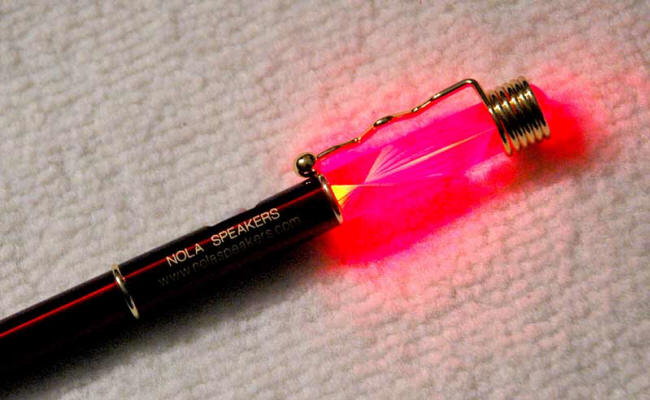 Some way-cool swag from Nola Loudspeakers
Lyngdorf was started by a number of folks that were initially involved with TacT, so it will come as no surprise that they are using full digital processing and amplification with an unbroken digital path from source to loudspeaker. What I was unprepared for was just how huge this stylish and unassuming system would sound.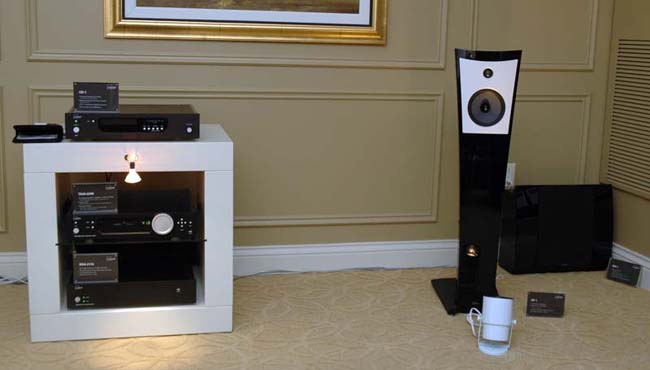 Large sound from Lyngdorf's unassuming little system
The source was the $2890 Lyngdorf CD-1, which fed directly to the $7190 TDAI 2200 ADC RP processor, then on to the $1990 SDA 2175 amplifiers. The $2990 each DP-1 monitors have no cabinet, just a stylish front baffle on which the drivers, a 1-inch tweeter and 6.5-inch midwoofer, are mounted. The BW-1 woofers are designed to work with the wall boundary, and I have to say, the system result is an extremely open, clean, detailed, dynamic, and LARGE sound.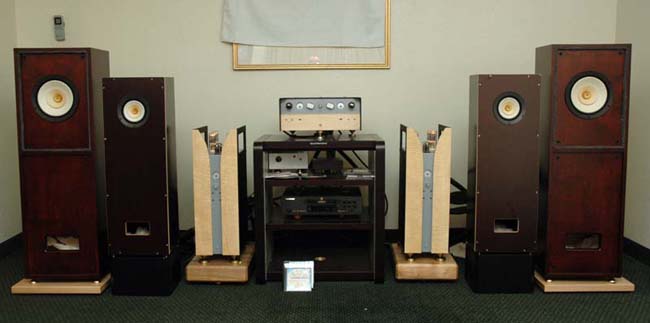 Joe Cohen's Lotus Group teamed up with Red Rock Audio and RMAF's Al Stiefel for one very natural sounding room
Joe Cohen's Lotus Group teamed up with Al Stiefel's Red Rock Audio to present what was arguably the finest performing single-driver fronted speaker sound system I've yet heard. The drivers used here were all from Feastrex, and are entirely made and charged by hand. A master craftsman, Mr. Ichibei Iwano, fabricates the cones from the "washi" paper of a specific region of Japan. The five-inch D5x Feastrex driver was shown in an unassuming, attractive cabinet, and that finished product carried a retail of about $7000.
The gorgeous $39,750 a pair Red Rock Audio Renaissance Triode Monoblocks provided muscle while the as-yet un-named Red Rock Audio 6bL7 tube based, dual triode preamp prototype (expected to be in the $12,000 neighborhood) served up the source material. Sorry, I can't find the source in my notes. Of course, all cabling was Joe's superlative PranaWire.
The room also exhibited accessories Joe's Lotus group imports including the $2250 Acoustic Revive RTP-4 ultimate line conditioner and $4500 Sound Mechanics PX1 Rack. Rich in harmonic flavor and dripping with tonal color, overall this was one compellingly musical system and one of the most engaging, and unexpected, surprises of this year's entire event. If you know me, you know that I am not routinely fond of single driver based systems.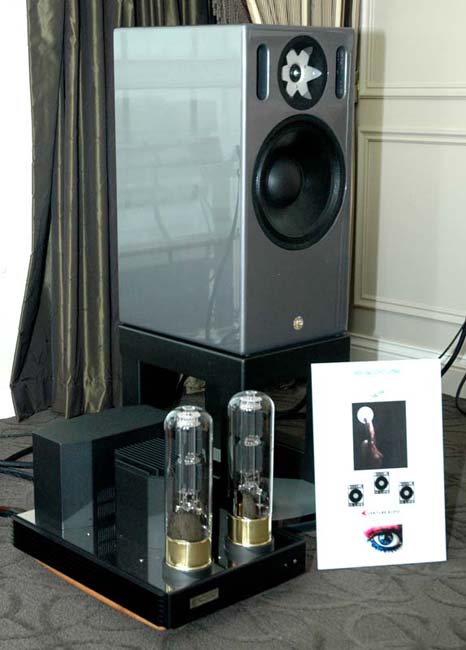 KR Audio $27,000 Kronzilla DX dual Monos (1610) with the $18,999 Escalate Designs Fremont
KR Audio showed their $27,000 Kronzilla DX dual mono 100 watt amps, a single-ended, pure class A, zero feedback design based on their low frequency, ultra high output T1610 triode, paired with the Escalante Designs Fremont's ($18,990). The new Fremont, unchanged internally, has done away with the aluminum inserts on the side panels, affording a new, cleaner, more orthodox appearance. Quite honestly, I kinda' like my older cabinet style, with the sweeping triangular insets! Regardless, this duo served up heaps of rich texture, fine detail and a mesmerizing tonal balance.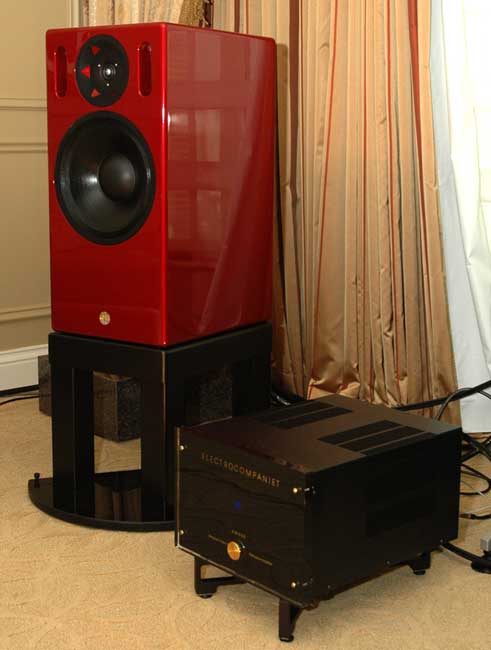 The Escalante Design Fremont in Indianapolis BMW Red with Electrocompaniet amplification
Escalante Design also showed their flagship speaker, my current reference and Steve Hofmann's current choice for monitoring all his re-masters, the $18,990 Escalante Design Fremont. Matt Waldron and Teirry Budge teamed up with Electrocompaniet this year. While I didn't find this pairing quite as engaging as with the KR electronics, the system still showed why these speakers have achieved the buzz that they have.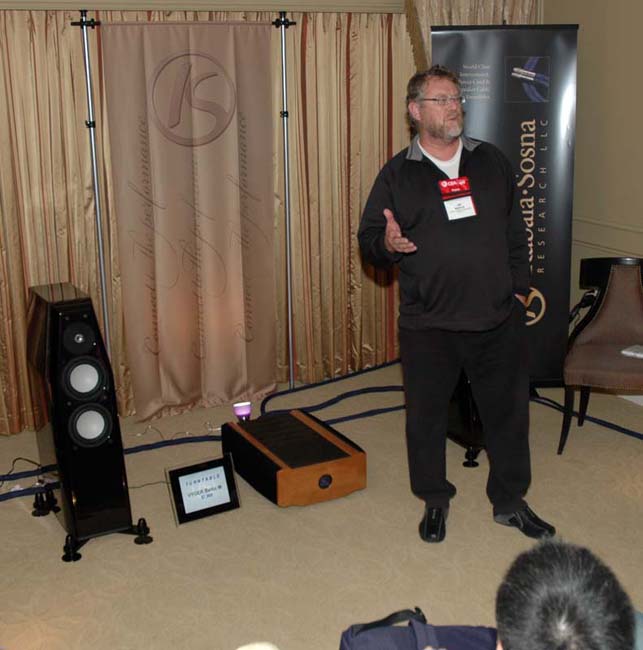 Jim Merod, Blueport Jazz recording engineer, gave a talk on the difficulties of "on-site" recording
Once again this year, my kudos to Howard Sosna and Joe Kubala, of Kubala-Sosna fame, for successfully twisting the arms of both Jim Merod (Blue Port Jazz recording engineer) and Steve Hoffman (AcousTech re-mastering engineer extraordinaire) to share some specifics about each of their respective craft/arts.
Tuesday at 3:00 PM, Jim spoke about the trade-offs, compromises, and serendipitous circumstances' involving capturing a great performance live in the wild. He discussed the pros and cons of using purist (two mic) and multi-micing techniques. His discussion was very effectively punctuated by the playing of one of his recordings immediately after he described the challenges he had faced and how he dealt with them on that particular piece. The hour and a half was well spent, highly educational, and featured some very, very good recordings.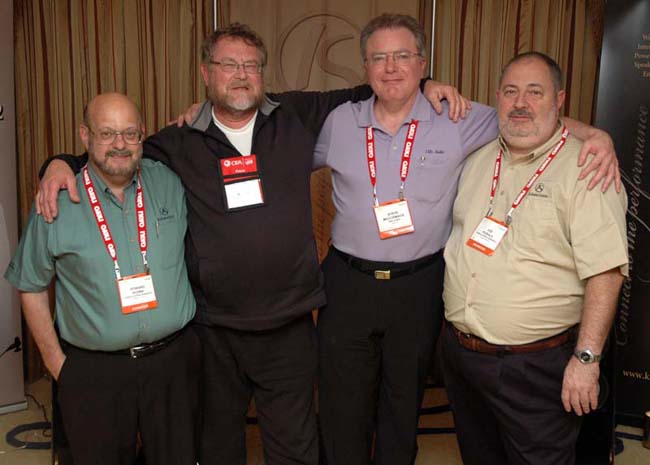 The usual Suspects, Howard Sosna, Jim Merod, Steve McCormack, and Joe Kubala
Though I wasn't on hand for Steve Hoffman's Wednesday 3:00 PM session, I did get to chat with him briefly about the utter magic we both find in the Escalante Design Fremont. Steve was kind enough to mention that he had very much enjoyed my review of the Fremont.
I was fortunate enough to be able to tag along with Jim this year, having the advantage of hearing some of his "private stash" of his favorite recordings. These included cuts by Bennie Maupin and Larry Koonse from 2005, a wonderful Chico O'Farrill session of "Delirio" from 2003, and an absolute stunner featuring Tierney Sutton and a solo piano doing "Very Early" from 1996. Without fail, the exhibitor in any room where Jim auditioned this music asked about how they might obtain a copy. When one exhibitor (Blue Light Audio/Evolution Acoustics' Jonathan Tinn), found out that copies were not available, his solution was, "Well then, will just have to take him out and mug him for it …it's that good."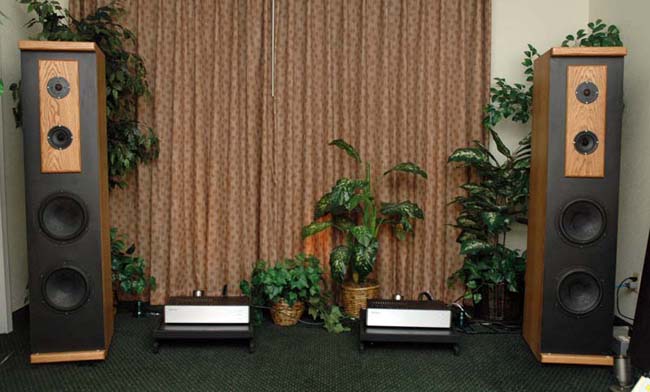 Keith Herron always manages to assemble one of the most natural, organic sounding rooms at every CES
It will come as no surprise to many that Keith Herron's room was on many people's short list of great rooms—it is every year. Keith manages to assemble one of the most natural, relaxed, yet musically involving rooms, show after show, year after year.
This year Keith was introducing his new $6550 VTSP-3 Vacuum Tube Stereo Preamplifier. Hitched to his M1 Mono amps ($6850/pr), and using his gorgeous sounding $3650 VTPH-2 phono stage, he was driving his model 2104A loudspeakers, whose price has yet to be set.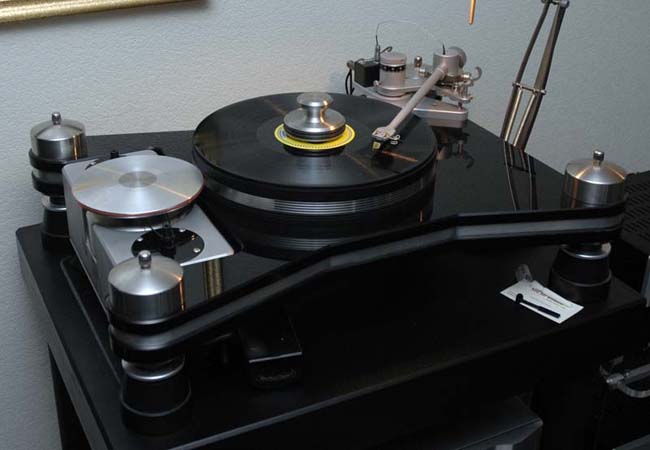 The VPI TNT HR-X turntable, featuring the new VPI Rim-Drive belt-less drive system and JMW 12.7 tonearm ($12,000)
The $12,000 VPI TNT HR-X turntable, featuring the new VPI Rim-Drive belt-less drive system and a JMW 12.7 tonearm, provided analog. I can't seem to find which cartridge he was using in my notes this year. Regardless, Keith continues to rail against high-priced cabling by using all his own products, with a single-ended 1-meter pair of interconnects selling for just $225 a pair.
This room had remarkably natural timber, a spectral coherence that was exceptional, was dripping with texture, all the while rendering fine resolve and astonishing detail. This room was way up on my short list—again!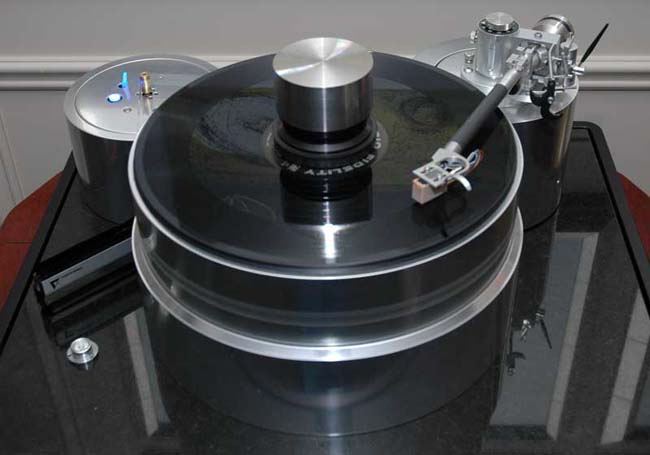 The unparalleled $20,000 Redpoint Model D turntable, and $4,200 Tri-Planar Ultimate with the $15,000 Koetsu Coral Platinum
Wes Bender put on a terrific presentation in the Hansen room. In fact, while discussing the playback system comprised of the Redpoint Audio Model D turntable, Wes was quick to point out and quote the snippet I had written for the Redpoint product banner shown at this year's RMAF, "...bone-crushing bass, living, breathing midrange and treble so crisp and clear you'll recognize a cymbal's brand..."
Starting with either the aforementioned $20,000 Redpoint Model D turntable (in house—review coming very soon), with the $4200 Tri-Planar Ultimate tonearm, fitted with the very seductive $15,000 Koetsu Coral Platinum cart, or the $10,000 EMM Labs CDSA SACD player, vinyl or polycarbonate playback was handed off to the $18,000 Convergent Audio Technology (CAT) Legend preamp.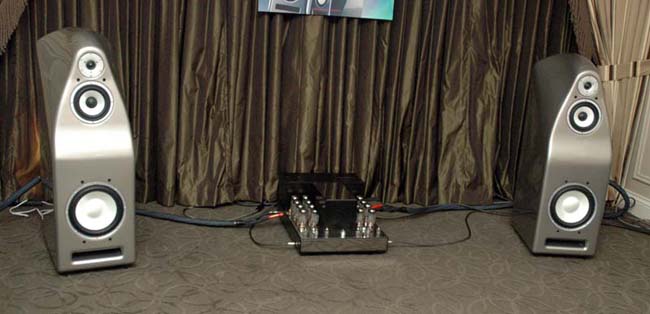 The remarkable $39,000 Hansen Prince V2 speakers driven by the $18,000 Convergent Audio Technology (CAT) JL2 SE
Muscle was provided by the $18,000 Convergent Audio Technology (CAT) JL2SE amplifier and the $39,000 PRINCE V2 loudspeakers provided the heavy lifting. All cabling was from STEALTH, with Dream speaker cables and Indra interconnects. WOW. Dynamics, pace, rhythm, speed, detail, resolve, impact, and space. This system REALLY got a handle on the music it reconstructed. What a treat. Thanks Wes…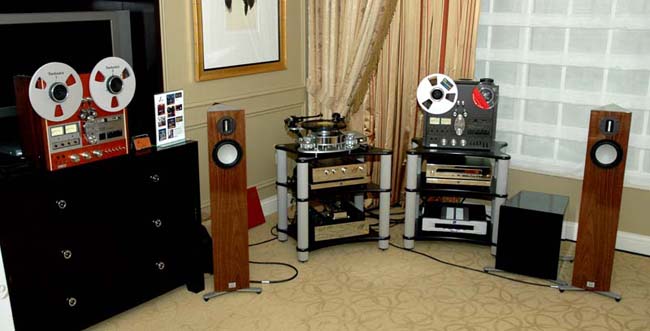 Dan Meinwald's E.A.R. USA room
Also providing engaging sound for all who cared to listen, Dan Meinwald of E.A.R. USA, was up to his old tricks, including playing CDs, vinyl and—open reel tapes. Electronics were from E.A.R, including the E.A.R. 890 amp, 868 preamp, Acute CD player, and the gorgeous Disc Master turntable. A number of open reel decks were on hand, including a Technics RS-1500 Tim de Paravicini had modified to play tapes of all variety, including, yet again, those from the Tape Project.

Dan was showing the new Marten Design Floor loudspeaker (roughly $6660 with the current Euro exchange) from their new Form series. This room was open, detailed, wonderfully articulate, harmonically full-bodied, and wonderfully balanced. Toe tapping wasn't required, but it was impossible to resist. Bravo Dan.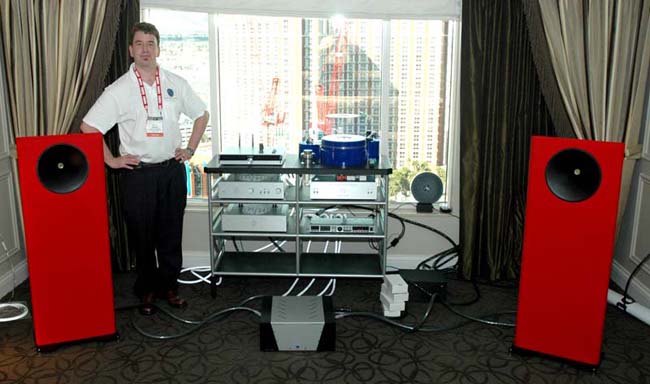 Dan Wright stands between the truly astounding Emerald Physics $2990 CS-2s and a rack full of his own work
Dan Wright was able to snag a last-minute show room opening at the Venetian, so had to scramble to get set up by Monday. As you can see by the photo above, when I stopped in late Monday morning, he was still getting the room whipped into shape and boxes put away.
Using all ModWright gear, including the new LS36.5 preamplifier with its optional outboard, tube regulated power supply, the PS 36.5, the delicious SWP 9.0SE Phono stage I reviewed last year, and the Modified Transporter digital front end or the Redpoint Model D turntable for sources. Everything rested on Billy Bags Racks, and Robert Lee's Acoustic Zen cabling was used throughout.
The speakers were the same model of Emerald Physics used in the VRS room, the $2995 CS2s, here in their striking red cover. The sound generated in this room was significantly different. Though arguably not as resolute as the VRS presentation, it was more robust, full-bodied, and spacious, with none of the dry or lean tendencies I had noted in the VRS room. While the rooms themselves were significantly different, (VRS was in the smaller, boxier sounding Alexis Park, ModWright was in the bigger, multi-level tower rooms of the Venetian) and certainly had a significant impact on the overall outcome, the resultant sound in this suite was much more to my likening and musical taste.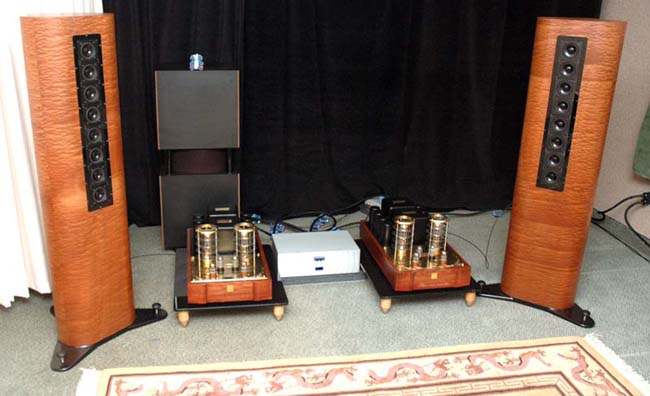 The $33,000 Audience ClairAudient LSA8 crossover-less loudspeakers driven by the $21,800 Navison NVS-211 PSE amplifiers
The boys from Audience, John McDonald, Roger Sheker, and Dan (sorry, never caught the last name) were in rare form with a room that looked as gorgeous as it sounded. Pairing with the Navison $21,800/pr NVS-211PSE amps with wooden panels that serendipitously matched the finish on their new ClairAudient cabinets, the NVS-211PSE is a parallel, single ended triode monoblock (based on the 211 power tube) serving up 40-watts of class A power.
The $33,000 Audience ClairAudient Line Source Array 8 uses eight Bandor 50 drivers (2" diameter) per side in a crossover-less line source. Highly efficient (94dB), the LSA 8 is said to be ruler flat from 70Hz to 22kHz. Paired with the $7000 ClairAudient 12 subwoofer, this system was able to produce some of the most glorious midrange I've ever heard. Space was reach-out-and-touch real, micro dynamic events were breath taking, and the overall tonal balance was scary. Though I would have liked to hear them with a little more power to see how these thoroughbreds handled dynamics and life-like orchestral crescendos, I have to hand it to them; they have brought this speaker to exquisite fruition. A must hear, in my opinion.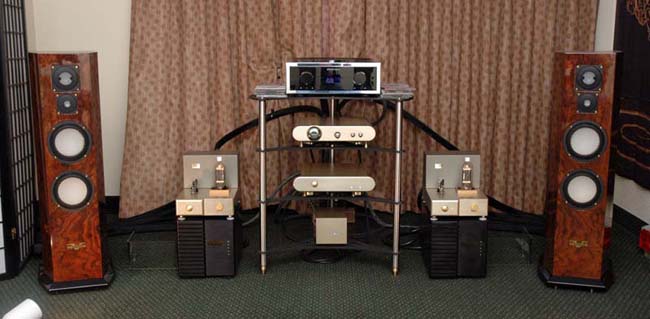 WAVAC Audio Labs teaming with Venture loudspeakers, an Einstein digital source and all PranaWire was more than just a little seductive
WAVAC Audio Labs, though presenting with a "smaller" system than last year, still brought the musical goods in force. The muscle of the room was the new $43,900 MD-805 mk II. While I was to receive review samples of this amp late last summer, shipping containers destined for the US with early production models were damaged in transit, forcing that project on hold. Covenant Audio Consultant's Jonathan Brown assured me that we should be able to get to the review early this coming year, so stay tuned.
Preamplification was provided by the $28,000 PR-T1 transformer-coupled, three chassis pre-amp, while the digital source was the $7,800 Einstein Last Record Player. As always, speakers were from Venture Audio, and this year it was the unassuming sized $28,000 La Perfection. All cabling was PranaWire (Cosmos speaker cable and interconnects, Satori power cords), power was conditioned and distributed by IsoClean products, and everything rested on Sistrum stands.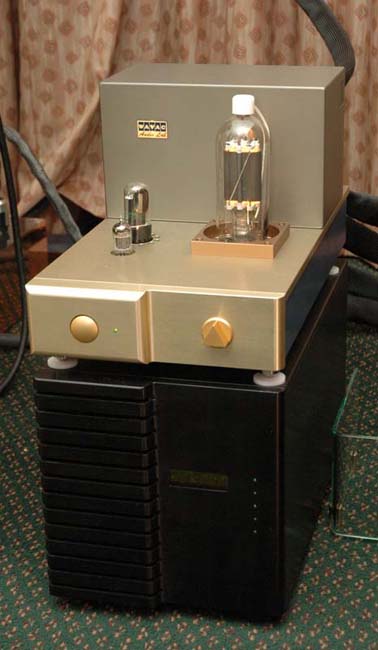 The latest addition to the WAVAC Audio Labs MD series, the $46,000 two-piece MD-805 mk II
While perhaps not as completely transfixing as last year's presentation, the resultant music was every bit as stirring and engaging. Vital, round, and full tonal color, lucid texture, lifelike instrumental size and placement, and a sense of "being there' that was undeniable; the room was a stirring success. I can't wait to get to audition these amps at Casa Weaver.
Best…
Those of you who know me will undoubtedly find this an odd choice, as I have never heard Wilson's at a show that "grabbed" my attention. This year was different.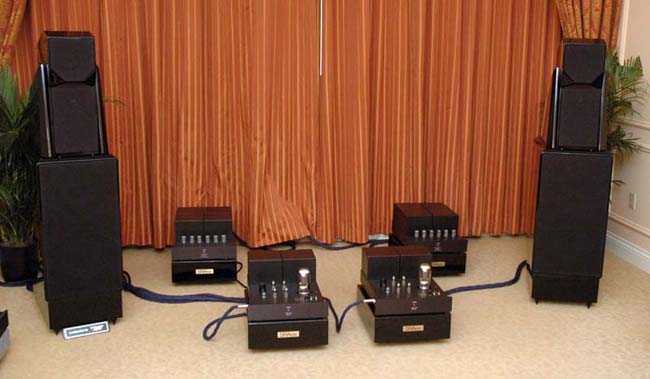 The stirring combination of Lamm, Wilson, and Kubala-Sosna
Fronted by the TW-Acustic Raven AC 3-motor turntable, sporting a pair of Graham Phantom B-44 arms, one fitted with a Dynavector XV 1S cart, the Lamm LP2 phono preamp handled the small gain preamplification. Zaden's 2000P transport and 5000S DAC combo recreated ones and zeros while the Lamm L2 reference preamplifier sent its glorious signal on to the ML-3 Signature single-ended triode monoblocks with outboard power supplies. This was the world premiere of the ML-3 Signature, and it was auspicious to say the least.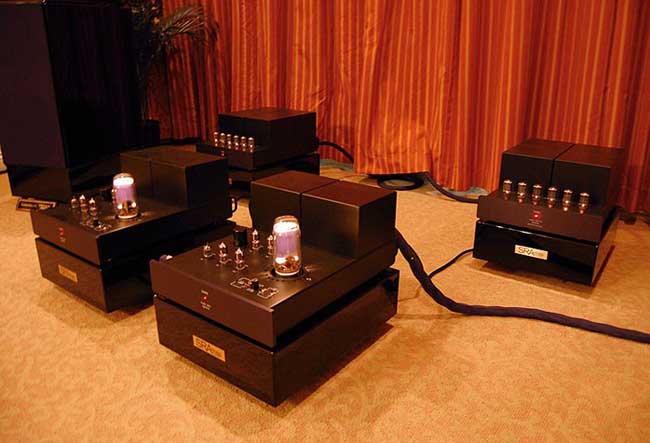 The utterly enchanting Lamm ML 3 Signature with external tubed power supplies
The Wilson MAXX2s simply came to life as living, breathing transducers, presenting a fluid, detailed, and focused soundstage with a relaxed and undisputable natural presentation. This is the first time that I've heard the MAXX2 virtually come to life, sounding more like music than a scientific instrument to reconstruct music. Granted, all previous auditions I can recall had them paired with Halcro power. Somehow, that combination, while very resolute and detailed, just sounds soulless and uninvolving by comparison. This combination was sheer magic, providing solid evidence as to why these two companies are so highly thought of and respected in the audio community.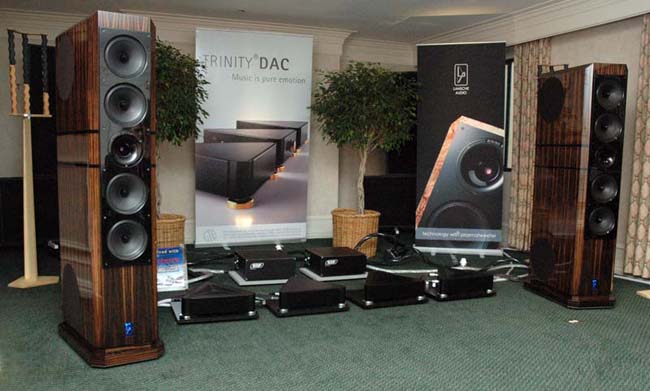 With a system price of just about $400,000, the $100,000 Lansche No. 8 made a stirring premier
Last year, I was very intrigued by the potential of Lansche Audio with their Model No. 4.1 loudspeaker. This year, Lansche Audio's Henry Dienn sent me a note prior to CES explaining he was showing the daunting looking $100,000 Model No. 8, with the Corona Plasma tweeter, asking me to drop by. He needn't have bothered, 'cause I was searching them out this year regardless.
Fronted by ether the Esoteric P-05 CD transport or a modified Denon DVD-A transport with a 192kHz output, the Grimm Audio CC1 word clock generator and the GTE Trinity DAC handled conversion. Amplifiers were the Class A GTE Trinity, all power was managed by the PS Audio Power Plant Premier, and all cabling was by STEALTH audio, $80,000 worth! All source and preamplification gear rested on Clearlight Audio stands and room acoustical treatment was provided by Aygo Sound. The total system price was about $400,000!
The result was, in a word, spectacular. This tweeter simply sets the bar for high frequency reproduction today. The Corona Ion tweeter is said to reproduce the audio frequency exactly, without removing or adding any frequencies, with an upper frequency limit of 150kHz! It seems to be free of phase, timing, or linearity errors through the range of human audibility and is simply orders of magnitude ahead of any dynamic driver I've yet heard, especially with respect to impulse fidelity and precision.
Instead of using a mass-laden membrane, air is excited directly by a visible arc of light and used as the sound transmission medium capable of reproducing an audible spectrum from 1.5 kHz to 150kHz! Lansche claims that it is capable of performing better than either the human ear can detect or most amplifiers are capable.
As you may have suspected, this exceptional performance REALLY tasks the engineers at Lansche to develop a suitably performing system for the frequencies below 2.5kHz, where the Corona crosses over.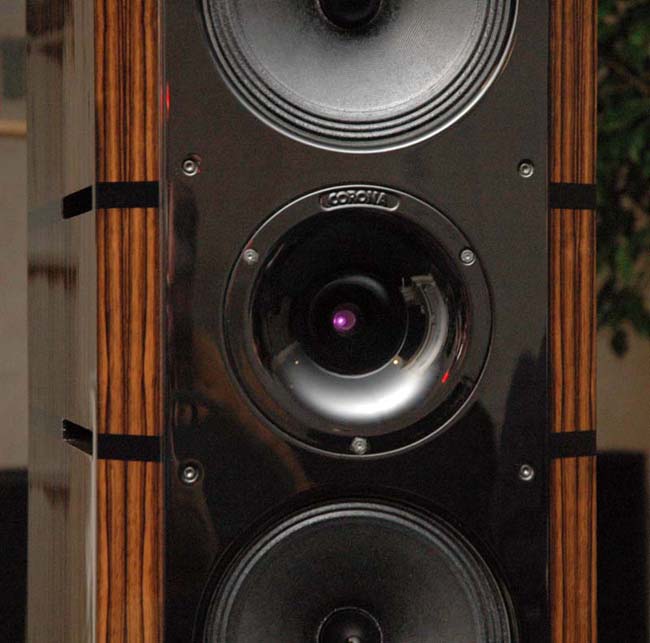 Up close and personal, the violet glow of the scary-fast Lansche Corona plasma tweeter
The No. 8 employs four 8" coated composite paper membrane mid-bass drivers, two immediately above and below the centrally located Corona tweeter in a vertical line, and they operate from 80Hz to 2.5kHz. Four 12" PP/Nomex/Kevlar/Glasfiber composite woofers, two per cabinet, are mounted on the outer side of each enclosure, an asymmetrical pair, one each at the upper and lowermost rear corners, giving the No. 8 a quite striking appearance.
While the resultant performance was unquestionably stunning, it was apparent to me, and to long-time audiophile, engineer and friend, Rich Hollis, that there was a distinguishable, though not grossly so, disconnect with the frequencies below 2.5kHz, where the ion tweeter transitioned to the dynamic drivers. This ostensibly disengaged performance, one that is most difficult to describe other than to say there was a perceived "slowness" to that lower frequency range, lead to a subtle but almost tangible sense of something inherently "wrong" sounding with the overall presentation.
It may be some artifact created by the sheer distance between the acoustic center of the Corona and that of the upper and lower flanking midbass drivers. The Corona's emission area is small, something on the order of 8 mm, yet given its large containment (nearly five inches tall, with open slots above and below), there is necessarily something on the order of 8" to the acoustic center of each of the upper and lower midbass drivers. I can't be sure, but there is just a sense of disparity between the magical Corona and the rest of the No. 8.
Don't misunderstand my criticism here as damnation. This is one REMARKABLE achievement, one that certainly deserves to be celebrated and pursued. Yet I feel that the overall success of this remarkable product is compromised by the lack of technological ability to match the astounding performance of the Corona ion tweeter below its operating range. I am sure that given the perseverance I've seen from Lansche Audio just over the last year, they will continue to narrow the gap and achieve a product that MAY be unmatched.
Two industry members I've known for years now, Jonathan Tinn, of Blue Light Audio, and Kevin Malmgren, former Vice President of Engineering at Von Schweikert Audio, have teamed up to create Evolution Acoustics.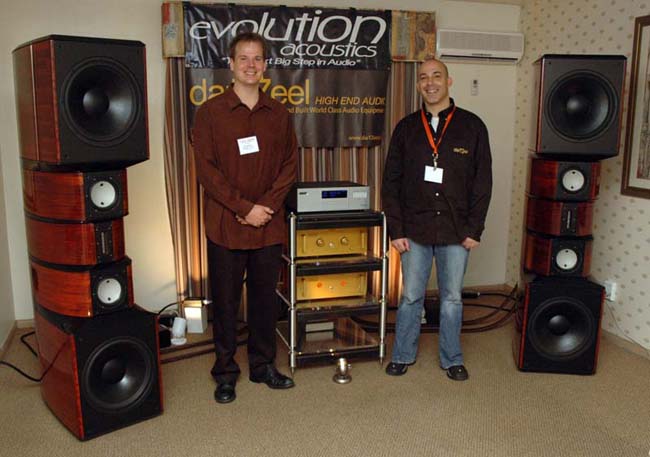 Evolution Acoustics teamed with Switzerland's darTZeel electronics to pull off one of, if not the very best, sounding room I heard this year
Showing in a smallish room at the Alexis Park, they managed to put together one of, if not the, best sounding rooms at the 2008 event. Kevin said that he had worked some ten months to develop the Evolution Acoustics flagship MM three. With a projected retail of $70,000 (show specials of $38,000), the MM three is a visually arresting design, with sweeping sides and a satin finish that photos just can't do justice.
The MM three is a three way design using a 5" aluminum ribbon tweeter centered on the front sweeping face, two 7" ceramic mids immediately above and below on wider swept back portions, and two 15" treated paper woofers, one above and below each midrange on yet larger portions. The response is given as 10Hz to 40kHz, ± 3dB and as 7Hz to 70kHz, ± 6dB.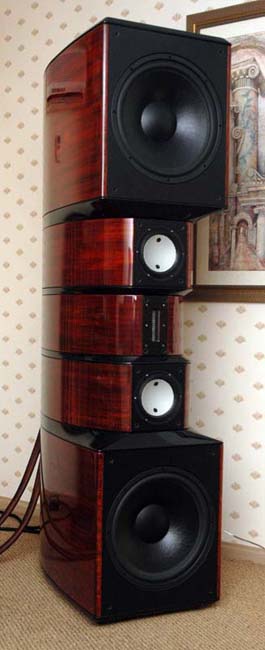 A product of Blue Light Audio's Jonathan Tinn's imagination and Kevin Malmgrin's engineering, the $70,000 MM three
Jonathan has paired with Switzerland's darTZeel electronics, which he imports into the United States, for a number of years now, always with simply stirring results. Driven by the $22,000 darTZeel NHB-108 amplifier which was fed from the $26,000 NHB-18NS preamplifier, the MM three created absolute magic. Evolution Acoustics also premiered their new interconnects, a rather largish cable, to say the least. Sorry, once again I find I did not note the digital source…
One of the most starling things about this system was how deep it was able to go in this SMALL room. Standing anywhere in the room was great, but taking the "hot seat' was breath-taking. Focusing for a fairly small listening sweet spot in that smallish room made sense, and if you didn't take time to take a turn there, you missed 30 to 40 percent of the magic this room had to offer.
In that sweet spot, I was treated to a presentation so three-dimensional, so dynamic, and so life-like, as to be spoiled to virtually anything else I heard at this year's show. I was most taken with the extension, integration, horn-like dynamic attack, low frequency slam, and tonal balance I was treated to when I sat front and center in the "chair." Kudos to the hard work and dedication of the Evolution Acoustics' project.
Disappointments
I was thwarted on each of my two visits to hear the Magico room, once due to over-crowding and once due to business meetings being held within. Also, for whatever reason, I never found myself in Roger Sander's room to hear his new ESL designs, though I understand that our own Myles Astor spent some time there. I look forward to chatting with him about them, having missed a perfect opportunity to do so as we sat across an aisle from each other at McCarran airport waiting for our departing flights.
Another let down this year was that scheduling prevented me from spending more than a few passing conversations with Serguei Timachev (of STEALTH) and from even running into our own Albert Porter.
But, all in all, great food, great camaraderie, and wonderful toys singing at the top of their game. That's one more report from the road committed to the pages of this cyber-journal… Till next year, masochists! ;-D