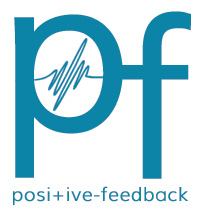 You are reading the older HTML site
Positive Feedback ISSUE
35
january/february
2008
The Basic Power Orchestral Repertoire or Classical music for folks who don't like Classical music
by Teresa Goodwin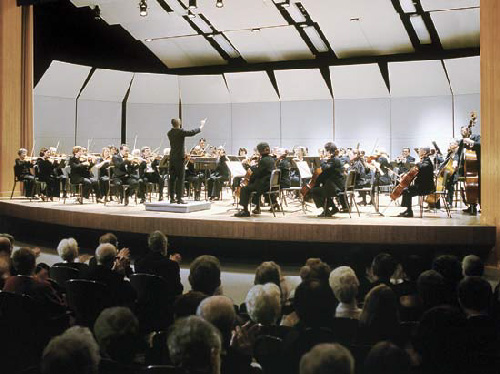 This is a list of some of the most beautiful, colorful, and exciting orchestral music ever written. Unlike other recommended lists there is no "stuffed-shirt" academic boring music here! This is classical orchestral music written to be enjoyed from the very first note to the last. Music that is always fresh and alive no matter how often it is played. This is the good stuff.
Traditional recommended classical music lists are filled with boring, plodding symphonies and concertos and lots of tedious chamber works. I find the most enjoyable classical works are symphonic poems, dances, overtures and ballet music. Although symphonies and concertos written in a programatic style on a colorful orchestral canvas can be quite enjoyable as well.
Many listeners think all classical music is like what they heard in the movie "Amadeus." Nothing could be further from the truth. In reality classical music can be more thrilling, more exciting and with as much rhythmic drive as any other type of music. At least 90% of the best classic orchestral music is totally unknown to most music lovers, thus the reason for this much-needed list.
For listeners new to classical music or afraid of classic music, if you love the music of Star Wars, Indiana Jones, and other sci-fi and adventure films you should love the music from this list.
Over the last four decades there have been special recordings of orchestral power music aimed at listeners who don't like what is known as traditional classical music. The most popular were RCA's "Classical Music for People who don't like Classical Music" and EMI's series of "Heavy Metal Classical" but they only scratched the surface of recorded power orchestral music. The biggest problem with both of these series is they were rather weak in the bass, thus depriving power orchestral music of its impact and excitement. Deep and powerful low frequency energy is very important to the maximum enjoyment of this kind of music.
In my humble opinion power orchestral music is the most exciting and fulfilling genre of classical music and it is still being composed to this very day!
So here is a genre of classical music that even those of us who strongly dislike most traditional classical music can greatly enjoy. I like all kinds of music from folk, rock, and jazz to world music. The incorrect assumption within the world of classical music is that "everyone" has to like the so-called major composer's so-called major works. There are a great many like me who are turned off by these so-called great works and if I hadn't stumbled onto power classical music I would have written off classical music as a lost cause and my musical enjoyment would be mostly derived from other types of music. I discovered power classical music over thirty years ago and it has become my absolute favorite type of music. This list offers the best of power orchestra music I have found over the past three decades.
Unlike other lists there are no "must haves" here as not everyone likes the same music. These are recommendations for listening and thanks to the Internet you can listen to streaming audio before deciding to add music to your collection.
Also there is nothing here you have to learn to like. The true path to musical enlightenment and enjoyment is to become one with the music, or to put it another way to become lost in the music. Where the music envelopes you and you leave the physical world and are transported to the musical world created by the composer and performers. Power orchestral music does this better for me than any other music I have ever discovered!
Power orchestral music was made possible once composers learned to use the tone colors of the instruments of the orchestra, to use percussion and ornamentation to season the sound of the orchestral canvas. They effectively use rhythm and beat to enhance excitement by use of extreme dynamic contrasts, and to break free of the overly strict rules of composition. With power orchestral music the experience of classical music becomes a purely emotional one, one that transports you to another realm. This is the music that will get new converts to classical music because nothing has to be learned, it is not academic exercises in writing or playing technique. It is music that is extremely easy to fall in love with on the very first listen, as easy to experience as movie orchestral music.
ALBÉNIZ, ISAAC (1860-1909)
Festival Day in Seville
Suite Espagnola, Op. 47 (Orchestrated by Frühbeck de Burgos)
ANTILL, JOHN (1904-1986)
Corroboree: Suite from the Ballet (1946)
ARGENTO, DOMINICK (1927-
Valentino Dances
ARNOLD, MALCOLM (1921-
Commonwealth Christmas Overture (1957)
Tam O'Shanter, Op. 51 (1955)
BARBER, SAMUEL (1910-1981)
Medea: Dance of Vengeance
Toccata Festiva for Organ and Orchestra, Op. 36 (1960)
BARTOK, BELA (1881-1945)
Dance Suite for Orchestra, Sz. 77 (1923)
Music for Strings, Percussion and Celesta, Sz. 106 (1936)
BEETHOVEN, LUDWIG VAN (1770-1827)
The Ruins of Athens: Turkish March (1811)
Wellington's Victory, Op. 91 (1813)
BENJAMIN, ARTHUR
Jamaican Rumba
BERLIOZ, HECTOR (1803-1869)
Rákóczy March from "The Damnation of Faust:" , Op. 24 (1846)
March to the Scaffold and Dream of the Witches Sabbath from "Symphonie Fantastique"
BERNSTEIN, LEONARD (1918-1990)
Candide: Overture (1956)
Fancy Free: Ballet (1944)
On The Town: Three Dance Episodes
Prelude, Fugue and Riffs for Clarinet and Jazz Combo (1949)
West Side Story: Symphonic Dances (1957)
BIZET, GEORGES (1838-1875)
Carmen: Suite (1874)
BLISS, ARTHUR (1891-
Mêlée Fantasque (1921)
BORODIN, ALEXANDER (1833-1887)
Prince Igor: Overture and Polovtsian Dances (1890)
Prince Igor: Polovski March (1890)
BOWLES, PAUL (1910-
Music for a Farce (1938)
BRAHMS, JOHANNES (1833-1897)
Hungarian Dances for Orchestra (1873)
BRITTEN, BENJAMIN (1913-1976)
Mont Juic: A Suite of Catalan Dances (with Lennox Berkeley, 1936)
Young Person's Guide to the Orchestra (1945)
CHABRIER, EMMANUEL (1841-1894)
Danse Slave for Orchestra
España: Rhapsody for Orchestra (1883)
Fête Polonaise for Orchestra
CHADWICK, GEORGE (1854-1931)
Melpomene Overture (1887)
Symphonic Sketches (1905)
Tam O'Shanter (1915)
CHIHARA, PAUL (1938-
The Tempest: Ballet in two Acts (1980)
COPLAND, AARON (1900-1990)
Billy the Kid: Ballet Suite (1938)
Clarinet Concerto
Fanfare for the Common Man (1942)
Rodeo
DEBUSSY, CLAUDE (1862-1918)
La cathédrale engloutie for Orchestra (Transcription by Stokowski)
Images for Orchestra (1908)
DUKAS, PAUL (1865-1935)
La Péri (1912)
The Sorcerer's Apprentice (1897)
DVO€ÁK, ANTONÍN (1841-1904)
Carnival Overture, Op. 92 (1892)
Hussite: Overture. Op. 67 (1883)
In Natures Realm Overture, Op. 91 (1892)
Othello: Overture, Op. 93 (1892)
Slavonic Dances, Op. 46 Nos. 1-8; Op. 72 Nos. 1-8 (1886)
Symphony No. 9 in E Minor, Op. 95 "From The New World" (1893)
END, JACK (1918-
Blues for a Killed Kat
FAITH, PERCY
Brazilian Sleigh Bells
FALLA, MANUEL DE (1876-1946)
Nights in the Gardens of Spain for Piano and Orchestra (1916)
FARNON, ROBERT (1917-
Captain Horatio Hornblower R.N. Suite (1951)
A La Claire Fontaine
Intermezzo for Harp and Strings
Lake of the Woods
A Promise of Spring
Rhapsody for Violin and Orchestra (1956)
State Occasion
FERNANANDEZ, ARTHUR
Batuque
FRANCK, CESAR (1822-1890)
The Accursed Huntsman
GERSHWIN, GEORGE (1898-1937)
An American in Paris (1928)
Catfish Row - Symphonic Suite from "Porgy and Bess" (1936)
Concerto in F Major for Piano and Orchestra (1925)
Cuban Overture (1932)
Promenade for Orchestra "Walking The Dog"
Rhapsody in Blue for Piano and Orchestra (1924)
Second Rhapsody for Piano and Orchestra (1931)
Variations on "I Got Rhythm" for Piano and Orchestra (1934)
GINASTERA, ALBERTO (1916-1983)
Panambi: Suite from the Ballet, Op. 1 (1937)
GLIÈRE, REINHOLD (1875-1956)
The Red Poppy: Russian Sailors' Dance, Op. 70 (1927)
GLINKA, ALEXANDER (1804-1857)
Russlan and Ludmilla: Overture (1842)
GOTTSCHALK, LOUIS (1829-1869)
Grand Tarantelle for Piano & Orchestra, Op. 67 (1888)
Symphony No. 1 "A Night in the Tropics" (1859)
GOULD, MORTON (1913-1996)
American Salute
Foster Gallery (1939)
Latin American Symphonette (1940)
Spirituals for Orchestra (1941)
GOUNOD, CHARLES (1818-1893)
Faust: Ballet Music (1859)
Funeral March of a Marionette (1872)
GRAINGER, PERCY (1882-1961)
Lincolnshire Posy (1937)
The Power of Rome and the Christian Heart
Shepherd's Hey
The Warriors
GRIEG, EDVARD (1843-1907)
Concerto for Piano and Orchestra in A Minor, Op. 16 (1868)
Funeral March for Richard Nordraak
Norwegian Dances, Op. 35 (1881)
Peer Gynt: Suites 1 & 2 (1876)
GROFÉ, FERDE (1892-1972)
Aviation Suite (1946)
Concerto for Piano and Orchestra
Grand Canyon Suite for Orchestra (1931)
Hudson River Suite
Mississippi Suite (1926)
Niagara Falls Suite
GUARNIERI, CAMARGO
Brazilian Dance
HALVORSEN, JOHAN (1864-1935)
Entry March of the Boyars
HERBERT, VICTOR
Babes in Toyland: March of the Toys (1903)
HOLST, GUSTAV (1874-1934)
Beni Mora Suite
Hammersmith, Prelude and Scherzo (1930)
Japanese Suite (1915)
A Moorside Suite (1928)
The Planets, Op. 32 (1916)
Suite No. 1 in E Flat for Military Band, Op. 28 No. 1 (1909)
Suite No. 2 in F for Military Band, Op. 28 No. 2 (1911)
HONEGGER, ARTHUR (1892-1955)
Pacific 231 (1923)
HUMPERDINK, ENGLEBERT
Hansel and Gretel: Witches Ride
IBERT, JACQUES (1890-1962)
Escales (Ports of Call)
IPPOLITOV-IVANOV, MIKHAIL (1859-1935)
Caucasian Sketches, Op. 10 (1894)
IVES, CHARLES (1874-1954)
Three Place In New England (1914)
JANÁÇEK, LEO· (1854-1928)
Lachian Dances for Orchestra (1893)
Sinfonietta for Orchestra (1926)
Taras Bulba: Rhapsody for Orchestra (1918)
JÄRNEFELT, ARMAS (1869-1958)
Praeludium
JUTRAS, ANDRÉ (1953-
A Barrie North Celebration (1990)
KABALEVSKY, DMITRI (1904-1987)
Colas Breugnon: Overture, Op. 24 (1938)
The Comedians: Suite, Op. 26 (1938)
KARG-ELERT, SIGFRID (1877-1933)
Praise the Lord with Drums and Cymbals
KHACHATURIAN, ARAM (1903-1978)
Gayne: Ballet Suite (1943)
Masquerade: Suite (1939)
KHRENNIKOV, TIKHON (1913-
Love for Love (1976)
KODÁLY, ZOLTÁN (1882-1967)
Háry János: Suite for Cimbalom and Orchestra (1926)
LALO, ÉDOUARD (1823-1892)
Symphonie Espagnole for Violin and Orchestra (1875)
LECOCQ, CHARLES (1832-1918)
Mamzelle Angot: Suite from the Ballet (1871)
LECUONA, ERNESTO
Andalucia
Malegueña
LIADOV, ANATOLE (1855-1914)
Baba Yaga
LISZT, FRANZ (1811-1886)
Battle of the Huns: Symphonic Poem No. 11 (1857)
Concerto No. 1 in E Flat Major for Piano and Orchestra, S.124 (1849)
Concerto No. 2 in A Major for Piano and Orchestra, S.125 (1839/1861)
Hungarian March to the Assult (1875)
Hungarian Rhapsodies No. 1-6 for Orchestra
Mephisto Waltz No. 1 for Orchestra (1860)
Les Préludes: Symphonic Poem No. 3, S.97 (1854)
Orpheus: Symphonic Poem No. 4, S98 (1856)
Tasso, Lamento e trionfo: Symphonic Poem No. 2, S.96 (1849)
Todtentanz, paraphrase on the "Dies Irae" for Piano and Orchestra, S.126 (1849)
LLOYD, GEORGE (1913-1998)
Cello Concerto (1997)
The Serf: Orchestral Suite No. 1 (1997)
LUTOSLAWSKI, WITOLD (1913-1994)
Concerto for Orchestra (1954)
MAHLER, GUSTAV (1860-1911)
Symphony No. 1 in D Major "The Titan" (1888)
Martinu, Bohuslav (1890-1959)
La Revue de Cuisine (1927)
MASSENET, JULES (1842-1912)
Le Cid: Ballet Music (1885)
McPHEE, COLIN (1900-1964)
Tabuh-Tabuhan: Toccata for Orchestra (1936)
MEIJ, JOHAN DE (1953-
Symphony No. 1 "The Lord Of The Rings" (1987)
MENDELSSOHN, FELIX (1809-1847)
Fingal's Cave Overture "Hebrides", Op. 26 (1831)
MENOTTI, GIAN CARLO (1911-
Concerto for Piano and Orchestra (1945)
Concerto for Violin
MEYERBEER, GIACOMO (1791-1864)
Les Patineurs: Selections from the Ballet
MILHAUD, DARIUS (1892-1974)
La Création du Monde "The Creation Of The World" (1923)
Suite Française (1936)
Suite Provençale (1936)
MINKUS, LEON (1826-1917)
Don Quixote
MUSSORGSKY, MODEST (1839-1881)
Khovanshchina: Dance of the Persian Slaves
Night on Bald Mountain (1867; orchestrated by Rimsky-Korsakov 1887)
Pictures at an Exhibition for Orchestra (1874; orchestrated by Ravel 1922)
Sorotchinsky Fair: Gopak from Act III
NELHYBEL, VACLAV (1919-1996)
Trittico
NIELSEN, CARL (1865-1931)
Aladdin Suite
OUE, EIJI
E.C.F. from Presque Isle
PETIT, PIERRE (1922-2000)
Concertino for Organ, Strings and Percussion
PISTON, WALTER (1894-1976)
The Incredible Flutist: Ballet Suite for Orchestra (1938)
PROKOFIEV, SERGEI (1891-1953)
Cinderella: Ballet, Op. 87 (1944)
Concerto No. 3 in C Major for Piano and Orchestra, Op. 26 (1921)
Lieutenant Kijé: Symphonic Suite, Op. 60 (1933)
The Love for Three Oranges: Suite, Op. 33a (1923)
Romeo and Juliet: Ballet, Op. 64 (1935)
Russian Overture, Op. 72 (1936)
Scythian Suite, Op. 20 (1915)
The Stone Flower Ballet, Op. 118 (1950)
RACHMANINOV, SERGEI (1873-1943)
Caprice Bohémien "Capriccio on Gipsy Themes", Op. 12 (1894)
Isle of The Dead: Symphonic Poem, Op. 29 (1909)
Prelude in C-sharp Minor for Orchestra (Transcription by Stokowski)
Prince Rostislav: Symphonnic Poem (1891)
Rhapsody On A Theme of Paganini for Piano and Orchestra, Op. 43 (1939)
The Rock: Fantasy for Orchestra, Op, 7 (1893)
Symphonic Dances for Orchestra, Op. 45 (1940)
RASMUSSEN, SUNLEIF (1961-
Concerto for Saxophone and Orchestra "Dem Licht Entgegen" (2001)
Symphony No. 1 "Oceanic Days" (1997)
RABAUD, HENRI (1873-1949)
Marouf, Cobbler of Cairo: Dances
RAVEL, MAURICE (1875-1937)
Alboranda del Gracioso (1918)
Boléro (1928)
Daphnis et Chloé: Ballet (1912)
L'Eventail de Jeanne: Fanfare for the Ballet (1927)
Ma Mère l'Oye "Mother Goose": Balllet (1911)
Piano Concerto for the Left Hand
Piano Concerto in G major
Rapsodie espagnole (1908)
La Valse (1920)
Valses nobles et senttimentales (1911)
REED, HERBERT OWEN (1910-
La Fiesta Mexicana
RESPIGHI, OTTORINO (1879-1936)
Belkis, Queen of Sheba (1931)
The Birds (1927)
Brazillian Impressions (1927)
Church Windows (1927)
Fountains of Rome (1916)
Pines of Rome (1923)
Roman Festivals (1928)
RIMSKY-KORSAKOV, NIKOLAI (1844-1908)
Antar: Symphonic Suite, Op. 9 (1868)
Capriccio Espagnol, Op. 34 (1887)
Le Coq d'Or (1909)
Mlada: Procession of the Nobels (1890)
Russian Easter Overture
Sadko: Song of India
Scheherazade: Symphonic Suite after A Thousand and One Nights, Op.35 (1888)
The Snow Maiden: The Dance of the Tumblers (1880)
The Tale of the Tsar Saltan: Flight of the Bumble Bee, Op. 57 (1903)
RODRIGO, JOAQUÍN (1902-1999)
Concierto de Aranjuez for Guitar and Orchestra, Op. 9 (1939)
Fantasia para un gentilhombre for Guitar and Orchestra (1954)
ROGERS, BERNARD (1893-
Three Japanese Dances (1933)
ROOST, JAN VAN DER (1956-
Spartacus: Symphonic Tone Poem (1990)
ROSSINI, GIOACCHINO (1792-1868)
William Tell Overture
RUBINSTEIN, ANTON (1829-1924)
The Demon: Ballet Music
RUGGLES, CARL (1876-1971)
Sun-treader (1931)
RUSSO, WILLIAM (1928-
Street Music: A Blues Concerto for Harmonica, Piano and Orchestra, Op. 65 (1976)
Three Pieces for Blues Band and Symphony Orchestra, Op. 50 (1968)
SAINT-SAËNS, CAMILLE (1835-1921)
Africa for Piano and Orchestra
The Carnival of the Animals for Two Pianos and Orchestra
Danse Macabre, Op. 40 (1874)
Samson and Delilah: Bacchanale (1877)
Symphony No. 3 for Organ and Orchestra in C Minor "Organ", Op. 78 (1886)
SATIE, ERIK (1866-1925)
Parade: Complete Ballet
SCHNITTKE, ALFRED (1934-
Gogol Suite (1975)
SCHUBERT, FRANZ (1797-1828)
Marche Militaire
SESSIONS, ROGER (1896-
The Black Maskers: Suite from the Incidental Music for Andreyev's Drama (1928)
SHANKAR, RAVI (1920-
Concerto for Sitar and Orchestra (1971)
SHAW, ARTIE
Concerto for Clarinet
SHOSTAKOVICH, DMITRI (1906-1975)
The Age of Gold: Ballet (1930)
Festival Overture, Op. 96 (1954)
Hamlet: Suite from the Incidental Music, Op. 116 (1964)
Symphony No. 1 in F Minor, Op. 10 (1925)
Symphony No. 5 in D Minor, Op. 47 (1937)
SIBELIUS, JEAN (1865-1957)
En Saga, Op. 9 (1892)
Finlandia, Op. 26 No. 7 (1899)
Karella Suite, Op. 11 (1893)
SMETANA, BEDRICH (1824-1884)
The Bartered Bride: Overture (1866)
Má Vlast "My Country" for Orchestra (1879)
STRAUSS, RICHARD (1864-1949)
Also Sprach Zarathustra, Op. 30 (1896)
Don Juan, Op. 20 (1889)
Salome: Dance of the Seven Veils, Op. 54 (1905)
Till Eulenspiegel's Merry Pranks, Op. 28 (1895)
STRAVINSKY, IGOR (1882-1971)
Études for Orchesta (4)
The Firebird: Ballet (1910; revised 1919)
Fireworks: Fantasy for Orchesta, Op. 4 (1909)
Pastorale for Orchestra (Transcription by Stokowski)
Petrouchka: Ballet (1911)
The Rite of Spring "Le Sacre du Printemps" (1913)
Scherzo à la russe for Orchestra (1944)
The Soldier's Tale "L'Histoire du Soldat" (1920)
Song of the Nightingale (1920)
Tango (1953)
SULLIVAN, SIR ARTHUR (1835-1921)
The Merchant of Venice: Suite
The Tempest: Incidental Music
In Memoriam: Overture
SUPPÉ, FRANZ VON (1819-1895)
Light Cavalry: Overture
Morning, Noon and Night in Vienna
Queen of Spades: Overture
TAYLOR, DEEMS (1885-1966)
Through the Looking Glass
TCHAIKOVSKY, PETER ILYICH (1840-1893)
Capriccio Italien, Op. 45 (1880)
Francesca da Rimini: Symphonic Fantasy for Orchestra, Op. 32 (1876)
Hamlet: Overture and Fantasy, Op. 67a (1888)
Marche Slave, Op. 31 (1876)
Mazeppa: Cossack Dance "Hopak" (1883)
Nutcracker: Ballet (1891)
Overture: 1812, Op. 49 (1880)
Romeo and Juliet: Fantasy Overture (1869)
Sleeping Beauty: Ballet (1889)
Swan Lake Ballet, Op. 20 (1875)
TEXIDOR, JAIME
Spanish March
THOMSON, VIRGIL (1896-1989)
The Plow That Broke The Plains: Suite (1936)
The River: Suite (1937)
TURINA, JOAQUÍN (1882-1949)
The Bullfighter's Prayer
Danzas Fantasticas for Orchestra, Op. 22 (1920)
La Procesion del Rocio: Symphonic Poem for Orchestra, Op. 9 (1913)
Sinfonia Sevillana for Orchestra, Op. 23 (1920)
VAUGHAN WILLIAMS, RALPH (1872-1958)
Folk Song Suite (1923)
Toccata Marziale (1924)
The Wasps: Aristophanic Suite (1909)
VERDI, GIUSEPPE (1813-1901)
Aïda Act II: Dance of the Moorish Slaves, Grand March and Ballet Music (1871)
VILLA-LOBOS, HEITOR (1887-1959)
Little Train of the Caipria
WAGNER, RICHARD (1813-1883)
The Ride of the Valkyries
WALTON, WILLIAM (1902-1983)
Façade: Suite for Orchestra (1942)
Music For Children (1940)
WEILL, KURT (1900-1950)
Threepenny Opera Suite "Kleine Dreigroschenmusik" (1928)
WEINBERGER, JAROMIR (1844-1937)
Schwanda the Bagpiper: Polka and Fugue (1927)
WILLS, ARTHUR (1926-
The Vikings
And there is even more great power orchestral classical music out there, this list offers what I hope is just the beginning of a very enjoyable musical journey for you.
After listening to thousands of compositions of traditional classical music I have discovered a few traditional works that I enjoy. But for me it's power orchestral music that extends the boundaries of what is possible in the classical form and what I turn to when I really want to enjoy the music.