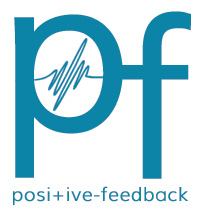 You are reading the older HTML site
Positive Feedback ISSUE
35
january/february
2008
Marantz 10B, McIntosh MR-71, Magnum Dynalab MD-108, and Day-Sequerra Reference FM Tuner: Clash of the Titans!
by Robert H. Levi
Recently I reviewed these classic wonder turners including the fabulous Marantz 10B along with the McIntosh MR-78. The listening panel dismissed the MR-78 with its old style, cool, amusical solid state sound. It just was not in the league of the other tuners that were so much more listenable. Yes, the MR-78 was very selective and sensitive, but at some point you have to listen to it and it was not fun. Even the Modafferi Mod did not help the MR-78 gain any charm or gracefulness.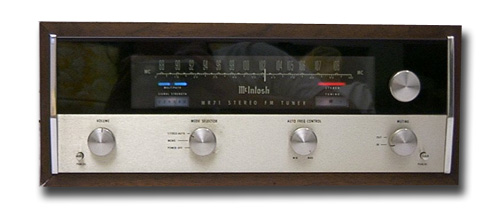 Now, just arrived, a McIntosh MR-71 with Modafferi Mod and matched Telefunken 6BL8 output tubes. Also on board were ARC tube dampers on the 6BL8ís and 6BN8. It was freshly tweeked and aligned by Brooks Berdan LTD. in Monrovia, CA. and judged perfect. It was compared to the Marantz 10B, fully restored with new opto couplers and aligned, MD 108 with matched GE 5751 low noise tubes on board and run balanced, and the Day Sequerra FM Reference modded by Sequerra in 1999 and run balanced. A Marantz ST-17 FM Tuner, recently discontinued, was also compared.
All tuners were used with MD ST-2 Antennas. 50,000 watt classical and jazz stations were used for music sources. Speakers were the Avalon Eidolons wired with Kubala-Sosna Emotion Interconnects and Speaker Cables plus Emotion AC cables where possible.
Final Subjective Ranking as follows:
| | | |
| --- | --- | --- |
| Musical Quality | Quieting | Sensitivity |
| Marantz 10B | Magnum MD-108 | Magnum MD-108 |
| McIntosh MR-71 | Marantz 10B | Marantz 10B |
| Day Sequerra Reference | TIE: Day Seq./Mc MR-71 | McIntosh MR-71 |
| Magnum MD-108 | Marantz ST-17 | Day Sequerra Ref |
| Marantz ST-17 | | Marantz ST-17 |
The Modaferri Mod from Audio Classics makes a huge difference with the MR-71. It includes circuit changes from the Audio Classics website as follows:
Modafferi Mod
Install Hysteresis Modification

Modify IF amplifier output stage to reduce IF noise radiation at 9th and 10th harmonics of IF (96.3 MHz and 107.0 MHz)

Replace all audio coupling and bypass capacitors in the feedback circuits with High Quality Metalized polypropylene capacitors

Install bypass caps in the power supply (Tube Units)

Modify the Stereo Decoder to improve Stereo Separation

Modify the Stereo Decoder for higher Slew rate and Stereo Separation

Optimize pilot carrier limiter circuit

Change muting and 19 KHz circuits for more reliable muting and stability of the stereo decoder (Tube Units)

Re-route IF cable from IF chassis to detector to eliminate tailbiting at 96.3 and 107.0

Modify Narrow Filter to accept over modulating stations.

Front end modified for higher RF selectivity

Adjust IF gain

Perform complete RF, IF and MPX alignment

Convert to 220 Volt operation - if required

Change de-emphasis to European Standard - if required

Listening check

Install Cardas output connectors

Unit will now exceed original factory specifications

Run performance graphs

Clean chassis, controls, panel and knobs

Unit signed and dated (inside) by Richard Modafferi

Selectivity modification

Investment: Tuner Approx. $700, Tuner-Preamps Approx. $900

Turnaround Time: Approx. 3 weeks

All changes are not applicable to every unit
The Mod was a brilliant improvement on the MR-71. I owned a restored MR-71 for 3 years without the Mod and was underwhelmed by the thick, sluggish musical quality and only fair sensitivity of this vintage tuner. Itís got it all with the Modafferi Mod and nearly catches up to the Marantz 10B in many ways. The 10B just has that gorgeous analog sound and low noise that you will love and need with todayís high definition systems. What a gem!
The Marantz ST-17 was disappointing when it first came out and time has not been kind to it. Its dry musical nature and only moderate sensitivity and quieting are just OK. I would not buy it used although it does sound more musical than a Sangeon HD Tuner I experimented with recently.
Iíll keep you posted in these pages as great classic tuners continue to become available. Until then, FM is free so enjoy it while you can!