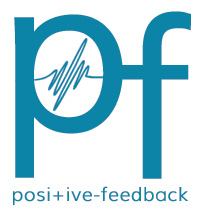 You are reading the older HTML site
Positive Feedback ISSUE
35
january/february
2008
Genuine Sonic and Musical Spectaculars
by Karl Lozier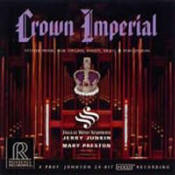 Crown Imperial Festive Music for Organ, Winds, Brass & Percussion, Dallas Wind Symphony. Jerry Junkin, Conductor, Mary Preston, Organ Reference Recordings HDCD # RR-112
What an outstanding pairing of truly excellent sound reproduction, including audiophiles' favorite instrument, a fine pipeorgan, combined with an excellent varied selection of compositions. Reference Recordings claim this release to be a rather belated follow up to the Pomp and Pipes recording of fourteen years ago. Interestingly the first selection, Strauss' Festival Intrada begins with organ chords alone pianissimo with layers of brass building over the low pedal notes. That is simply a superb introduction to a really outstanding release. Next selection is by Gabrieli with a slightly changed character of regal barogue music. The third selection is the release's title selection, Walton's Crown Imperial an excellent coronation march. Perhaps unknowingly it or sections of it have been commonly played for sometime now with listeners often not realizing its title or background. It is an all encompassing composition that is typically immediately appealing; I am certain that you will enjoy it!
Here audiophiles are urged to turn up the gain (volume) control by about six decibels and choose to focus on either the superbly recorded drum strokes or the even lower pitched organ pedals that are lower in loudness level except at the last few notes of the finale.
A rather quiet Procession by Tomasi follows, leading into a powerful finale. Grainger's Country Derry Air up next is both old and new. It is actually a new arrangement of the old favorite Danny Boy. It features some well reproduced subtle deep organ petal notes. An interesting aside for the remaining selections is the inclusion of Elsa's Procession to the Catheral from Wagner's Lohengrin. It is the actual wedding march from Lohengrin! What is typically played and known as such, happens after the wedding!
A great pairing of well performed instrumentals with a fine organist playing a superb instrument in an excellent acoustical setting, the Myerson Symphony Center in Dallas, Texas. All instruments are cleanly, clearly and naturally reproduced, with fine dimensionality, not just the organ. If it does not sound that way with your system, check out all of your system's components. All in all, one of the finest releases I have ever heard if not the finest!
What a continuing joy to have so many excellent classical music releases with fine audio quality after many lean years not so very long ago.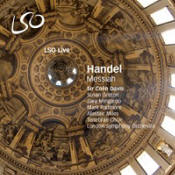 Messiah, Handel. Sir Colin Davis, Tenebrae Choir. London Symphony Orchestra LSO Live Multi-Channel Hybrid 2 SACD LSO 0607 Bonus DVD, Limited Period (Highlights + Interview)
This beautifully presented performance of Handel's justly famous Messiah is Sir Colin Davis' final performance as principal conductor of the LSO. He will be taking the position of President of the orchestra. It is not clear if he will still do some conducting. He had recorded the Messiah forty years ago. The Messiah is well known for having many editions available. Versions range from adding cymbals, adding clarinets to even all male for the vocals and choral singing. This version has slight alterations and was prepared by conductor Davis. The slip case has a slim line double case, thirty-two page booklet and for "the present time" also with an outstanding, a really outstanding DVD with superb audio quality with the video. All is presented in a very attractive though subtle packaging.
The number of performances of this masterpiece since the first one more than two hundred and sixty years ago is almost astronomical. The number of recorded performances in the past almost hundred years, is not too far behind. Almost fanatical lovers of Handel's Messiah are harsh critics of many recorded performances. There is so much in the way of excellent varied performances that a single choice turns out to be choices for most Messiah lovers. I am not going to be of much help in making a choice. I simply can not and will not try to compare the four soloists performing here with favorites from other recorded performances. I will stick my neck out by declaring the Tenebrae Choir, seemingly featuring fewer than fifty singers, to be outstanding and almost assuredly the equal of any more famous group currently available recorded doing the Messiah. Their relatively small number does not handicap them at all in any of choral pieces—not at all! Nigel Short is the choir director. If that name arouses questions in the minds of astute readers, the answer is, yes, the same one as with the King's Singers until seven years ago.
The orchestra's performance is spot on and obviously just as Sir Colin Davis had hoped and practiced. Davis' vision and conducting is certainly somewhere in the middle road of performances and doing nothing to really aggravate any music lover. The recorded sound quality is as good as it gets for LSO live releases with the SACD layer obviously the better. The audio engineers are becoming consistent at the Barbican center. The Barbican itself may be the limiting factor for the recorded audio quality. The recording site is obviously a factor in the sound quality. In his excellent and interesting book, Orchestra, The LSO:A Century of Triumph and Turbulence, Richard Morrison writes the following. "The Barbican Hall was also regarded as an acoustical calamity by most musicians who used it—though it has been greatly improved in recent years. But the sad fact remains that London, which can probably boast more professional music-making per square mile than any other city in the world, has not had a world-class concert hall (Queen's Hall was bombed in WWII) since 1944 and will probably not have one again in the lifetime of any reader of this book." That was written in 2004. With the recording done live in the Barbican the resulting audio quality is truly very, very good overall. Excellent orchestral playing is clearly revealed with no spot lighting of individual sections. The choir is almost superbly revealed as reveling in their performance and contribution. As has seemed to have happened a few times in past recordings, there apparently was a few forte passages that seemed to have a slight edginess added to the sopranos. I can not be certain of the cause of those few instances. That in no way deters my summary as being a "Top Recommendation".
I have to mention that the outstanding DVD bonus in the packaging (for the time being at least) played on my rather moderately priced home theater system gave no hint of edginess on female voices at any time. I was almost astounded at the overall enjoyment of this accompany DVD. It easily receives my absolutely "Highest Recommendation."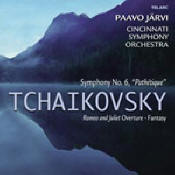 Tchaikovsky Symphony No.6 Pathetique + Overture Romeo & Juliet. Conductor: Paavo Jarvi, Orchestra: Cincinnati Symphony Telarc SACD Hybrid Multichannel 60681
Conductor Paavo Jarvi's relationship with the Cincinnati Symphony Orchestra has really paid off after relatively few years together. With great patience his leadership has brought this combination together. Is it possible that they have reached a pinnacle or are performances such as this on merely a penultimate plateau to someday be superseded? The often-outstanding audio recording capabilities by Telarc play a major role at least in the recording world, a world apart from an orchestra's home and usual live audience.
Perhaps a relatively straight-forward performance, to me, it ultimately sounds like or registers mentally as far more. The audio quality is simply superb overall with perhaps a tad more emphasis on the lower half of the rich, full and powerful areas of the audio spectrum. Compared to the fifty plus years ago standards of Pierre Monteux plus the Boston Symphony Orchestra's high standards (available now in two channel SACD), Monteux's performance lets the winds and strings be slightly more prominent than does Jarvi with Telarc. Call it an ultimate toss-up choice. Own them both and indulge yourself. Telarc "frosts" the cake by adding an excellent sounding, powerful Romeo and Juliet overture. Opinion among music lovers will vary of course. The fact remains that there are no significant shortcomings regarding performance or audio quality here. More accurately, in my opinion, there are no noticeable shortcomings. Thus my absolutely top recommendation is easily earned. I am so pleased to find so many releases recently that feature truly excellent sound quality (often partly due to SACD) and fine performances if not as unique or even idiosyncratic as some in past years.